Shark Evoline DOT Helmet Review Summary
Shark Evoline DOT Helm Image Gallery
The Shark Evoline has now been homologated for North America with this version that meets U.S. DOT safety standards.
This Evoline seems tighter, more comfortable and it has a very high level of finish compared to the Shark Evoline ECE (review) version we reviewed in August of 2008.
The Evoline is now one of our favorite helmets, so much so that we gave it a special mention as the "Most Improved Product of 2008" in our 4th Annual webBikeWorld Motorcycle Product of the Year Awards.
We covered the new Shark Evoline in detail in our full review in August 2008.
The Evoline was one of the most anticipated helmets of 2008 and it's also one of the most unique helmets to arrive on the scene since, well, since the radical ROOF Boxer (review), which is still going strong and to which the Evoline pays homage.
This Evoline functions identically to the European ECE helmet we evaluated for our review, and the specifications and features are also identical, as far as we can tell.
So this article is just a quick look at the DOT flavored helmet, highlighting some of the minor differences.
The ECE version of the Evoline was sold in our Garage Sale, so I have to rely on our collective memory for any comparisons.
The Shark Evoline "Absolute" and the "Grand Urban" Series
The Evoline takes the Boxer concept and improves on it with typically high quality Shark fit and finish and the dual ECE and DOT homologation.
As far as we know, this is the world's first helmet that meets both safety standards in both its modes: with the visor locked and also with the visor rotated all the way back.
I'm not usually very fond of flip-up helmets because the tradeoffs in weight, complexity and potentially compromised safety don't seem worth it to me. But I'll have to admit, I'm really enjoying this Evoline.
This one's a size large, which fits me just about perfectly. The original helmet we reviewed was an XL and it was too big for me and, I suspect, for both Bill and Burn who were the co-evaluators for that article.
Hey, as we say, they're all opinions, which are just like ears — everybody's got one. Or two. At least.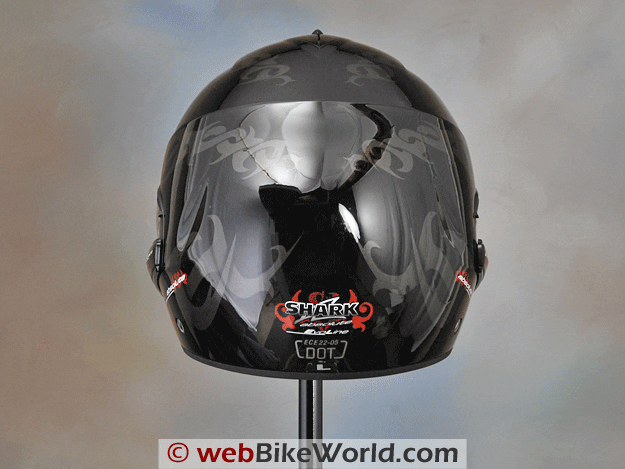 Paint, Graphics and Overall Quality
The original ECE Evoline we received back in August was one of the first off the assembly line, so it's possible that Shark was still going through some teething pains relative to manufacturing this complex helmet.
There were some misaligned screws on the original; it seemed creaky and a bit loose; and the basic silver/graphite finish "was nothing to write home about", as they say.
This example is like night and day — the finish is rather incredible, as I think you may be able to tell from the photos. This helmet must have THE shiniest, glossiest helmet surface finish we've ever laid eyes on.
It's so shiny that it was very hard to capture the real essence of the helmet's color and graphics with a decent photo.
The surface finish is apparent in the photo above, showing the rear of the helmet — the entire surface is like a reflector.
I'll have to assume this is how all of the DOT versions will be — this one simply showed up on the doorstep one day with no email, paperwork or note. But I don't think it was specially prepped.
Information about the North American DOT version of the Evoline isn't available on the Shark USA website yet, so it's unknown what type of graphics and colors will be available (or how much it will cost).
This one carries a label on the side that reads "Absolute", which leads us to believe that this is the name of the graphic pattern shown here.
UPDATE:  See below for availability and pricing.
The color seems nearly black, but in certain types of light it has a dark brown hue. The swirly metalflake curlicues have a vague gold/brown/sunset luster, making the overall combination both unusual and striking.
I don't normally wear dark helmets, but this one's a winner and I think the pattern very nicely suits the design.
So overall I give Shark a big thumbs up for the beautifully done color and paint and graphics with the superlative shine that will unfortunately, in my hands at least, get scratched to heck in no time.
Let's hope I can use an occasional dab of polish to get it looking like it did when it came out of the box.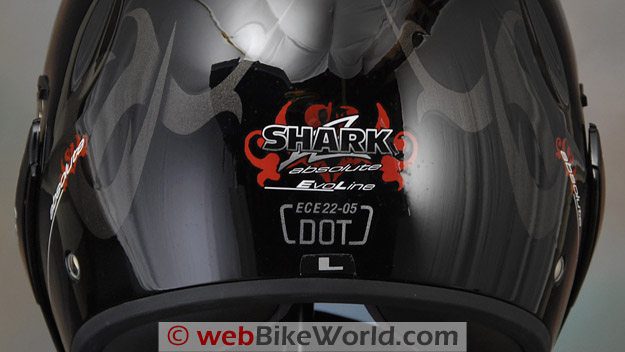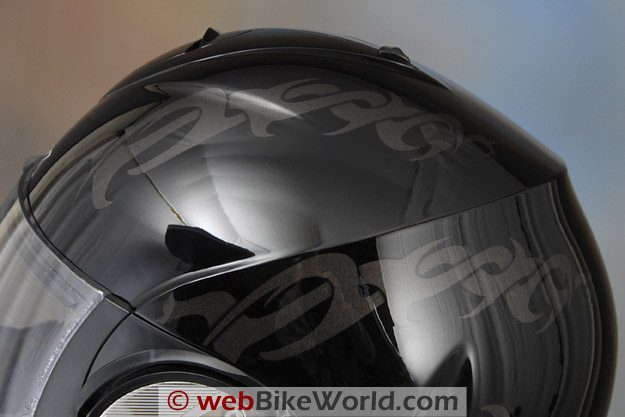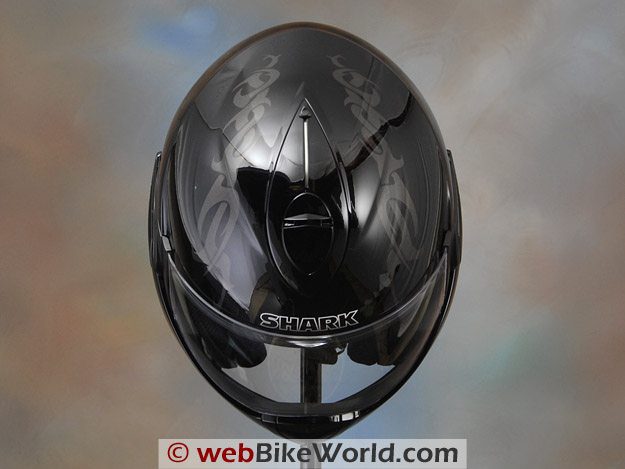 Evoline DOT Details
The rest of the helmet works the way the original should have. Everything is more secure and the visor rotates and closes with a secure feeling.
This is all relative though, because basically no flip-up yet is as sturdy as a full-face helmet, but the DOT Evoline feels more secure than many of the flip-ups we've handled.
By the way, we've been using the term "flip-up" for helmets with a rotating visor and "modular" for helmets like the Givi X.01 (review) and the Airoh TR1 (review), which truly are modular.
Once you've seen a "real" modular helmet with modular parts that allow it to be converted from an open face to full face and something in between, a simple rotating visor is — just a flip-up.
But the Evoline is nearly a combination of the two; sort of a "modular flip-up".
The parts on the Evoline aren't removable like they are on the Givi X.01, but the Evoline really does convert from a virtual full-face helmet to a nice open-face, semi-jet styled helmet.
And the difference here is that this helmet can be worn in either configuration while riding, unlike a normal flip-up, which should never be worn with the visor open while underway.
The DOT version includes the internally rotating sun visor and the same top and chin venting system, the same comfortable and removable liner and everything works just as it should.
One thing to remember is that the face shield on the Evoline must be raised both before the visor is rotated up and before the visor is rotated down.
The face shield lifting tab is located in an unusual position at the top of the visor as a sort of reminder to the owner to lift it before rotating. So remember, always lift the face shield before moving the visor in either direction.
And do not, repeat DO NOT move the visor while you're riding! Too dangerous.
Shark Evoline DOT Helmet Shape and Fit
I really don't know if the North American version of the Evoline has an internal shape that is different than the European ECE version.
I rather doubt that they would go through the trouble and expense for what, in the end, will probably be a niche helmet in the marketplace.
Perhaps it's the size difference, but the large shown here fits me very comfortably, with a round to neutral shape that is similar to a Shoei RF1000 (review). It's not as narrow as the Fulmer D4 we reviewed recently, which isn't really a true long oval shape.
I think the Evoline should fit the majority of head shapes. The size large is perhaps about 1/2 size larger than expected.
My head is about 60.5 cm in circumference, and although the Evoline fits me without problems, just remember that a flip-up helmet is usually more flexible than a comparable full-face, so if you're on the borderline, you may want to go smaller rather than larger.
See the wBW Motorcycle Helmet FAQ for more information on choosing and fitting a motorcycle helmet and for a discussion regarding human head shapes.
And don't forget that choosing the correct helmet shape is crucial for both comfort and safety…
One curious feature of the DOT version of the Evoline is that the helmet feels "deep" from the brow or top of the eye port up to the top of the inside of the helmet.
I feel like the top of the eye port is touching my eyebrows and is in my line of site, sort of like I have to keep pushing the helmet back on my head.
This may be a quirk related only to my head shape, but it is something to consider. I don't recall this problem with my limited time wearing the ECE version of the Evoline.
The one thing about flip-ups that I find curious is that I usually have to take my eyeglasses off before pulling the helmet over my head, and I thought one of the big draws of a flip-up was that this wasn't necessary. Oh well…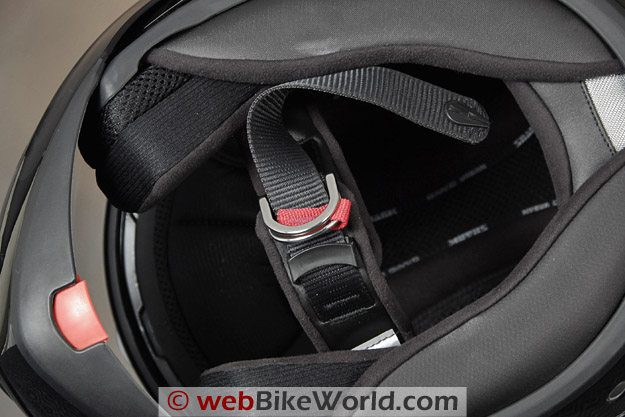 Helmet Liner and Padding
The liner on the DOT version is identical to the European version; that is, it's comfortable, relatively plush for a flip-up and it has mid-depth ear pockets that are also lined.
The liner material is comfortable and the liner exhibits very good quality. It's removable also.
One difference is that Shark uses a double D-ring for the DOT version, which I prefer. It's lighter, simpler and doesn't crush my windpipe.
I'm not that fond of the strap retention system though; instead of a snap at the end of the loose piece of strap, there's a plastic nub that has to be worked under a plastic strap retainer loop on the opposite side.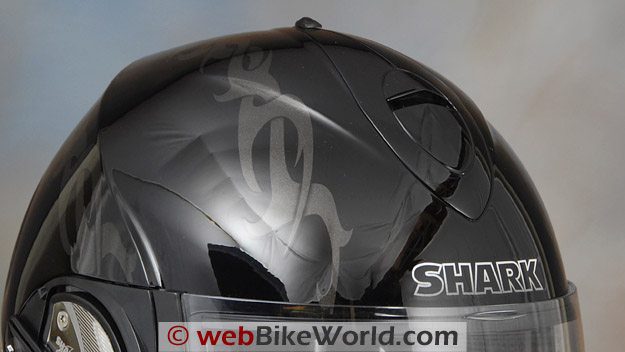 Venting
Venting on the DOT version is identical to the European version of the Evoline.
There are no rear exhaust vents. The top vent is very tiny and the vent points up and the liner mesh blocks some of the air coming in, so the bottom line is that there just isn't a lot of ventilation up top.
The chin vent is a bit more successful; both vents work well and feel solid, and the chin bar does have a direct vent passage, rare on flip-ups.
But one of the benefits of the Evoline is that in really hot weather, you can roll the visor to the back, flip down the face shield and the internal sun shade and you'll pretty much have all the ventilation you'll need, and then some.
Perfect for touring or riding behind a big fairing, that's for sure.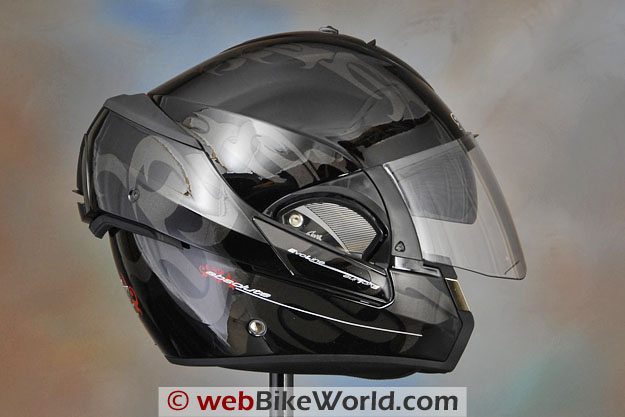 Noise Levels
The DOT version is about the same as the ECE version, according to Bill and Burn. I find this one fairly quiet actually, which is surprising considering the complexity of the rotating visor and the appendages and slight gaps that entails.
When it's locked up and sealed, the bottom of the helmet fits snugly around the lower part of my neck and chin, which helps deter the turbulence-induced noise. All told, not a bad ride and one of the reasons I'm enjoying this helmet so much.
Just for the record, here's our standard advice:  For more information on helmet noise, visit the wBW Motorcycle Helmet Noise page.
Also, note that we always wear high-quality, correctly fitted ear plugs when riding — see the wBWEarplugs and Hearing Protection page for more information on choosing and wearing earplugs.
If you don't wear ear plugs, all bets are off — every motorcycle helmet is dangerously noisy, in our opinion, and your hearing is as precious as your eyesight, so don't mess with it. Wear ear plugs.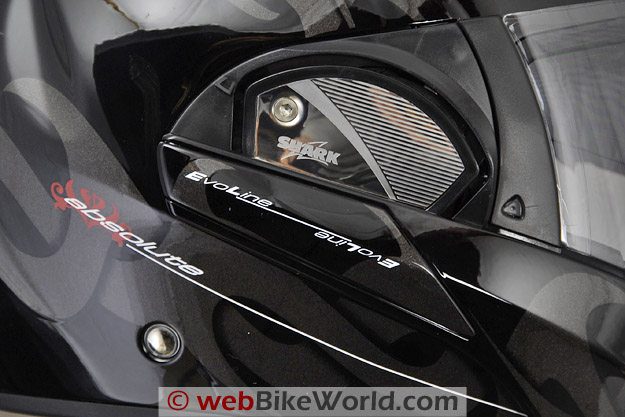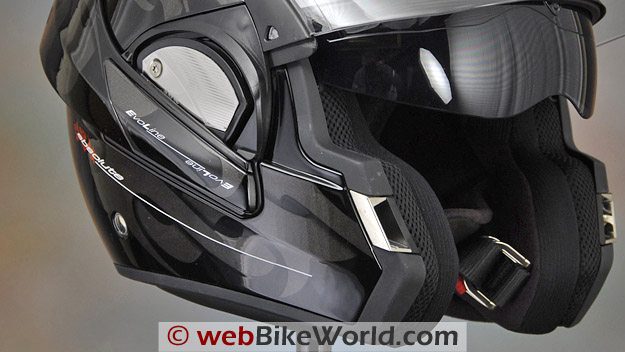 Visor and Rotating Chin Bar
The clear face shield and the rotating visor (and the internal sun shade) on the DOT version of the Evoline is identical in every way, as far as we can tell, to the ECE version, so there's not much more I can say here that hasn't already been said before.
Just remember to lift that face shield before moving the visor! Not that I've experienced any problems with this, just that I've learned that this is the best way to have everything operate smoothly.
As I mentioned earlier, the rotating visor and all the assorted parts on this version seem tighter and operate more effectively than the European version we reviewed in August.
My experience with the Evoline in during this winter's cold and damp conditions is that the clear face shield has an effective anti-fog coating.
Helmet Weight
The European size XL version of the Evoline was very heavy at 1960 grams. In fact, it was and is the heaviest helmet we've reviewed on webBikeWorld out of now 107 helmets.
I didn't put the size large shown here on the scale until just a few minutes ago, after wearing it for several weeks.
I am surprised to learn that it weighs a hefty 1928 grams (4 lbs., 4.0 oz.), which makes it the 105th heaviest helmet out of 107 helmets we've weighed.
I'm surprised because the helmet just didn't feel that heavy. I remember pulling the ECE version out of the box and immediately noticing its heft; that wasn't that case at all with this size large for some reason.
Now I don't think my hands are sensitive enough to notice an ounce or two of difference, so perhaps it's the better build on this helmet or the way it balances that makes the difference.
It does feel slightly heavy when I'm wearing it, especially with the visor rotated backwards, which does change the center of gravity. But overall, I just don't notice it that much, which goes to show that fit and balance mean a great deal.
See the wBW Motorcycle Helmet Weights page for the complete chart, comparing the weights of every helmet we've reviewed.
Miscellaneous
This Evoline is labeled as meeting both DOT and ECE standards, which, I understand, is a no-no.
The European commission only wants the ECE label on helmets sold in ECE countries, but who's going to stop them?
We'll see what happens if the U.S. Department of Transportation's new helmet labeling standardsget approved.
In any case, it's nice to know the helmet meets two excellent motorcycle helmet safety standards that still allow it to be used in both the closed and open positions.
w

BW

 Video: Shark Evoline Series 2 (DOT) Helmet
Conclusion
The Shark Evoline is a radical new design that has several real advantages, especially for motorcycle touring. Shark is known for excellent, high-quality helmets and a devotion to safety and technology, and this version of the Evoline definitely seems to be the equal of those factors.
I'm pretty much a devoted full-face helmet guy, but the DOT version of the Evoline has made me a convert!  I'm not sure when the helmet will be available for distribution or retail — perhaps it will be announced at the 2009 Powersports Dealer Expo next month in Indianapolis?  If so, we'll be there, but in the meantime, you read about it here first!
w

BW

 Review: Shark Evoline Helmet (DOT) Series 2
Manufacturer: Shark Helmets
List Price (2009): $399.95-$449.95
Colors: Solids and graphics
Made In: Unknown
Sizes: XS-XL Shell Sizes: One
Review Date: January 2009

Rating Scale is subjective: Unacceptable, Poor, Neutral, Very Good, Excellent, Outstanding.
Note:
 For informational use only. All material and photographs are Copyright © webWorld International, LLC since 2000. All rights reserved. See the webBikeWorld® 
Site Info page
. Product specifications, features and details may change or differ from our descriptions. Always check before purchasing. Read the
Terms and Conditions
!
Owner Comments and Feedback
---
From "B.L." (9/09): "Well, I hope you all have better luck with this helmet than me. On my first helmet I had the main visor break repeatedly 3 separate times. Each time I had to take it back to the dealer and get a new visor that was covered by the 5 year warranty.
Then the main latching mechanism broke and the helmet could no longer convert and the flip up mechanism was stuck in the down position. Shark looked over the helmet and told me that mine was non-repairable and gave me a new helmet.
In less than 2 weeks of owning that helmet the main visor broke on it.
If the parts would quit breaking I would love the helmet but I'm thinking about trading it in for a different brand. It fit great and is very convenient when it worked.
And if anyone is wondering I take very good care of my helmets to the point of putting them back into the cloth bag that came with them every night. They were never dropped or anything like that."
---
From "TGF" (6/09): "I just recently received my Shark Evoline Absolute DOT from RevZilla (great to deal with!). I normally wear an Arai Large with a head size of 57.5cm or 22 3/4 inches.
Just to be safe, after reading all the reviews, I ordered a medium instead of my normal large. When the helmet arrived, the first thing I noticed was the shell size, THIS THING IS HUGE!  I mean Monstrous!  It dwarfed my Arai and looked like it could swallow my wife's XS HJC.
They really need two shell sizes (I have emailed Shark France to see if they do indeed have a different shell size in the small/xtra-small as I could not simply imagine this shell size on an xtra-small person, it already almost covers my entire shoulders).
However weight was not an issue at all, it fits very nicely and in both chin bar positions, was fine.
I found the fit to still be way too large even with the size reduction, however I have an oval head shape so I'm afraid to try the small size due to possible forehead hotspots.
I have tried it on various friends that wear Arai and HJC mediums and they all agree it was way too large for them but this could also be due it being a modular which tend to move around a lot more.
Riding it was surprisingly stable and due to the loose fit and it did lift at certain head positions giving that horrible feeling of a helmet about to come flying off your head but of course that chin strap etc. would prevent that, just a disconcerting feeling.
I have ordered a pair of Small Cheek Pads and I'll try installing them to see if it fits a little tighter and then may order a small inner liner if I have to (unless of course they do make two shell sizes after all and the small won't fit).
I agree with others that the internal sun-shield does not go low enough.
Someone commented in another review that their sunglasses do not extend below their eyes so why should a helmet. Well, sunglasses are right up against your face, the helmet internal visor is quite far away from your eyes..
Try wearing your sunglasses an inch and a half away from your face and see if you can stand it without getting distracted.
Fit and finish is absolutely magnificent, very very nice helmet. Being able to swing that chin bar up in heavy slow traffic and enjoy the air was priceless.
She's a keeper definitely but I'll wait on the shell size answer before I order one for my wife, the current size would engulf her entire upper torso!  I could not imagine this monster with an Xtra-Small inner liner. She would look like a grape inside a basketball!"
Editor's Reply: Interesting…we haven't noticed that the Evoline is significantly larger than other helmets of this type, perhaps you are not used to wearing flip-up helmets?
---
From "P.D." (2/09): "I went to a shop today to try one of these on since the review here intrigued me. I just have two observations on it. One is that, for me, the ear pockets were very shallow.
Just trying it on in the store I could feel the ear pads pressing against my ears a bit more than would probably be comfortable on a long trip.
The other observation is the locking mechanism for the chin bar. I saw in your review of the ECE version that you said it took a couple good whacks to get it to lock back down. At first trying to latch the chin shut gave me some trouble in the store.
I then found out that I not only had to push it down but, when it was in the down position I had to push it in toward my face just a little bit and that locked it into place."
Editor's Reply: The chin bar locking mechanism on the Evoline is slightly different than most flip-up helmets, but it works more smoothly and consistently when the helmet is on the rider's head.
The chin bar has to pop out slightly from the surface of the helmet to allow the rotating mechanism the freedom to move all the way up and around the top of the helmet.
---
From "B" (1/09): "It looks like from your video and the video on the Shark website for the Evoline that the visor is spring loaded and is either open or closed. Is this correct?  There is no open part way?"
Editor's Reply:  No, the rotating visor on the Evoline is not spring loaded. It opens just like any other flip-up helmet, except the visor rotates all the way back, 180 degrees and has a detent to hold it in that position for riding.
There's no reason for it to stop half-way; think of it like any other flip-up helmet except the chin bar rotates all the way back. Actually, once you see it, it makes other flip-ups seem a bit strange looking when their visors are rotated only half-way up.