The Sena SR10
First up was the Sena booth today because I wanted to meet the staff, who I had only communicated with via email.
Tthis is the first Indy show for Sena since the company started manufacturing the Sena SMH-10 intercom (review), which was introduced on webBikeWorld.com.
The intercom has taken off like gangbusters and Sena has been hard at work with some interesting new upgrades and products.
Two of these new products are being announced at the 2011 Powersports Dealer Expo here in Indianapolis: the Sena SR10 Bluetooth "hub" and the new Sena SPH10 "Helmetless" intercom system (below).
The SR10 Bluetooth hub is a cool-looking device about the size of a small cell phone. It's powered by a USB-rechargeable battery.
It has 3 inputs: a mini-DIN for AUX; a two-way radio input for a Motorola, Kenwood, Icom, Yaesu, etc. style FRS/GMRS-type radio; and a standard input (I think it's a 3.5 mm).
The two-way radio can be connected to the SR10, along with other devices, such as a GPS (they had a Garmin zumo 550 attached for the demo); a radar detector; a Push-To-Talk (PTT) switch; MP3 player; cell phone, etc.
The idea is to connect your devices to the SR10 "hub" or "gateway", which then it streams everything to your Sena or other Bluetooth intercom. Sena is still working out the details of whether to multiplex everything together, which would mean each device would talk over the other, or to give priorities to the devices, or let the rider choose.
For example, you could be listening to your iPod or talking on the FRS/GMRS radio and the GPS would cut in with the instructions for the next turn. Using the FRS/GMRS radios allows many riders in a group to communicate over very long distances (albeit at reduced sound quality; an FRS radio doesn't sound as good as a Sena stereo intercom).
The SR10 basically provides the motorcycle with its own wireless network or gateway for these devices. It also has a range of up to 1/2 mile.
It's a simple device with only a few buttons.  It uses Bluetooth 2.1 and it is water resistant and the battery has a claimed 10 hour life span or 7 days on standby.
This is an interesting device and we'll be helping Sena in the final evaluations and we'll bring you the first review asap.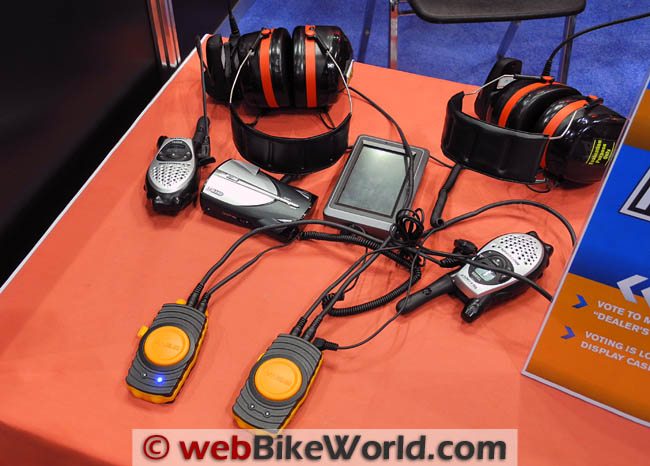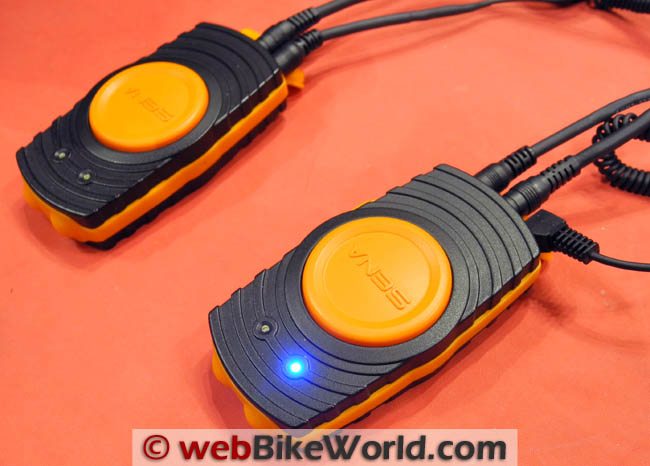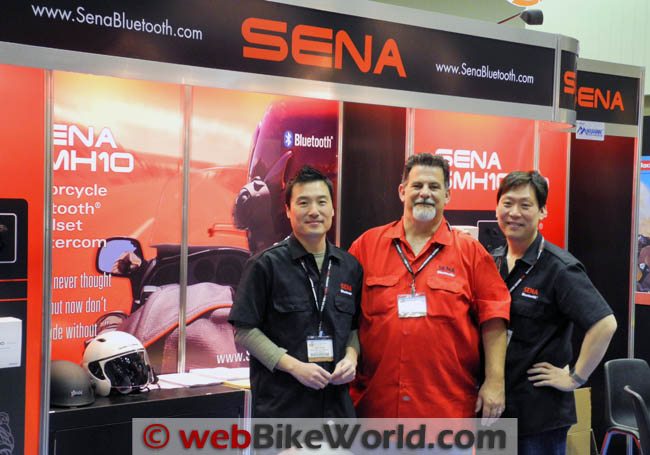 The Sena SPH10 "Helmetless" Intercom
Here's something new and different: an intercom system based on the Sena SMH10 that can be used without a helmet. In fact, it was designed for motorcyclists who don't wear helmets.
Now I know that all webBikeWorld readers wear "all the gear, all the time". And I have mixed feelings myself on products designed for helmetless riding. But, some people smoke cigarettes too, so you "pay your money and take your chances".
I won't comment on the politics of this issue, but I'm sure you know how I feel. In any case, here's the new Sena SPH10 intercom system designed to be used by motorcycle riders who aren't wearing a helmet.
It uses the same Sena technology but — it has a unlimited number of Bluetooth connections. So theoretically, the wearer could be riding a motorcycle without a helmet, while talking to dozens/hundreds/thousands (in theory, of course) of other motorcylists with Sena intercoms (it has a 900 meter range). Interesting…
There are other good things to come from this though: it could be used on an MSF Basic Rider Course (report) range by the instructor to communicate with students (who would need a Sena SMH10 intercom in their helmet). And since the microphone is designed to be used in, shall we say, the open air with lots of wind, it (the microphone) may be adaptable to the other Sena intercoms for use with open-face helmets.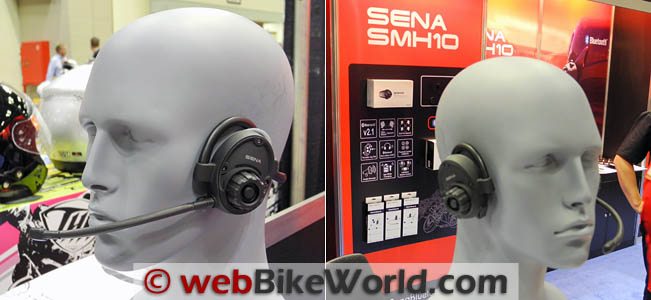 Publication Date: February 18, 2011
Note:
 For informational use only. All material and photographs are Copyright © webWorld International, LLC since 2000. All rights reserved. See the webBikeWorld® 
Site Info page
. Product specifications, features and details may change or differ from our descriptions. Always check before purchasing. Read the
Terms and Conditions
!