Scorpion Helmets Image Gallery
October 20, 2014 – Scorpion is back! Actually, they never left but a recent "strategic repositioning" has given the company a new focus.
One result can be seen in our recent Scorpion EXO-R2000 review, a very impressive helmet with so much tech your tongue would be both twisted and dry by time you finished reeling off the acronyms.
Scorpion helmets have always been known high quality at excellent prices; i.e., "bang for the buck", so nothing's changed there.
Over the last year, Scorpion has streamlined their nomenclature to make it easier to choose and 2015 will bring some interesting new designs.
Basically, all you have to know is this: "R" designates racing helmets with all of Scorpion's latest high-tech features and "T" designates touring helmets.
There are also the CT helmets for cruising (CT = Cruising Technology?) and VX for off-road helmets. Simple, eh?
Scorpion controls all of their own design and production, which helps shave costs and improves quality.
Here's a brief look at some of the new 2015 Scorpion helmets, including the EXO-R410, the brand-new EXO-R710 and EXO-T1200 and more.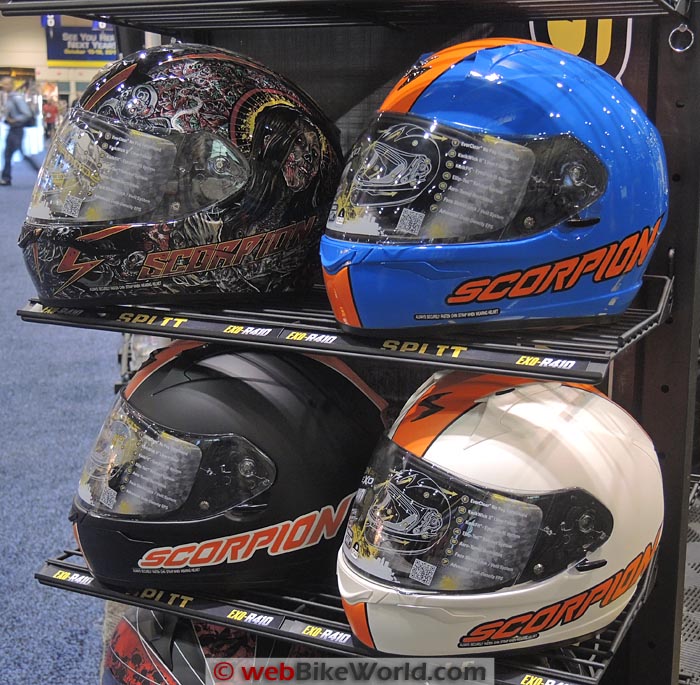 Scorpion EXO-R410
The full-face lineup starts with the 400-series; the original Scorpion EXO-400 (review) has been an all-time favorite, offering what is probably the best quality you'll find for around $160.00.
UPDATE: Scorpion just announced that the EXO-R410 price has been reduced; it will start at $129.95 for solid colors!
The EXO-R410 is now the new entry-level R-series champ and the R-series also includes the new EXO-R710 in addition to the new EXO-R2000 we reviewed.
The EXO-R410 has a polycarbonate shell and the popular "EverClear" anti-fog face shield that's also scratch-resistant and can be fitted with an optional Pinlock insert.
The helmet has the Scorpion "KwikWick" liner fabric with "KwikFit" cheek pads that are shaped to accommodate eyeglasses.
An "Ellip-Tec" ratcheting face shield system is also included, which pulls the face shield against the eye port gasket for a tight seal and features the excellent lock and city defogging position lever on the left-hand side.
All of this and a Snell M2010 and DOT rating for a list price starting at $159.95 for solid colors translates to "bargain".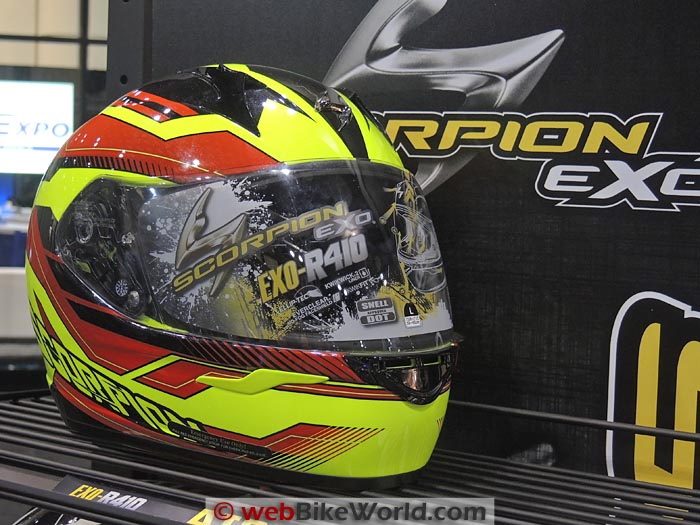 Scorpion EXO-R710
The Scorpion EXO-R710 is a new helmet that fills the gap between the entry-level R410 and the high-zoot R2000 racing helmet.
The R710 has a more relaxed shell shape with a more street-oriented fit around the bottom. It has the Scorpion Fiberglass and Aramid Matrix shell with dual-density EPS.
The EverClear face shield, Ellip-Tec ratcheting system, KwikWick liner, KwikFit cheek pads are all there, as is emergency cheek pad pulls and 3 shell sizes for the head size range.
The D-rings are made from titanium, another Scorpion plus.
Titanium feels "warmer" to the touch and it won't corrode like traditional chrome-plated metal D-rings.
The R710 also has a five-year warranty and it meets the DOT standard and it's also Snell M2015 (Report) certified. Snell M2015 is the latest version of that safety standard.
This should be the hot ticket and I can't wait to try one. Best thing is the price, starting at just $189.95!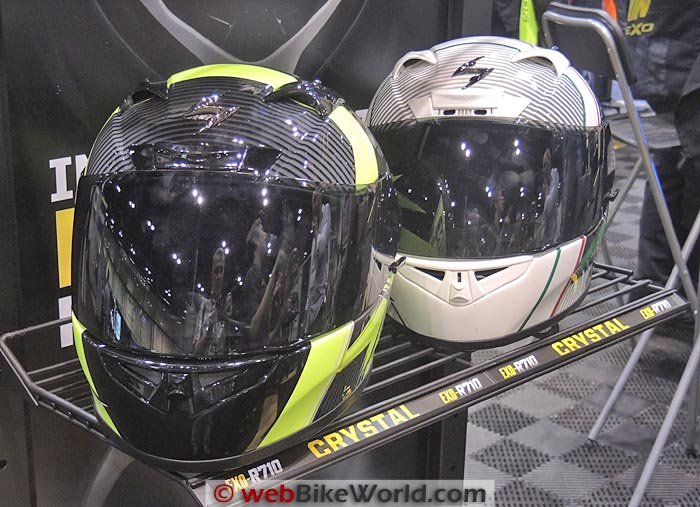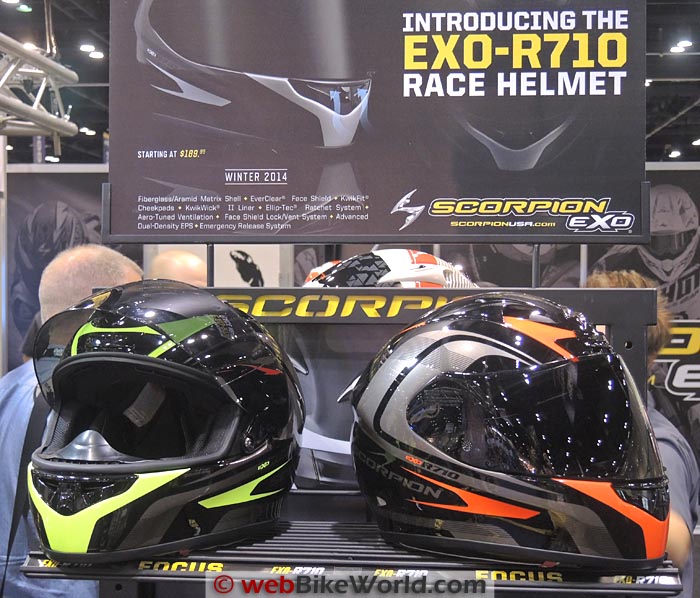 Scorpion EXO-T1200
Here's another new helmet for 2015. Remember what I said about "R" vs. "T"?
The Scorpion EXO-T1200 is the first helmet in the new "T" (for Touring) lineup and it's the company's flagship touring helmet.
The EXO-T1200 has the Scorpion "TCT" (Thermodynamic Composite Technology) shell, which they say is a five-layer system of fiberglass, Aramid and other fibers.
The helmet includes the good stuff: EverClear face shield, Ellip-Tec base plate, KwikWick liner with KwikFit cheek pads for eyeglasses and the emergency release tabs for the cheek pads.
It also includes a "SpeedView" (they have an acronym for everything!) internal sun shade with three positions and a "VSV" (Venturi Super Vent) top vent system.
The VSV system is an intake in the front and the vent assembly channel has a Venturi vent out the back, which pulls air through the helmet.
It looks interesting and hopefully will provide better ventilation than other touring helmets.
The EXO-T1200 has three shell sizes and meets the DOT safety standard only (no Snell due to the internal sun shade) and it comes with a "premium helmet valise carry bag" that's apparently so good, it's sold as a separate accessory.
This is a premium-grade touring helmet and the price reflects that; it starts at $329.95, although that's still about half the price of an equivalent Shoei or Arai.
Here are some photos and we'll be reviewing most of these helmets in detail as soon as they're ready!
In the meantime, be sure to visit the list of the 300 or so helmets we have reviewed on thewebBikeWorld Motorcycle Helmet Reviews page.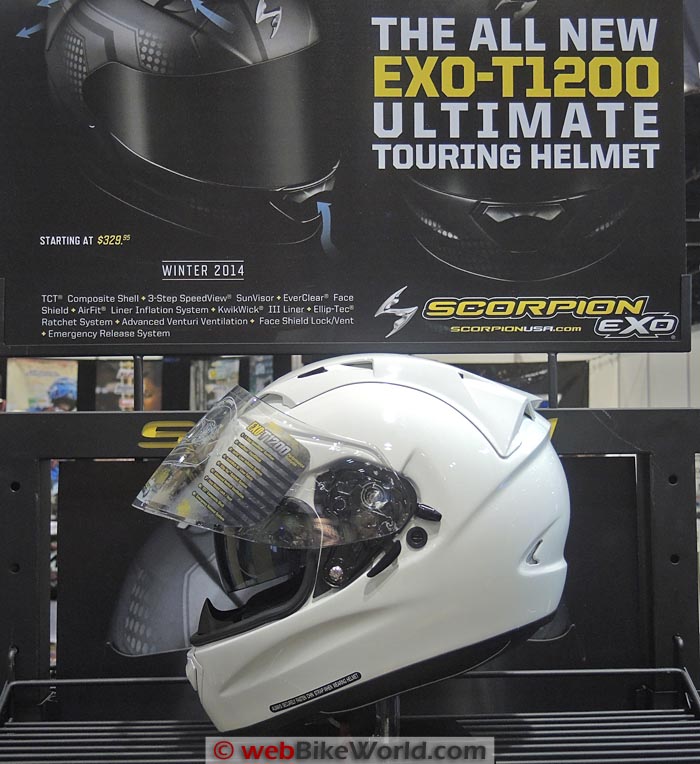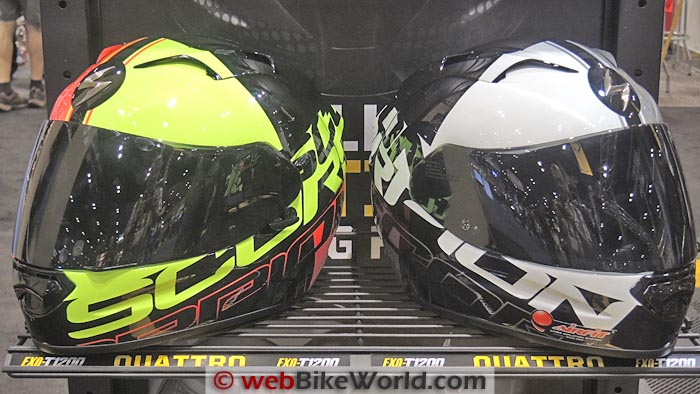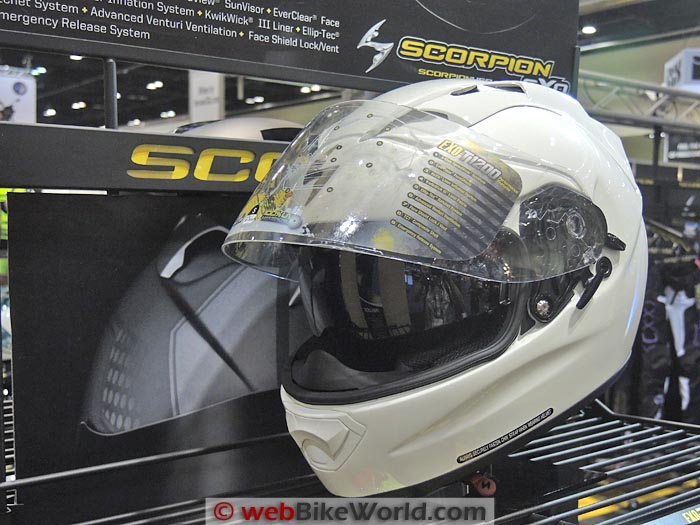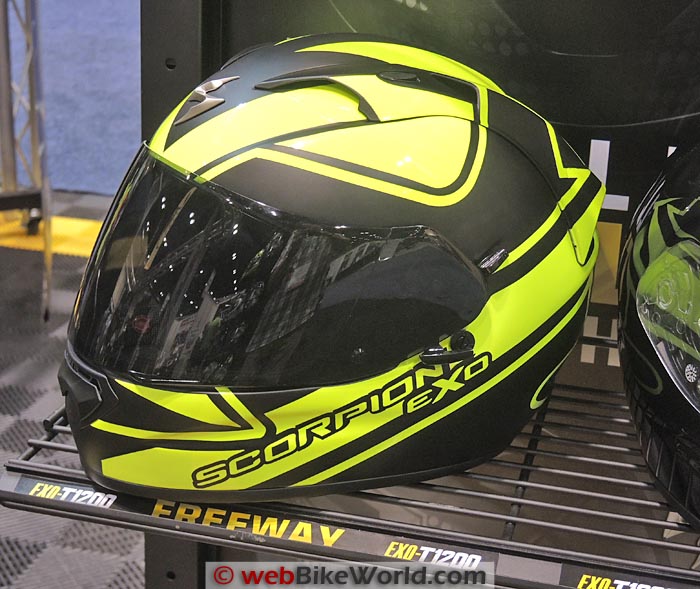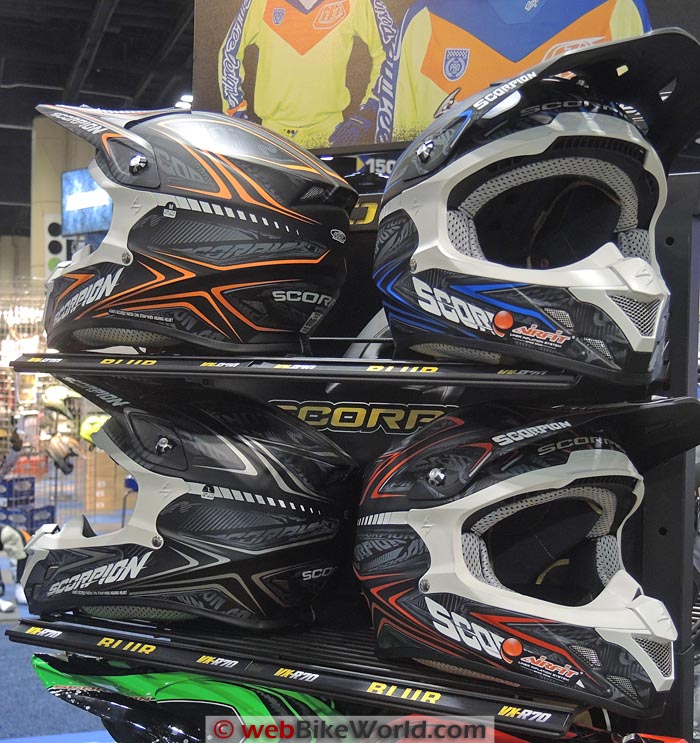 More: 2014 AIMExpo Reports
Publication Date: October 20, 2014
Note:
 For informational use only. All material and photographs are Copyright © webWorld International, LLC since 2000. All rights reserved. See the webBikeWorld® 
Site Info page
. Product specifications, features and details may change or differ from our descriptions. Always check before purchasing. Read the
Terms and Conditions
!
Owner Comments and Feedback