Scorpion EXO-900 Review Summary
Scorpion EXO-900 Image Gallery
The EXO-900 is the first flip-up helmet from Scorpion.
It can be easily converted to an open-face helmet with the included parts.
The helmet also features Scorpion's inflatable cheek pads and an internal sun visor.
Scorpion has really grown in the last several years, and the company that was originally known only for motorcycle helmets now also has a unique and cutting edge line of motorcycle clothing.
The EXO-900 is Scorpion's first flip-up helmet.
But in typical Scorpion fashion, it had to have a unique twist; thus the "Transformer" name, which coincidentally (or not) is being released just as the film of the same name has hit the top spot in the Summer of 2009.
We call the EXO-900 a true modular; we define "modular" as a helmet that can be converted from one style to another by adding or removing parts. A flip-up helmet is not modular.
This trend started a few years ago, with helmets like the Airoh TR1 (review), the Givi X.01 (review)and even the Shark Evoline (review) and, at its most basic level, perhaps even the SCHUBERTH J1 (review)..
The EXO-900 is a good match for the touring rider, because both flip-up and open-face helmets are popular choices for riding behind a big fairing.
The helmet can be converted, or transformed, from one style to the other very easily in a matter of seconds, with the only issue being where to store the unused part (I suggest the fleece bag that comes with the helmet).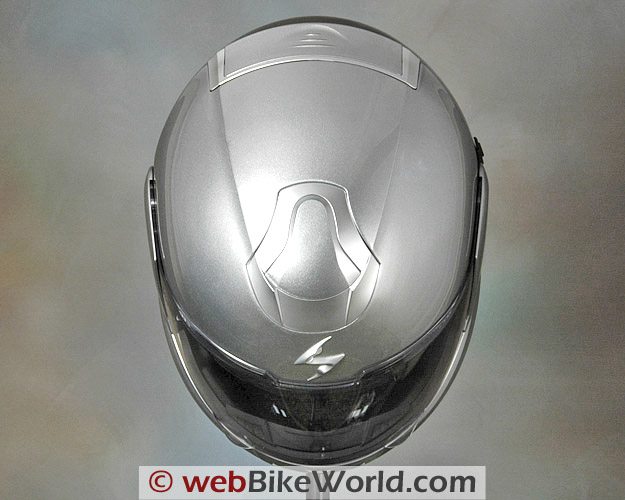 Scorpion EXO-900 Paint, Graphics and Overall Quality
TThe EXO-900 is available in Black and Matte Anthracite in addition to the "Hypersilver" color shown here. I'm not sure if more colors will become available, but let's hope so.
[UPDATE (8/09):  Scorpion will add White, Hi-Visibility Yellow and Black Cherry colors in the Fall of 2009.]
The silver metallic paint is perfectly applied on this example though, and it does have a more brilliant appearance than other silver paints I've seen.
The paint is evenly applied with no faults or dust bunnies underneath, which is not as easy to do as it seems, because many other helmets I've handled lately have one fault or another.
A fairly thick clear coat has been applied over the paint, giving the surface a nice finish and feel.
The plastic surrounding the chin vent, top vent and exhaust vent is a solid color silver, just barely noticeable as different than the metallic paint covering the rest of the helmet, and this gives it a subtle but good-looking appearance.
The build quality is very good, with just a touch of the flip-up helmet creaking noise to be expected on a helmet of this type.
But the shell feels very stiff for a flip-up helmet, and it's labeled as meeting both DOT and ECE helmet safety standards, a slight anomaly, because ECE rules say that helmets sold outside the EU should not carry the ECE approval sticker.
But who's checking?
The design and operation of the vents is especially noteworthy, because the entire vent covers act as rockers that open or close the vents. This gives a smoother aspect to the design and the vents have a nice positive feel.
The liner and other fitments are also nicely done, and the engineering of the parts that allow the helmet to be transformed from a flip-up to open face and back again work easily and feel secure.
Score: I'll give the Scorpion EXO-900 an "Excellent" rating for overall quality, surface finish and clear coat and excellent overall fit and finish. See the ratings descriptions in the summary table at the end of this page.
Scorpion EXO-900 Helmet Fit. Comfort and Internal Shape
We get many emails from webBikeWorld readers asking about flip-up helmets with a "long oval", or narrow internal shape, and the EXO-900 is good news for them.
The helmet has a fit that I think is just a touch to the narrow side of neutral, with slightly narrow sides towards the top, opening up slightly on the sides down towards the cheeks.
The fit feels very similar I think to the full-face Scorpion helmets, but the EXO-900 probably splits the difference between "Slight Narrow" and "Neutral" in the table below.
Riders with very round heads of the Arai Quantum II shape might find a bit too much pressure with this fit from the cheekbones up. But otherwise it is just slightly narrower than neutral or average, and it should fit a large number of riders.
The EXO-900 fits my particular head shape very nicely.
The helmet also has the inflatable cheek pads first seen on the Scorpion EXO-1000 reviewed on webBikeWorld a couple of years ago, which allow some customization of the fit. This time, the inflator is towards the rear of the helmet at the bottom of the liner edge.
The effect is not quite as noticeable as it is on the EXO-1000 because the EXO-1000 has a stiffer shell without the cutout for the rotating chin bar. But it's fun to puff up the cheek pads and hear the air blowing in and the hiss when the release button is pushed.
So the lower part of the inside of the helmet can be adapted to fit those with narrower cheeks; in effect, this can make the helmet go from a Slight Narrow to Medium Narrow, based on our new helmet fit chart:

The bottom row in the table above includes links to helmets that currently serve as the benchmark for the particular fit, and the red "X" indicates the helmet that is the subject of this review.
We plan on changing the shape ratings on the Motorcycle Helmet Weights page to match. Remember, this is only an opinion.
Note that it usually isn't possible to compare multiple helmets (or other products) for a variety of reasons that are detailed on this section of the Site Info page.
The EXO-900's liner has a generous amount of padding, and it feels comfortable. The fabric is not as plush as some helmets, but it's better than others.
This helmet is a size large, and it feels possibly about 1/2 size larger than expected. In fact, I thought it was an XL until I read the label inside. I'd say it should fit a 60.0 to 61.5 cm head, which is slightly larger than the size range indicated by Scorpion.
The chin bar is closer to my chin than I expected and my chin just touches it, so owners with larger chins may want to try on the helmet first. Otherwise, the shell shape feels pretty much standard to me.
TThe liner has cutouts or mesh in the front, rear, sides and center to allow air to flow through and the liner looks and feels well made.
One thing that is curious is that I have trouble fitting my sunglasses in the helmet when I'm wearing it. I have to spread the helmet over my ears while wearing my sunglasses to put on the helmet, which sort of defeats the purpose slightly of a flip-up helmet.
Many motorcycle owners buy a flip-up helmet because they find it easier to use when wearing eyeglasses. Note that this may just be a quirk of my head shape and the helmet fit.
One other interesting feature to note is the pop-out on the left side of the helmet, which appears to be something designed for an intercom system.
The ear pockets seem deep enough for speakers, so I'm wondering if at some point Scorpion will team with an intercom manufacturer to offer a communications system for the EXO-900.
Scorpion confirmed that the intercom "door" is designed to be universal for any intercom kit (Updated 8/09). Also, the helmet features an innovative internal bladder system that may help the fit for some riders; see the noise section below.
As always, make sure you try the helmet on before buying, and try a variety of sizes. The smallest size that fits comfortably is usually the safest.
For more information on choosing and fitting a motorcycle helmet, please see the wBWMotorcycle Helmet FAQ page, which also includes a discussion on head shapes.
Score:  I'll give the Scorpion EXO-900 a "Very Good" rating for conformance to fit and liner comfort.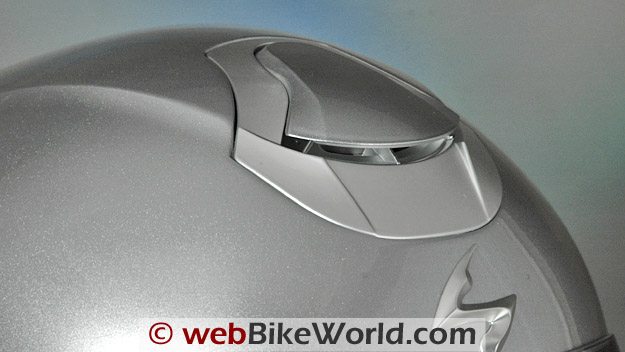 Vent covers work as rocker panels to open and close the vents.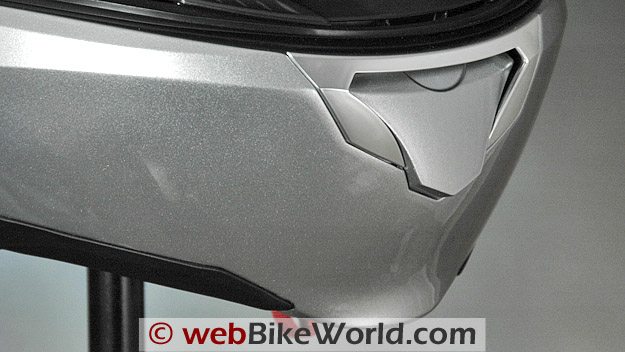 Chin vent of the Scorpion EXO-900 Transformer.
SScorpion EXO-900 Ventilation
The interesting vent system on the EXO-900 allows the part that covers each vent to also operate as the device that opens or closes the vent to allow air to flow through.
For example, the chin vent cover can be pushed in at the top to open the vent, and the bottom portion of the cover is pushed to close the vent.
The top vent operates in a similar fashion, and the rear vent can also be opened or closed by sliding the cover back and forth. This seems less complex than other vents with more parts, and it also allows each vent to close completely, leaving a smoother profile on the helmet.
There are no air channels directly through the chin bar, so the air that comes in through the vent directs the air up on to the rider's face from behind the breath guard.
The helmet does feature a removable chin spoiler, which prevents some of the air from flowing up from underneath the helmet.
This helps to make the chin vent more effective, but between the closeness of the chin bar, no direct air flow through the chin bar and the chin guard, it can feel pretty hot in that area.
The face shield does have a small initial setting to allow defogging though, which helps.
The top vent looks like it forms a big scoop when it's opened, but the ventilation it provides doesn't seem to match the size of the opening. It only flows what I consider to be about an average amount of air for a flip-up helmet.
But although I can't directly feel any air flowing over the top of my head, the system does seem to circulate enough air to keep the temperatures down.
The rear exhaust vents can be opened by sliding the cover back and forth.
This could probably have been made simpler by leaving the rear exhausts open all the time; I've never found it necessary to close the rear exhausts on any helmet, even in the coldest temperatures, because it's usually always a good idea to have at least a minimal amount of air flowing through the helmet.
Score: Overall, the Scorpion EXO-900 provides what I consider to be about an average amount of ventilation. This actually isn't a bad thing, it's just that the good-looking vent system seems to me to promise more than it actually delivers. So I'll give it a "Good".
Helmet Weight
Some bad news here — all those features don't help in the avoirdupois department. This size large Scorpion EXO-900 weighs in at a hefty 1888 grams (4 lbs., 2-5/8 oz.).
That puts it at the upper end of the helmet weights for all of the helmets we've reviewed, although it's not the heaviest flip-up by any means.
But don't forget, this is a size large, and it weighs nearly as much as some of the size XL helmets we've reviewed.
For comparison purposes, some of its current neighbors on the wBW Motorcycle Helmet Weights page include the Scorpion EXO-1000 (review) in size XL at 1821 grams and the SCHUBERTH C2 (review), also in size XL at 1827 grams.
Also the HJC FS-Max (review) in size XL is 1911 grams and the Shark Evoline (review) in size L is 1928 grams.
The EXO-900 does feel well balanced though when riding with no unusual tendencies towards lifting or buffeting, and the inflatable cheek pads can help also to keep the helmet firmly in place.
See the wBW Motorcycle Helmet Weights page for a matrix and chart comparing the weights of all of the open-face, full-face and flip-up helmets we've reviewed.
Score: The Scorpion EXO-900 gets a "Poor" rating for weight, but a "Very Good" for balance.

The EXO-900 rear exhaust vent slides open and closed.

The rotating visor on the EXO-900 can be removed by pulling the recessed D-ring (L). The helmet includes a large chin curtain with and additional snap-on piece (R).
Visor and Transformation
Scorpion has designed a very easy to use mechanism to accomplish this. Scorpion says the helmet meets DOT safety standards as both a flip-up and open-face helmet.
Two hidden D-rings, one on each side, are located under the sides of the rotating flip-up visor.
Pull down on the D-rings and the visor just about pops right off. It is located on the helmet with "T" shaped posts on either side that can be pulled away from the helmet when the spring-loaded cover is released by pulling on the D-rings.
Installing the supplied sun peak or visor is just as easy; this is illustrated in our video below. The peak snaps on and then is rotated downwards, where the two cheek sections are snapped on to the front of the helmet shell.
Unfortunately, other than the internal rotating sun visor, the helmet does not have a separate clear face shield that can be used when it's in open-face mode.
This somewhat limits the usefulness of the conversion, working best for the aforementioned touring riders when they're riding a motorcycle with a large windscreen to block the wind.
Think of it as a helmet with an optional open-face capability that might be used for a small percentage of the time. I consider the EXO-900 to be primarily a flip-up.
To be honest, I'm not sure how much this feature will be used; it probably would have been more useful if the helmet included a full length face shield for use in the open-face mode.
The ability to remove the rotating flip-up visor allows very easy removal of the clear face shield, and it also makes it much easier to clean the face shield, which can be a problem on many helmets.
The face shield has good optical properties and it also has strong detents, moving through about 6 positions on its way up or down.
It is treated with Scorpion's "EverClear" anti-fog coating, which has worked well in other Scorpion helmets I've tried, but the weather is too warm here now that it's summer, so I can't really comment on how the anti-fog treatment works in this helmet.
The internal sun visor operates via a slider on the left side of the helmet shell. It rotates down far enough to just remain out of the rider's line of sight, but like most of these internal sun visors, it could probably rotate downwards a bit more.
Personally, I never use these internal sun visors and find that they just add weight and complexity to the helmet. They're usually not dark enough to do much for me anyway.
Score:  I'll rate the transformation process, visor clarity, operation and visibility of the visor and face shield on the EXO-900 as "Outstanding".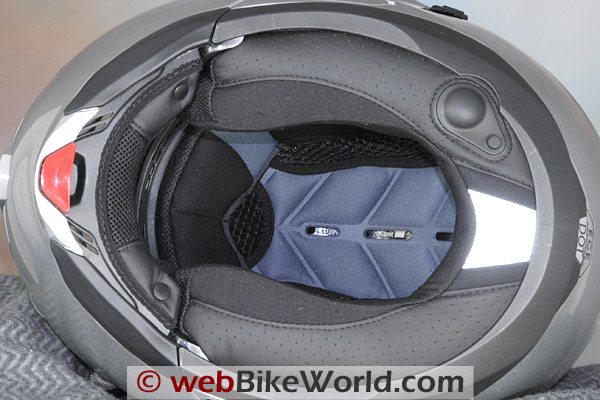 Scorpion EXO-900 helmet liner with cheek pad inflation button at upper right.
The smooth covered air vents on the EXO-900 seem to help reduce noise levels. Overall, the helmet is relatively quiet; probably about average or slightly better for noise control on a flip-up helmet.
The rear of the liner seems to be slightly short, and I notice that if I place my hand in the back of the helmet that the noise will noticeably decrease, so a slightly fatter liner in the rear may help.
This, of course, may also be due to a mis-match between my head shape and the way the helmet fits.
The front of the helmet and the smooth sides seem to do a good job at controlling the low-frequency "booming" noises often resulting from turbulence in this area, again making the EXO-900 a potential good choice for touring behind a windscreen.
The helmet also has a feature Suomy calls the "AirFit", which is an evolution of the cheek pad pump on the EXO-1000 (review). The AirFit pump is located in the rear of the bottom of the helmet and it can be pumped to inflate a bladder inside that tightens the cheek pads and neck roll.
The system didn't seem to have much of an effect, but we think it might be useful for some owners, depending upon their head shape and how it matches to the helmet's internal shape.
Note that our helmet evaluations are a combined effort of several riders over time on different types of motorcycles with and without windscreens.
Evaluators wear correctly fitted, high quality ear plugs (even when evaluating motorcycle intercom systems).
Always protect your hearing when riding a motorcycle. See the wBW Earplug Reviews for more information on choosing and wearing earplugs.
Note also that perceived noise levels will vary, depending on the individual.
Noise can be caused by many factors, including helmet fit, the type of motorcycle and windscreen, wind speed and direction and even the rider's clothing.
For more information on helmet noise, visit the wBW Motorcycle Helmet Noise page.
Score: I'll give the EXO-900 a "Very Good" rating for noise control.
w

BW

 Video: Scorpion EXO-900 Motorcycle Helmet
Miscellaneous
As this is being written, Scorpion is in the process of releasing the EXO-900 to dealers and there isn't a lot of information about the helmet on the Scorpion website.
The helmet appears to be made from some type of polycarbonate composite, but we're not sure. The rotating visor connects to the helmet with metal hooks.
The chin strap uses a double D-ring attachment system and it includes a snap to control the loose end.
Conclusion
The Scorpion EXO-900 is an interesting new design and a bit of a paradox.
On one hand, the ability to easily convert the EXO-900 to an open-face helmet is a somewhat useful feature, limited by the absence of a full coverage clear face shield. The helmet is also very heavy, unfortunately.
It works much better as a pure flip-up helmet, with a smooth outer shape, a clever air vent design and very nice fit and finish, along with the interesting Scorpion inflatable cheek pad system.
The limited number of available colors at this point and the conservative overall styling is also uncharacteristic for Scorpion, a company known for its edgy design — yet one more clue that this helmet is designed for touring riders, who seem to be a conservative lot.
But overall, the EXO-900 is a very good first go at a flip-up helmet for Scorpion, and Scorpion fans should be pleased.
w

BW

 Product Review: Scorpion EXO-900
Available From: Scorpion Sports
List Price (2009): $269.95-$279.95
Colors:  Solids and graphics.
Made In: China
Colors: Black, Matte Anthracite, Silver.
Review Date: July 2009
Sizes: XS-2XL  Shell Sizes: Unknown

Rating Scale is subjective: Unacceptable, Poor, Neutral, Very Good, Excellent, Outstanding.
Note:
 For informational use only. All material and photographs are Copyright © webWorld International, LLC since 2000. All rights reserved. See the webBikeWorld® 
Site Info page
. Product specifications, features and details may change or differ from our descriptions. Always check before purchasing. Read the
Terms and Conditions
!
Owner Comments and Feedback
---
From "B.H." (June 2014): "I love reading your reviews! Just wished I had read them on the EXO-900 before purchasing 2 of them.
I have used many helmets over my  45 years of riding and have found all seem to have good points and bad. I purchased the EXO-900 2 years ago as it seemed very comfortable. I liked the fit and the "pump up" feature to tighten the helmet around the face in windy conditions.
My face is rather pointed in the nose and chin area and the EXO900 gave me more room. This helped as it allowed more room for my microphone.
My last helmet (Nolan N-103) smashed the microphone into my nose and mouth. We gave up on the Nolan N-103 as they were very heavy and the vents all quit working and cannot be repaired.
One complaint for me on the EXO900 is the face shield leaks terribly! We were on a 5 day journey and it rained every day. Leaking from the top made it very difficult to see. My wife has the same helmet and hers leaked as well, so obviously, it is a design issue.
Also, when the face shield is in the "up" position, it vibrates badly even at low speeds. Other than that, changing it from full face to open face is a snap! Also, changing face shields is very simple and quick. I also like the way the inner liner can be removed easily for cleaning.
We do like the helmets and have used them for over 20,000 miles. But, when it comes time to purchase helmets again, we will definitely go with a helmet that doesn't leak!"
---
From "A.S." (January 2014): "I found your reviews only after I bought the helmet. You do a comprehensive review: I'll check your site before buying any other helmet again, ever.
Bottom line, like some other commenters, I'm disappointed with my EXO-900. Too noisy, and exactly the wrong kind of noise. My old open-face EXO-100 is better than this one.
I put on my new EXO-900 and get less noise (horns, brakes, motors of the cars around me) of the kind I need to hear, and much more of the white noise to make me deaf. I usually ride with a big fairing that typically helps, and have the noise problems anywhere over 40+mph.
One thing I didn't notice on your review, but it may be particular to me: my Silver Wing scooter has a helmet hook from which you can hang a helmet by the chinstrap on the outside of the bike, but the hooks itself is secured so it can't be stolen (unless someone wants to slice the strap to get the helmet), but the chinstrap here is too short, so I can't use it! A strange problem, but annoying nonetheless.
If I read your review earlier it would've saved me. Now I'm on to Plan B: Craigslist.
Also, it would be easier to find your helmet reviews by type, in addition to other factors. By that I mean, flip-up or modular, half-helmet, three-quarter, with face shield, without face shield, etc.
I found your site by directly googling my model, to see if I could find other users that found a way to reduce the noise. Now that I'm going through the reviews, it's hard to find a page with (for example, because this is what I want) only flip-ups.
I figured out that your shape page will tell me if it's a flip-up or not, but it takes a lot more time to find them that way.
Maybe it's just me, but as a new visitor I kind of assumed the categorization would be there, and it isn't. But the reviews are good enough that it will go through them anyway before buying. Its just that it will take more time than I expected.
Editor's Note: With over 5,000 pages, 14+ years of work and nearly 2,000 reviews, it's basically impossible to keep everything indexed!
Try these:
---
From "A.N." (July 2011): "I wanted to reserve comments until I fully tested this helmet in several weather conditions and a 3 hour minimum ride. I chose this helmet because it was the only one I could find that fit my egg-shaped head and not apply pressure to my forehead.
It is heavier then I wanted but otherwise I liked it's design.
Road testing would bring up the following:
This helmet would appear to have adequate ventilation based on the vent design but the only thing that is apparent to me is the wind noise increase when opening the top "scoop" type vent.
In cooler weather I did notice a mild temperature change when that top vent was open but it is definitely not enough in warm weather.
Recently, I noticed something completely unacceptable when I was approx.
One hour into a three-hour ride and an irritation developed on my forehead from rubbing against the liner. It required frequent movement of the helmet in order to finish the ride.
A post-ride investigation of the liner material clearly shows how rough it is. My other helmets used a soft fleece material. For my next long ride I will either stick some moleskin on the liner or wear my Buff headwear.
The liner seems tough and durable but needs to be softer in the forehead area.
The other thing I found useless is the flip down shield. I have always worn sunglasses with my flip up helmets and they simply perform better. The flip down shield is too high for me and doesn't offer light coverage at the bottom.
It is a nice idea but I would rather have a lighter helmet. If I can find a way to pull it out maybe the helmet will ventilate better??
As far as noise is concerned (behind my windshield) this helmet is much quieter then my other flip-up helmet when the top vent is closed. When the vent is open – it is noticeably louder.
So, for me – softer liner, better ventilation, lighter weight – could dial this helmet in for me."
---
From "J.P.R." (July 2011):  "May I just congratulate you on being one of the best and most comprehensive review sites I have visited.
I did quite a bit of research whilst considering which flip helmet to buy to replace my old Caberg Justissimo (review). The short list was the Caberg Sintesi (review) and the Scorpion EXO-900.
Unfortunately my local dealer, who stocked both, persuaded me the Scorpion was the better helmet. I`ve regretted buying this helmet virtually from day one (April 9th 2011). As time has gone on things have got no better.
This is the noisiest and most uncomfortable helmet I`ve had in my 43 years of two wheeled travel. I ride a classic Lambretta SX200 scooter, a modern Vespa GTS 300 auto and a Honda Varadero 1000.
Noise: The wind noise can be so loud even at 60 or 70 MPH on any of these bikes that I can`t hear the sat nav instructions, which was never an issue with my Caberg. I`ve even resorted to fitting extra padding into the helmet to no avail. The pump makes no difference (to wind noise nor comfort).
Comfort: 1. The inner liner beading gives me severe head pain after about 30 or 40 miles. 2. The chin strap makes my jaw ache. 3. The padding of the helmet at the sides of my forehead make my head ache.
Weatherproof: Another issue is the watertightness. Here I`m going to paraphrase one of your other reviewers because I have exactly the same issue: "The area at the top middle where the visor is cutout, has a gap when the visor is closed.
Water runs down this area in rain, right in front of your eyes. Combined with the internal visor coating that resists fog, this makes a translucent line down in front of your vision till it dries." This causes very bad blurring and the only way round it is to turn your head and look sideways through the visor.
Other: The flip down sun visor is not dark enough to be effective and , for me anyway, it doesn`t drop down far enough. So the bottom edge is distractingly just in and out of eye line. I also find it difficult fitting my sunglasses in this helmet.
Only redeeming feature is that it`s a damn good looking helmet. My wife realises how unhappy I am with this helmet to the point where she has insisted that I buy another helmet!!! Hope this review helps someone to make a reasoned choice."
---
From "L.B." (October 2010):  "I have been using this helmet for several months now and I am not satisfied at all. The biggest problem is wind noise. The wind noise level in this helmet seems very loud to me. I ride a standard bike and sit sort of high, but that can not be the only reason for all the noise. So loud as to hear little of anything else.
Second, like another reviewer here, the black plastic molding around the bottom rim is popping off on both sides.
Also, the ventilation seems quite minimal and the visor fogs up easily even right after application of anti-fog formula. On the plus side, the flip mechanism works well and disassembly/reassembly goes smoothly. All in all, I really wish I had not bought this helmet and look forward to replacing it."
---
From "C.R." (September 2010):  "I read the review and later purchased a Scorpion EXO-900 helmet. I agree with all the previous comments, but would like to add one thing on the visor.
If you ride in the rain, this is probably not the best helmet to consider. The area at the top middle where the visor is cutout, has a gap of about 1/8 inch when the visor is closed. Water runs down this area in rain, right in front of your eyes.
Combined with the internal visor coating that resists fog, this makes a translucent line down in front of your vision till it dries. Otherwise, it is a fine helmet."
Editor's Note:  It may be possible to adjust the fit of the face shield by loosening the screws on the rotating mechanism on the sides of the helmet that hold the face shield and then by readjusting the position of the face shield. It's tricky, but possible on some helmets.
---
From "D.H." (April 2010): "I have worn my Scorpion Exo-900 helmet for two days, and it has already had to go back to them for warranty repair. The black plastic that runs along the bottom of the helmet broke off on both sides where it tucks under the front of the helmet.
I'm not sure if it arrived broken or whether it broke when I wore it the first time, but before the end of my first ride both sides had sheered off. To Scorpion's credit, they are willing to take it back and fix it. They seemed to admit that this was a problem with this model.
However, I have to pay the shipping, which even at parcel post rates, is adding about 15% to the original cost of the helmet.
Otherwise, I found the fit quite comfortable, and I find very few helmets comfortable.
Also, I found the Scorpion to be substantially quieter than my previous KBC helmet. Still the fact that it had part that immediately broke and that I have to pay shipping to get it fixed bothers me."
---
From "E.A." (April 2010):  "Head shape and sizing: I went from a Nolan N102 Large to EXO900 Extra Large. The EXO900 Large was a bit tight around the upper side portion of my head but the deal breaker was that my chin was rubbing against the chin bar.
The shell size of the XL must be larger as my chin was now clear of the chin bar.
The protruding portion of the chin bar wasn't an issue with me, and I don't consider myself having a chicken neck (17 1/2 collar) or a long neck. I was worried about that from the earlier feedback; but my helmet just touches my chest when looking straight down with the helmet on/jacket on.
Noise: About the same as my trusty Nolan, I'll be wearing earplugs for longer rides.
Eye Port: Huge. Nice being able to glance downward without having to move my head. For comparison's sake, with my Akuma Stealth I had to move my head to look downward at my tan kbag; and the eye port of the EXO900 seemed a little larger (taller) than the Nolan N102.
I bought the EXO900 in their Neon Green color, and it's sure bright; and if the color helps that little old person in the SUV see me just that one time then I'm good with that. Hope this color doesn't fade as quickly as some of the EXO-700 Neon owners have reported.
I normally don't leave my helmets on the bike, and at home store them in helmet bags. A Big Thank You to Scorpion for making the EXO900 available in Neon Green.
Final comment – I know Rick prefers the "plain, old, simple, ultra-light-weight, elegant and infinitely adjustable double D-ring".
I have gotten spoiled by the quick release buckle such as used by Nolan. I hate (detest and vilify) D-rings especially with gloves on. I wish the EXO900 had used the ratchet buckle and I miss it greatly."
---
From "D.E." (November 2009):  "Just one comment on the Scorpion EXO900. Our local going out of business dealer had some in stock, and at a 1/2 off price they were a very attractive offering.
I normally wear a SCHUBERTH Concept-II helmet in XXL (63cm). The Scorpion in XL fit wonderfully, better than the Concept.
It appeared to be a winner to me with all the features I desired (internal sunshield, flip-chin-bar, anti-fog shield, easy one-hand opening, quality feel) and I was ready to purchase it until I tried looking DOWN with the helmet on.
OUCH!
The strange protruding bottom of the chin-bar hit me dead center in the chest… painfully so.
I imagine this might not be a problem if you have a long neck (chicken neck? 🙂 It does appear to be a problem for those of us without long necks. I would be concerned about this contact in an accident.
(Darn) shame. If it hadn't done that I would have bought it. It appears the pointy extended bottom of the chin-bar was done just for styling. Shame since the rest of the helmet is so well done."
---
From "F.B." (November 2009):  "First, I love reading your reviews. You do great work.
I bought a Scorpion Exo900 Transformer about 2 months ago, and have used it a handful of times.
It's very functional, fits well, and very warm even in freezing area temperatures, I agree that Scorpion should have made arrangements for a face shield when the jaw section is removed for open face use.
I do like many of the features, including the removable liner for cleaning. The interchange of parts from full face to open face and back again is simple and easy to do. I do think the sun shade could be a little darker.
Haven't tested in rain yet nor an accident — hope not to.
I was surprised to learn that it was made in China, so am a little concerned about what pollutants like lead, etc. might be in the materials.
You gave it an average to good noise rating. Not having tested other modular helmets, I can't comment on that.
My bike has a small Hellcat windshield that results in buffeting.
At high speeds (60+ mph) I find there is a lot of outside wind noise (tested without ear plugs to get a good feel for it) and some of that low frequency booming noise. Next time it's warm, I want to test it again on a naked bike (no windshield) to see whether there is any difference in noise level.
It definitely cuts down wind noise compared to a half-pot, but in defense of the half-helmet with face shield there is no booming noise with it. I expected a lot better noise reduction, but after reading your review, maybe that's too much to expect."
Editor's Note (November 20, 2009:  Our "Good" rating as used in the helmet reviews is actually a neutral, meant to bridge the gap between the negative and positive ratings, which run from "Unacceptable" and "Outstanding".
See the Ratings Score explanation in the summary table at the end of each review. Perhaps using the word "Good" is misleading and should be changed to "Neutral". I will do that in the next review.
---
From "J.W." (July 2009):  "Well it is nice to finally see a helmet company that distributes to the Mainstream U.S. I have been trying for a couple of years to get information from Scorpion (and other US distributors) if they were going to make something that was not so homogenous, bland.
This looks like a half hearted attempt though.
Zox makes the Etna SVS with more features for a $100 dollars less. Zeus, who makes one with the same features for a little over $100 less too, but with many more paint schemes. I would love to see a "head-to-head" like the reviews in Car and Driver.
Thanks for the info. you do a great job in keeping us informed."
Editor's Reply:  Product comparisons are very difficult for a variety of reasons detailed in this section of the Site Info page.
---
From "J.S." (July 2009):  "I just looked briefly at your review of the Scorpion EX 900. I like Scorpions mainly because an EXo-700 saved my cabbage two years ago. But, I can't help myself when I see offered a finish called Matte Anthracite.
I assume that's flat black and wonder why a reputable company would even offer stealth in a motorcycle product. Is it for the same reason tobacco companies still sell cigarettes?  I guess I should be thankful we still have some rights."
Editor's Reply:  Tastes differ; many motorcyclists still prefer black or matte colors. Scorpion does make the EXO-700 in Neon!
---
From "C.G." (July 2009):  "As always guys, great job on the review!  I've been wondering when/if Scorpion would make a flip-up helmet. I'm on my second EXO-700 helmet (the first was stolen), and I love it.
It's always been a very comfortable helmet and I had planned to buy an EXO-1000 within the next 12 months (primarily to gain the internal sun-shade visor) but not anymore!  The EXO-900 is now on the wish list instead!  Thanks again for the great site!