Communication was never so simple as it is with this Schuberth device. Schuberth helmets are immensely popular in America, Europe and several other countries around the world. They are known for being durable and sturdy and offer an immensely good fit for your head.
Schuberth launched the C3 PRO SRC Bluetooth system to offer easy connectivity and communication between motorcycles. Being designed by the Cardo Systems along with Schuberth, this SRC Bluetooth system is an innovative intercom system between motorcycles and has been designed to fit several Schuberth helmets.
This Schuberth C3 PRO SRC Bluetooth system review will help you understand what this device has to offer, what its unique features are and what are the benefits associated with it. We will also discuss the style of the helmet that such a system can fit into and what the weight of this Bluetooth system is.
Benefits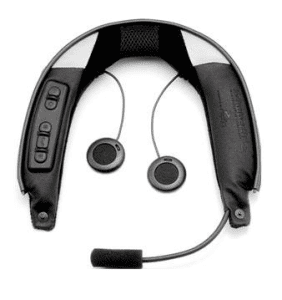 The Bluetooth system has been so designed that all the control buttons and the intercom components are places in a collar or replacement neck roll which can be easily fitted into S2, C3 PRO and other helmets designed by Schuberth only.
Easy communication between motorcyclists = This Bluetooth system allows up to 4 motorcyclists to communicate with each other simultaneously. The range is said to be up to a thousand meters under ideal conditions also depending on visual contact and the terrain. The setup is completely voice-controlled so the motorcyclists does not get disturbed during the ride and all he needs to do is speak into the Bluetooth system to accept and reject calls.
Connection to GPS device – The Bluetooth system can be easily connected to a GPS device. This can be quite useful for the rider for navigation purposes and he can receive voice instructions over the 2 earphones and follow them conveniently. This system is fully compatible with all well-known Bluetooth navigation systems.
Listen to music and share it too – The C3 PRO SRC system can be connected to all MPS players with the help of a multifunctional USB interface present in it allowing the rider to enjoy music when on the move. Moreover, MusicSharing via the A2DP technology allows the rider and his pillion passenger to listen to the same music together. Moreover, the integrated VHF radio allows the rider to listen to his favorite stations and vital traffic announcements if any.
Features
So, where does the Schuberth C3 Pro SRC Bluetooth System score? Here is a look at some of the things that you would love about this Bluetooth system:
Intercom between the rider and the pillion passenger. This ensures easy and quick communication any time during the ride. The rider simply needs to switch on the 'click-to-link' button which allows him to pair and communicate with nearby SRC system which has also been switched on. Up to nine bikers can use the intercom conference and
Easy to set up – It takes only minutes to install the Bluetooth system within your helmet and use it with a plug and play feature.
The Weight – The device weighs around 3 lbs or 1.3 kg which might be a little bit heavy but you would soon get used to it.
The Design – This is waterproof and dust-protect so you can easily use it during rains and in dusty areas.
The Other Features
Interestingly, if the intercom range gets exceeded, the rider can use the intercom to mobile feature. There is VOX Voice Control and automatic gain control ensures maximum volume depending on the ambient noise and travelling speed. Add to it the fact that you can use the Bluetooth system as a GPS or MP3 or just listen to FM. There is a gooseneck microphone included as well that helps better the sound and abbreviated dialing ensures that you can call whom you want easily. The Bluetooth system offers a good standby time of 7 days and you can use it for around 13 hours continuously.
Final Verdict
This is one of the better Bluetooth systems out there for your helmet. Connecting it to your helmet is easy and you can do a lot more than just pair the Bluetooth with your mobile phone. That you can use it to talk to your pillion rider or even as a GPS will come in pretty handy.
Important Tips
It is a good idea to take care of the cable connectors that connect the battery/ control buttons to the microphone processor as users have reported that the connector isn't as durable as they would like. You will also need a USB interface to use the system to connect to your phone, if your phone does not support A2DP technology.