KTM has claimed a 1-2 victory in the heavyweight division of the Pikes Peak International Hillclimb last weekend and released this 10-minute video of the record-breaking ride.
Rookie Chris Gilmore set a record of 9:49.265 on his KTM 1290 Super Duke R and was closely followed by Aussie Rene Scaysbrook on the same bike. He was also under 10 minutes at 9:57.712.
In his first attempt last year, Rene was also runner-up in the class and 19th outright on a Super Duke.
In the scary video, you see Chris miss a few gears and slide towards a cliff as he neared the top on the icy-cold road surface at 120mph (193km/h).
"Luckily I was able to keep it under control but it was definitely a nerve-racking moment and I'm happy to have finished safely and with the win," he says.
Rene says he was happy breaking the 10-minute barrier and recording the third-fastest motorcycle time on the mountain.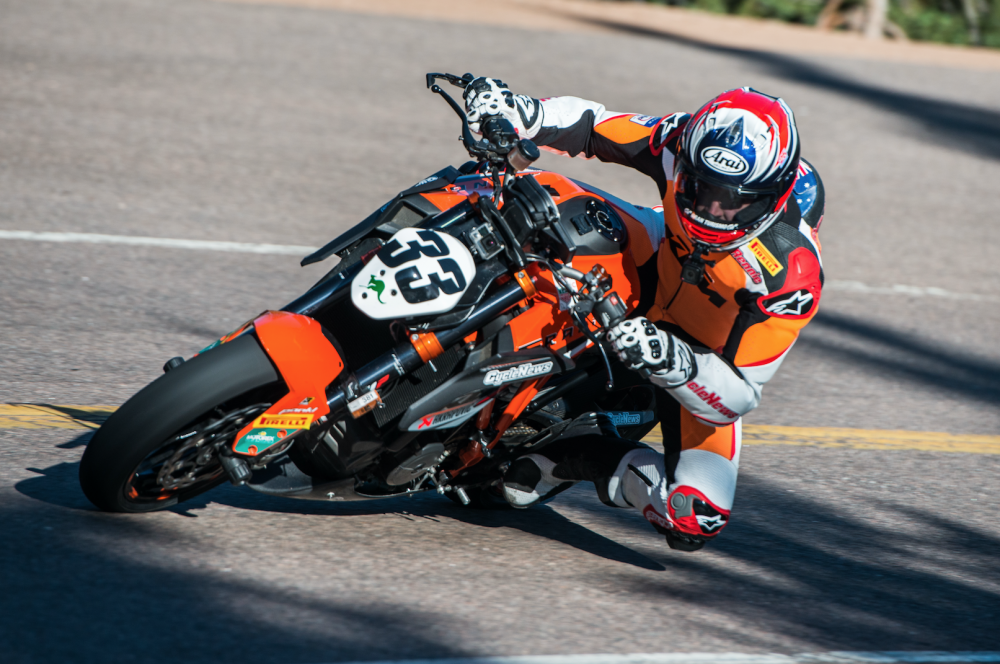 Precipitous Pikes Peak
The 4300m Pikes Peak in the Colorado Rockies has been host to the famed race for 101 years. The dangerous peak features 156 turns, many of them hairpins, and much of the course has no guard rails with precipitous drops.
I rode it in 2015 on a Victory bagger and even at a slow pace it is heart-in-the-mouth stuff with the cliff edges dropping off into oblivion. Above the snow line there are not even any trees to halt your plummet down the hill.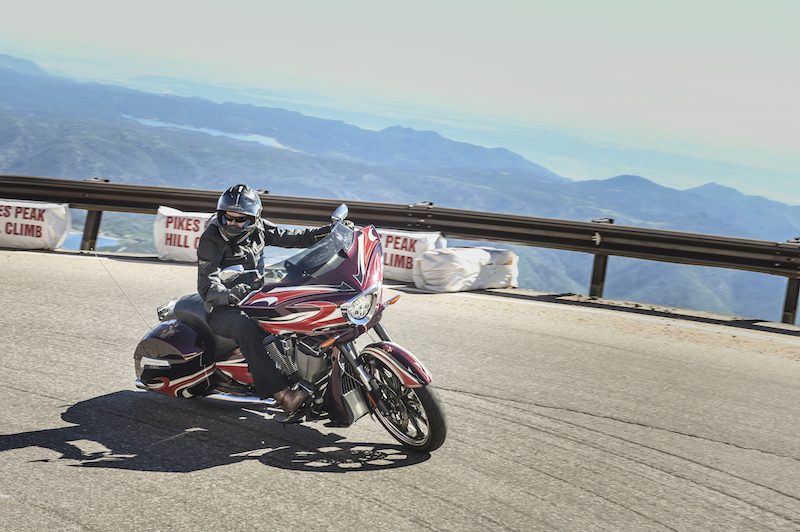 Toward the top, the road is slippery because it is so cold, even in the middle of summer.
And then there is the altitude. The lack of oxygen saps rider and bike power. Find out how to ride with altitude sickness.
Tragedy on the mountain
In 2014, rider Bobby Goodin crashed his Triumph Daytona 675R at the summit and died. The following year, Carl Sorensen died when his Ducati 848 speared over a cliff during a practice run.
There have only been six deaths in the event's history, but organisers seriously considered dropping motorcycles after the two crashes in 2014-15.
Instead, they restricted the field to bikes with single handlebars which excludes super bikes with clip-ons and tightened the vetting process for riders who have to show they can compete safely.