Rukka "Airway" Jacket Review
The Rukka Aiway jacket and AirVision pants combo is designed for hot-weather riding.
But unlike most mesh motorcycle clothing, this gear is built to take all you can dish out — and then some.
The Airway/AirVision outfit is more successful in many ways than the Rukka Armas outfit (review), which is designed for cooler riding.
But here's a secret: the Gore-Tex Performance Shell liner included with the Airways jacket makes it nearly the equal of the Armas outfit for a variety of weather conditions.
The bottom line is the Rukka Airways jacket has outstanding ventilation with its special Cordura AFT "un-mesh mesh" but it doesn't sacrifice protection.
In fact, the Airways jacket probably has better and more substantial protective features than many other motorcycle street or sport jackets.
Just one catch: don't forget this is Rukka, so you're going to pay through the nose for the privilege.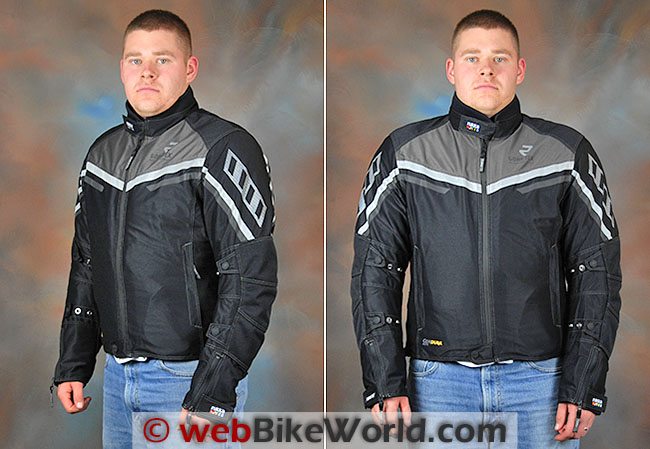 ---
Where to Buy Rukka Airway Jacket
Check Reviews & Prices on Amazon
Check Reviews & Prices On RevZilla
Also: Motorcycle Jackets, Motorcycle Gloves, Motorcycle Boots, Motorcycle Pants
---
Background
It's a funny thing. As the webBikeWorld Editor, I get about one email a week with someone complaining about the price of gear — helmet, jacket, boots, gloves…
The writer typically wants top-notch quality, MotoGP levels of protection; waterproof textiles that also flow tons of air; space-shuttle-grade abrasion resistance and supernova reflectivity. And don't forget high style.
Of course, if it costs more than 100 bucks, they're not interested and indeed, they're insulted and downright mad.
My standard answer? You want the goods, you pay for it. If you don't want to pay for it, you're going to have to compromise; no ifs, ands or buts. You just don't get a Mercedes for Kia money in this world, I'm afraid.
We have plenty of reviews of sub-$200 budget gear; just take a gander through the 1,300+ reviews we have available as of this date. That's the biggest detailed motorcycle product review database in the world, by the way.
In it, you'll find everything from the 100-buck Castle Slate Jacket (review) to the eye-watering $2,200.00 you'll have to spend to ride in that Rukka Armas jacket and pants outfit (review). Along the way there are sub-$100 helmets, cheap gloves, boots and everything in between.
Me? I don't mind throwing down hard money for good quality…to a point.
While I can't see myself forking over twenty-two Benjies for those Rukka Armas togs, I definitely think there's validity in spending the dough on one or two really good outfits, because they're like your second skin — but much more protective.
And I absolutely think that buying the best helmet possible is a must for any type of motorcycle riding.
For every reader who balks at buying an "expensive" jacket, I guarantee there are 3 other webBikeWorlders who have no problem at all doing so. These are serious, hard-core, experienced motorcycle riders who — one way or another — have come to realize the value of high-quality protective gear.
We don't have objective data on the difference between Rukka clothing and other brands; in fact, no one does, unfortunately.
All I can do is relate the subjective differences between this clothing and others we have reviewed, and it sure seems like the Rukka Airway jacket and AirVision pants (review) have the best combination of air flow with protection that money can buy in 2013.
The Rukka Airway Jacket Shell and Cordura AFT
The Rukka Airway is probably the ultimate textile jacket for hot-weather motorcycle riding. And this is a segment that needs some improvement, as many of the mesh jackets and pants that are available have no problem flowing air but have questionable protection and abrasion resistance.
The Airway jacket shell is made from a special type of Cordura, developed by Rukka and DuPont. It's called "Cordura AFT" (Air Flow Technology).
According to Rukka, the mesh is knitted into something resembling chain mail, rather than woven in the more common grid form. The special weave results in "a fabric whose air permeability is 1.8 times higher than that of regular Cordura", according to Rukka.
Rukka also claims that "the abrasion resistance of Cordura AFT is twice as high as that of conventional nylon, four times that of polyester fabric and seven times higher than that of cotton."
On close inspection, the mesh looks like tiny shields, but the fabric is soft, pliable and comfortable. Here's a close-up photo below; you can see the "shields" but the light from theMaxxeon WorkStar 220 Pocket Floodlight (review) easily shines through, indicating the amount of air flow through the fabric.
The shell is lined with a stretchy type of mesh that also has a softer feel than is typically found in motorcycle jackets. This makes the jacket comfortable with or without the Gore-Tex liner.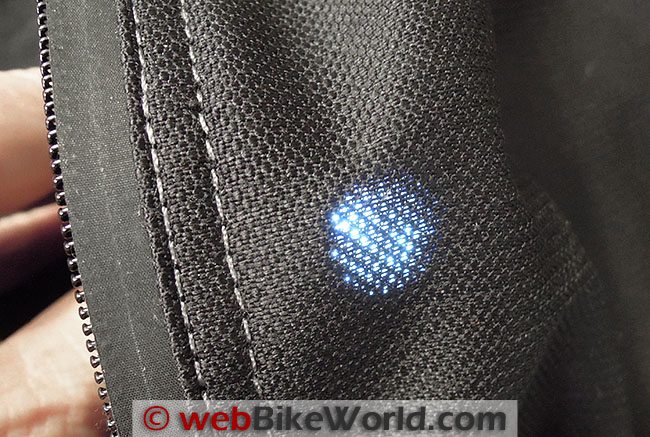 The Cordura AFT is the premier feature of the Airway jacket and it forms the basis of the entire jacket shell, including the accent color sections.
There is even a second, thicker layer of Cordura AFT over the elbows, providing abrasion protection while still allowing air to flow through.
The thicker Cordura AFT on the elbows is double-stitched in three overlapping "armor plate" style sections.
This not only provides better potential abrasion resistance, it gives the elbows more flexibility than would have been the case if only one piece was used, as in most other less expensive jackets. This is one of those subtle details that add to the overall cost.
So that's the main difference between the Airway jacket and other mesh summer motorcycle jackets, which usually have a much lower percentage of actual mesh, with solid textiles on the abrasion points and other areas.
The Rukka Airway Jacket: Gore-Tex Performance Shell Liner
The other premier feature of the Airway jacket is the included Gore-Tex Performance Shell waterproof/breathable liner, the same one used in the Rev'it Defender GTX (review).
It's a good-looking, stand-alone liner that can and should be worn by itself as a street jacket when you're off the bike. It has a soft internal facing, making it comfortable to wear over a simple T-shirt.
In effect, the liner is equivalent to a high-end waterproof shell made by companies like Patagonia, The North Face, Marmot, Arc'teryx, etc.
You can easily pay anywhere from $250.00 to $450.00 for a high-end jacket like this at REI (and actually, you still won't get all the goodies included in the Rukka liner), so you're getting a two-fer with the Rukka Airway, making its price much more palatable.
The liner even has its own waterproof zippered pockets, reflectivity and the front closes with theGore "Lockout" closure system (report),, something you won't find even on those $450.00 jackets from REI.
Of course, the Cordura AFT mesh in the Airway jacket shell lets any and all raindrops flow right on through, along with the air.
But the liner keeps you dry and the flow-through mesh quickly dries, while maximizing the moisture transfer properties through the Gore-Tex fabric on the liner which, as a Performance Shell grade, works very well.
More information on the various flavors of Gore-Tex can be found in our Gore-Tex textile report.
Gore Lockout Closure
The Airway jacket liner features the Gore Lockout closure system, as described in the Rukka Armas review.
This is the most recent "Version 2" of the Gore Lockout closure system (report). It is a unique design that replaces the classic zipper and the Lockout closure is designed to be completely waterproof.
Rukka also includes a small spray bottle of silicone lube for spreading on the edges of the Lockout closure and this is enough to probably last about five lifetimes.
The Lockout system on both the Airway and Armas jackets has the metal lock, although since the Lockout is on the liner in the Airway, there are no worries about the metal scratching the paint on the bike's fuel tank.
The Airway jacket shell uses a Salmi brand zipper and the shell has a snap tab at the bottom to cover the zipper parts. The teeth are surprisingly small but everything has worked fine so far with no problems to report.
There is no wind-blocking backing behind the zipper, but the Gore-Tex liner serves that purpose. The external zipper pulls on the jacket have fabric tabs which seem excessively long and I'm assuming they'll eventually fall off.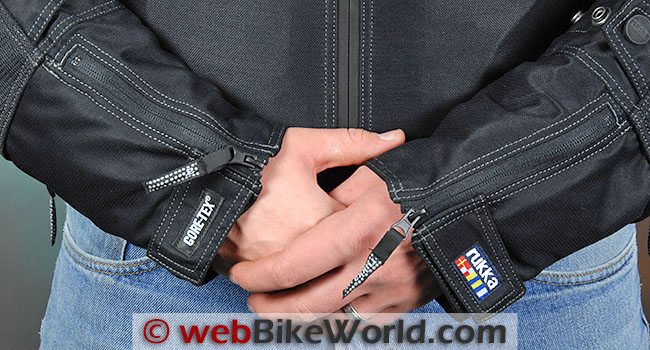 ---
Where to Buy Rukka Airway Jacket
Check Reviews & Prices on Amazon
Check Reviews & Prices On RevZilla
Also: Motorcycle Jackets, Motorcycle Gloves, Motorcycle Boots, Motorcycle Pants
---
Rukka Airway Fit and Sizing
The size 52 Airway jacket shown here is equivalent to a U.S. men's size large. I don't agree with the retailer's size chart for the Airway jacket, which shows the 52 as fitting a 40.2″ to 41.3″ chest size.
I have a 43″ chest and the size 52 Airway fits me exactly like most of the other size large jackets I have tried and actually the Airway jacket has a bit more room than the size 52 Rukka Armas jacket.
In fact, I've even worn both a T-shirt and sweatshirt under the Airway jacket with the Gore-Tex liner and still had no problem with fit.
Also, RevZilla lists the Airway jacket as having a 31.5″ sleeve length and this also seems way off, as the jacket has a 35″ sleeve.
You can see the length of the sleeves on the model in the photos; Joey is a firefighter and paramedic and he usually takes a size XL with 34″ sleeves.
In any case, the size 52 Airway jacket should be perfect for a male with a 43″ or so chest with 35″ to 36″ waist who normally takes a 34″ dress shirt sleeve length.
The jacket is comfortable and the fabric is more pliable than the type used on the Rukka Armas, which makes the Airway a real pleasure to wear.
Stitching and Construction
The Airway jacket is constructed just as carefully as the Rukka Armas jacket we reviewed in December of 2012. The stitching is almost all double rows, perfectly executed. Bar tacking is used at the wear points, such as the edges of the pockets and other zipper coverings.
The bar tacking is another one of those subtle details found on higher-end motorcycle clothing and it's also a contributor to the cost.
Sleeve Cuff Notes
The design of the sleeve cuffs on the Airway jacket is much better than the cuffs on the Rukka Armas, in my opinion. The Airway sleeve ends have a large hook-and-loop section that allows the cuffs to be cinched tight to fit under the glove gauntlets, while the Armas jacket has no such capability unfortunately.
The Airway sleeves have a vertical 125 mm zipper with no fabric underneath.
This allows the cuff circumference to be adjusted to your preference with the hook-and-loop, then you can simply open the zipper to remove the sleeve (and access the sleeve attachment for the liner if desired).
Next time you put on the jacket, simply zip up (down, actually) the sleeve cuffs and you're ready to go. So in effect, once you set the sleeve circumference with the hook-and-loop, you never have to adjust it again.
Sleeve Adjustment
The Airway jacket has a double row of sleeve adjustment snaps located just above and below the elbow. The first position works for me when the liner is installed and I can move the snaps to the second position with the liner removed.
This provides the correct adjustment for the sleeves to keep the armor in place.
Neck and Collar Notes
The stand-up collar on the Airway jacket shell has a Neoprene top section with a very soft micro-fleece type of corduroy on the inside. It's very comfortable and nicely constructed, right down to the soft piping around the top.
The design eliminates stitches or rough edges on the inside for maximum comfort.
The collar has an interesting attachment system: it's magnetic.
A 30 mm magnet is sewn into the collar tab, matched with another magnet in the right side of the neck. This allows a range of adjustment without having to use hook-and-loop or adjustable snaps.
It's a nice system that eliminates wear and the dirt and fuzz that can catch in the hook-and-loop. So far, it works fine, although I wish the magnets were about two times stronger.

---
Where to Buy Rukka Airway Jacket
Check Reviews & Prices on Amazon
Check Reviews & Prices On RevZilla
Also: Motorcycle Jackets, Motorcycle Gloves, Motorcycle Boots, Motorcycle Pants
---
Zippers and Pockets
The Airway jacket has two outer hand pockets that are lined with a nylon taffeta and have zippers with large nylon teeth, but the pockets are not waterproof.
There is a non-waterproof pocket in each side of the jacket under the main zipper in the right- and left-hand plackets.
It's surprising that the teeth on the pocket zippers are of the medium-large type, while the main jacket zipper uses much smaller teeth. It almost seems like the reverse should be true.
The Gore-Tex liner pockets (two hand pockets, two upper chest pockets) are waterproof, but curiously, the upper chest pockets have a zipper half inside that attaches to a short vertical zipper on each side of the inside of the Airway jacket shell.
So the liner pockets must remain open if you want to attach the liner at those points (although it's not necessary to do so).
The liner pockets should still remain waterproof because the Gore-Tex membrane is bonded and sealed on the inside face of the liner, but it still seems like an unusual, if relatively harmless, design.
The jacket shell also has an unbranded vertical zipper on each side to allow waist adjustment. These have a fabric dart sewn on the inside. Neither these zippers or the main entry zipper use locking pull tabs.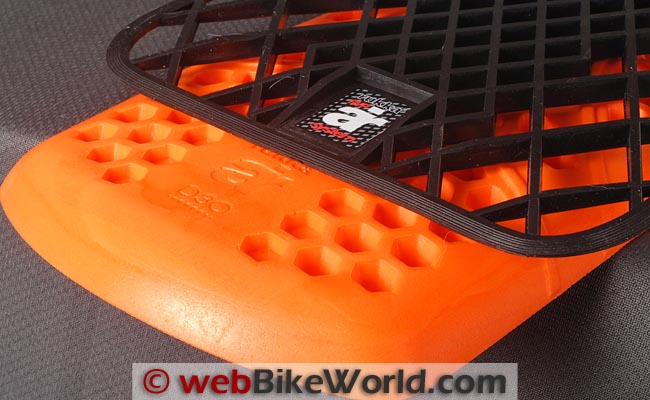 Safety and Protection
[UPDATE: Read the webBikeWorld Forcefield Pro Back Insert review; first EC Level 2 back protector to meet the 2013 standards, now with a shape designed specifically for the Rukka jackets.]
Our Airway jacket came with the Level 1 Rukka "RVP Air" protection in the shoulders, elbows and back. The back protector is CE Level 1 rated and it has a very open type of molding that allows good air flow.
The elbow armor is inserted in pockets inside the sleeves, while the back protector is easily accessible via a zippered pocket opening at the lower part of the jacket in the rear.
As with the Armas jacket, Rukka has collaborated with d3o to develop another type of protection that will be inserted as original equipment in some of the other styles of Rukka clothing.
The Rukka version will be a Rukka-only and Rukka-labeled design, but it looks very similar or based on the new d3o "Xergo" padding that is designed to meet the updated prEN1621-1:2011 certification at Level 2.
The d3o protectors use a different technology than the Rukka RVP Air protectors, but Rukka indicated that the best choice for the Airway jacket is the RVP Air protectors to provide the optimal breathability, air flow and moisture transfer.
There is an optional d3o protector kit for the Armas jacket however, for those who wish to try it.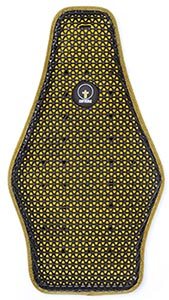 Forcefield Pro Back Protector Insert for Rukka Jackets
April 2013 – A few days after our Rukka Airway jacket review was published, we received a press release from Forcefield regarding their new Pro Back Insert, which is available for Rukka Jackets. Here's an edited version:
The ever popular Forcefield Pro Back Insert range has been bolstered with yet another new shape to further increase the range of motorcycle jackets and suits the protective inserts can be fitted to.
Designed to upgrade or replace existing armour, the new Pro Back Insert 009 is suitable for men's and ladies Rukka motorcycle jackets using the existing built in pocket.
Made from Nitrex Evo, a unique high tech shock absorbing material, energy can be dispersed and absorbed evenly over the whole surface whilst remaining flexible and comfortable.
Nitrex Evo also provides Repeat Performance Technology (RPT) to ensure that even after multiple impacts there is no loss of protective performance.
The Pro Back Insert 009 is fully CE approved to the very latest standard FprEN1621-2:2013 Level 2 and will be available from May 2013 through this link to RevZilla.
Reflectivity
The Airway jacket has laminated strips of very highly reflective material on the upper arms and mid-back.
This is similar to the reflective material used on the Armas jacket and it "pops" just as brightly when light hits it, as you can see in the above photo.
web

BikeWorld

 Opinionator: Rukka Airway Jacket

Picks…

…and Pans

Excellent overall quality and construction.
Gore-Tex Performance Shell waterproof liner works well and looks good as a casual street jacket also.
Special Corudra AFT mesh flows huge amounts of air, yet feels more secure than other types.
Comfortable fit.
Eye-popping reflective strips.

Price.
Non-locking zipper pulls.
Some of the unbranded zippers seem a bit out of place on this jacket.
Conclusion
The Rukka Airway is probably the ultimate hot-weather motorcycle jacket. It's comfortable, with a soft feel and it looks just as good on a sportbike as it does on a cruiser.
The included and very wearable Gore-Tex Performance Shell liner is a two-for-one, because it can easily be worn on the street as casual wear or even for hiking and performance use and it performs better than many other street jackets I can think of.
So if you're looking for a no-compromise textile mesh summer jacket, the Rukka Airway is it and when you combine the features and the bonus streetable liner, the price really isn't as bad as it seems.
Next: Rukka AirVision Pants Review
Also: Rukka Armas Jacket and Pants Review
Rukka AirMan Jacket Review
w

BW

 Review: Rukka Airway Jacket

Manufacturer: Rukka (L-Fashion Group Oy, Finland)
List Price (2013): Jacket $899.00. Pants $699.00
Colors: Black with Black, Gray, Blue, Yellow or Red.
Made In: Portugal
Sizes: 46-66 (64-66 only in black).
Review Date: April 2013
Note: Item provided by a retailer, distributor or manufacturer with these Terms and Conditions.
Note:
 For informational use only. All material and photographs are Copyright © webWorld International, LLC since 2000. All rights reserved. See the webBikeWorld® 
Site Info page
. Product specifications, features and details may change or differ from our descriptions. Always check before purchasing. Read the
Terms and Conditions
!
---
Where to Buy Rukka Airway Jacket
Check Reviews & Prices on Amazon
Check Reviews & Prices On RevZilla
Also: Motorcycle Jackets, Motorcycle Gloves, Motorcycle Boots, Motorcycle Pants
---
Owner Comments and Feedback
---
From "D.S." (November 2013): "I read your review of Rukka Airways with interest. Ventilated jackets are of great interest to me, as Romania can get insanely hot in summer (40C+).
I saw the information that Cordura AFT is supposedly developed by Rukka and DuPont. I was wondering if you're aware of the German brand Stadler. They are unfortunately not distributed in US, but quite strong in Germany and Europe.
They also manufacture professional riding equipment (Police, etc.) for lots of EU countries.
As for positioning, they are competing in the high-end, and in the markets where they are present, lots of people prefer them to Rukka, Klim or Rev'it.
I just visited recently a dealership in Germany featuring high-end stuff (Rukka, Stadler) and came away extremely impressed with the Stadler stuff. They developed together with Touratech an adventure-touring suit, launched in 2011.
Being a Touratech product, you can actually get it in the US. I think a review from you would be great.
The suit is called Companero and features an interesting concept: it's actually two suits. The first one (summer) is made from Cordura and Cordura AFT (again, this is from 2011 onwards).
It also has all the protectors (including an immense SasTec back protector). When raining or cold, you put over the second layer which is a GoreTex ProShell suit.
So no internal layer, but a more breathable (and expensive) rain suit if you want. A (long) video explaining the concept. Another video, talking about materials (again, this is a Cordura AFT suit launched in 2011) is here.
Stadler has a whole line of suits (Evo) based on this concept: summer mesh suit with ProShell oversuit. It's expensive, but the concept works very well.
Also, the light roShell oversuits can be used as generic GoreTex suits for casual stuff (they are light and don't feature any protectors, as the protectors are in the inside suit.
Based on the stuff you usually review, I think you would like the Stadler line a lot. In my opinion they feature the same (at least) quality as Rukka, while being slightly less expensive.
I'm looking to buy their ForcePro jacket, part of their ProShell line. It has an excellent cut and fit, tons of SuperFabric (all the back and arms) and the price is good (850EUR).
So, as a convoluted conclusion to all this Stadler sales pitch 🙂 , while I have no idea if Rukka did in fact had any hand in the development of Cordura AFT or not, there were quite some innovative suits on the market 2 years ago, featuring that same material."
---
From "M.Z." (April 2013): "I have had the Rukka Airway Jacket and Airvision pants for 5 months now. I have used them extensively for 5,000 miles so far and all I can say is that it is great motorcycle clothing.
Your review is very accurate, I have Revit and Aerostitch clothing but I tend to come back and use more the Rukka as it is very confortable both in low temps and hight temps.
I used it everyday for a 10 day trip to Baja with temps ranging from 55 in the cool mornings to a very harsh 102 middays and both the jacket and the pants made my trip a very cool one.
Another thing I like, is that these Rukkas are not bulky and zero stiff and you can venture walking around with them with no problem. Yes they are expensive but worth every penny!"
---
From "D.W." (April 2013): "OK, I will admit that I am a snob when it comes to attire for work. I will pay more for the name and just let myself believe that it is the quality of the fabric and tailoring that I am really spending money on.
For my motorcycle gear, I want the best, but I define best in terms of functionality and safety.
I am just not sold that the Rukka gear meets that definition for best. I will have to stop by and try it on. Currently, my warm weather gear starts with my Vanson Pro Perf jacket with a Forcefield back protector.
Flows a great amount of air and it feels like it will help keep me safe. Is the Rukka really better at more than twice the price?
Just my two cents on the subject. I thought you did a great job trying to address the issue of cost up front."
Other WebBikeWorld Jacket Posts