The issue of the condition of roadworks has flared again with several riders complaining about gravel left on roadworks on the Hume Highway in regional Victoria.
The road was recently reopened with a reduced speed limit before it was completed, leaving the last 200m of about 3km of roadworks between Wandong and Clonbinane covered in loose gravel.
Rider complaints
Mick Rider said there was so much gravel left behind that even the 60km/h signs were too high.
"To navigate this dangerous marble like surface safely, I had to reduce my speed to 40km/h, resulting in b-double trucks and other vehicular traffic following dangerously close, and being sprayed with loose gravel and dust by vehicles overtaking in right hand lane," he says.
Mick says it is the third time he as nearly crashed in loose gravel from roadworks caused by "sloppy work practices".
Another rider, Geoff Evans, who encountered the section while driving his b-double tanker says he noticed speed limit signs had been knocked over leaving little alert to the conditions ahead.
"I remember thinking to myself, when I got to that last 200m of fine loose gravel, I was glad to be in the truck, and not riding," says the Harley Breakout rider.
"I looked in the mirror and and you could see the cars behind in the blinding dust blowing up from my truck."
Gravel residue is 'common practice'
While the surface has now been swept, Motorcycle Riders Association MRA regional member Cate Hughes wrote to VicRoads and the Roads Minister saying it was common for roadworks to leave behind loose gravel.
"This has to stop before a motorcyclist is killed, or seriously injured," she wrote.
"VicRoads has a duty of care.
"Your contractors must be advised to correctly sign all approaches to roadworks and sweep loose gravel from surfaces, regardless of whether they are planning to return to complete later."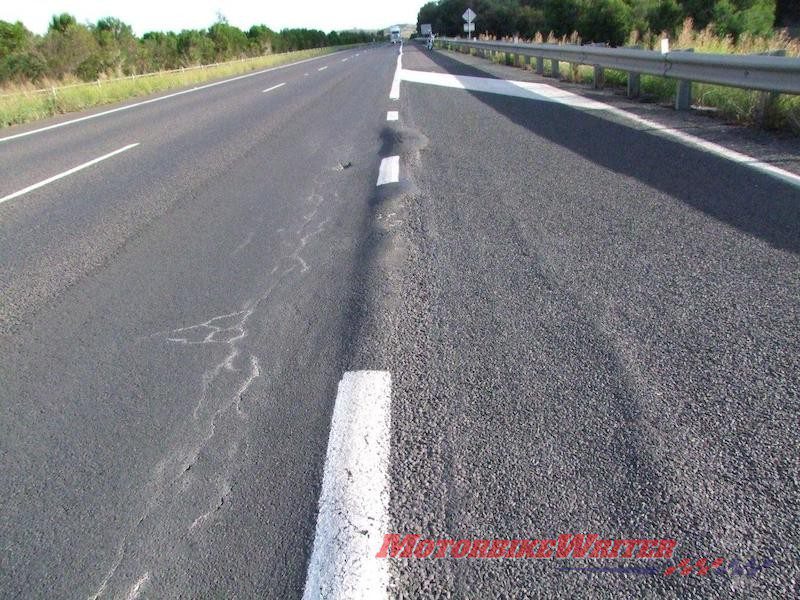 Mick also complained about one of many sections of 'shoves' (raised bumps in a sealed surface) on the first 50m of the Clonbinane-Broadford northbound exit on the Hume. 
"To use this exit as a motorcycle rider, I have to exit last minute from the Hume Highway, which, regardless of indicating to do so, has resulted in cars trying to come up the inside, which is very dangerous," he says.
"This is not fit for purpose for all road users, and is in urgent need of attention, given the number of motorcycle riders using this exit, not just as commuters, but as leisure riders on weekends."
Since the roadworks has been completed, Mick says the road is getting worse.
He says the gravel laid down has been dislodged from the road surface and is a "clear and present danger to motorcyclists".
"If the process used to resurface roads such as the Hume Highway cannot be changed, then the traffic management crew along with the sweeper crews must remain on site till the top layer of gravel is set and is no longer at risk to motorcyclists," he says.
"The resurfacing works are failing to level off lumps and bumps prior to resurfacing.
"The failure of even the basic knowledge of suspension dynamics proves beyond reasonable doubt that the resurfacing to offer better wet weather and winter time grip is a total waste of time if the lumps and bumps become bigger.
"There are now several sections along the Hume that are rougher and bumpier than prior to resent roadworks."