An error in the roadbook has forced officials in the 2020 Dakar Rally in Saudi Arabia to amend the finishing results after a controversial day three and the second stage of the super marathon.
Aussie two-time winner and current title holder Toby Price was running in the top four when he and Frenchman Xavier de Soultrait veered 900m off the track because of the error late in the stage.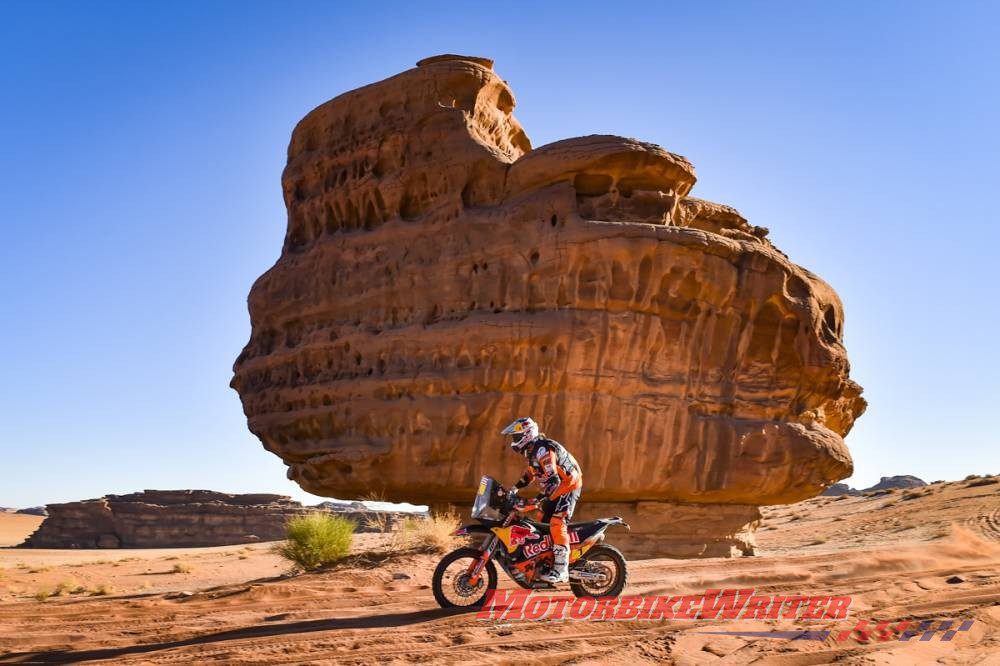 The error was only in the roadbook for the motorcycle category. It showed a waypoint wasn't where it was indicated.
Rally officials wisely decided to record the stage times only up to that point, which meant Toby went from finishing 11th to fifth.
Toby now moves up from ninth overall to sixth and less than 12 minutes off the lead. That gives him plenty of time for an attack in the second week of the gruelling event as he did when he won last year.
He described it as a "difficult day".
"In the early parts of the stage we were getting on pretty damn good but unfortunately, I made a few mistakes which really cost me," he said before the officials changed the finishing times.
"One of those mistakes was towards the end of the stage, where I had a hard time tracking down a specific WPC which was marked in a really tricky position; not sure what the go is here."
Honda looks set to challenge KTM which is pressing for its 19th consecutive victory with the factory team taking four of the top six slots for the 427km stage led by American Ricky Brabec (top photo).
The two-day super marathon stage is a field leveller as riders have to do their own work on bikes and even teammates can't help.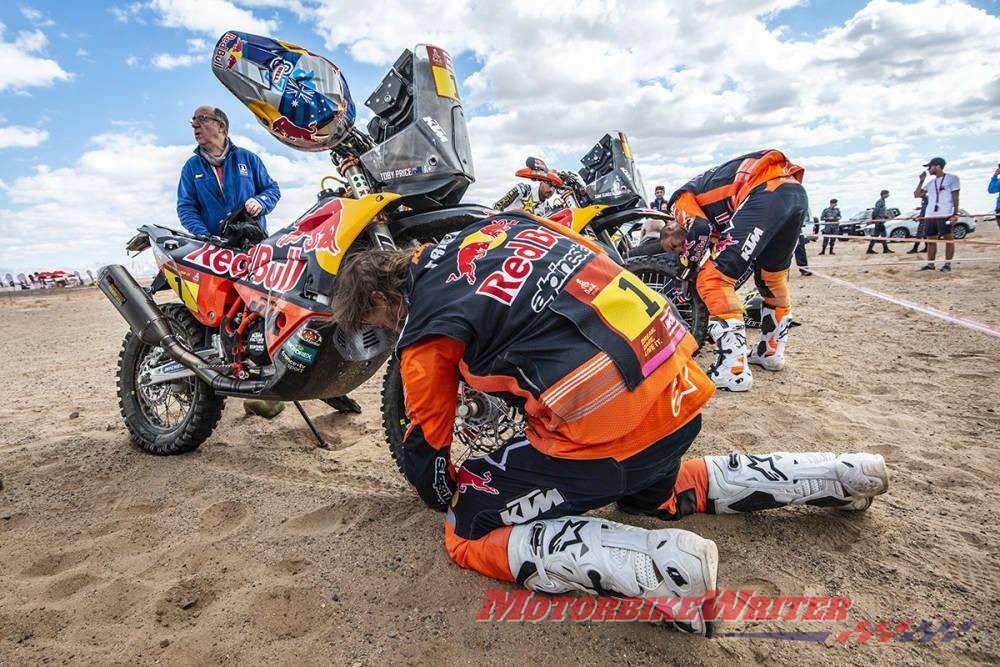 Top 10 outright rankings
| POS. | N° | DRIVE-TEAM | MARK-MODEL | TIME |
| --- | --- | --- | --- | --- |
| 1 | 9 | | MONSTER ENERGY HONDA TEAM 2020 | 10H 39′ 04" |
| 2 | 7 | | MONSTER ENERGY HONDA TEAM 2020 | 10H 43′ 47" |
| 3 | 2 | | RED BULL KTM FACTORY TEAM | 10H 45′ 06" |
| 4 | 12 | | MONSTER ENERGY HONDA TEAM 2020 | 10H 50′ 06" |
| 5 | 17 | | MONSTER ENERGY HONDA TEAM 2020 | 10H 50′ 23" |
| 6 | 1 | | RED BULL KTM FACTORY TEAM | 10H 51′ 02" |
| 7 | 5 | | ROCKSTAR ENERGY HUSQVARNA FACTORY RACING | 10H 51′ 41" |
| 8 | 16 | | RED BULL KTM FACTORY TEAM | 10H 53′ 24" |
| 9 | 3 | | RED BULL KTM FACTORY TEAM | 10H 56′ 14" |
| 10 | 10 | | MONSTER ENERGY YAMAHA RALLY TEAM | 10H 58′ 59" |
Other Aussies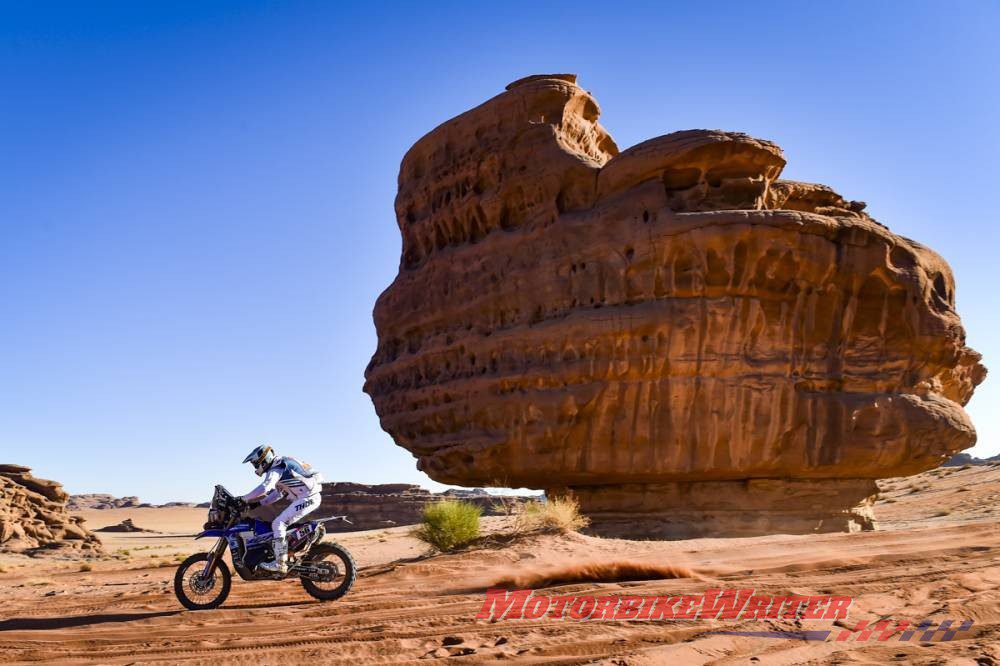 Queensland veteran competitor Rodney Faggotter (Yamaha) finished 14th on the revised times, moving up two places to 15th outright.
"Had a good solid ride and feeling good," he says.
"Bit of chaos late in the stage with a missing waypoint that wasn't set up in the motos GPSs but was in the quads and cars.
"Fortunately commonsense prevailed and they took the stage times up to that point. Was funny for a while and even had a chat and trail ride around in circles with my old mate Toby.
"Was funny until we were still searching for that bastard waypoint a half hour later."
Other Aussie Ben Young (KTM) finished 90th and moved up four places to 88th and Matthew Tisdall (Duust) finished 124th, with only two riders behind him. He was 131nd outright but is now 124th after riders dropped out.
Tomorrow's 453km special stage is equal parts stony and sandy.
For the first time the Dakar rally is being run in the one country, Saudi Arabia, after being run in 35 countries on three continents since 1978.
Toby aids firefighters
Like many Aussie sports stars and celebrities, Toby (right) is raising money for the bushfire appeal.
He is auctioning his starting jersey and pants for firefighters
Toby is also doing his bit for the current critical bushfire situation by auctioning his starting jersey and pants with proceeds going to the NSW Rural Fire Service.
It is open worldwide, just send in your bid in Australian dollars on his Facebook page or Instagram.
Current highest bid is still $13,001.
Auction closes on 18 January at 5pm (AEST).
If you can't bid, please donate on this link.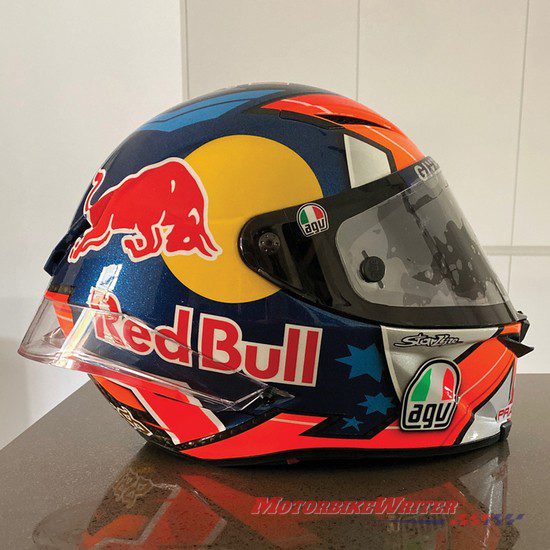 Meanwhile, Aussie MotoGP racer Jack Miller is also putting his 2018 MotoGP helmet up for auction to raise money for the bushfire crisis.
The auction is open worldwide until Friday at 5pm (AEST).