Rjays Striker Helmet Review Summary
Rjays Striker Helmet Image Gallery
I have been reading (or mostly ogling) webBikeWorld for quite a few years now.
I still remember that I was really interested in the X-lite 902 helmet but didn't have any clue as to how it fits, weight, quality, and so on.
So a few Google-ings later I was directed to this wonderful web archive of review for motorcycle gear.
And since then it has become my daily newspaper replacing the tired old paper based mags (which I still read monthly though).
But we're here to find out about helmets right?
So here's my take on Rjays new Striker helmet in the Calamity matte black-red colour scheme.
webBikeWorld reader "Y.A." from Kuala Lumpur sent this detailed report on his Rjays "Striker" helmet in the "Calamity" graphics.
Rjays is an Australian company that may not be a familiar name to some motorcyclists.
So we thought our readers might be interested in learning more.
I bet not many people know or have even heard of Rjays, but they're a popular brand in Australia.
And they're also gaining ground in Singapore due to their high quality, very fashionable and trendy and most important of all, relatively inexpensive pricing.
I just got hold of their new Striker helmet in the Calamity matte black-red.
And I just can't believe that for Ringgit Malaysia RM750 (including delivery), which is roughly $231.00 USD or $179.95 AUD, you get a Snell, DOT, Australian and Singapore safety standards approved helmet.
As a side note, I did some research and found that the helmet is made in China by MHR.
That is apparently the same as the ZOX Supercomp R with the "Mechanicalamity" graphics, which has a current list price of $199.99 but can be found for around $150.00 USD.
So I'd say this helmet falls in the under $200.00 USD category.
Not only that, the quality is just so good that I've been scratching my head as to why I would even want to think about getting more expensive helmets.
The fit, comfort and looks just amaze me that the guys at Rjays can put out a helmet at this quality and still make money. But like it says on the box "we put in features that others only dream about."
So lets get the review going!
Paint, Graphics and Overall Quality
The first thought when I opened the box was WOW — this is one outrageous looking helmet!!
The matte black surface has a nice rubberised feel, but the weird thing is even though the color is matte, it also has a glossy look to it!
The only way I can explain it is that it might be similar to how a matte surface would feel after being touched with oily fingers; very unique!
The graphics are by Dion Design and the robotic skulls do take a lot of stares during my street rides, while the bright yellow flames really are attention catching.
The quality of the paint is first rate, with no peeling or blemishes. I took a really, really, really close look and almost didn't notice about two very tiny rough spots on the shell, but nothing bothersome or suspect.
The liner seems to fit very well and so do the visor rubber seals, and the bottom rubber lining also has the same matte rubberised look for uniformity.
The logos are the thick embossed type of stickers which are stuck recessed into the helmet shell to have a unique but aerodynamic look and feel. I showed it to some friends and they were really impressed with the looks and quality.
In fact I own several other "high end" Italian helmets and the Rjays certainly holds its own.
Score: I have to give it an "Outstanding" for Paint and Graphics, and "Excellent" for overall quality, considering the price point of this helmet.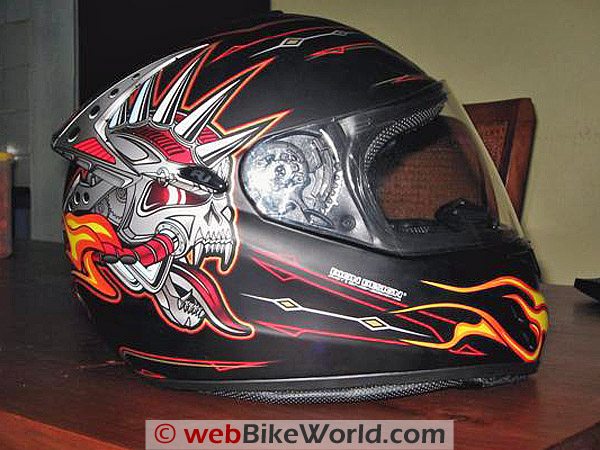 Helmet Shape and Fit
This Rjays Striker is a size medium and the fit is spot on. I usually wear a size large but decided to get the medium because I had lost some weight in the past couple of months.
Rjays apparently offers the helmet in two shell sizes with 7 different liner combination. The cheek pad covers my cheeks all the way to the cheek bones and it stops the helmet from rolling around on my face.
The top feels like it fits snugly and it doesn't have that loose-space-in-some-areas feeling as in so many other helmets I've tried. I would say that this helmet fits similar to a Shark RSR.
The shape is very narrow side to side and long-ish and low in the chin area. The liner is a huge surprise — it's made from Coolmax and lined with Aegis anti bacterial treatment to keep all the rotten and liner degrading microbes at bay.
How comfortable is it?
If the Shark RSR were to be used as a benchmark of 10, then I'd have to say the Rjays gets a 9!  It really is that comfortable with a nice feel to the skin.
Another plus is how easy it is to detach the liners. A variety of snaps and hook-and-loop material are used to attach the liners and cheek pads, and taking them out and putting them back in is a straightforward and intuitive affair.
Ear pockets are really generous and my ears are comfortably placed, not squashed. The chin curtain is made up of two layers of material and it does a good job of keeping only the needed amount of air to seep through.
I was riding in 40C temperatures in the middle of jam-packed Kuala Lumpur and to my surprise there was no sweat on my head and face at all!. The Coolmax kept the heat away while still keeping me dry.
What made me get another helmet is my current one is impeding my vision through the corners and a bit difficult to catch sight of competitors behind me without fully turning my head during racing.
My report on the view from the inside of the Rjays Striker is this: really wide from side to side and the top of the helmet doesn't obstruct my view.
Looking down also reveals more real estate — I felt that I was moving slower than the 80mph I was doing on the busy freeway at lunch time, due to the bigger and wider viewport.
Turning my head from side to side reveals no buffeting and slapped-by-the-wind problems, and in a tucked position the feel of stability is really high.
Just one note: Putting on eyeglasses is a bit difficult compared to a Shoei X-11 or X-lite 801, due to the cheek pad running up so high on my cheeks, which interferes with the frames.
However, once I have them on, they stay secured, stopped by the cheek pads themselves. I guess that's another plus.
For more information, visit the wBW Motorcycle Helmet FAQ for more information on choosing and fitting a motorcycle helmet and for a discussion regarding human head shapes.
And don't forget that choosing the correct helmet shape is crucial for both comfort and safety!
Score: For the shape it is "Outstanding", and for the fit I have to give it "Outstanding", since it fit like a glove as soon as I put it on without any breaking-in. Another "Outstanding" for peripheral vision.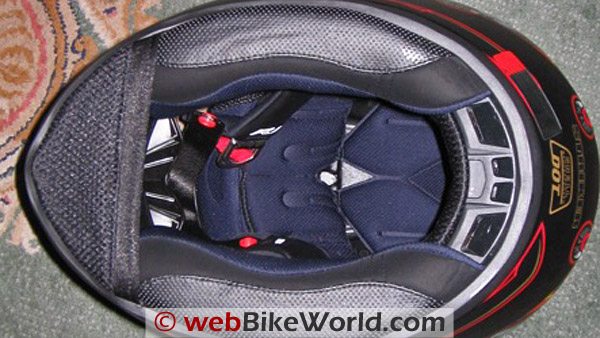 The vent mechanisms are very unique. The top offers a very easy and original way of working the vents — press one time for slight opening and press one more time for a bigger opening.
To close it, push back the little button on top and a loud SNAP ensures that the vents are shut — how intuitive! I tried it with gloves and it was just dead easy and I could feel and hear the mechanism work.
The chin vents feature the trend of sideways moving sliders to open and close, and a little thin slider slides all the way left and right to fully open, while the middle position closes it.
As I mentioned, I was in the middle of Kuala Lumpur in a heavy traffic jam during lunch hour but my head was cool and dry when I parked and took off the helmet, so the vents really did their job.
I always have this way of testing the vents of helmets that I try, where I would put on the helmets and lace it up securely, pull the visor all the way down and stand in front of a fan, with the vents closed and opened at different intervals to feel if any air is circulating in the helmet.
I have to say that the Rjays really moves some air, as I could feel it on my face and on the top front of my head, slightly above the temples.
As for the rear diffuser and neck air passage, I could not tell a difference but I guess they are doing their job, because when I took of the helmet my head didn't smell of stale air!.
As for fogging, I took a ride at about 11pm after a rainstorm and the only way for me to fog the screen is if I literally blew on the shield. Looks like the fog-free screen does work, and work well too.
Score: Again an "Outstanding" for venting and I guess "Very Good" for air flow.
Noise Levels
I have been riding in town on jam-packed roads and some freeways and here (hear) are my findings: In town the environment is muffled out and all I could mostly hear is the sound of my bike's engine and exhaust.
The sound of the traffic is still audible but not intrusive as the bike's sounds takes precedence.
On the freeway, I am very appreciative that there are NO booming sounds, but at anything above 50 mph I can hear a low pitched whistling sound.
The funny thing is, once I reach 80mph the whistling disappears and it becomes relatively quiet, just the normal wind noise.
I tried for a number of times and it happened every time I reached these two distinct speed zones. Not enough to annoy, but certainly apparent to my attention. One thing I noticed was at speeds of more than 80mph, a tucked-in position greatly results in a quieter ride.
Bear in mind I am riding my souped-up racing CPI GTR scooter with a loud pipe and no fairing or windshield so it must be a plus.
I never wear ear plugs because I want to be aware of all sounds possible so the noise level is quite acceptable.
Be sure to visit to the wBW Motorcycle Helmet Noise page for more information. Also, note that we always wear high-quality, correctly fitted ear plugs when riding.
Please see the wBW Earplugs and Hearing Protection page for more information on choosing and wearing earplugs. Perceived noise levels may vary, depending upon type of motorcycle, windscreens or fairings, weather conditions or even riding clothing.
Score: "Excellent" until 50 mph, "Good" from 50 mph to 80mph, and "Very Good" above 80 mph.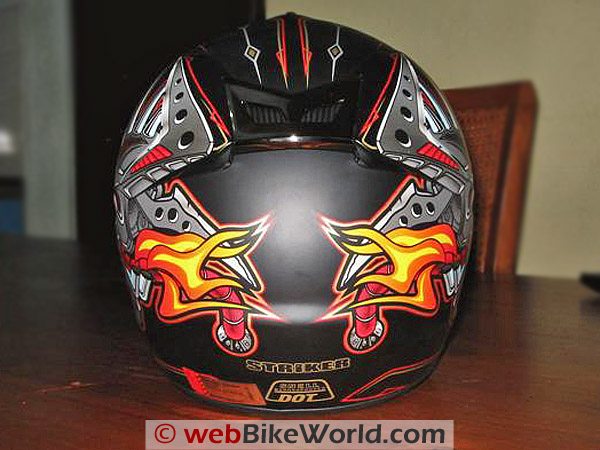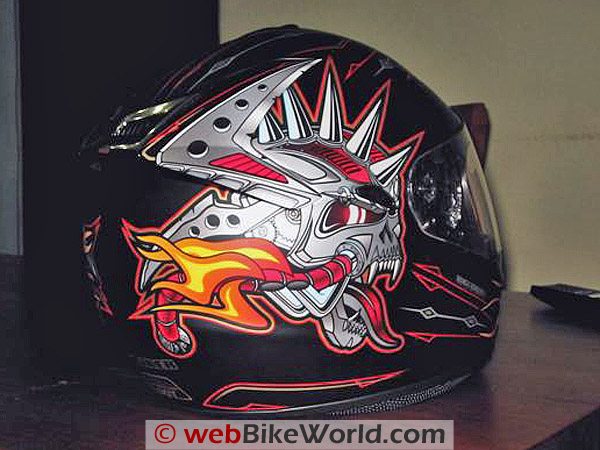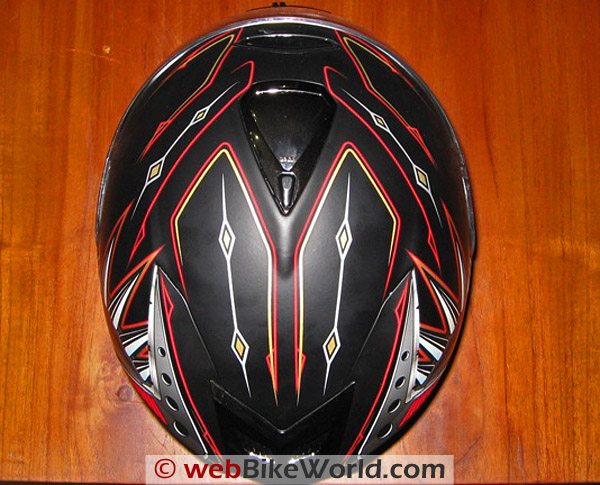 Visor
As I found out reading the webBikeWorld review of the ZOX Azuma R (again another re-badged MHR product), the clarity and optical correctness is second to none!
When I put on the helmet and pull the visor down, I am hard pressed to try to SEE the visor, It's so clear and free of any distortion.
I have compared this with some Japanese and Italian brand helmets, and French too, and in my books this is one of the clearest, if not THE clearest that I've looked through to date.
However, there are flaws.
It's a bit flexy and the visor removal system, even though easy, is a bit finicky to operate. Taking the visor out is easy, just rotate the visor all the way to the top, pull the latch (again flexy) and out pops the visor.
Putting it back though requires a tiny latch to be lined up and it's a bit tricky to get it in. After a few tries I can manage to get hold of it, but I wish it could be simpler. The visor has 5 detents for positioning, and the lowest lets in just a small amount of air.
Score: "Outstanding" for visor clarity and optical correctness; "Excellent" for positioning; "Good" for removal; "Average" for installation and "Average" for visor position movement (due to the flexy visor).
Helmet Weight
It's listed at 1430 grams, but I took out my sister's ultra accurate digital cooking scale and it read 1677grams. Here the weird contrasting character of this helmet comes out again.
At first when you lift it, it feels quite light until you compare it to some helmets (high end Japanese and Italian), where you'd have to oblige it feels heavier.
But once you put it on, I have to fully agree with the webBikeWorld opinion that even though the weight of a helmet is important, how that weight is carried is more so.
When I put on this helmet, it seems lighter than some RM2700+ ($700.00 USD+) top end helmets. I found it hard to believe but even after an hour of riding, my head and neck is still fresh and not feeling any ill effects of the weight.
See the wBW Motorcycle Helmet Weights page for the complete chart, comparing the weights of all of the helmets we've reviewed. Includes a list of internal shapes.
Score: "Average" for weight and "Outstanding" for balance.
Retention System
The Rjays Stricker uses the tried-and-true D-ring system, with a nice touch — the strap-liners have the "RJ" logos embroidered on them.
There's also a snap on the long strap to secure the loose end, very thoughtful on a supposedly el-cheapo helmet.
A good surprise is the strap itself — fastening the helmet will pull the straps to the correct length, right to the snap, so there is no loose-strap-in-the-middle syndrome.
Conclusion
By now it's obvious that I am impressed with the Rjays Striker helmet.
But I have to tell you that I didn't have any way of trying on the helmet or seeing a real one before I bought it, so it was really a leap of faith just ordering one.
I was ready to sell it immediately should it fail to impress me, having been pampered so long with expensive Italian and Japanese helmets. But after opening the box and putting it on, I just fell in love with it!
Now I'm off for the second round of the National Scooterprix Championships and I'm sure I'll be in the mags for the attention this helmet will draw!!
w

BW

 Review: Rjays Striker Helmet
Manufacturer: Rjays (Australia)
List Price (2008): Ringgit Malaysia RM750 (~$231.00 USD or $179.95 AUD)
Colors: Gloss Black, Matt Black, Gunmetal, Calamity Red/Black, Calamity Blue/Silver, Blaze Blue, Blaze Red and Blaze Grey in XS-XXL. Wildflower Pink and Wildflower Powder Blue in XXS-M.
Made In: China
Review Date: May 2008
Notes:  Meets DOT, Snell, Singapore and Australian safety standards.
Note:
 For informational use only. All material and photographs are Copyright © webWorld International, LLC since 2000. All rights reserved. See the webBikeWorld® 
Site Info page
. Product specifications, features and details may change or differ from our descriptions. Always check before purchasing. Read the
Terms and Conditions
!
Owner Comments and Feedback
---
From "S" (9/08): "Nice review. You already know how I feel about my Zox Genesis (gave you my 2 cents under the Zox Azuma R review).
I think a lot of what 'Y.A.' says about fit and noise levels and such may translate across the Zox lineup.
I think you should do a couple more review on the Zox lineup, starting with the Zox SuperComp R, and give your thoughts about the same helmet. Let's see if you concur with 'Y.A.'!
II know I feel no fatigue with my Zox Genesis. It feels very light and airy when I ride with it. I am VERY tempted to buy a SuperComp R.
I have already found a great deal on them on EBay, which is also where I found my Genesis a while back. Zox has a very good price point.
By the way, because of your review I am awaiting delivery of my XPEED 705 (review). I don't know what kind of review I'll give it. I actually found them at one of my local shops AFTER I ordered it.
To me it felt kinda flimsy in the padding, awkward around my ears, but I will give it a go when it comes in and see if it impresses me on the ride. For the $75.00 I paid for it I can afford to hate it and toss it in the trash.
Or love it and keep it for a secondary rider perhaps (What can I say? I still love my Akuma Street Fighter!).
Also of note, I liked your article on the Vemar Jiano (review). I think you should make it mandatory in all your helmet reviews to include a video review. It shows so much more that static pictures do.
I also tried the Jiano on at my BMW dealership and it was a very nice feel, just as you said, very solid. MORE chin front room that the Nolan 103 and a nicer sun visor and balance as well.
Think I covered enough helmets for right now…lol. Sorry to chew your ear off, but you have started a virus in me… the quest for the holy grail of helmets!
Keep up the great work…"