Ride Vision will be the first aftermarket hi-tech collision avoidance and warning system available to riders of any type of motorcycle.
The system will use standard action cameras mounted front and back, linked by an ECU that monitors traffic hazards and sends visual alerts via lights in the wing mirrors as well as an audio alert if there is an impending collision from any angle.
Several companies are working with motorcycle manufacturers such as Ducati, KTM and BMW to produce similar hi-tech collision avoidance systems and warnings.
KTM recently debuted a prototype system that they have developed Bosch.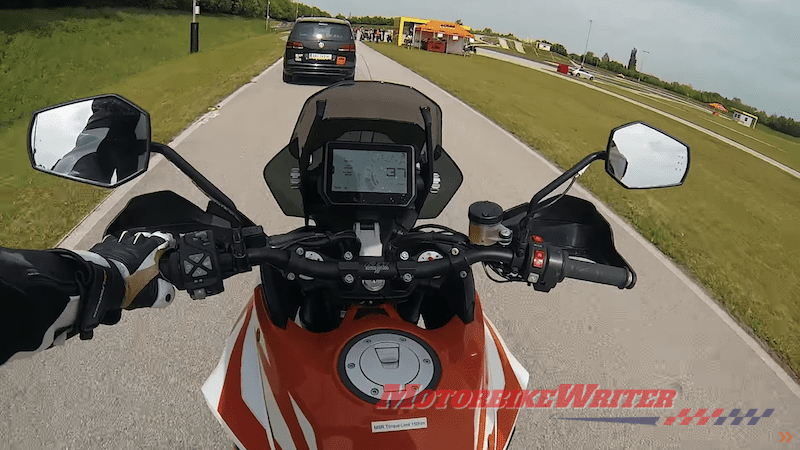 However, these are fitted to the bike from new.
They don't help riders who already have a motorcycle.
Israeli startup Rider Vision says their cameras and ECU can be fitted to any bike.
Their Collision Aversion Technology is a fusion of Artificial Intelligence and Computer Vision using standard action cameras as visual sensors.
They say the ECU can detect threats beyond the rider's sight in 100s milliseconds, or one-tenth of a second, providing 360° of vision.
Ride Vision cost
Ride Vision CEO and co-founder Uri Lavi says he hopes the system for manufacturers will be ready by mid-2019 and an aftermarket version by 2020.
"Cost depends on whether it already comes built in or as an after-market," he says.
"In the after-market case and with the current estimations, no more than $US300 (about $A400)."
He says they are in discussions with a number of suppliers and motorcycle manufacturers.
Dimensions and weight are not yet released, but Uri tells us the equipment is "fairly simple and lightweight".
"For example, the camera is 2.5×2.5 cm, so the case that will wrap it won't be more than 5x5cm. The computing unit won't be bigger than a mobile phone.
"Power consumption is low and won't impact the motorcycle's battery."
Created by riders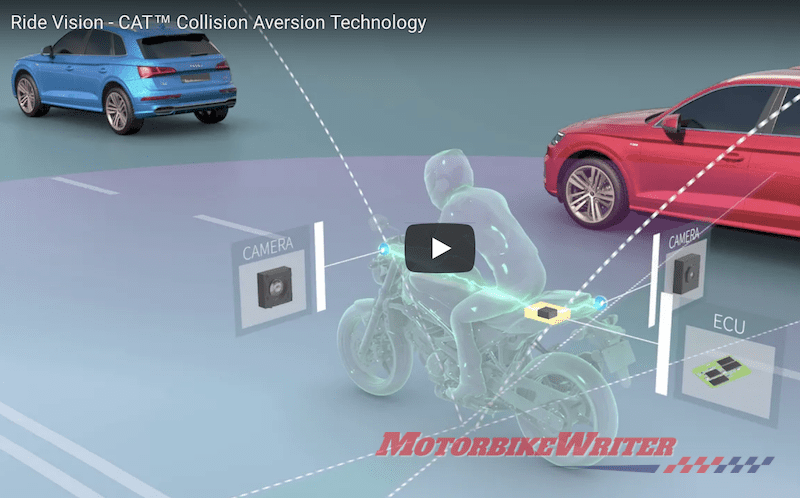 "Motorbike riders are typically coordinated, alert and very much in tune with the road," Uri says.
"We have a special relationship with the road, but unfortunately many factors beyond our control increase risk of collision and the high speed, lightweight, fully exposed nature of the bike makes collisions more dangerous.
"As riders ourselves, we decided to apply our deep learning and advanced vision technology expertise to overcome the cost and technological challenges required to bring any motorbikes and their riders the ability to see, predict and prevent collisions with technology smart enough to leverage standard hardware and cameras, delivering warning signals within 100 milliseconds, without disturbing the rider's focus."
The venture was funded by Silicon Valley and Tel Aviv venture capital company YL Ventures with $2.5 million seed funding.
Automated future
With the rise of autonomous vehicles, Advanced Driver Assistance Systems (ADAS) systems will become a core feature in new vehicles.
This aftermarket system ensures that older motorcycles can safely become part of the connected autonomous traffic environment, says YL Ventures managing partner Yoav Leitersdorf.
"While ADAS accident prevention technologies have become standard in cars, there is great potential to solve this problem for the underserved motorcycle market that accounts for 17% of all driver and passenger traffic fatalities," he says.