Easy Rider fans are planning an annual ride to commemorate the cult 1969 film's director and actor, Dennis Hopper, who died last year aged 77. Motorcyclists and movie fanatics from as far as Canada made the pilgrimage at the weekend to Taos, New Mexico, for the first ride to celebrate Hopper and his iconic counterculture film.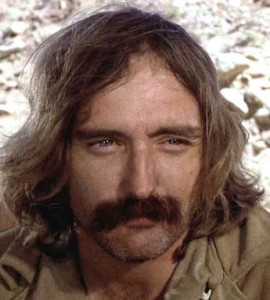 The Dennis Hopper Day rally and ride goes through some of the places made famous in the film. Hopper also lived in Taos for years and is buried there.
Town Manager Rick Bellis says the day is aimed at recognising Hopper's contributions as a resident, a filmmaker, a supporter of the arts and for simply being a "colorful member" of the community. "He was independent, slightly eccentric but incredibly talented. He sort of became a symbol for a whole new generation."
Bellis says Hopper was able to get permission from the area's Hispanic and Native American families to film at Taos Pueblo, an American Indian community dating to the late 13th and early 14th centuries which is recognised as a UNESCO World Heritage site.
"He walked across the multicultural borders here. I think that really started with him and the movie and has continued," Bellis says.
The annual Dennis Hopper Day will be held close to the director/actor's May 29 birthday.