Solar Mesh Gloves Review Summary
Solar Mesh Gloves Image Gallery
September 11, 2006 – The designers at REV'IT! never seem to rest. Their Solar mesh gloves have been redesigned and now feature Pittard's Digital goatskin leather on the palms. The new style Solar gloves are shown in the top photo on the left with an additional photo below.
Other than the redesigned palms, the new Solar gloves are identical to the original. The goatskin addresses a premature wear issue that was discovered in an early manufacturing batch of the original version of the Solar gloves. This was due to a problem with a supplier of the Clarino synthetic leather used in the palms (see comments section below).
My original pair of Solar gloves are just fine, but the goatskin is a really nice touch and adds what I think is a higher level of sophistication to the look and feel of the gloves. Although REV'IT! says that it may be necessary to break in the goatskin during the first few rides, I found them to be very soft and comfortable right out of the box. I've been riding with these over the last several weeks in the continuing hot weather we've experienced this summer and I really like them.
The goatskin gives the gloves a richer look and it also offers a much better feel on the grips than the stiff Clarino fabric, which feels rather like cardboard in comparison. The revised version of the Solar gloves are available now from REV'IT!. I have to give them a lot of credit for their continuous improvement strategy; as far as I can tell, the new Solar gloves are the third revision in the past three years of the REV'IT! mesh glove line.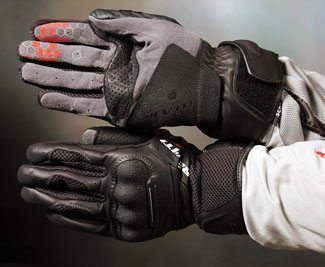 Introduction
We had an incredibly hot summer here in the Mid-Atlantic region of the U.S.A. last year, with temperatures high enough to make motorcycle riding a chore rather than a pleasure.
I enjoy riding in colder weather more than I do in hot weather, probably because I am always encased in full protective clothing.
This makes it easier to stay warm on a cold day then to stay cool on a hot day.
Back in the old days, as I'm sure you're tired of hearing, we didn't have motorcycle clothing that was specifically designed for riding in hot weather.
Mesh clothing is only a very recent invention — a breakthrough, I'd say, and something that has become very popular for summer riding.
The newest generations of mesh clothing seem to have been designed with better protective features.
Designers have learned that it isn't really necessary to use 100% mesh on every square inch of the apparel item to still keep the air flowing, and they've used some of the real estate for abrasion resistant materials like leather and Kevlar.
The REV'IT! Solar Mesh Gloves
These REV'IT! Solar gloves are a good example.
They have some of the same type of knuckle protection and leather reinforced areas as might be found on a standard pair of street gloves, but they still have enough mesh to keep the digits cool.
In fact, the Solar gloves flow so much air that my hands get too cold whenever it drops down below 70 degrees (Fahrenheit) or so (which has been the norm lately)!
The gloves have sections of leather around the outside of the fingers and on the fingertips for protection against abrasion, but the fingers have plenty of mesh in between.
REV'IT! lists materials like French cowhide, Pampas leather, Schoeller Keprotec and even regular old cow leather used on various parts of the gloves.
All of these materials come together to make a good looking glove that flows lots of air without compromising protection.
The palms are especially nice; they have a gray colored leather that feels like suede, with an extra section of black leather across the wear area.
The first and second fingertips are coated with silicone applied in hexagon pattern, which provides excellent two-fingered grip on the brake or clutch lever. I wish my normal street gloves had the same…
Fit and Sizing
The size XL Solar gloves fit me perfectly, but they're snug, so I'd say they run slightly small.
The gauntlet also seems smaller than I'd like; it's a snug fit when worn around the outside of the jacket cuff.
Note that many riders in Europe wear their gloves under the jacket cuff, which provides a cleaner look, thus the majority of REV'IT! gloves are designed to be worn under the cuff of the jacket rather then on top.
For more information on this topic, see The Case of the Missing Gauntlet.
Newly revised version of the Solar gloves with goatskin palm.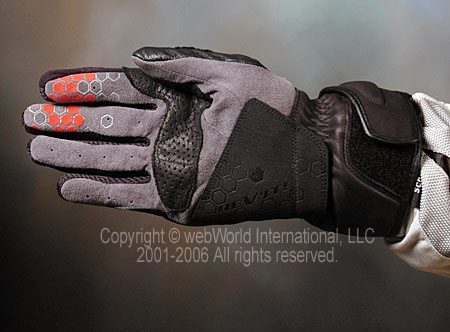 Original Solar gloves with Clarino synthetic leather palm.
Materials
The palm uses a section of material with a cut identical to the material used on the palm of theREV'IT! Ultra H2O gloves (review).
On the Ultra H2O gloves, the palm has a flap that is used to cover the wrist cinch.
The flap is there on the Solar gloves, but the wrist cinch is not.
This is too bad, because the only method of securing the Solar glove is by the flap on the short gauntlet. I wouldn't mind having the extra protection of the second wrist cinch.
Conclusion
The REV'IT! Solar gloves offer good air flow for hot weather riding along with some of the protective features on their more expensive gloves.
They make an excellent companion to the Airforce mesh jacket and Challenge pants combination.
With This Link to RevZilla and Help Support 

web

BikeWorld!
w

BW

 Review: REV'IT!! Solar Mesh Gloves
Manufacturer: REV'IT!!
List Price (2006): $79.99
Colors: Black
Made In: China
Review Date: April 2006
Sizes: S-3XL
Note:
 For informational use only. All material and photographs are Copyright © webWorld International, LLC since 2000. All rights reserved. See the webBikeWorld® 
Site Info page
. Product specifications, features and details may change or differ from our descriptions. Always check before purchasing. Read the
Terms and Conditions
!
Owner Comments and Feedback
---
From "T.W." (7/08):  "I bought a pair of the REV'IT! Solar Mesh gloves (new version) about 2 months ago.
I agree with your assessment – great air flow, but very tight fit. They seem to be holding up just fine, but I really have to pull on the gauntlet sometimes to get them (back) on.
I am completely satisfied though, wouldn't think of wearing anything else when its hot. Thanks for your great reviews/informative website."
---
From "L.S.":  "Bought a pair of the REV'IT! Solar Mesh gloves today and went for a long ride. Very nice!
Your review was spot on. Before this pair I had the REV'IT! Hurricane Mesh gloves which, I am sad to say, did not hold up more than two seasons. The mesh lining came away from a seam on the cuff.
Hopefully, these new gloves will last longer. Thanks again for being such an informative and helpful site."
---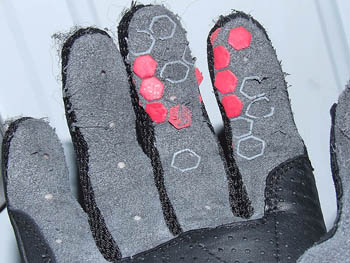 Original version with Clarino synthetic leather palm above; revised version with goatskin leather below.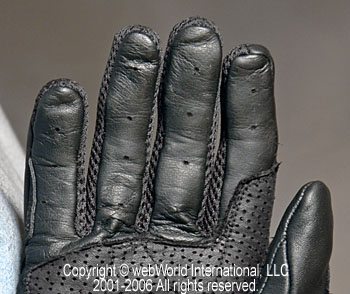 New version of the Solar gloves
From "P." (Regarding the old style Solar Mesh gloves, no longer made):  "Like the reviewer, I thought these were quite an ideal set of summer gloves, so I picked up a pair on June 10, 2006.
I have to say that I'm quite shocked to see that, less than a month later, the "leather" finger and palm areas of these glove are disintegrating.
Have a look at the attached photos above.
These glove have not been subject to any adverse conditions of any kind. They have been used in normal riding in fair weather conditions and stored with the rest of my gear.
Not that any glove can offer any significant protection if you should ever go down, but it's obvious that these gloves, even new, would disintegrate on a heartbeat.
Even my lowly Joe Rocket Atomic gloves have far outlasted these things!  Needless to say, I can't recommend anyone buying these gloves, and I now have doubts about the entire REV'IT! line.
I think you might want to gives your readers this heads up. Thanks."
Response from REV'IT!:  "As, you know, REV'IT!! Always stands behind their products.
We are in the business of making the best fitting most technologically advanced products on the market and always want to know about anything we can do to further improve our product line.
We became aware of the problem with the SOLAR glove not to long ago and have rectified a solution.
Now we are pretty sure that only the first batch of solar gloves were defective.
But we will be accepting returns on all Solar gloves from anyone who thinks they might have a defective pair and will replace them with a newer updated model that should be available the second week of August.
Also, I am not sure if you had any complaints about the silicon imprints coming off. But I know I have heard a few.
The silicone on the glove can be compared to a tire. It will wear off with time and in no way will compromise the integrity of the glove.
Our main concern with the glove is the Clarino fabric on the palm. So those are the problems we will be addressing with all returns.
I believe the newer model Solar glove will have a goatskin perforated palm. So the pilling and seam splitting problem will be solved.
I hope this answers any of your questions. If you have any more, please feel free to give us a shout either on my office or cell. Email always works too."