August 2010 – In November of 2009, we reported on the new partnership between Rev'it and W.L. Gore, a cooperative effort to produce the "next generation" of advanced motorcycle clothing using the latest technologies and production methods from both companies.
Then in January 2010, we added to that article the details on the Rev'it and Gore-Tex "Test Team" of volunteer motorcycle riders who have helped to test different versions of the new products, while providing very useful feedback to Rev'it and Gore-Tex.
And we reported on one more piece of the puzzle in 2009 — the Gore "Lockout" zipper, a revolutionary new type of toothless zipper that is 100% waterproof, self-lubricating and self-healing.  This amazing new technology is also making its first appearance in the new Rev'it Everest GTX jacket.
All of the research, development and difficult work on new production methods is now paying off, as Rev'it has announced the first products in their new Gore-Tex "GTX" line of advanced motorcycle clothing, announced today, August 1, 2010 for the Fall and Winter of this year.
I visited the Rev'it Red Hook offices twice this summer to learn more about these exciting products and I'm proud to announce that you are now reading a world exclusive report on the new Rev'it Gore-Tex GTX clothing line that will be in the retailers soon.
I'll let the photos do most of the talking, with some notes under each.  I've divided the information up into sections, with the new Rev'it "GTX" (Gore-Tex) jackets first, then the new line of GTX and other base layers that are just as high-tech and a perfect match for the GTX clothing.  See the menu above for the links to the individual articles.
Finally, we have a sneak peek at the new Rev'it Gore-Tex gloves that are also being announced for the Fall/Winter 2010 lineup.   This is really interesting because many webBikeWorld readers participated in the Rev'it Gore-Tex Test Team and helped to improve these gloves with a huge amount of feedback, and I can show you how your feedback was incorporated by Rev'it and did indeed help to improve the products!
Rev'it has initiated an education and training program for dealers, who will be schooled in the details of the new GTX lineup.  Most of the new gear incorporates many functional and sometimes subtle details that might not be noticed unless pointed out to the prospective customer, so it's important for all of the Rev'it dealers to fully understand the technologies and how they work.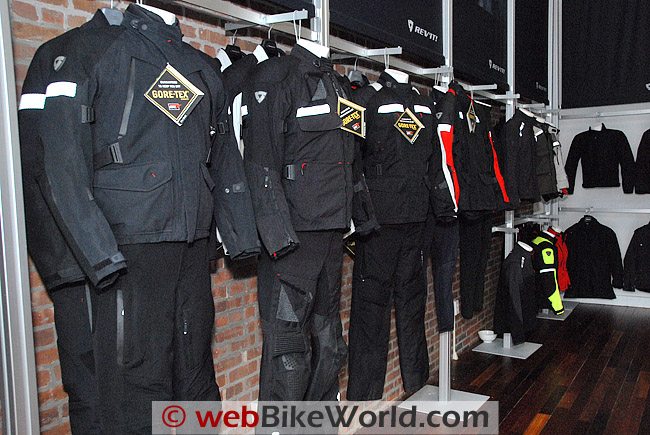 Gore-Tex "Guaranteed to Keep You Dry" Waterproof Guarantee!
The big news here is that the GTX jackets are guaranteed for life by W.L. Gore against leakage!  More details on that in the GTX jacket article; Gore worked with Rev'it and tested the final production versions of the jacket.  This is a definite first: at any time during the lifetime of the jacket — not just the warranty period — if it fails to keep you dry, it is guaranteed by Gore and will be repaired or replaced if necessary.
So obviously this is not your everyday "waterproof" liner!
A word about the photos: most of the samples of the new Rev'it Gore-Tex clothing were black, and taking photographs of black clothing in dim light is an exercise in frustration.  High ISO and wide-open apertures did strange things to the color and tint, even after a trip or two through Photoshop.
But, since this is a preview, the photos will hopefully give you a hint of these new products and I promise we'll have much better images when we get the final production versions of the clothing for review.
We also hope to have a video ready to go within the next 24 hours or so and it will be embedded below.  Enjoy!
Note:  For informational use only.  All material and photographs are Copyright © webWorld International, LLC – 2000-2011.  All rights reserved.  See the webBikeWorld® Site Info page.  NOTE:  Product specifications, features and details may change or differ from our descriptions.  Always check before purchasing.  Read the Terms and Conditions!
Owner Comments and Feedback
Comments are ordered from most recent to oldest.
Not all comments will be published (
details
).  Comments may be edited for clarity prior to publication.