Airvolution Gloves Review Summary
Airvolution Gloves Image Gallery
Airvolution. The name suggests the breathability of this revolutionary leather summer glove.
But you don't have to give up protection for air flow!
The Airvolution gloves have all the race-like features, with goat skin palms, carbon-fiber knuckle protectors and padded reinforcements.
The Airvolution gloves provide needed protection while the perforated leather lets your hands breathe on hot summer days.
And best of all, both men and women can benefit, because the REV'IT! Airvolution gloves are available in two versions, for men or women, complete with gender-specific sizing and fit.
Motorcycle gear does more than just protect your body in an accident; it also protects you from the elements.
It's interesting to see how many riders wear gloves only when it's cold, and I've mentioned to some of them that their hands can be injured in an accident in warm weather, too.
The common reply is "I don't plan on crashing". OK…Well, do any of us? No one knows when it's going to be their turn.
So forget crashing — think of the weather conditions then. When it's cold, gloves can prevent numb hands, and numb hands can affect reaction times.
In hot weather, gloves can prevent sunburned, dry or cracked skin. Hands are such an important part of the body to protect; think about all you do with them!
I read about an accident where the rider wasn't wearing gloves and hit the pavement hands-first. He was quoted as saying "Do you know how much blood you can lose through your palms?" Gross!
Remember the old acronym: ATGATT. That's "All The Gear All The Time", not "SOTGSOT": Some Of The Gear Some of the Time.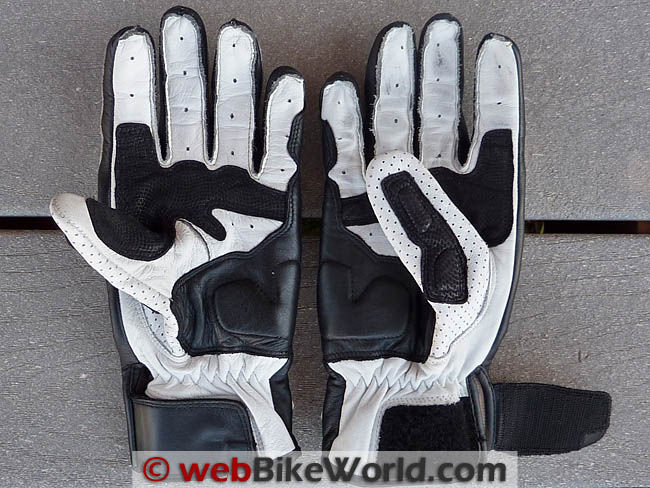 REV'IT! Airvolution Gloves – Sizing and Fit
I was under the impression that some of the REV'IT! gloves for both men and women tend to run a size small. I usually wear a large, so I wasn't sure which size to order, so I tried the Airvolution gloves in both large and extra large to see.
As it turns out, this wasn't necessary — the REV'IT! Airvolution Ladies Gloves fit true to size. I guess this has something to do with the new sizing scheme REV'IT! said they have adopted recently!
A size large Airvolution glove fits me well and it slides right on with no problems.
There is a little extra room in the width of the palm and thumb on my hands, but the gloves fit pretty much like the other size large gloves that I own or have tried.
The Airvolution gloves are available in both men's and women's specific sizing and fit and in fact, REV'IT! has several items that are carried in both their men's and women's sizes but are not unisex.
The REV'IT! "no unisex" strategy is a good one and in this case, it means that the women's version of the Airvolution gloves are cut and shaped specifically for women and are not a down-sized men's version.
Yes, the Ladies version of the Airvolution gloves are made just for women! That's good news. And since the men's version of the Airvolution gloves are made just for men, that's good news too! Equality is great!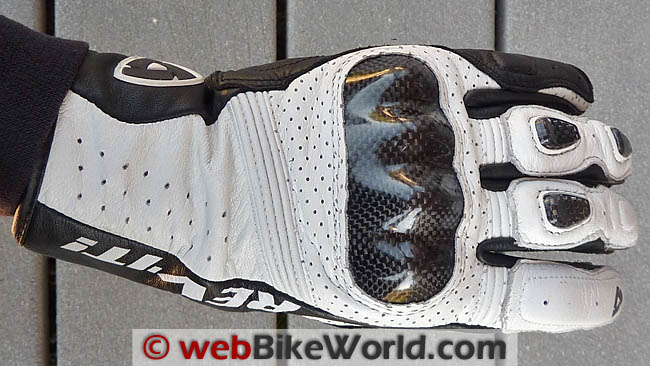 Glove Construction and Safety
The REV'IT! Airvolution Gloves are loaded with protective details and I'll start with the most important: protection.
The gloves have a solid foundation of goatskin and cowhide. Carbon-fiber hard protectors are integrated over the main knuckles on the back of the hand as well as on the middle two fingers.
All of the fingers have an extra layer of leather, and the pinkie, middle finger, index finger, and thumb also have EVA foam for added protection. I appreciate that the second layer of leather on the pinkie wraps around the side of the pinkie and hand.
The heel of the palm includes EVA foam and another layer of leather and the top of the palm and inside of the thumb have a layer of textured goatskin for added grip on the handlebars.
These additional layers of leather and EVA foam throughout the glove have the potential to provide extra durability and protection in an accident.
Double stitching secures the main knuckle armor and leather additions on the palm and pinkie, while Kevlar stitching reinforces seams which are typically weaker spots on garments.
It isn't often when you can find all of these protective features in a vented or perforated summer glove — good reason why the Airvolution gloves are one of the most popular in the REV'IT! lineup.
Airvolution Gloves Wear Factors
The seams on the bottom of the fingers are outside the glove to reduce potential irritation. The Airvolution gloves also have pre-curved fingers to allow an easy grip on handlebars without the leather bunching or pulling.
Stretch areas on the fingers and wrist offer some give and flexibility to the Airvolution gloves.
The gloves are held in place with elastic at the wrist and an adjustable cuff with a wide hook-and-loop closure; the cuff is approximately 2 inches (5.1 cm) long with a 2.5 inch (6.4 cm) wide tab.
Short-cuffed gloves are not meant to be worn over jacket sleeves and the Airvolution cuffs are narrow enough to fit under most jacket sleeves and easily slid under the cuffs of the Revi't Ignition Ladies' Jacket (review).
The REV'IT! Airvolution Gloves are completely lined with 100% polyester tri-fleece which wicks moisture away from the hands to keep them dry.
Perforations on the fingers, thumb, and back of the hand and wrist allow air flow to keep hands cool on warm summer days. REV'IT! logos at the wrist and index finger add finishing touches.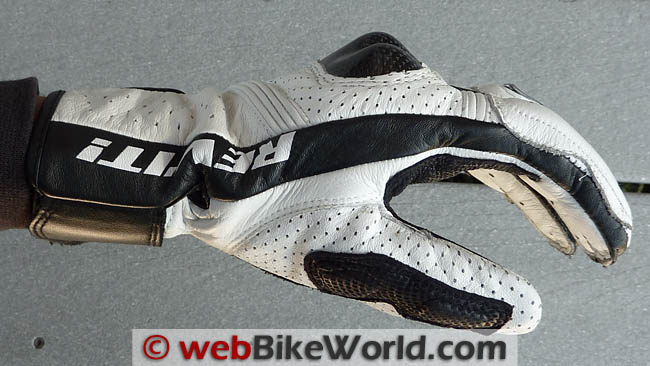 REV'IT! Airvolution Gloves – Comfort and Functionality
Despite their summery-sounding name, the Airvolution gloves worked well for me in a wide range of temperatures. I started many rides in the low 60s (16 Celsius) worried that my hands would get cold, but they did not.
This led me to think when temperatures reached the mid-80s (29 Celsius) my hands would get hot and sweaty, but again I was wrong.
I was surprised by the versatility of the Airvolution Gloves which kept my hands comfortable through temperature changes of ranging to a 25 degree difference.
In the cool Northwestern Montana climate, I haven't worn the gloves above 85 degrees (29 Celsius) or so, but in a range of temperatures I can say that the gloves provide very good ventilation and I can feel the air flow.
I only had one slight issue with the gloves.
On my first few rides until the gloves broke in, the knuckle protectors over my left middle fingers started to irritate my knuckles after an hour (the rigid protectors on the fingers, not the large main knuckle protector on the back of the hand).
This wasn't a problem on my right hand, which leads me to believe it is just that particular glove, or maybe the knuckles on my left hand are a little larger than on my right hand.
I need to mention that the leather on the bottom of the white gloves gets dirty quickly from hand grips. However, a little leather cleaner on a microfiber towel cleans them up within a minute or two.
Also, the Airvolution gloves are available in mostly black with some white, the exact opposite of the gloves shown in the photos, so that may be a better choice if you're worried about keeping the white clean.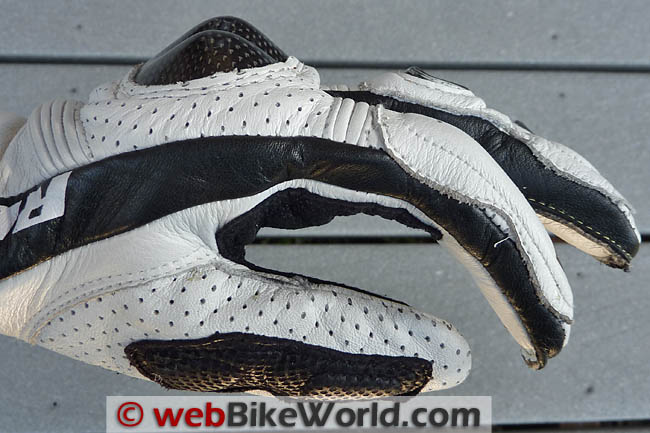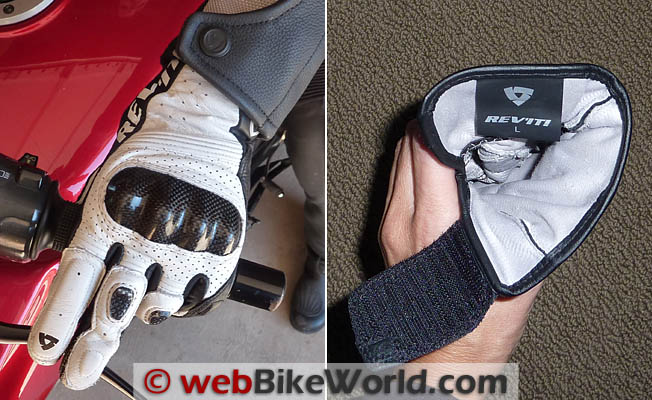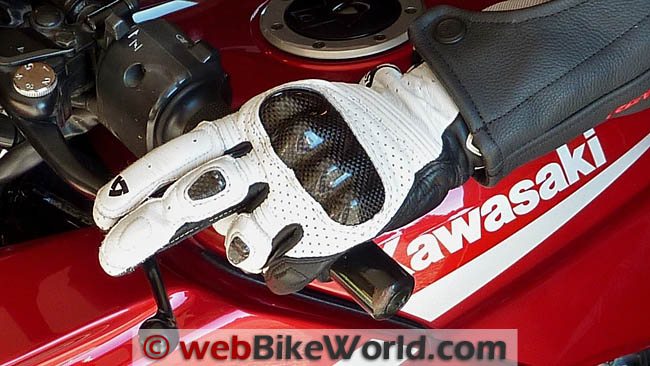 Conclusion
Men's or women's summer gloves with a race fit and race-style protection aren't easy to find, so check out the REV'IT! Airvolution gloves.
Integrated knuckle armor, padding, and leather reinforcements work harmoniously with perforated leather.
Together, these create a protective, breathable summer glove that is perfect for summer and warm spring/fall riding and the price is very reasonable for the quality and the feature set.
w

BW

 Review: REV'IT! Airvolution Gloves
List Price (2011): $109.99
Made In: China
Colors: Black/white; White w/red, blue or black.
Sizes: Men's: S-XXL. Women's: S-XL.
Review Date: March 2011
Note:
 For informational use only. All material and photographs are Copyright © webWorld International, LLC since 2000. All rights reserved. See the webBikeWorld® 
Site Info page
. Product specifications, features and details may change or differ from our descriptions. Always check before purchasing. Read the
Terms and Conditions
!
From "D.B." (April 2013): "I bought a pair of these gloves at the beginning of our summer in New Zealand. It turned out to be a great time to get a pair of warm weather gloves, as we've just had one of our warmest summers ever.
I agree with much of the review. I've found them to be very comfortable and they are the gloves that I enjoy wearing the most, mainly because of the good feel through them. Plus they are much easier to put on and take off than gloves with longer cuffs.
I am concerned though about all of the perforated leather on the outside of the thumb. Most of this is not in the airstream and I'm sure that it reduces the protection in this area.
However, the biggest issue for me is the lack of ventilation. With my hands in their normal position, very little air seems to come through. When I move my left hand further around the grip, there is good airflow onto the back of my hand, but this is not so easy to do with the right hand.
They're OK though up to about 25°C (78F) and have been worn more than I expected thanks to their comfort and the great summer weather!"
---
From "T.W." (06/2011):  "I bought a pair of the REV'IT! Airvolution gloves. This is my second pair of REV'IT! warm weather gloves. The first pair, bought in 2008, were the Solar Mesh model. They were great while they lasted.
Compared to the Solar Mesh gloves, I find these (perforated) don't breathe quite as well around the fingers, though they do fit better overall. Mesh versus perforated leather I guess. The thumbs still seem too short though, but they will probably loosen up with time. Thanks for your great reviews/informative website."
Update from "T.W." (September 2011):  "I wanted to update my review of the REV'IT! Airvolution gloves, bought in June 2011. I am sorry to say that after wearing them for 3+ months I've decided the fit (XL) is definitely a problem for me.
I think they are otherwise a very well made, and reasonably priced glove. Perhaps my hands are off-nominal, but the thumbs are too short. More so than the solar mesh gloves I had previously. And they haven't loosened up after a summer of use.
The index fingers are also too small. This became noticeable after longer rides (3-5 hours). I'll probably replace them in the spring. From here on out, I'll be trying on gloves before buying them."
---
From "D.W." (03/11):  "I have been looking for some summer gloves with a decent cuff forever, and these look to fit the bill. I will let you know it the guy's stuff is the same, it will be the first set of REV'IT! gloves for me since the (hrm, can't find the name) 2007~ ish timeframe. Thank you for the review!"