This is Rev'it! month at webBikeWorld — in addition to this review of the new Rev'it! Airvent mesh motorcycle pants, we're in the process of evaluating the new Rev'it! Cayenne jacket, Ultimate pants, Ultimate gloves and their new Fusion boots.
I got a quick overview of these new Rev'it! products during the spring Dealer Expo in Indianapolis (see the wBW "Live From the Dealer Expo" report) and came away as impressed as ever.
Rev'it! is very serious about producing the best motorcycle gear in the world, and our feeling is that they're right on track.
We've been big fans of Rev'it! clothing since the line was first sold in the U.S.A., and each iteration of their products does nothing to diminish our opinion.
What's really amazing is the rate at which the company evolves the product line, with each update building on the previous, adding features and making changes suggested by owners.
I'd like to think that my suggestion for a pair of mesh pants that would match the Rev'it! Airflow mesh jacket (see the wBW review of the Airflow Mesh Jacket) was the impetus behind the development of the Airvent mesh pants shown here.
I've been wishing for a matching set of pants for the Airflow ever since the jacket arrived about a year ago.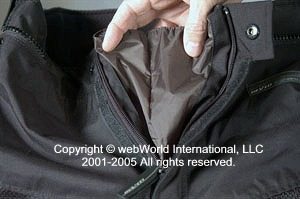 Well, they're finally here, and worth the wait.  The Airvent pants and Airflow jacket make a perfect hot weather riding outfit, and both items have the added bonus of the updated Rev'it! waterproof liner, now called the "Hydralining".
These are high-tech, full-length removable and waterproof linings that also serve as a wind blocker.
Hydralining provides a vapor barrier that helps to extend the riding season, making the Airvent and Airflow pair a serious contender for the only riding outfit necessary for all but the coldest temperatures (the Cayenne jacket and Ultimate pants combo handles that with ease – review coming soon!).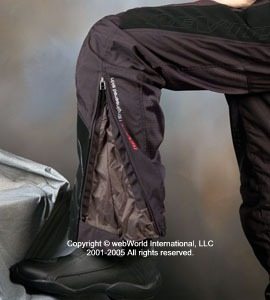 Rev'it! motorcycle clothing is designed to fit slightly tighter than most of the other clothing I've used, and this is a plus.  Most motorcycle clothing is too loose fitting to provide maximum effectiveness in a crash.
Armor and padding is useless if it gets whacked out of position as soon as the rider hits the ground.  We've gotten too used to wearing too-loose motorcycle clothing in the U.S., but it doesn't take long for proper snug fitting clothing to feel normal.
That said, I'm guessing that Rev'it! has modified their standard body templates with this new release.  I have lost a bit of weight recently, but my "normal" street pants size of 36W and 30L should correspond to a size large motorcycle pant.
Motorcycle clothing sizes seem to vary greatly, and since most of the products are designed in Europe for a different (i.e., more slender) body template, I usually have to jump up one size to get the correct fit.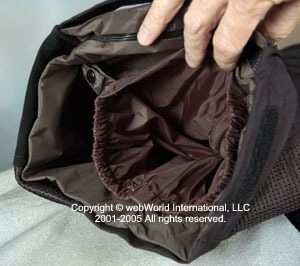 But my Airvent pants are size XL, and I actually think I could use a size large instead.  So my feeling is that the Rev'it! sizes now run pretty close to actual U.S. sizing standards, which is something you may want to keep in mind when ordering.
The Airvent pants include Knox CE-approved armor in the knees and thin padding in the hips.  Rev'it! uses less surface area of the mesh fabric than other mesh products you may be familiar with, to give a potential for better protection in case of a slide.
The pants are designed to be worn alone — that is, they are not overpants, so it's actually better to have more solid fabric covering critical body areas.  There's enough mesh to keep the legs cool while still offering a level of protection that I think is close to non-mesh motorcycle pants.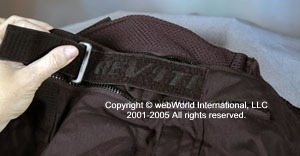 The outer shell of the Airvent pants is made from 100% Polyamid (the alternate spelling for Polyamide), which is a tough type of Nylon fiber.  The pants also have the signature Rev'it! use of Lorica, a synthetic and more breathable leather, on the lower part of the legs.
The zipper on the lower leg (see photo) slides open 32 cm (~12.5″), and the cuff opens wide enough to slide over a pair of motorcycle boots.  The cuffs cinch up with a section of Velcro.  In addition to the removable Hydralining, the Airvent pants have a full-length mesh lining, which makes them comfortable to wear over bare skin.
The Airvent pants have two slash hand pockets in front; each pocket closes with a zipper and the zipper is covered by a fabric flap.  The pockets are approximately 13 cm wide (5″) by 23 cm (9″) deep, and are fully lined with a taffeta material.
Could it be possible that another suggestion I made once to the Rev'it! corporate senior management staff has also been implemented on the Airvent pants.  I suggested an adjustable waistband, and my wish has been granted (see photo).
The Airvent pants have Velcro adjusters on either side of the waist, which allow a wider range of fitment than my original pair of Rev'it! X-Vent pants.  The Airvent pants also have a slightly stretchy elastic panel on the back, but it's below the waist and full-length jacket zipper attachment, so it doesn't seem to add that much to the fit.
The full length zipper around the waist of the Airvent pants matches perfectly with the Airflow jacket, and the zipped-up combination of the two provides a good potential level of security.  Since the Airvent/Airflow combination can now be zippered up all the way around, it's become my de rigueur hot-weather riding outfit.
The one complaint I have is that the leg openings of the Airvent pants are not tapered enough at the bottom to tuck them inside a pair of motorcycle boots, and must be worn over the outside instead.  I prefer to wear my boots over the pant legs to help prevent the pants from riding up my legs in case of a crash.
Also, I wish there was a larger section of "hook and loop" fastener around the bottom of the legs, because I can't get the lower legs to fit as tight as I'd like around the outside of my boots.
Conclusion
I've been wishing for a matching pair of mesh pants that match my Rev'it! Airflow jacket, and they're here.  When the jacket and pants are attached using the full-length zipper, the combination provides about as much protection as you can get for mesh clothing, while still allowing enough air flow to make for comfortable riding in warm weather.
The pricing is also very competitive, especially considering the quality and execution of the design.
Product Review:  Rev'it! Airvent Mesh Pants

BUY IT!  Get your REV'IT! motorcycle clothing at RevZilla and help support webBikeWorld!

Available From:  REV'IT!
Suggested Retail Price:  $199.99
Colors:  Black
Made in:  China
Product Comments:  Nice compliment to the REV'IT! Airflow jacket.  High-tech waterproof removable liner.  Knox CE-approved knee armor.  Adjustable waist.  Fully lined.  Comfortable and provide decent air flow.  Review Date:  July 2005
Note:
  For informational use only.  All material and photographs are Copyright © webWorld International, LLC – 2000-2011.  All rights reserved.  See the webBikeWorld® 
Site Info page
.  NOTE:  Product specifications, features and details may change or differ from our descriptions.  Always check before purchasing.  Read the 
Terms and Conditions
!
Owner Comments and Feedback
Comments are ordered from most recent to oldest.
Not all comments will be published (
details
).  Comments may be edited for clarity prior to publication.