Rev'it Airforce Mesh Jacket
Airforce monta iyi uyacağını düşündüğümüz Rev'it Challenge fileli pantolon ve Solar fileli eldivenincelemelerimize de bakın
Bizim buralarda yaz yaklaşıyor, demek ki 2006'nın en yeni file motosiklet malzemelerine göz atmanın tam sırası.
Fileli motosiklet kıyafetleri henüz üç yıl kadar önce ortaya çıktı ve gerek ürünler gerekse kullanılan teknoloji her yıl biraz daha evrimleşiyor gibi.
İlk nesil fileli montlar genelde çok bol oluyordu, sürtünmeye karşı ne kadar koruduklarıysa su götürürdü.
Fakat çığır açan bir konseptti bu ve harıl harıl yaz alternatifi arayan motorcular sayesinde çok da başarılı oldu. Başlarda talep o kadar büyüktü ki üreticiler kumaş ve ürün yetiştirmekte zorlandı.
İkinci nesil fileli motosiklet kıyafetleri daha sıkı örülmüş fileler ve daha sıkı oturan giysiler sundu bizlere.
Ayrıca darbe bölgelerinde deri kullanılmaya başlandı ki bu da kıyafetlerin koruyuculuğunu arttırdı.
Şimdilerdeyse çıkarılabilen "yağmur ve rüzgâr geçirmez yalıtıcı içlikleri" sayesinde daha geniş biniş koşullarında kullanılabilen fileli kıyafet tasarımları karşımıza çıkıyor.
Artık o kadar fazla kombinasyon var ki herhangi bir firmanın piyasada ürünlerini öne çıkarması kolay değil.
Rev'it Airforce fileli mont ve yakın dostu Rev'it Challenge pantolon, Revit'in çok tutulan fileli motosiklet kıyafeti yelpazesinin son versiyonu. Kombinasyon dört mevsim kullanılabilecek şekilde tasarlanmış olmasa da bana öyle geliyor ki 15 dereceden yüksek sıcaklıklar için güzel bir alternatif durumunda
---
Where to Buy Rev'it Airforce Mesh Jacket
Check Reviews & Prices on Amazon
Also Shop for: Motorcycle Jackets, Motorcycle Gloves, Motorcycle Boots, Motorcycle Pants
---
Rev'it Airforce Mont
Airforce montta eski nesil fileli motosiklet kıyafetlerindekine oranla çok daha sıkı gözlü bir file kullanılmış, o kadar ki Airforce hiç de fileli gibi görünmüyor ama güneşe tutunca içinden epey ışık geçirdiğini görüyorsunuz. Biniş esnasında da bolca hava geçiriyor.
Revit'in tasarımcıları, iyi bir hava akımı sağlamak için filenin geniş gözenekli dokunmasının şart olmadığını bulmuş olmalılar diye tahmin ediyorum. Zaten biraz düşününce de insana böylesi mantıklı geliyor. Havayı meydana getiren küçücük moleküller sıkı dokunmuş fileden geçmesini de pekâlâ beceriyor, boşuna kendinizi yormayın.
Ayrıca gevşek dokunmuş filelerin asfaltta sürüklenme sırasında daha az koruma sağlaması muhtemel, zira file "deliklerinin" bir şeylere takılma eğilimi büyüyebiliyor, sonuç olarak da binici yuvarlanabiliyor. Bu açıdan bakınca ne kadar sıkıysa o kadar iyi.
Montun yumuşak dış katmanı, Cordura, Dynax file, Schoeller Keprotec kevlar, Hitena adında bir şey ve Nyspan adındaki esneyebilen malzeme gibi ileri teknoloji ürünü kumaşların bir bileşimi. Bunlara ek olarak montun sağına soluna Pampas deri bile serpiştirilmiş.
Günümüzde tekstil motosiklet kıyafetinden anlarım diyebilmek için bir sürü acayip isimli marka hakkında yorum yapabilmek gerekse de şunu bilmek bize yetiyor: Airforce mont yumuşak ve rahat. Bir de ileri teknoloji ürünü kumaşların kaza anında görevlerini yerine getireceklerini umut ediyoruz tabii ki.
İçlik
Revit'in diğer modellerinde kullandığı su ve rüzgâr geçirmez çıkarılabilir Hydratex membran, Airforce montta da kullanılmış. İçliğin dış yüzeyi dokunulduğunda tuhaf, lastiksi bir his veriyor. İç tarafıysa ipekli taftayı andıran bir konfora sahip.
Kenarlar boyunca yerleştirilmiş çıtçıtlar sayesinde içlik kolayca çıkarılıyor, Revit'in önceki içlik modelleriyse fermuarlıydı. Zamanla çıtçıt fermuardan daha çok hoşuma gitmeye başladı çünkü içliğin takılıp çıkarılmasını kolaylaştırıyor gibi.
Montun içinde bir de çıkmayan file astar var. Su geçirmez içlik çıkarıldığında bu astar cilde temas ediyor ama rahatsızlık vermiyor. Yumuşak mikrosüet yakada Revit'in standart ayarlanabilir çıtçıtlı sistemi kullanılmış. Ama keşke yaka biraz daha geniş tutulabilecek şekilde ayarlanabilseymiş, zira benim 44 buçuk santimlik boynuma güç bela oluyor. Dardan bola geniş bir aralıkta ayar yapmaya elveren cırtcırt yöntemini görmeyi tercih ettiğim yerlerden biri de yakadır.
---
Where to Buy Rev'it Airforce Mesh Jacket
Check Reviews & Prices on Amazon
Also Shop for: Motorcycle Jackets, Motorcycle Gloves, Motorcycle Boots, Motorcycle Pants
---
Cepler
Airforce montun iki yan cebi ve göğsün iki yanında iki büyük cebi var. Göğüstekiler Revit'e has su geçirmez fermuarlı ceplerden. Sıkı sıkı kapanınca yekpare kumaş gibi görünüyorlar. Ayrıca üstlerinde reflektif kaplama ve lazerle yazılmış Rev'it logosu var.
İçliğin çıkarıldığı durumlarda göğüs ceplerinin fermuarını havalandırma amacıyla açmak da mümkün. Cepler büyük boy: Derinlikleri 18, genişlikleri 16 santim. Ayrıca montun iç yanlarında göğüs hizasına denk gelen iki fermuarlı cep var. Bunlar içlik çıkarıldığında kullanılabiliyor.
İlaveten montu Challenge model pantolonla birleştirmeye yarayan fermuarın orada 38 santim genişliğinde 13 santim derinliğinde bir iç cep daha bulunmakta. Bu cebin içinde su geçirmez ve çıkarılabilir bir cep daha var ki içine cüzdan ya da kuru kalması gereken başka bir şey konulabiliyor.
Bu özellikler elbette montun cazibesini arttırıyor ve Rev'it marka kıyafetlerdeki sürpriz cep geleneğini devam ettiriyor.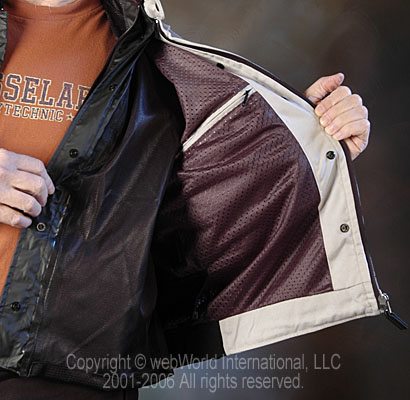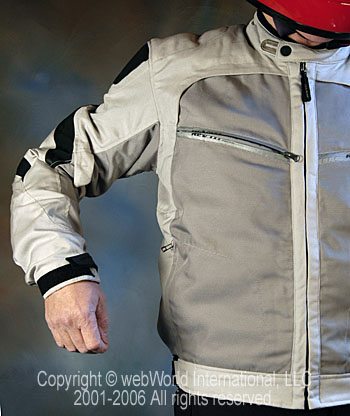 Korumalar
Montta kullanılan CE onaylı ProLife marka dirsek ve omuz korumaları "yarı sert" özellikte, yani "saf kan" yarış montlarındaki kadar sert olmasa da diğer birçoklarından daha sert ve sağlam. Kullanıcı tarafından temin edilecek çeşitli tipteki sırt korumalarını koymaya yarayan arka taraftaki gözse ağızsa hoş bir sürpriz. Montla birlikte ince bir sırt koruması da veriliyor.
Vücuda Uyum
Revit'in kıyafetleri motosiklet kullanmaya uygun tasarlanmış, yani vücudu sarıyorlar. Çoğu binici bir ölçü büyük kıyafetler giyer, böyle olunca da kazalarda mümkün olan en iyi şekilde korunamaz. Benim ceket bedenim ABD standartlarına göre 44 ve 54 beden (Avrupa standardı) Airforce bana tam oluyor. Airforce montun bayan modeli de var.
Montun bel kısmında ayar kayışları var, lüzumlu hallerde daraltmak için kollarda da fazladan birer çıtçıt mevcut. Kol ağızlarında "şeridi kauçuk kaplı cırtcırt" kullanılmış. Biraz fazla toplanma olduğu için kol ağızlarını Rev'it Inferno fileli eldivenlerimin içine sokmakta zorlanıyorum.
---
Where to Buy Rev'it Airforce Mesh Jacket
Check Reviews & Prices on Amazon
Also Shop for: Motorcycle Jackets, Motorcycle Gloves, Motorcycle Boots, Motorcycle Pants
---
Sonuç
Fileli motosiklet kıyafetlerinin her yeni nesli bize hem yeni özellikler sundu, hem de ürünlerin kullanışlılığını geliştirerek daha geniş bir sıcaklık ve hava şartı yelpazesinde kullanabilmelerine imkân verdi. Fakat fileli mont alırken göz önünde bulundurulması gereken en önemli husus, sıcak havalarda içine hava alma kapasitesi olmalı.
Rev'it Airforce Mont bol bol havalandırma sağlamasının yanında Revit'in ayrıntılara ve kaliteye gösterdiği tipik özeni de sunuyor. Kısa ya da tam boy fermuar vasıtasıyla yine sıcak havalarda kullanılmak üzere tasarlanmış Rev'it Challenge pantolona bağlamak da mümkün olunca mont yaz şartları için güzel bir alternatif haline geliyor.
w

BW

 Ürün İnceleme: REV'IT! Airforce Mesh Jacket
Manufacturer: REV'IT! (Türkiye dağıtımcısı Özen Motor'muş)
Tavsiye edilen perakende fiyatı (2006): 550 tl
Renkler: Siyah ya da gümüş
Made In: Unknown
Sizes: 46 to 58 and women's sizes 34 to 44 (Euro).
Review Date: April 2006
Not:  webBikeWorld© ile adı geçen ürün, satıcı ve üreticiler arasında hiçbir bağlantı ve mali alışveriş yoktur. Site sadece bilgilendirme amaçlıdır. Bütün malzeme ve fotoğrafların telif hakları © webWorld International, LLC – 2001- 2010'ye aittir. Bütün hakları mahfuzdur.  Kayıt ve Şartlar
Other WebBikeWorld Motorcycle Jacket Posts
wBW Motorcycle Jacket Info