Are you wearing the right helmets? Brain injury accounts for as much as 30% of all injury deaths in the US. If you love motorbikes and speed, you need the right accessories to help keep you safe – including a helmet that does its job well.
Helmets are one of those pieces of safety headgear that you just cannot miss out on, and while there are a good many options to choose from, you might wonder as to which one's the right one for you. Check price here.
This Matrix Street FX Streetfighter Fiberglass helmet review talks about a full face shell helmet that you can use – if full face shell helmets aren't for you, this Matrix product isn't as well. That being said, full face helmets do offer certain advantages, and you should take a look at whether it fits your bill.
The Full Face Shell Helmet You Need
Matrix Helmets comes up with yet another helmet – the Matrix Street FX Streetfighter Fibreglass Helmet. Their line up has been consistently full face shell helmets.
Now this might sound like a disadvantage to those who love their open face helmet but then this also does create an impression that they are trying to promote safety before convenience.
If we go through the basic philosophy of this company, it does make its intentions clear on safety. Matrix Street FX Streetfighter is Matrix's latest offering. Does it live up to the name? We will soon find out.
Look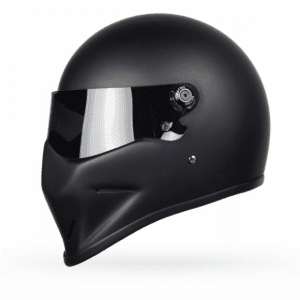 The Matrix Street FX Streetfighter topples the Matrix Alpha Streetfighter in terms of look. Available in both white and matte back, the race look of this helmet definitely appeals to those for a taste for speed. Plus the visor is a 3mm racing visor and immediately enhances the racing aesthetics already in play.
The white version is a casual fit while the matte black goes well to add some ruggedness and roughness to the look. Sleek and loud in style, it is a match winner look wise.
Some might however like the toned down Alpha Streetfighter – since look-wise this is more silent and draws less attention to its skull-like features.
Feel
If you buy the right size of this helmet, you can rest assured that you have the right fit or in other words the snug fit. Only a snug fit helmet would allow you to appreciate the feel of a helmet. Not only feel but a snug fit helmet will also ensure that what you are wearing is safe for you.
In several cases of road accidents, it is observed that the helmet dislodged itself during the crash. This is because the helmet was not the right fit in the first place . This helmet, with its extra layer of comfort padding, keeps the impact away from reaching you.
It is a super lightweight helmet weighing only 27 ounces. So feel wise, your neck muscles will feel less tension and will hence feel more relaxed. This helps you to drive more and tire less.
The trim is made of reinforced rubber and the elastic feel will not hurt your jaws.
The shell is aerodynamically designed. Hence it leaves no chance of wind resistance ever troubling you.
Comfort
For long journeys under the sun, this is the kind of adaptive helmet you need. It has BioFoam chin pads made from moisture absorbent material.
Hence you would not feel stuffy or uncomfortable, whatever be the humidity conditions.
Convenience
The helmet comes equipped with a quick release micrometric buckle. The best thing about these buckles is that they do not get stuck midway.
Also you can open them with just one hand even with your gloves on.
Safety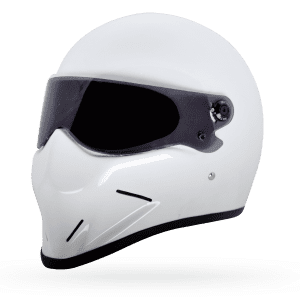 Safety is this helmet's USP. Full face shell provides not only protection to the head but also to the jaw. The shell is made from fibreglass. The light weight of this helmet can be attributed to the lightweight composite material used to make this product.
The helmets have passed tests at high speeds of 185 mph on the motorway.
The visor comes with a secure lock to keep the shield at its place even while swerving difficult movements. The fit does not shift or jerk even on a bumpy road – thanks to the wave eliminators. In terms of safety standards, it exceeds DOT FMVSS No.218.
Downside
Well, it doesn't have flip options and also is not equipped with any Bluetooth technology. You wouldn't really bother about it at the price point, but then if you were looking for a Bluetooth helmet – useful to listen to songs or take calls while driving – this one isn't made for you.
Bottom Line
This helmet is a must buy if you are old school biker. If you love speed, then this helmet will give you the right dressing for speed. The racing visor is extremely stylish. It gives extra protection to the chin bones than the Matrix alpha – thanks to the styling of the mouth vent – it caters both to a look and to safety.
The helmet is priced at the mid range, and if you can avail the current discount of 20% available by choosing to exchange your old helmet, it becomes a very affordable option in the range of sports headgear. All said and done, this helmet is durable and safe, and one you may want to take a look at if you're a fan of full face helmets.