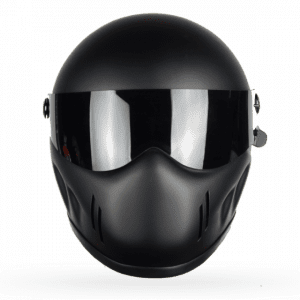 If speed is what drives you, then you definitely need the right tools to keep you safe on the road. Having the right kind of helmet will protect you on the streets – and as a biker, you know just how important choosing the right helmet is.
Let me warn you – not all helmets are meant for you. It depends on the number of miles you ride on your bike, the type of roads on which you usually manoeuvre your bike, the size of your head, and the speeds that you usually clock. Check price here.
Helmets not only ensure safety but also add to the overall look of the biker. They are in fact an extension of your bike and the feel of your bike. Today we will review a helmet manufactured by Matrix Helmets. We will be looking at Matrix Alpha Street Fighter Fibreglass Helmet.
What Would you Love?
This one's priced in the mid range and is a sleek choice. It has the rugged style a biker usually craves. This helmet is available in different sizes S, M, XS, L, XL, XXL. A lot of helmets do not offer many variations in size and hence it is difficult to find the right fit. This helmet is bang on if you talk about the snug fit – let me say the word again: snug.
You will not be disappointed with this helmet in terms of the look, the feel or the safety features.
You Would Love the Freebies
On unboxing, you would get extra visor screws you did not pay for: different colored pairs to match the look you want. Also, Matrix gives extra attention to the packaging. So you do not need to worry even if you are ordering it online.
The Color Options
In terms of the look, you can either opt for a classy white or a rough matte black look. If you have a soft corner for leather jackets, the matte black might suit you better. The white helps tone down the look and keep it casual.
Comfort
The first thing when we talk about comfort is the right fit. If you buy the right size of this helmet, be assured that you will not be disappointed with its snug fit. The rule of thumb to know the right size of a helmet is to slide in the helmet – if it slides in too easily without any manual intervention, we need a size smaller than what we are looking at right now.
Next come the chin pads and the liner which are important features when we talk about overall comfort. Made with high quality bio-foam, the chin pads of this helmet absorb moisture very quickly.
So if you sweat too much and you do a lot of riding in the day on busy streets under humid conditions, this might be what you were looking for. Now this is a super light helmet – weighing only 27 ounces. It definitely is relief for your neck muscles.
Safety
This helmet meets the safety standards with flying colors. In fact it exceeds DOT FMVSS No.218 Certification. The shell is made of fibreglass which is in itself very durable when it comes to crash tests and is aerodynamic. No flip options are available and what we are looking at here is a full face shell.
The shell is made from lightweight composite materials and has a striking resemblance with the human skull. It has wave eliminators that take care of the curves in the road, allowing you a stable fit every time be it a drag strip or an open highway.
These helmets have been tested at speeds of 185 mph on the motorway and they have proven to be reliable and safe even at such high speeds. Also the secure visor lock that comes with this helmet makes sure that the shield does not sway to movements at high speeds.
Convenience
In terms of convenience, with the help of the micrometric buckle, you can open your helmet even with your gloves on. The release is quick and smooth.
One downside of this helmet is that it is not a flip up helmet and those who prefer an open face helmet to a full face helmet might see this as a disadvantage.
Style
With the extra pairs of visor screws, you can style yourself the look you want to sport. Also, the visor is a 3 mm racing visor and hence gives you that sports bike feel. If not for anything else, this helmet does stand out from the crowd because of its human skull rugged feel.
Pricing
Considering the make of this helmet and its aesthetic essence, this is an affordable helmet. Plus Matrix is offering a 20% discount if you exchange your old helmet. This, however, is a limited offer.
Bottom Line
If you are looking for a style statement and love racing, this is one of the better options out there. It's not your choice though if you are looking for an open face helmet – but then you shouldn't mind it if you are looking for a helmet for racing.
We loved the freebies on offer, and the fact that you can have that 'real' sports bike feel with it – if you are a racing buff, you sure are missing out if you haven't invested in one of these yet.
The helmet manages to deliver the macho hardcore appearance you wanted all along and does not compromise on safety. A must buy for serious bikers.