Suzuki Australia is recalling UH200 scooters over an issue with rusty speedos that could cost the rider a hefty speeding fine.
The official notice, issued through the Australian Competition and Consumer Commission, says 60 scooters  from 2018 and 2019 are affected. The full list of vehicle identification numbers (VIND) are included at the end of this article.
"The speed sensor power supply circuit may experience corrosion," the ACCC notice says. 
"The corrosion may cause the speed sensor to lose power supply and could result in the speedometer and odometer not working correctly.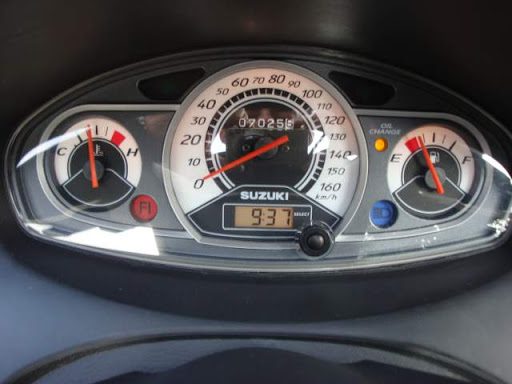 "If the speedometer is not working correctly, it may not show the correct speed. The rider will be unable to correctly determine the operating speed of the scooter. 
"This may increase the risk of an accident, causing injury or death to the rider, passenger or other road users."
It could also mean the rider could cop a speeding fine!
Owners will be contacted by Suzuki Australia in writing to take their scooter to their nearest authorised Suzuki dealer service department to arrange a free repair.
So far this year there have been 24 recalls. This is the second recall for Suzuki after the GSX250F was recalled over a headlight bulb issue.
Even though manufacturers and importers usually contact owners when a recall is issued, the bike may have been sold privately to a rider unknown to the company.
Therefore, Motorbike Writer publishes all motorcycle and scooter recalls as a service to all riders.
If you believe there is an endemic problem with your bike that should be recalled, contact the ACCC on 1300 302 502.
To check whether your motorcycle has been recalled, click on these sites:
VINs of affected scooters
| | | |
| --- | --- | --- |
| MLCC9131300300305 | MLCC9131300300335 | |
| MLCC9131300300306 | MLCC9131300300336 | |
| MLCC9131300300307 | MLCC9131300300337 | |
| MLCC9131300300308 | MLCC9131300300338 | |
| MLCC9131300300309 | MLCC9131300300339 | |
| MLCC9131300300310 | MLCC9131300300340 | |
| MLCC9131300300311 | MLCC9131300300341 | |
| MLCC9131300300312 | MLCC9131300300342 | |
| MLCC9131300300313 | MLCC9131300300343 | |
| MLCC9131300300314 | MLCC9131300300344 | |
| MLCC9131300300315 | MLCC9131300300345 | |
| MLCC9131300300316 | MLCC9131300300346 | |
| MLCC9131300300317 | MLCC9131300300347 | |
| MLCC9131300300318 | MLCC9131300300348 | |
| MLCC9131300300319 | MLCC9131300300349 | |
| MLCC9131300300320 | MLCC9131300300350 | |
| MLCC9131300300321 | MLCC9131300300351 | |
| MLCC9131300300322 | MLCC9131300300353 | |
| MLCC9131300300323 | MLCC9131300300354 | |
| MLCC9131300300324 | MLCC9131300300355 | |
| MLCC9131300300325 | MLCC9131300300356 | |
| MLCC9131300300326 | MLCC9131300300357 | |
| MLCC9131300300327 | MLCC9131300300358 | |
| MLCC9131300300328 | MLCC9131300300359 | |
| MLCC9131300300329 | MLCC9131300300360 | |
| MLCC9131300300330 | MLCC9131300300361 | |
| MLCC9131300300331 | MLCC9131300300362 | |
| MLCC9131300300332 | MLCC9131300300363 | |
| MLCC9131300300333 | MLCC9131300300364 | |
| MLCC9131300300334 | MLCC9131300300352 | |