Have you ever suffered heat rash from protective motorcycle jeans because of the kevlar killing?
I've tried a lot of these jeans and most are prickly hot in summer and scratchy in winter, but none is as comfortable al year round as the new Razzo jeans ($289) from Australian company Draggin.
They have a "mesh sports comfort liner" which seems to make them warm in winter, cool in summer and keep the kevlar away from your legs, so they are supremely comfortable.
They say the DuPont kevlar is now softer than the original kevlar they used, but it still feels scratchy on my sensitive skin, so the mesh liner is most welcome.
There are all sorts of claims and counter-claims about how one kevlar lining is not as good as another.
I'm pretty confident they will help protect me in a crash with kevlar in all the impact points. 
I've never had the misfortune to personally test them, but you can check out their original video where a tester is dragged behind a bike while wearing the first iteration of Draggin Jeans.
Draggin claims Razzo jeans are "cutting-edge style", but I don't really know nor care. To me they just look like a pair of old casual blue jeans with a loose, comfortable fit.
Razzo jeans also come with CE-approved knee armour and you can get hip armour that slips into mesh pockets.
They have two generous-size pockets in the front, plus two small pockets for change, keys, etc, plus two more deep pockets in the back.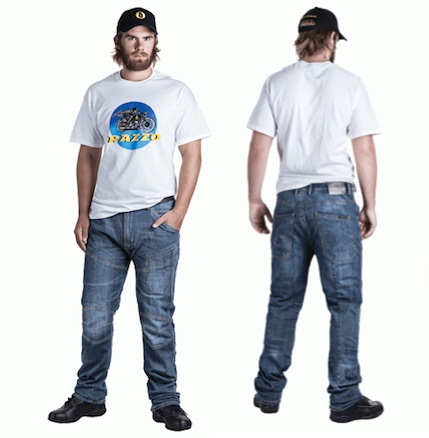 Fit is good with the legs being long enough and wide enough to cover your boots and plenty of stretch so they don't feel uncomfortable if your legs are bent on the bike.
Draggin Jeans has been manufacturing motorcycle clothing since 1997 and claims to be the only casual motorcycle brand in the world to have passed the CE tests for abrasion, burst and tear resistance.