Camo motorcycle riding pants were once a big thing and now it looks like urban camouflage paint is coming to motorcycles.
Royal Enfield recently launched the Himalayan Street in grey camo and Californian electric motorcycle company Fly Free has a model in grey camo.
Now, famous Swiss custom motorcycle company Gannet Design has produced this custom Honda CB1000R in grey camo paint.
Just what you need to ride in stealth mode around the urban landscape.
And if you wear camo pants, jacket and helmet, the zombies won't see you!
Camo paint
Camouflage paint is often used on prototype motorcycles so that when the manufacturers take it out on public streets for testing, it disguises the shape of the motorcycle.
Gannet designer Ulfert Jansson says their aim was to produce a completely new appearance mainly by changing the proportions and handlebar position.
So it seems a little strange that Gannet would hide its custom work that radically changes the shape of the Honda.
"The contemporary camouflage graphics on the tank and the paneling was created by precise painting work and was gradually built up in seven layers," Ulfert says.
"By using paint layers, we could control each single element and place it without any deformation you would get by using foil. Therefore the result is very precise and you can clearly see the impeccable paint job by Walter (Oberli)."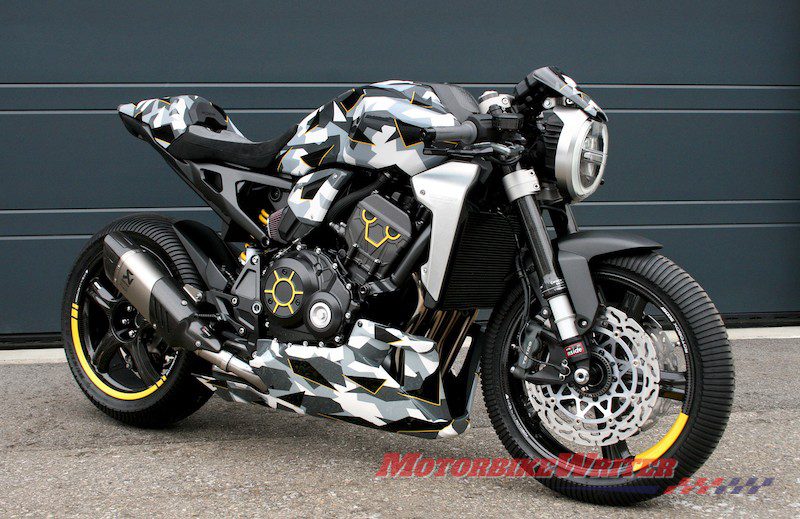 Building process
The bike was built by Stefan Fuhrer, a former MotoGP racing mechanic and his crew at Fuhrer Moto and was fitted with 422 Corse parts such as Rotobox carbon fibre rims and CeraCarbon carbon forks.
The project started with initial loose sketches and design studies by Ulfert.
"Many people underestimate the importance of balance and proportion in a custom build," Ulfert says.
"Just by changing the stance, angles and position slightly, you get an entire new perception and attitude of a bike."
"The front is incredibly beautiful and hot," Stefan says.
"Through CNC milling, we have created a new fixation design for the front light and the mini windshield.
With the new three-piece CNC mechanism, we can now change the height of the headlight and adjust the windscreen to any angle.
"The front headlight has been moved forward by 60mm and slightly lowered.
"This new special fixation together with the Multiclip, the triple clamp, and the carbon fork give this bike a very technical and cool visual impression like in a Transformer movie."
Light forks and wheels
The carbon forks also feature Dyneema and a unique patented Ceramic technology to make them stiffer, lighter and more durable.
A typical 43mm steel front fork inner tube weighs about 1kg, while the CeraCarbon is only 237g.
It is 75% lighter than the conventional steel front fork inner tubes, and reduces the unsprung weight by 1.5Kg on the complete forks.
The Rotobox wheels are also up to 50% lighter.
Gannet Design
Here are some other custom jobs from Gannet.