Racer "Advance" Gore-Tex Gloves Review
Like other winter gloves being reviewed in this series, the Racer Advance Gore-Tex "2-in-1" gloves are very comfortable when properly sized.
They're also very warm and quite unassuming in appearance, less the numerous branding markings.
Setting them apart from many gloves though is the clearly labeled and highly valued Gore-Tex technology that is both apparent and somewhat hidden.
The Advance gloves feature the Gore-Tex X-TRAFIT (report) waterproof liner system.
The gloves also have the Gore-Tex "2-in-1" insulating liner with two separate "chambers" to improve heat transfer from heated grips.
The combination of the Gore-Tex lining and the 300 grams of "DexFil" insulation gives the Racer Advance gloves a warm and dry environment when needed.
Alternatively, the double chamber provides a somewhat less warm but still dry environment with better grip and more heat transfer from heated grips.
It is this dual-use Warmth/Grip feature that sets the Racer Advance gloves apart from many of its competitors; that and the fact that the gloves easily passed the webBikeWorld "Bucket Test".
Even a prolonged ten-minute session (six minutes more than the Bucket Test standard) and exposure to rain showers didn't reveal any leakage.
Cold-weather riding served to validate the functionality, versatility and warmth of these gloves. With some modest protection enhancements — like a knuckle guard and a wider/longer gauntlet — these gloves might really stand out from the competition.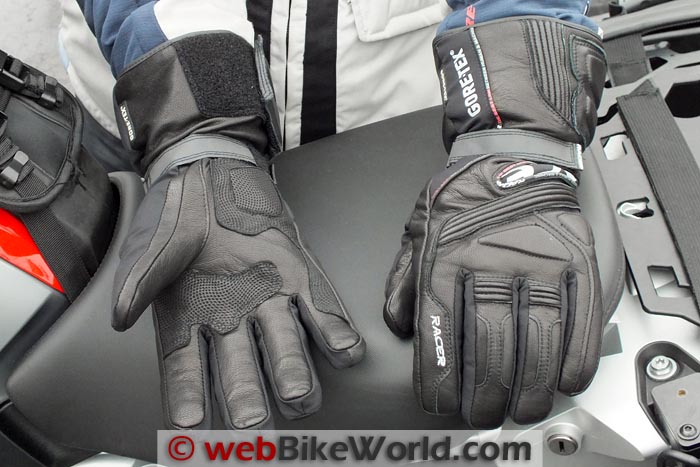 ---
Where to Buy Racer Advance Gloves
Check Reviews & Prices on Amazon
Check Reviews & Prices On RevZilla
Also: Motorcycle Jackets, Motorcycle Gloves, Motorcycle Boots, Motorcycle Pants
---
Introduction
First off, the Racer Advance Gore-Tex winter motorcycle gloves are relatively expensive, with a list price that's a penny shy of $220.00 USD.
For this kind of dinero, you would expect some leading-edge features and in general Racer delivers…but not without a couple of exceptions.
Similar to the Rukka R-Star gloves reviewed by "Burn" a year ago, the Racer Advance gloves have the ability to transform from being a very warm enclosure for the hand to a pretty warm enclosure for the hand…but with more grip.
Let me explain…
Thick winter gloves tend to be bulky and depending on sizing and construction, somewhat inflexible as well, something that doesn't always bode well in maintaining the best grip on the grips — on or off road.
Also, the insulation, by its nature, insulates your hands from the cold — but it also insulates you from the warmth of heated grips.
Thankfully, many modern winter motorcycle gloves have benefited from personal protection and garment technology.
So much so that some good three- to four-season gloves don't look or feel much different from many medium-weight gloves — the Racer Race Carbon gloves (currently undergoing evaluation) being one example.
The Racer Advance Gloves
So into the winter glove comparison ring we now throw the Racer Advance Gore-Tex gloves.
The outer layer is a composition of goatskin and "Nyspan" nylon textile material with high-quality Pittards leather used for the palms.
Next is the Gore-Tex X-TRAFIT waterproof layer and the "Gore 2 in 1" [sic] technology double chamber system, along with 300 grams of DexFil insulation.
Use the main "Warm" chamber for hand-encompassing warmth when needed for maximum insulation.
Alternatively, for riding conditions where the grip factor is more important and/or the weather elements are not as invasive, then "Grip" mode can be used.
This puts the hand in from the bottom part of the cuff which pushes the 2-in-1 insert to the top of the glove and against the back of the hand, while the palm side now has more direct contact with the outer layers of the glove.
"Grip" mode in the lower chamber provides slightly less overall warmth at the palms but better heat transfer from heated grips and for more hand feel.
The "2-in-1" system isn't new or unique to the Racer Advance gloves. The Olympia Commander gloves (review) and the Olympia Switch gloves (review) have (or had) this feature also, and we reviewed these several years ago.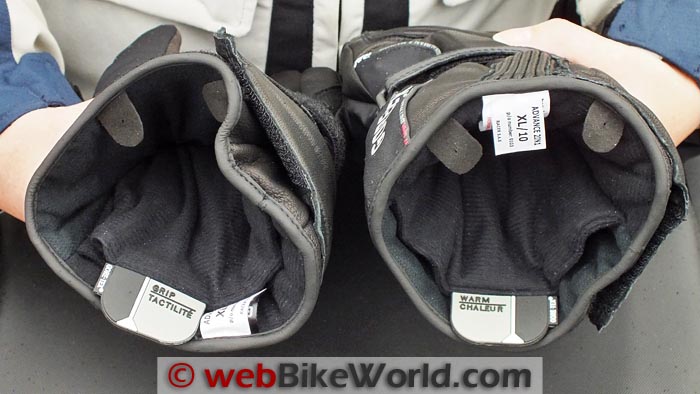 The Bucket Test
The four-minute cold water bucket immersion test was a complete success; neither glove let in any moisture and repeating the test after a day of riding in the cold revealed that the gloves were still watertight.
This initial cold water test also revealed the attributes of the Gore 2 in 1 design — with the hand in the "Warm" chamber, my hands weren't cold, but in the "Grip" chamber, I could feel the cold after a couple of minutes.
Insulation and Ventilation
The Gore-Tex waterproof X-TRAFIT layer and the Gore 2-in-1 insert with its 300 grams of Dexfil insulation adds bulk, but it all works really, really well.
The gloves handle 35 F to 45 F (2 to 7 C) temperatures easily (with some wind-chill) without any additional support (like glove liners or heated liners or heated grips).
Normally, I need to use all of these tricks to keep my hands warm and responsive for extended hours of riding.
In these temperatures, using the "Warm" chamber only made sense and after a couple of hours, my fingers were still in good shape (constant flexing included as part of the on-board exercise program).
With my hands in the "Grip" chamber, the tops of my hands stayed toasty but the palms and fingers did feel the difference after 40 minutes or so.
My current winter-wear hand warmers have been a set of Olympia leather gloves or Gore-Tex gloves and when temperatures dip towards zero, the Powerlet rapidFIRe glove liners (review) are added for total comfort.
But it seems the Racer Advance gloves might be a close match, something that will be determined later this winter…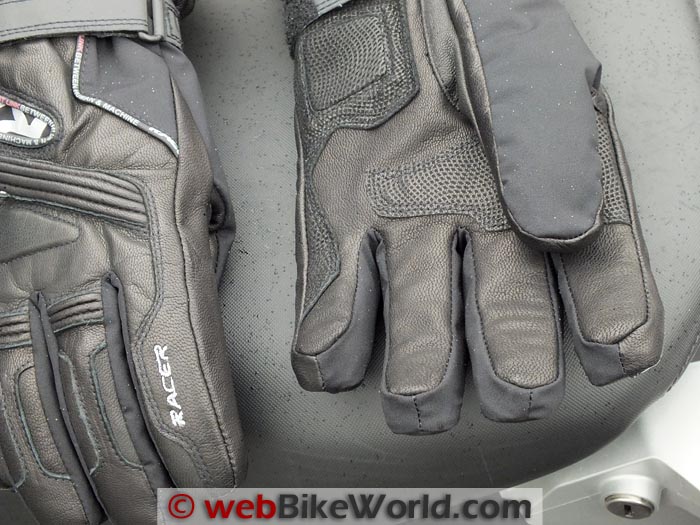 ---
Where to Buy Racer Advance Gloves
Check Reviews & Prices on Amazon
Check Reviews & Prices On RevZilla
Also: Motorcycle Jackets, Motorcycle Gloves, Motorcycle Boots, Motorcycle Pants
---
Ventilation
To paraphrase Glenn in his Tucano Urbano Seppia Invernale Gloves review, if you are looking for a ventilated glove, don't look at the Racer Advance gloves either.
After all, the objective is to keep the elements at bay while keeping the hands (and especially the fingers) warm and responsive.
Now having said this, the Gore-Tex X-TRAFIT layer does breathe and that in itself is a good thing, as it is when it comes to any type of motorcycle gloves, not just the heavier-weight winter type.
So while the Advance gloves can feel warm, the Gore-Tex membrane seems to be working to help manage body-generated moisture and heat.
Liner and Comfort
Providing the warmth and comfort of the "2-in-1" feature is a 300 gram "DexFil" stitched insert with a micro-fleece feel for comfort. The stitching will give just a little when tested, but everything stays in place, appreciated when the hands are damp.
Functionally, when the hands are fully inserted into the "Warm" chamber, the full insulating force of the insert is available.
When "Grip" mode is used, a thinner insulating layer cushions the palms, while the whole thickness and warmth of the insulation protects the top of the hand and upper fingers. The latter is good, as this is typically the most exposed area.
The fingers use the popular and effective "box-style" architecture (floor, roof and two walls joined at the front).
And despite arguments about look and overall effectiveness, this approach is hard to dispute in addressing finger space for comfort and flexibility and air circulation requirements.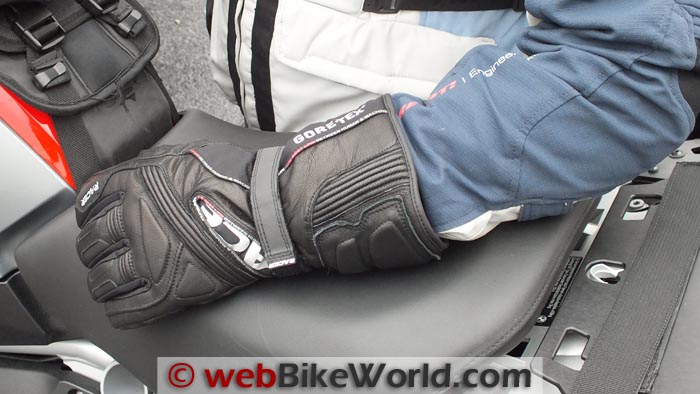 Fit and Sizing
Like the other Racer winter motorcycle gloves we are in the process of reviewing, the Advance gloves are labeled a size XL/Euro 10.
But in reality — given that all my other gloves are size XL — these are probably closer to a size between L and XL.
This is possibly due to the Gore 2-in-1 liner and the 300 grams of DexFil insulation that gives these gloves their unique abilities.
This sizing issue is also apparent with the Racer Elevate gloves I'm in the process of reviewing and also with many (many) mid- to winter-weight motorcycle gloves that are seemingly designed "outside-in" rather than "inside-out" when it comes to sizing and fit.
A glove shell cut specifically for L or XL hand sizes just won't fit the same way after ten to fifteen percent or more of the internal space is taken up with various protective and insulating materials.
Despite the sizing issue, the bulk and the increased stiffness when the hand is fully immersed in the "Warm" chamber, finger room is still satisfactory in the Advance gloves, but a minor shortfall in finger length can be felt.
It isn't completely uncomfortable, but my fingertips do feel some pressure. When I'm wearing the Advance gloves in the "Grip" mode, I have more finger space but the length remains a minor issue.
Most gloves, especially winter gloves, are more effective when the hand and fingers have some air space.
And based on my other XL winter motorcycle gloves, the Advance in size XXL would probably be a better fit for my XL-measured hand (measurement and finger length).
A slightly smaller hand with shorter fingers, however, is sure to find the size XL Advance gloves a comfortable fit.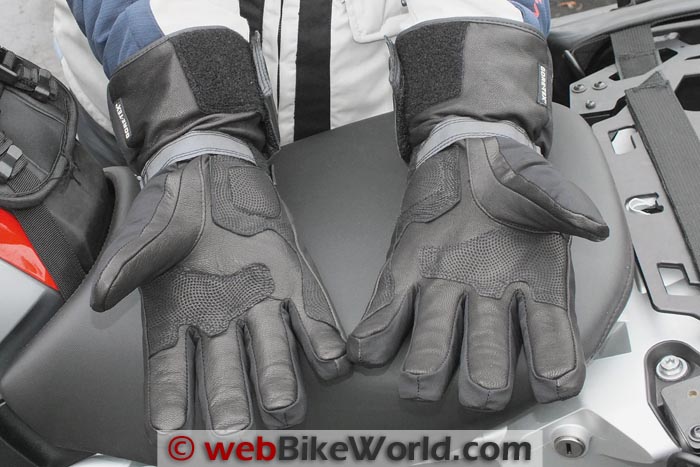 ---
Where to Buy Racer Advance Gloves
Check Reviews & Prices on Amazon
Check Reviews & Prices On RevZilla
Also: Motorcycle Jackets, Motorcycle Gloves, Motorcycle Boots, Motorcycle Pants
---
Other Features…Present and Missing
The Racer brand glove specifications list a "360° reflective wrist strap and Velcro cuff closure", which doesn't seem to be overtly present on this pair of Advance gloves, although the inserts and lettering are retro-reflective.
Another thing missing from these winter gloves is a squeegee strip.
Riding a motorcycle in winter or cold weather can involve anything from snow to sleet to rain to sunshine, in varying temperatures and at different times of the day or night.
Which is why, at least from my perspective, every pair of motorcycle gloves, especially if they're waterproof or winter-oriented, should have a visor wipe on the left forefinger.
And before getting off my glove evaluation soapbox, better back-of-hand protection in the form of a hard (internal or external) knuckle protector, along with some additional impact pads on the back of the fingers and outer glove sides would be great additions too.
Cuff, Gauntlet and Closure
Unlike other gloves that still seem to omit some key safety requirements, the Advance gloves do have a hook-and-loop cuff closure strap.
Using it keeps the gloves on in case of unforeseen stress (like when keeping "the rubber side down" becomes a problem).
Or to better seal out the elements, especially those pesky wind swirls and water drops that can detract and ruin a ride quickly.
Another point where the Advance gloves come up short (pun intended) is in the cuff; at only 100 mm (4″) in length (measured from the wrist strap) and narrow, it keeps the glove from being classed as a gauntlet type, unfortunately.
Obviously not helping the situation is the heavy-duty — albeit effective — "2-in-1" liner.
The short cuff with its secured flap will just fit over a medium-weight jacket sleeve, which leaves me out of luck when wearing my usual cold weather BMW Rallye 3 Jacket (review) or Firstgear Jaunt jacket (review).
The Racer Elevate gloves have a zipper and the Racer Race Carbon gloves (both currently being evaluated) have a wider and longer cuff, so why not the Advance gloves?
Protection
Although many heavier-weight motorcycle gloves do not feature hard or formed knuckle protectors, some do, like the admittedly lighter-weight Racer Race Carbon gloves.
The Racer Advance gloves have extra panels on the palm with shock absorption pads and strips on the back for increased protection, but I'm not convinced a good balance between safety and comfort has been found.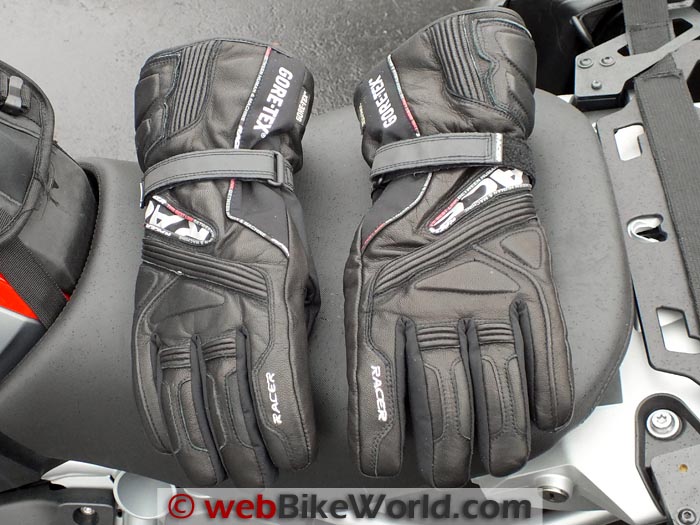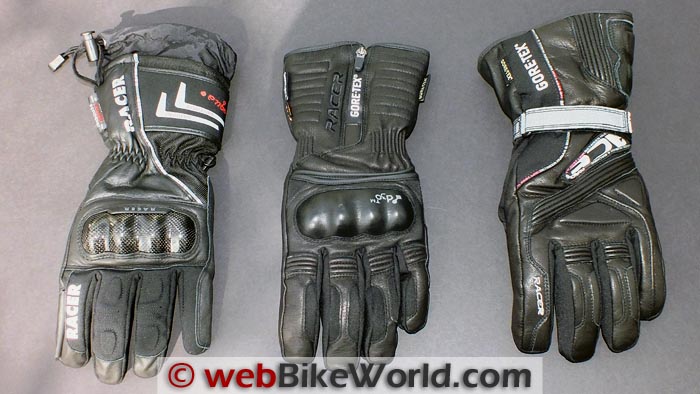 Conclusion
The Racer Advance Gore-Tex 2-in-1 gloves are relatively unique in the market.
And a comparison with another pair of "2-in-1" winter gloves — the Rukka R-Star gloves reviewedby "Burn" in January of 2013 — is inevitable, especially as the pricing is so close.
And while every winter motorcycle glove has individual strengths, weaknesses and price point, with a few changes regarding sizing, enhanced hand protection and a longer wider cuff, the Racer Advance gloves would be great value for the price.
w

BW

 Review: Racer Advance Gloves
List Price (2014): $219.99
Made In: Indonesia
Colors: Black
Sizes: S to 4XL
Review Date: January 2014
Note:
 For informational use only. All material and photographs are Copyright © webWorld International, LLC since 2000. All rights reserved. See the webBikeWorld® 
Site Info page
. Product specifications, features and details may change or differ from our descriptions. Always check before purchasing. Read the
Terms and Conditions
!
---
Where to Buy Racer Advance Gloves
Check Reviews & Prices on Amazon
Check Reviews & Prices On RevZilla
Also: Motorcycle Jackets, Motorcycle Gloves, Motorcycle Boots, Motorcycle Pants
---
Owner Comments and Feedback
Other WebBikeWorld Gloves Posts