QB Carbon offers MotoGP replica bodywork kit for the Ducati 748/916/996/998 (Photos Courtesy QB Carbon)
This is a SWEET!  A complete MotoGP replica bodywork kit for the 916/748/996/998 series of Superbikes!
The bodywork is manufactured by QB Carbon, the leading manufacturer of carbon fibre products in the U.K.  QB Carbon, based in Nottingham in the U.K., supplies many Grand Prix and Superbike motorcycle teams.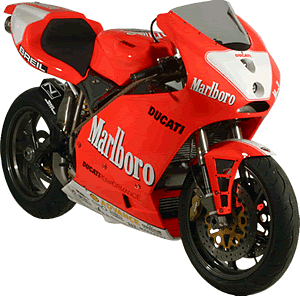 The coolest thing is that this is by no means a basic, "modified plastics only" design!   QB Carbon actually spent the time doing some truly significant modifications in order to get everything to correctly fall together.  Installing this kit requires several major design alterations to both the 996-style tail and nose sections in order to better replicate the look of the Desmosedici MotoGP V4 Ducati.
The already beautiful 996/998-styled World Superbike tail and nose sections are, unfortunately, not used in this conversion, because they share virtually nothing in common with their corresponding MotoGP bodywork.  The MotoGP Replica nose and tail sections in this kit are required in order to achieve both the cosmetic as well as performance related goals of making a race-ready 998 Ducati not only resemble a MotoGP Ducati, but also to do it without sacrificing any of the 998's performance.   While this doesn't look or sound like it should be a super-difficult task, remember that appearances can be deceiving!
The real Ducati MotoGP V4 Desmosedici bike shares the same method of handling its ram-air induction as both the World Superbike Championship winning Honda VTR1000 SP-2 (RC-51) and the MotoGP World Championship winning Honda RC211V; by forcing the air through an ultra-trick channel in the "unobtanium" frame and headstock and allowing it to feed directly into the pressurized airbox!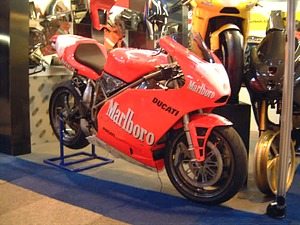 The Ducati 998 Superbike, which QB Carbon is using as a basis for the MotoGP replica bike, utilizes a completely different method of ram air induction than the actual Ducati MotoGP V4 Desmosedici.  As I have noted, the replica MotoGP bike will not be forcing the air through a channel in the headstock and into the airbox.  Instead, the MotoGP replica bike will use the Ducati 998 method of ram air induction to feed its airbox (which is located just beneath the fuel tank).
It accomplishes this task by ramming air through intake openings just underneath the front headlights and routing that air into the airbox via its 2 ram air runners on the left and right sides of the bike.  Getting the Ducati 998's ram air system to work effectively with the MotoGP replica "guppy" style centralized air induction front fairing was as simple as attaching a special adapter that comes included with the MotoGP replica bodywork kit.  When this adapter is installed, QB Carbon simply modify the standard Ducati 998 forced air induction capability (whose intakes are located on the corners of the front fairing) with parts supplied in the Ducati MotoGP replica kit.  This creates the appearance of a centrally mounted ram-air system (a la' VTR1000 SP-2 or RC211V).  The actual working ram air system employed by the replica MotoGP bike is, in fact, identical to that of the standard 998-ram air system.
Another absolutely stunning piece of art is the tail section in this MotoGP replica kit.  It is relatively obvious that this tail section takes styling cues from both the 916-998 traditional rear end as well as several pointers from the 999's rear.  It even comes complete with a LED taillight/brakelight installed and good to go!!
QB Carbon really have done an incredible job of reproducing the MotoGP Desmosedici prototype racebike.  To be totally honest, had I not already done all the cosmetic work to my bike for this coming season, I honestly would have VERY SERIOUSLY considered looking at this option.  
The fact that they built this modification package (I hesitate to label it as just bodywork because it appears to come with everything needed to legally convert your 748/916/996/998 Superbike to a street legal bike) to bolt directly onto the 916-style chassis I found very interesting.  When I first heard of it, I immediately assumed that it was for the 749-999 Superbike.  It makes you wonder how long has this been in development, and will they offer something like this kit for the 749-999 as well?
When you show up at the next track day you can bet your ass that this bike in the paddock area will get the most attention!  It's not every day that someone shows up with that certainly looks like a Works MotoGP ride!
If you choose to go with the street legal option when purchasing the MotoGP Desmosedici Ducati bodywork from QB Carbon, you must remove your headlight bezel completely and use the lightweight fairing stay/projector headlight attachment.  I have not yet personally gotten a good look at the projector headlight unit that will be replacing the old bezel mounted unit, so I cannot vouch for its robustness.  I will try to get some hard information regarding this piece and do an update in the coming weeks.
Ride safe!
Cary Martynuik
Write me at [email protected]