You never need worry about finding logs for a campfire at the end of a day's ride again. Now you can take your log fire with you!
The Burnie Grill campfire is a portable self-contained, wood fire that weighs only 2.5kg for a 2.5-hour burn, or 1.3kg for a 1.5-hour burn.
That's not too much to carry in your overnight luggage if you're on a weekend away with the troops.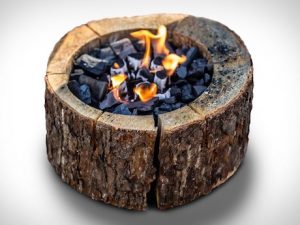 It doesn't require lighter fluid, but lights with one match and is guaranteed to start first time.
Imagine you've just had a long and tiring ride through the Outback and you've finished for the day, absolutely exhausted.
After you've pitched your tent, that last thing you feel like doing is searching for wood for a fire. Yet you've got to get a fire going to cook your dinner.
Just pull out the Burnie Grill from its plastic weatherproof wrapper, light it and get started.
And because it's all wood and no chemicals, you'll only get that natural smoked flavour in your food, not the smell of butane gas!
It burns right down to ash, so there is nothing to leave behind when you pack up and ride on.
Cost is $13 plus postage.