Ducati Australia has recalled Panigale V4, V4 S and V4 S Speciale bikes twice in the past week over oil leaks.
In the first recall issued through the Australian Competition and Consumer Commission, the say there is "potential for a failure of the delivery oil line fitting on the engine oil cooler".
This could result in an oil leak from the oil cooler component of the V4.
"If the failure exists, the engine oil can leak from the oil cooler onto the engine and onto the tyres," the notice says.
In the second recall, 263 V4, V4 S and V4 S Speciale models may be affected by a possible engine oil to leak from one of the hydraulic tensioners on each of the cylinder heads.
The notice says the engine oil "may leak on to the engine sump and on to the tyre, increasing the risk of a crash".
"This may cause serious injury to riders and other road users," it says.
The vehicle identification numbers of affected all bikes in both recalls are listed at the end of this article.
Ducati Australia say they will contact owners of recalled bikes by mail.
They will be requested to contact their nearest authorised Ducati Dealer to arrange an appointment.
Apparently it is easily fixed by dealers tightening the two hydraulic tensioners to specification, free of charge.
Recalled again
Ducati's new Panigale V4 has been recalled four times in its first year of production. 
The worst was a fuel leak that led to this dramatic incident where a Canadian rider's new Panigale V4 spontaneously burst into flame.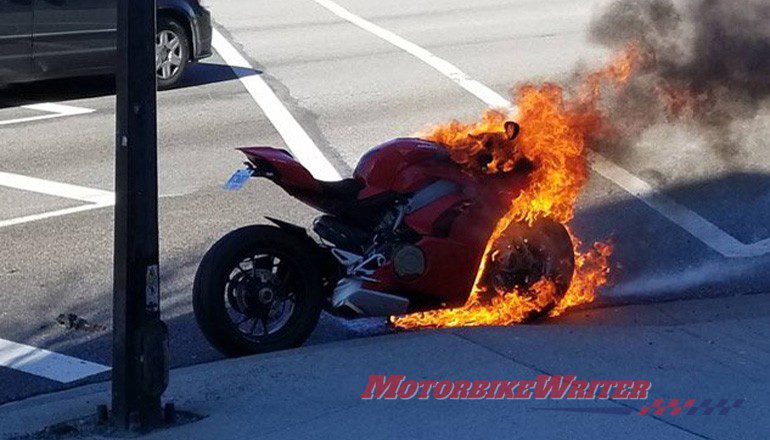 Even though manufacturers and importers contact owners when a recall is issued, the bike may have been sold privately to a rider unknown to the company.
Therefore, Motorbike Writer publishes all motorcycle recalls as a service to all riders.
If you believe there is an endemic problem with your bike that should be recalled, contact the ACCC on 1300 302 502.
To check whether your motorcycle has been recalled, click on these sites:
• USA
• Canada
VINs of affected Ducati V4 models (oil coiler issue)
RCL18-006 ZDMDA00AAJB000757 RCL18-006 ZDMDA00AAJB000758
RCL18-006 ZDMDA00AAJB000759 RCL18-006 ZDMDA00AAJB000760
RCL18-006 ZDMDA00AAJB000761 RCL18-006 ZDMDA00AAJB000762
RCL18-006 ZDMDA00AAJB000763 RCL18-006 ZDMDA00AAJB000764
RCL18-006 ZDMDA00AAJB000765 RCL18-006 ZDMDA00AAJB000766
RCL18-006 ZDMDA00AAJB000795 RCL18-006 ZDMDA00AAJB000796
RCL18-006 ZDMDA00AAJB000850 RCL18-006 ZDMDA00AAJB000851
RCL18-006 ZDMDA00AAJB000852 RCL18-006 ZDMDA00AAJB000989
RCL18-006 ZDMDA00AAJB000990 RCL18-006 ZDMDA00AAJB000991
RCL18-006 ZDMDA00AAJB000992 RCL18-006 ZDMDA00AAJB000993
RCL18-006 ZDMDA00AAJB000994 RCL18-006 ZDMDA00AAJB000995
RCL18-006 ZDMDA00AAJB001024 RCL18-006 ZDMDA00AAJB001025
RCL18-006 ZDMDA00AAJB001026 RCL18-006 ZDMDA00AAJB001027
RCL18-006 ZDMDA00AAJB001049 RCL18-006 ZDMDA00AAJB001050
RCL18-006 ZDMDA00AAJB001051 RCL18-006 ZDMDA00AAJB001052
RCL18-006 ZDMDA00AAJB001053 RCL18-006 ZDMDA00AAJB001054
RCL18-006 ZDMDA00AAJB001096 RCL18-006 ZDMDA00AAJB001097
RCL18-006 ZDMDA00AAJB001098 RCL18-006 ZDMDA00AAJB001436
RCL18-006 ZDMDA00AAJB001437 RCL18-006 ZDMDA00AAJB001438
RCL18-006 ZDMDA00AAJB001439 RCL18-006 ZDMDA00AAJB001671
RCL18-006 ZDMDA00AAJB001672 RCL18-006 ZDMDA00AAJB001673
RCL18-006 ZDMDA00AAJB001679 RCL18-006 ZDMDA00AAJB001680
RCL18-006 ZDMDA00AAJB001681 RCL18-006 ZDMDA00AAJB001682
RCL18-006 ZDMDA00AAJB001683 RCL18-006 ZDMDA00AAJB001684
RCL18-006 ZDMDA00AAJB001685 RCL18-006 ZDMDA00AAJB001686
RCL18-006 ZDMDA00AAJB001724 RCL18-006 ZDMDA00AAJB001725
RCL18-006 ZDMDA00AAJB001726 RCL18-006 ZDMDA00AAJB001727
RCL18-006 ZDMDA00AAJB001728 RCL18-006 ZDMDA00AAJB001729
RCL18-006 ZDMDA00AAJB001730 RCL18-006 ZDMDA00AAJB001779
RCL18-006 ZDMDA00AAJB001780 RCL18-006 ZDMDA00AAJB001781
RCL18-006 ZDMDA00AAJB001782 RCL18-006 ZDMDA00AAJB001783
RCL18-006 ZDMDA00AAJB001784 RCL18-006 ZDMDA00AAJB001785
RCL18-006 ZDMDA00AAJB002144 RCL18-006 ZDMDA00AAJB002177
RCL18-006 ZDMDA00AAJB002178 RCL18-006 ZDMDA00AAJB002214
RCL18-006 ZDMDA00AAJB002302 RCL18-006 ZDMDA00AAJB002303
RCL18-006 ZDMDA00AAJB002323 RCL18-006 ZDMDA00AAJB002324
RCL18-006 ZDMDA00AAJB002325 RCL18-006 ZDMDA00AAJB002326
RCL18-006 ZDMDA00AAJB002327 RCL18-006 ZDMDA00AAJB002328
RCL18-006 ZDMDA00AAJB002329 RCL18-006 ZDMDA00AAJB002330
RCL18-006 ZDMDA00AAJB002446 RCL18-006 ZDMDA00AAJB002529
RCL18-006 ZDMDA00AAJB002570 RCL18-006 ZDMDA00AAJB002670
RCL18-006 ZDMDA00AAJB002775 RCL18-006 ZDMDA00AAJB002776
RCL18-006 ZDMDA00AAJB002868 RCL18-006 ZDMDA00AAJB002869
RCL18-006 ZDMDA00AAJB002870 RCL18-006 ZDMDA00AAJB002871
RCL18-006 ZDMDA00AAJB002872 RCL18-006 ZDMDA00AAJB003068
RCL18-006 ZDMDA00AAJB003069 RCL18-006 ZDMDA00AAJB003070
RCL18-006 ZDMDA00AAJB003119 RCL18-006 ZDMDA00AAJB003120
RCL18-006 ZDMDA00AAJB003121 RCL18-006 ZDMDA00AAJB003166
RCL18-006 ZDMDA00AAJB003167 RCL18-006 ZDMDA00AAJB003168
RCL18-006 ZDMDA00AAJB003169 RCL18-006 ZDMDA00AAJB003324
RCL18-006 ZDMDA00AAJB003325 RCL18-006 ZDMDA00AAJB003326
RCL18-006 ZDMDA00AAJB003422 RCL18-006 ZDMDA00AAJB003468
RCL18-006 ZDMDA00AAJB003469 RCL18-006 ZDMDA00AAJB003470
RCL18-006 ZDMDA00AAJB003554 RCL18-006 ZDMDA00AAJB003609
RCL18-006 ZDMDA00AAJB003729 RCL18-006 ZDMDA00AAJB003730
RCL18-006 ZDMDA00AAJB003731 RCL18-006 ZDMDA00AAJB003732
RCL18-006 ZDMDA00AAJB003733 RCL18-006 ZDMDA00AAJB003840
RCL18-006 ZDMDA00AAJB003872 RCL18-006 ZDMDA00AAJB003873
RCL18-006 ZDMDA00AAJB003917 RCL18-006 ZDMDA00AAJB004012
RCL18-006 ZDMDA00AAJB004050 RCL18-006 ZDMDA00AAJB004055
RCL18-006 ZDMDA00AAJB004056 RCL18-006 ZDMDA00AAJB004115
RCL18-006 ZDMDA00AAJB004159 RCL18-006 ZDMDA00AAJB004210
RCL18-006 ZDMDA00AAJB004307 RCL18-006 ZDMDA00AAJB004308
RCL18-006 ZDMDA00AAJB004358 RCL18-006 ZDMDA00AAJB004405
RCL18-006 ZDMDA00AAJB004452 RCL18-006 ZDMDA00AAJB004494
RCL18-006 ZDMDA00AAJB004532 RCL18-006 ZDMDA00AAJB004584
RCL18-006 ZDMDA00AAJB004585 RCL18-006 ZDMDA00AAJB004587
RCL18-006 ZDMDA00AAJB004679 RCL18-006 ZDMDA00AAJB004680
RCL18-006 ZDMDA00AAJB004681 RCL18-006 ZDMDA00AAJB004682
RCL18-006 ZDMDA00AAJB004683 RCL18-006 ZDMDA00AAJB004733
RCL18-006 ZDMDA00AAKB004903 RCL18-006 ZDMDA00AAKB004904
RCL18-006 ZDMDA00AAKB004905 RCL18-006 ZDMDA00AAKB004984
RCL18-006 ZDMDA00AAKB005395 RCL18-006 ZDMDA00AAKB005396
RCL18-006 ZDMDA00AAKB005397 RCL18-006 ZDMDA00AAKB005398
RCL18-006 ZDMDA00AAKB005447 RCL18-006 ZDMDA00AAKB005449
RCL18-006 ZDMDA00AAKB005450 RCL18-006 ZDMDA00AAKB005451
RCL18-006 ZDMDA00AAKB005452 RCL18-006 ZDMDA00AAKB005453
RCL18-006 ZDMDA00AAKB005665 RCL18-006 ZDMDA00AAKB005666
RCL18-006 ZDMDA00AAKB005787 RCL18-006 ZDMDA00AAKB005788
RCL18-006 ZDMDA00AAKB005789 RCL18-006 ZDMDA00AAKB005790
RCL18-006 ZDMDA00AAKB005815 RCL18-006 ZDMDA00AAKB005816
RCL18-006 ZDMDA00AAKB005885 RCL18-006 ZDMDA00AAKB005917
RCL18-006 ZDMDA00AAKB005919 RCL18-006 ZDMDA00AAKB005951
RCL18-006 ZDMDA00AAKB006045 RCL18-006 ZDMDA00AAKB006093
RCL18-006 ZDMDA00AAKB006145 RCL18-006 ZDMDA00AAKB006146
RCL18-006 ZDMDA00AAKB006223 RCL18-006 ZDMDA00AAKB006262
RCL18-006 ZDMDA00AAKB006263 RCL18-006 ZDMDA00AAKB006264
RCL18-006 ZDMDA00AAKB006265 RCL18-006 ZDMDA00AAKB006266
RCL18-006 ZDMDA00AAKB006267 RCL18-006 ZDMDA00AAKB006283
RCL18-006 ZDMDA00AAKB006299 RCL18-006 ZDMDA00AAKB006300
RCL18-006 ZDMDA00AAKB006441 RCL18-006 ZDMDA00AAKB006442
RCL18-006 ZDMDA00AAKB006443 RCL18-006 ZDMDA00AAKB006444
RCL18-006 ZDMDA00AAKB006492 RCL18-006 ZDMDA00AAKB006513
RCL18-006 ZDMDA00AAKB006558 RCL18-006 ZDMDA00AAKB006579
RCL18-006 ZDMDA00AAKB006580 RCL18-006 ZDMDA00AAKB006581
RCL18-006 ZDMDA00AAKB006585 RCL18-006 ZDMDA00AAKB006586
RCL18-006 ZDMDA00AAKB006617 RCL18-006 ZDMDA00AAKB006677
RCL18-006 ZDMDA00AAKB006699 RCL18-006 ZDMDA00AAKB006781
RCL18-006 ZDMDA00AAKB006856 RCL18-006 ZDMDA02AAJB002824
RCL18-006 ZDMDA02AAJB003077 RCL18-006 ZDMDA02AAJB003563
RCL18-006 ZDMDA02AAJB003918 RCL18-006 ZDMDA02AAJB004162
RCL18-006 ZDMDA02AAJB004406 RCL18-006 ZDMDA02AAJB004593
RCL18-006 ZDMDA02AAJB004689 RCL18-006 ZDMDA02AAKB004946
RCL18-006 ZDMDA02AAKB004949 RCL18-006 ZDMDA02AAKB005299
RCL18-006 ZDMDA02AAKB005300 RCL18-006 ZDMDA02AAKB005354
RCL18-006 ZDMDA02AAKB005406 RCL18-006 ZDMDA02AAKB005502
RCL18-006 ZDMDA02AAKB005586 RCL18-006 ZDMDA02AAKB005818
RCL18-006 ZDMDA02AAKB005922 RCL18-006 ZDMDA02AAKB005960
RCL18-006 ZDMDA02AAKB006047 RCL18-006 ZDMDA02AAKB006072
RCL18-006 ZDMDA02AAKB006128 RCL18-006 ZDMDA02AAKB006129
RCL18-006 ZDMDA02AAKB006130 RCL18-006 ZDMDA02AAKB006131
RCL18-006 ZDMDA02AAKB006160 RCL18-006 ZDMDA02AAKB006370
RCL18-006 ZDMDA02AAKB006371 RCL18-006 ZDMDA02AAKB006378
RCL18-006 ZDMDA02AAKB006379 RCL18-006 ZDMDA02AAKB006418
RCL18-006 ZDMDA02AAKB006426 RCL18-006 ZDMDA02AAKB006429
RCL18-006 ZDMDA02AAKB006533 RCL18-006 ZDMDA02AAKB006536
RCL18-006 ZDMDA02AAKB006537 RCL18-006 ZDMDA02AAKB006618
RCL18-006 ZDMDA02AAKB006619 RCL18-006 ZDMDA02AAKB006630
RCL18-006 ZDMDA02AAKB006686 RCL18-006 ZDMDA02AAKB006734
RCL18-006 ZDMDA02AAKB006815 RCL18-006 ZDMDA02AAKB006841
RCL18-006 ZDMDA02AAKB006863 RCL18-006 ZDMDA02AAKB006878
RCL18-006 ZDMDA02AAKB006881 RCL18-006 ZDMDA02AAKB006895
VINs of affected Ducati V4, V4 S and V4 S Speciale models (tensioner issue)
RCL18-008 ZDMDA00AAJB000757 RCL18-008 ZDMDA00AAJB000758
RCL18-008 ZDMDA00AAJB000759 RCL18-008 ZDMDA00AAJB000760
RCL18-008 ZDMDA00AAJB000761 RCL18-008 ZDMDA00AAJB000762
RCL18-008 ZDMDA00AAJB000763 RCL18-008 ZDMDA00AAJB000764
RCL18-008 ZDMDA00AAJB000765 RCL18-008 ZDMDA00AAJB000766
RCL18-008 ZDMDA00AAJB000795 RCL18-008 ZDMDA00AAJB000796
RCL18-008 ZDMDA00AAJB000850 RCL18-008 ZDMDA00AAJB000851
RCL18-008 ZDMDA00AAJB000852 RCL18-008 ZDMDA00AAJB000989
RCL18-008 ZDMDA00AAJB000990 RCL18-008 ZDMDA00AAJB000991
RCL18-008 ZDMDA00AAJB000992 RCL18-008 ZDMDA00AAJB000993
RCL18-008 ZDMDA00AAJB000994 RCL18-008 ZDMDA00AAJB000995
RCL18-008 ZDMDA00AAJB001024 RCL18-008 ZDMDA00AAJB001025
RCL18-008 ZDMDA00AAJB001026 RCL18-008 ZDMDA00AAJB001027
RCL18-008 ZDMDA00AAJB001049 RCL18-008 ZDMDA00AAJB001050
RCL18-008 ZDMDA00AAJB001051 RCL18-008 ZDMDA00AAJB001052
RCL18-008 ZDMDA00AAJB001053 RCL18-008 ZDMDA00AAJB001054
RCL18-008 ZDMDA00AAJB001096 RCL18-008 ZDMDA00AAJB001097
RCL18-008 ZDMDA00AAJB001098 RCL18-008 ZDMDA00AAJB001436
RCL18-008 ZDMDA00AAJB001437 RCL18-008 ZDMDA00AAJB001438
RCL18-008 ZDMDA00AAJB001439 RCL18-008 ZDMDA00AAJB001671
RCL18-008 ZDMDA00AAJB001672 RCL18-008 ZDMDA00AAJB001673
RCL18-008 ZDMDA00AAJB001679 RCL18-008 ZDMDA00AAJB001680
RCL18-008 ZDMDA00AAJB001681 RCL18-008 ZDMDA00AAJB001682
RCL18-008 ZDMDA00AAJB001683 RCL18-008 ZDMDA00AAJB001684
RCL18-008 ZDMDA00AAJB001685 RCL18-008 ZDMDA00AAJB001686
RCL18-008 ZDMDA00AAJB001724 RCL18-008 ZDMDA00AAJB001725
RCL18-008 ZDMDA00AAJB001726 RCL18-008 ZDMDA00AAJB001727
RCL18-008 ZDMDA00AAJB001728 RCL18-008 ZDMDA00AAJB001729
RCL18-008 ZDMDA00AAJB001730 RCL18-008 ZDMDA00AAJB001779
RCL18-008 ZDMDA00AAJB001780 RCL18-008 ZDMDA00AAJB001781
RCL18-008 ZDMDA00AAJB001782 RCL18-008 ZDMDA00AAJB001783
RCL18-008 ZDMDA00AAJB001784 RCL18-008 ZDMDA00AAJB001785
RCL18-008 ZDMDA00AAJB002144 RCL18-008 ZDMDA00AAJB002177
RCL18-008 ZDMDA00AAJB002178 RCL18-008 ZDMDA00AAJB002214
RCL18-008 ZDMDA00AAJB002302 RCL18-008 ZDMDA00AAJB002303
RCL18-008 ZDMDA00AAJB002323 RCL18-008 ZDMDA00AAJB002324
RCL18-008 ZDMDA00AAJB002325 RCL18-008 ZDMDA00AAJB002326
RCL18-008 ZDMDA00AAJB002327 RCL18-008 ZDMDA00AAJB002328
RCL18-008 ZDMDA00AAJB002329 RCL18-008 ZDMDA00AAJB002330
RCL18-008 ZDMDA00AAJB002446 RCL18-008 ZDMDA00AAJB002529
RCL18-008 ZDMDA00AAJB002570 RCL18-008 ZDMDA00AAJB002670
RCL18-008 ZDMDA00AAJB002775 RCL18-008 ZDMDA00AAJB002776
CL18-008 ZDMDA00AAJB002868 RCL18-008 ZDMDA00AAJB002869
RCL18-008 ZDMDA00AAJB002870 RCL18-008 ZDMDA00AAJB002871
RCL18-008 ZDMDA00AAJB002872 RCL18-008 ZDMDA00AAJB003068
RCL18-008 ZDMDA00AAJB003069 RCL18-008 ZDMDA00AAJB003070
RCL18-008 ZDMDA00AAJB003119 RCL18-008 ZDMDA00AAJB003120
RCL18-008 ZDMDA00AAJB003121 RCL18-008 ZDMDA00AAJB003166
RCL18-008 ZDMDA00AAJB003167 RCL18-008 ZDMDA00AAJB003168
RCL18-008 ZDMDA00AAJB003169 RCL18-008 ZDMDA00AAJB003324
RCL18-008 ZDMDA00AAJB003325 RCL18-008 ZDMDA00AAJB003326
RCL18-008 ZDMDA00AAJB003422 RCL18-008 ZDMDA00AAJB003468
RCL18-008 ZDMDA00AAJB003469 RCL18-008 ZDMDA00AAJB003470
RCL18-008 ZDMDA00AAJB003554 RCL18-008 ZDMDA00AAJB003609
RCL18-008 ZDMDA00AAJB003729 RCL18-008 ZDMDA00AAJB003730
RCL18-008 ZDMDA00AAJB003731 RCL18-008 ZDMDA00AAJB003732
RCL18-008 ZDMDA00AAJB003733 RCL18-008 ZDMDA00AAJB003840
RCL18-008 ZDMDA00AAJB003872 RCL18-008 ZDMDA00AAJB003873
RCL18-008 ZDMDA00AAJB003917 RCL18-008 ZDMDA00AAJB004012
RCL18-008 ZDMDA00AAJB004050 RCL18-008 ZDMDA00AAJB004055
RCL18-008 ZDMDA00AAJB004056 RCL18-008 ZDMDA00AAJB004115
RCL18-008 ZDMDA00AAJB004159 RCL18-008 ZDMDA00AAJB004210
RCL18-008 ZDMDA00AAJB004307 RCL18-008 ZDMDA00AAJB004308
RCL18-008 ZDMDA00AAJB004358 RCL18-008 ZDMDA00AAJB004405
RCL18-008 ZDMDA00AAJB004452 RCL18-008 ZDMDA00AAJB004494
RCL18-008 ZDMDA00AAJB004532 RCL18-008 ZDMDA00AAJB004584
RCL18-008 ZDMDA00AAJB004585 RCL18-008 ZDMDA00AAJB004587
RCL18-008 ZDMDA00AAJB004679 RCL18-008 ZDMDA00AAJB004680
RCL18-008 ZDMDA00AAJB004681 RCL18-008 ZDMDA00AAJB004682
RCL18-008 ZDMDA00AAJB004683 RCL18-008 ZDMDA00AAJB004733
RCL18-008 ZDMDA00AAKB004903 RCL18-008 ZDMDA00AAKB004904
RCL18-008 ZDMDA00AAKB004905 RCL18-008 ZDMDA00AAKB004984
RCL18-008 ZDMDA00AAKB005395 RCL18-008 ZDMDA00AAKB005396
RCL18-008 ZDMDA00AAKB005397 RCL18-008 ZDMDA00AAKB005398
RCL18-008 ZDMDA00AAKB005447 RCL18-008 ZDMDA00AAKB005449
RCL18-008 ZDMDA00AAKB005450 RCL18-008 ZDMDA00AAKB005451
RCL18-008 ZDMDA00AAKB005452 RCL18-008 ZDMDA00AAKB005453
RCL18-008 ZDMDA00AAKB005665 RCL18-008 ZDMDA00AAKB005666
RCL18-008 ZDMDA00AAKB005787 RCL18-008 ZDMDA00AAKB005788
RCL18-008 ZDMDA00AAKB005789 RCL18-008 ZDMDA00AAKB005790
RCL18-008 ZDMDA00AAKB005815 RCL18-008 ZDMDA00AAKB005816
RCL18-008 ZDMDA00AAKB005885 RCL18-008 ZDMDA00AAKB005917
RCL18-008 ZDMDA00AAKB005919 RCL18-008 ZDMDA00AAKB005951
RCL18-008 ZDMDA00AAKB006045 RCL18-008 ZDMDA00AAKB006093
RCL18-008 ZDMDA00AAKB006145 RCL18-008 ZDMDA00AAKB006146
RCL18-008 ZDMDA00AAKB006223 RCL18-008 ZDMDA00AAKB006262
RCL18-008 ZDMDA00AAKB006263 RCL18-008 ZDMDA00AAKB006264
RCL18-008 ZDMDA00AAKB006265 RCL18-008 ZDMDA00AAKB006266
RCL18-008 ZDMDA00AAKB006267 RCL18-008 ZDMDA00AAKB006283
RCL18-008 ZDMDA00AAKB006299 RCL18-008 ZDMDA00AAKB006300
RCL18-008 ZDMDA00AAKB006441 RCL18-008 ZDMDA00AAKB006442
RCL18-008 ZDMDA00AAKB006443 RCL18-008 ZDMDA00AAKB006444
RCL18-008 ZDMDA00AAKB006492 RCL18-008 ZDMDA00AAKB006513
RCL18-008 ZDMDA00AAKB006558 RCL18-008 ZDMDA00AAKB006579
RCL18-008 ZDMDA00AAKB006580 RCL18-008 ZDMDA00AAKB006581
RCL18-008 ZDMDA00AAKB006585 RCL18-008 ZDMDA00AAKB006586
RCL18-008 ZDMDA00AAKB006617 RCL18-008 ZDMDA00AAKB006677
RCL18-008 ZDMDA00AAKB006699 RCL18-008 ZDMDA00AAKB006781
RCL18-008 ZDMDA00AAKB006856 RCL18-008 ZDMDA00AAKB006943
RCL18-008 ZDMDA00AAKB006944 RCL18-008 ZDMDA00AAKB006945
RCL18-008 ZDMDA00AAKB006946 RCL18-008 ZDMDA00AAKB006947
RCL18-008 ZDMDA00AAKB007012 RCL18-008 ZDMDA00AAKB007013
RCL18-008 ZDMDA00AAKB007014 RCL18-008 ZDMDA00AAKB007015
RCL18-008 ZDMDA00AAKB007016 RCL18-008 ZDMDA00AAKB007019
RCL18-008 ZDMDA00AAKB007091 RCL18-008 ZDMDA00AAKB007205
RCL18-008 ZDMDA02AAJB002824 RCL18-008 ZDMDA02AAJB003077
RCL18-008 ZDMDA02AAJB003563 RCL18-008 ZDMDA02AAJB003918
RCL18-008 ZDMDA02AAJB004162 RCL18-008 ZDMDA02AAJB004406
RCL18-008 ZDMDA02AAJB004593 RCL18-008 ZDMDA02AAJB004689
RCL18-008 ZDMDA02AAKB004946 RCL18-008 ZDMDA02AAKB004949
RCL18-008 ZDMDA02AAKB005299 RCL18-008 ZDMDA02AAKB005300
RCL18-008 ZDMDA02AAKB005354 RCL18-008 ZDMDA02AAKB005406
RCL18-008 ZDMDA02AAKB005502 RCL18-008 ZDMDA02AAKB005586
RCL18-008 ZDMDA02AAKB005818 RCL18-008 ZDMDA02AAKB005922
RCL18-008 ZDMDA02AAKB005960 RCL18-008 ZDMDA02AAKB006047
RCL18-008 ZDMDA02AAKB006072 RCL18-008 ZDMDA02AAKB006128
RCL18-008 ZDMDA02AAKB006129 RCL18-008 ZDMDA02AAKB006130
RCL18-008 ZDMDA02AAKB006131 RCL18-008 ZDMDA02AAKB006160
RCL18-008 ZDMDA02AAKB006370 RCL18-008 ZDMDA02AAKB006371
RCL18-008 ZDMDA02AAKB006378 RCL18-008 ZDMDA02AAKB006379
RCL18-008 ZDMDA02AAKB006418 RCL18-008 ZDMDA02AAKB006426
RCL18-008 ZDMDA02AAKB006429 RCL18-008 ZDMDA02AAKB006533
RCL18-008 ZDMDA02AAKB006536 RCL18-008 ZDMDA02AAKB006537
RCL18-008 ZDMDA02AAKB006618 RCL18-008 ZDMDA02AAKB006619
RCL18-008 ZDMDA02AAKB006630 RCL18-008 ZDMDA02AAKB006686
RCL18-008 ZDMDA02AAKB006734 RCL18-008 ZDMDA02AAKB006815
RCL18-008 ZDMDA02AAKB006841 RCL18-008 ZDMDA02AAKB006863
RCL18-008 ZDMDA02AAKB006878 RCL18-008 ZDMDA02AAKB006881
RCL18-008 ZDMDA02AAKB006895 RCL18-008 ZDMDA02AAKB006931
RCL18-008 ZDMDA02AAKB006997 RCL18-008 ZDMDA02AAKB007148
RCL18-008 ZDMDA02AAKB007149 RCL18-008 ZDMDA02AAKB007212
RCL18-008 ZDMDA02AAKB007214