Olympia Ultima I Gloves Review Summary
Olympia Ultima Image Gallery
The bargain of the bunch at a street price of $68.00, the Olympia Ultima I gloves are similar in many ways to the Held Freezer gloves. They'll keep you warm and dry, but they're pretty bulky. Part 7 of a 9-part series. You could probably wear a new pair of Olympia gloves every day for the next year without working your way through their product line.
And by time you did, they'd probably have a completely new assortment ready and waiting. An exaggeration, of course, but not by much. Olympia's niche is what I'd sum up as "lots of decent gloves at bargain prices". The company has been around forever and they do have a reputation to maintain, so the gloves should do the job and last longer than many of the no-name brands.
Besides motorcycling, Olympia also makes gloves for snowmobiling, ATV use and even skiing — although some of the glove models show up in more than one category. Like these Ultima I gloves, which are listed for both snowmobile and motorcycle use. And as sure as you're reading this, someone will send an email asking why we didn't review the Olympia "Cold Throttle" or "Weatherking" or "Prima" or some other selection from Olympia's Gore-Tex, All-Season or Winter categories.
The truth of the matter is that I suggested the Ultima I gloves pretty much on a whim. We already reviewed the Olympia 4150 Gore-Tex gloves last year, and the Olympia Commander gloves before that.
The Ultima I gloves seemed like the most basic style of heavy-duty winter motorcycle glove that Olympia (and just about every other motorcycle glove manufacturer) has been making for eons.
Besides, the price is right, and I thought it would be interesting to see how they compared to the similar Held Freezer gloves.
The Ultima I gloves really do look and feel and even function very similar to the Held Freezer gloves from Part 2 of our Winter 2008 (and now 200) comparison review.
Except the Helds cost about $30.00 more, which may or may not be a factor, depending on your point of view.
So let's take a look at the Olympia Ultima I gloves…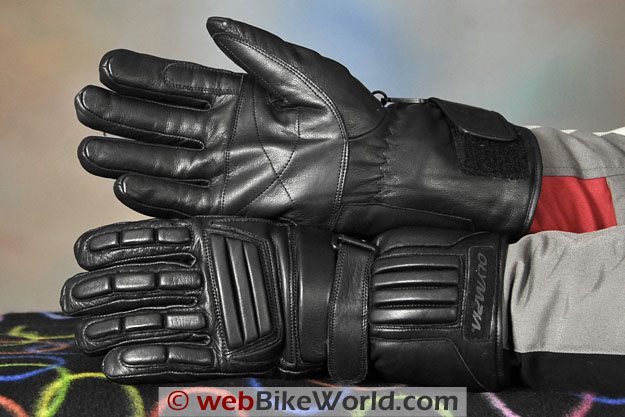 Olympia 4650 Ultima I Features
There's not much I can say about technology here. These are fairly generic winter gloves, all leather on the outside, but with a bit of a modern twist because they do include a waterproof and breathable membrane.
Olympia is straightforward about their gloves; their website provides only basic and minimal specifications on each glove without a lot of marketing hype. Refreshing, actually.
Olympia's description of the Ultima I gloves states that the gloves have an "Aqua-Tex" membrane, which is claimed "windproof, waterproof and breathable", and it works, based on our experience.
The insulation consists of Thinsulate and "Hydrofil", which is supposed to wick away moisture.
Now as I've mentioned before, part of the problem with evaluating all these winter gloves is that the differences between them are minor at best, so it's really a matter of very minor differences when it comes to performance.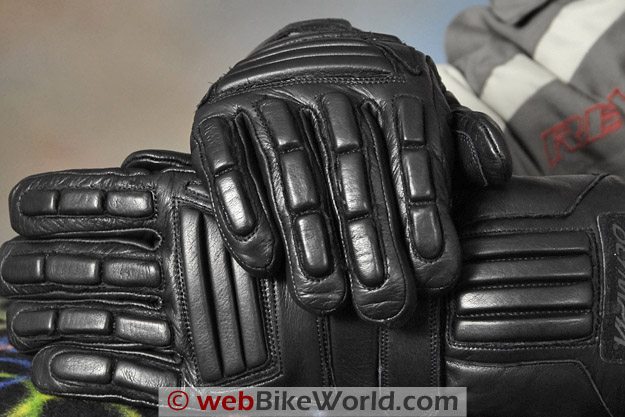 The 45 Degree Factor
I'll admit that I haven't been giving the Ultima I gloves the same "finger time" as some of the other gloves in this comparison.
But I've worn them enough to know that they should work well in what I'll guess is the coldest temperatures most motorcyclists will experience — down to around 7 C (45 F) or so.
That number seems to be a critical point with all of the gloves in this comparison, except, of course, the Firstgear Carbon heated gloves (and I'll get to those soon, I promise!).
My theory involves the physics of cold combined with wind.
Look at a wind chill chart and you'll notice that as the temperatures get down to around 45 F and the wind speed approaches 55 MPH (88 KPH), the perceived temperature is 32 F, or 0 C, which, as we know, is the freezing point of water.
My guess is that this is a point where the cold starts to seep into the glove, defeating the insulation and windproof barriers. And the perceived temperature drops even further at higher speeds.
Wind chill is actually calculated as the effect on bare skin of the face (and with many other caveats), so I may be dreaming here, but that's my theory on why the 45 degrees F region seems to be the tipping point when it comes to unheated motorcycle gloves.
Drop below that, say down to about 40 degrees of so, and there are no non-heated gloves that I've tried that will allow me to ride for more than about an hour or so.
As I've mentioned before, all of this theory is based on riding a bare-knuckles bike. If you're sitting behind a big barn door fairing, or even hand guards, all bets are off.
You may be very comfortable with any one of the gloves in our comparison for much longer periods of time.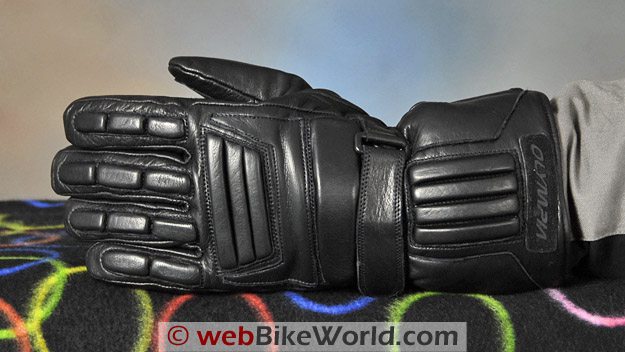 Olympia Ultima I Glove Fit and Comfort
By the way: I do have some late news that Firstgear is supposed to be sending us a pair of brand-new winter gloves that are designed with minimal insulation on the palm so they work with heated grips. I'll report on those as soon as I can.
The Ultima I gloves are about as bulky as the Held Freezer gloves, which will be a turn-off for some.
The bulk is about the same in the palms and the back of the gloves, but this is something I've come to expect from winter motorcycle gloves of all shapes and sizes over many years.
The Ultima I gloves also definitely feel oversized to me by at least one size range.
The gloves shown here are size L, which is my size, but they feel much more like an XL or even a XXL, with about 12 mm (1/2″) of extra room in each finger, including the thumb.
I don't know if these were mis-labeled or if this is normal, but my suggestion is to make sure you try these on before you buy or at least confirm that you can return or exchange them.
Other than all that, the Ultima I gloves are fairly comfortable, probably not with the plushest liner material in the bunch but not bad.
I feel no untoward ribbing or stitching inside, which is good, and even accounting for the oversized fit, there's plenty of room in the fingers, which probably also affects the ability of these gloves to stay put.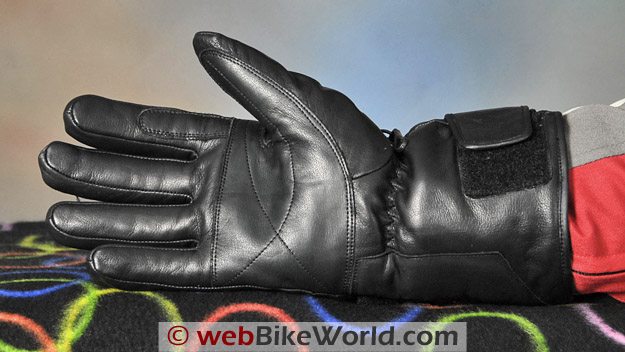 Fingers, Thumbs and Overall Construction
The stitching and construction all seems very nice and done with care.
As I mentioned, the differences in some of these gloves nowadays are so minute that it's hard to compare brand to brand. I wouldn't be surprised at all to learn that every glove in this comparison is made in the same factory somewhere, using the same tooling.
Look at the photos here and you can see that the stitching is all very straight and shipshape, with no loose threads or anything else.
The back of the gloves especially have perfect little rows of double-stitched seams, and the blind stitching on the box-section fingers is also especially noteworthy.
Other than a bit of soft padding on the back of the hand (that can also be seen in the photos), the Ultima I gloves have no additional armor and I also don't see where there is any extra leather wear sections sewn on over the body of the gloves.
The leather felt stiff at first, but softened up very quickly, and the gloves now feel almost as soft as the Held Freezer gloves did when new, except the insulation in the Ultima I gloves feels somewhat less pliable.
So overall, I rate the Ultima I gloves as having very good quality overall construction with no complaints.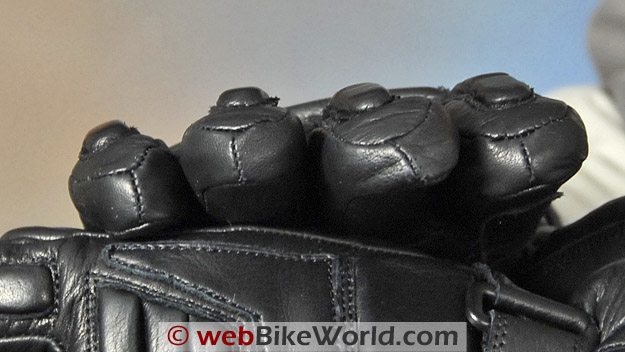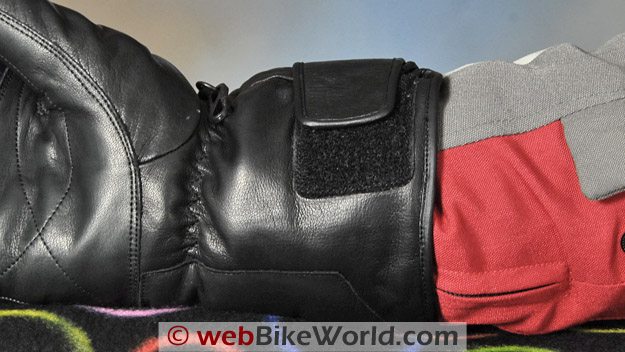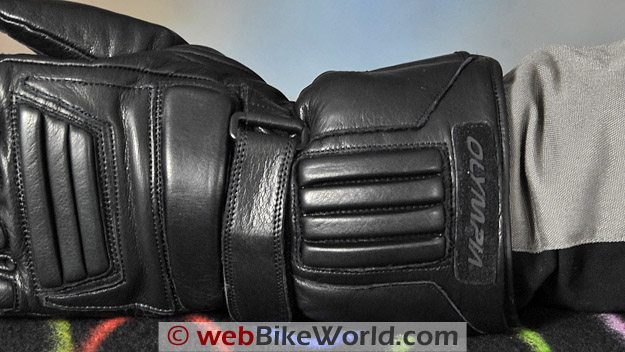 Gauntlet
The gauntlet on the Ultima I gloves seems just a touch shorter than it should be, so it does look slightly out of proportion to the size of the glove. It's wider than most at 170 mm, but like all of the other gloves in this comparison, not wide enough to suit me.
The gauntlet has a short and narrow dart sewn in under the strap, but again, it would be nice if this gauntlet was about another 12 mm or so longer and 30 mm or so wider.
It's interesting to see in the photo above that the hook-and-loop strap on the gauntlet is shorter than it could be, while the strap on the back of the wrist is too long.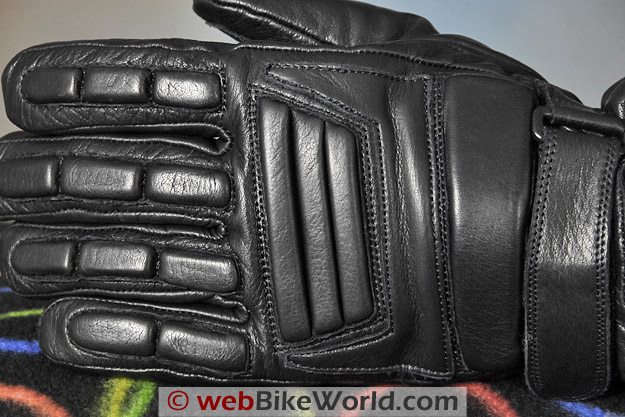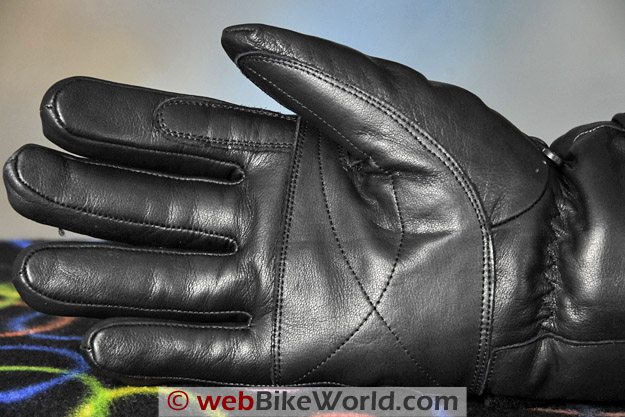 Security: Armor and Protection
One thing's certain though — the Ultima I gloves did not pass our "security test". When the glove is on the hand and secured with its straps, it should remain secure. But the wrist strap on the Ultima I gloves doesn't seem to do much, and the glove slides off without much effort.
The reason for the failure is something that is fairly common with some other gloves we've reviewed: the glove body is too wide at the wrists; i.e., it doesn't taper in at the wrist.
Combined with a topside wrist strap that has the hook-and-loop fastener incorrectly designed so the strap can't be tightened up enough, and you'll end up with a glove that can't be properly secured, at least on wrists up to about 7.25″ in circumference.
We've seen this before, and although there is a tradeoff because a narrow wrist can make it more difficult to put the glove on or pull out a sweaty hand, the ability of the glove to remain on the hand is make-it-or-break it crucial, as far as I'm concerned.
As I mentioned above, other than some soft padding sewn into the ribs that can be seen on the back of the hand in the photos, the Ultima I gloves have no other armor or extra abrasion protection that I can find.
Water Resistance
The Olympia Ultima I gloves passed the webBikeWorld "bucket test". The evaluator wears the gloves and puts his hand in a bucket of water for 5 minutes or longer, and if no moisture leaks in, the gloves pass.
Conclusion
I'm of mixed feelings on the Olympia Ultima I gloves. The price is very reasonable for a pair of winter gloves, and they are waterproof, and they do keep my hands about as warm as any others in this comparison.
But I do wish the gauntlet was longer and wider, and the wrist strap does not secure the gloves on my 7.25″ wrists to my satisfaction. Also, the sizing is problematic.
The Ultima I gloves are currently available for only $67.99. At that price, and considering that the performance differences in the gloves in this comparison are somewhat minor, these are a bargain — as long as they fit.
w

BW

 Review: Olympia Ultima I Motorcycle Gloves
List Price (2009): $74.95
Made In: Unknown
Colors: Black
Sizes: S to XL
Review Date: January 2009
Note:
 For informational use only. All material and photographs are Copyright © webWorld International, LLC since 2000. All rights reserved. See the webBikeWorld® 
Site Info page
. Product specifications, features and details may change or differ from our descriptions. Always check before purchasing. Read the
Terms and Conditions
!
Owner Comments and Feedback