Gel Reflector Motorcycle Gloves Review Summary
Gel Reflector Motorcycle Gloves Image Gallery
The best bargain you can find for summer motorcycle gloves?
Can a $25 pair of gloves actually be worthwhile?
It's a good day when you can find a pair of gloves that not only look good, but have a comfy fit. For the past few weeks I've been wearing the Olympia 710's and am very pleased.
These summer gloves have a somewhat subdued style compared to many of the other "Star Trek-esque" motorcycle gloves available.
The fingers are articulated, and the low profile allows excellent dexterity.
I purchased this pair of the Olympia 711 Gel Reflector gloves in black/yellow for $25.00 at the Helmet Shop in Daytona Beach.
Olympia Sports has been making performance gloves for over 60 years for motorcycle, ski and snowmobile use. While I have no desire to test a pair of snowmobiling gloves, I think the company has some good experience which they bring to bear on all their products.
Plus, other reviews I've read about Olympia motorcycle gloves were positive.
Fit
Right off the hanger, the XL's fit — for lack of a better term — like a glove. Not too tight, not too loose.
My fingertips didn't rub inside the glove tips, and the absence of plastic armor allows my fingers to move freely around. The horn switch is now a minor target for my left thumb.
Construction
The Olympia Gel Reflector 710's have a good feel — substantial yet light. The back of the gloves is covered with abrasion-resistant nylon with neoprene over the knuckles, while the palms are leather.
The fingers are made from synthetic leather, carbon fiber, and Lycra panels. The hook-and-loop wrist strap cinches down well. The stitches and sewn areas were well approximated with no loose threads or seam breaks.
Protection
Summer gloves aren't generally known for their massive protection, and the Olympia 710 Gel Reflector gloves are no exception. But the leather and carbon fiber reinforcement should help.
My feeling is that the gloves will offer some protection in a slow speed tumble — just don't expect them to protect against some serious road rash like a pair of race gloves would.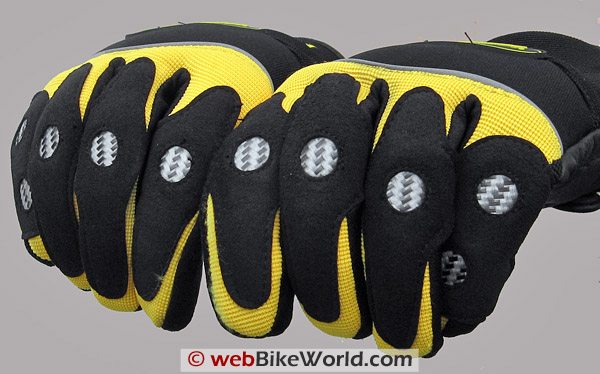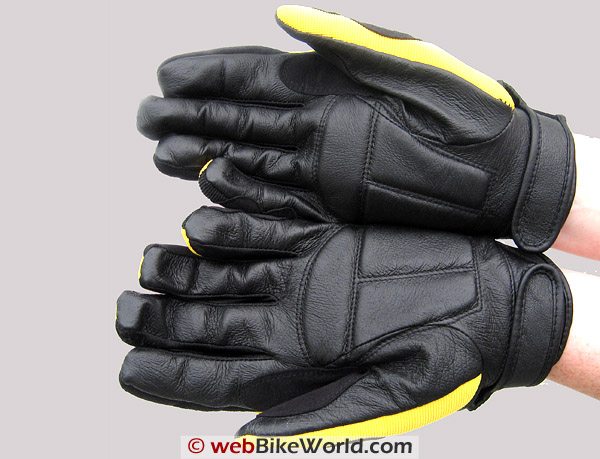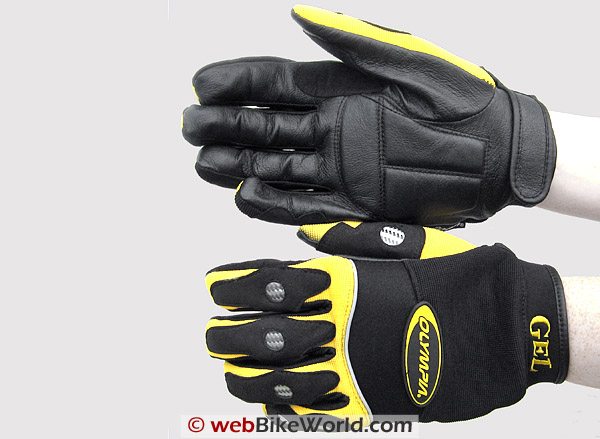 Reflective Capabilities
Anything we can add to our visibility at night is a bonus. The Olympia 710 gloves have a strip of reflective piping sewn in the back of the hand, as well as small patches in the mid-knuckles.
Standing in the yard, in the dark, the gloves showed good reflection when zapped with car lights.
Vibration Absorption
Three pieces of gel padding are sewn in to the palms of the Olympia Gel Reflector gloves.
The gel is supposed to reduce vibration, fatigue and the dreaded "pinky numbness".
My first cruise with these gloves was during two hours of hard interstate riding, and my hands felt great after the trip. No numbness, no tingling and none of the "my hand feels like I'm still riding" syndrome.
Ventilation
At speeds under 30 MPH, I don't feel any air movement, but at 50mph and above it's all air! The air enters between the fingers and spreads out across the glove towards the wrist.
These Olympia 710's definitely move the air resulting in cooler hands.
Colors
The Olympia 710 Gel Reflector gloves come in black/Yellow, black/blue, black/gray, and black/red, while the Olympia 711 Gel Reflectors are in black only. Note that the Olympia 711 is identical to the 710 except for the color.
Conclusion
These aren't crash 'n' burn, save-your-finger gloves. They offer protection, but no armor plating.
On the other hand, they do offer some protection, and some is better than none.
For those of us cruising in the heat, the Olympia 710 Gel Reflector gloves offer excellent cooling in a lightweight glove with gel pads for comfort. It's hard to beat these gloves for around $25.00.
w
BW
 Review: Olympia 710 & 711 Gel Reflector Motorcycle Gloves
List Price (2008): $29.95
Made In: China
Colors: Black (711) and Black with Gray, Red, Blue, Yellow (710). 
Sizes: XS to 3XL
Review Date: June 2008
From "M": "I agree that the Olympia gloves are not crash and burn gloves, but my pair held up o.k. during a recent 30 mph get off. The only part of the glove to wear completely through was the outside of the thumb (by my thumbnail). Definitely will pick up another pair. The comfort is unbelievable."