It might be because they are next door to the now-closed Hells Angels clubhouse, or it could be that owner Leon Betts loves vehicles with mechanical muscle, but the self-confessed revhead is planning to add classic motorcycles and custom bikes to his Ol' School Garage.
His custom car showroom has only just opened for business at 29 Tradelink Rd, Hillcrest, Queensland, but already Leon is planning to import ol' school bikes from the US.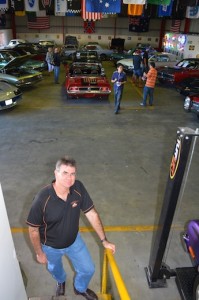 "Some of our mechanics are into bikes and they are keen to do some custom work on some old Harleys," Leon says at the opening of their showroom stocked with well-restored classic American iron.
The Ol' School Garage represents a midlife career change for Leon who sold his engineering business a couple of years ago and bought a custom car fabrication workshop just down the road a couple of years ago to indulge his passion for American classics.
"It's a passion which has grown on me," he says. "My favourite here is the Dodge '69 Charger, but my favourite of all time is the 1960 Impala bubbletop."
Pretty soon Leon had the custom workshop humming along and he expanded to purchase the paint workshop across the street, then the showroom up the end of the road next to the Angels' clubhouse.
"The market is small for these vehicles, but there are more and more young people getting into it," Leon says. "Some are workers on the gas fields, miners and army who have some disposable cash."
He has also tuned into the growing demand for classic bikes and plans to import old Harleys and Indians, as well as British bikes such as Norton and Triumph that have been popular in the US since WWII.
"We'll be looking to restore them and turn some into bobbers and café racers," he says.
"Our customers are aged 35 to 60 to 90 and come from all walks of life," he says. "You can't pick your customers on the way in."