Motorcycle Nuts, Bolts and Fasteners
---
Resources for nuts, bolts, screws and related fasteners for motorcycles (bottom of page), including titanium, anodized, stainless steel, metric and more. If you have a tip on a good online source of fasteners that sells in small lot sizes, please send it to editor@webbikeworld.com
Motorcycle Fasteners, Nuts and Bolts: The Bolt Guy has stainless steel bolt kits to replace all of the bolts on your Airhead Beemer  |  British Tools & Fasteners has BA, BSC, BSF, BSP, BSW, inch and Whitworth nuts, bolts and tools;also see their BA (British Association) thread chart  |  Chrome Bolthas an assortment of nuts, bolts, Allen bolts, washers and more, all chrome plated and some with flames!  |  Desmo parts has many stainless steel fastener kits for a number of different motorcycles, along with metric wellnuts and assorted filters  |  The Gardner-Westcott Companyspecializes in stainless steel and chrome fasteners for motorcycles and they have fastener kits with an assortment of the most common sizes for British and Metric motorcycles  |  Midwest Acorn Nut has Cy-Chrome Fasteners, a wide variety of stainless and plated fasteners; large (13mb) .pdf catalog is available for download on their site  |  Mettec makes titanium fasteners, bolts, axles and will do prototyping; they have a nice online selection of charts showing the sizes of bolts and nuts they carry  |  MotoWheels has some titanium nuts, bolts and other parts for Japanese and Italian bikes  |  MSC Fasteners has a variety of nuts, bolts and other fasteners in stainless steel, brass and aluminum; the company is owned by the folks who run Rask Cycle  |  Titanium and aluminum bolts, nuts and fasteners are available at Race Bolts  |  Also try Tastynuts for all sorts of plated nuts, bolts and fasteners; they even have "Glowbolts" – yep, they glow in the dark!  |  Uncle Nutty has all the nylon fasteners, nuts, bolts, screws, washers, etc. that you need  |  Yoyodyne also has many titanium parts including brake parts and axles  |  Coburn-Myers has a nice listing of specifications for nuts, bolts and washers; also a good metric section  |  Many different sizes and types of hose clamps and other fasteners and electrical connectors at Eurostock, although you have to dig through their website to find them (hint: hose clamps are in the "Tubing" category)
Metric Socket Head Cap Screw (SHCS) Dimensions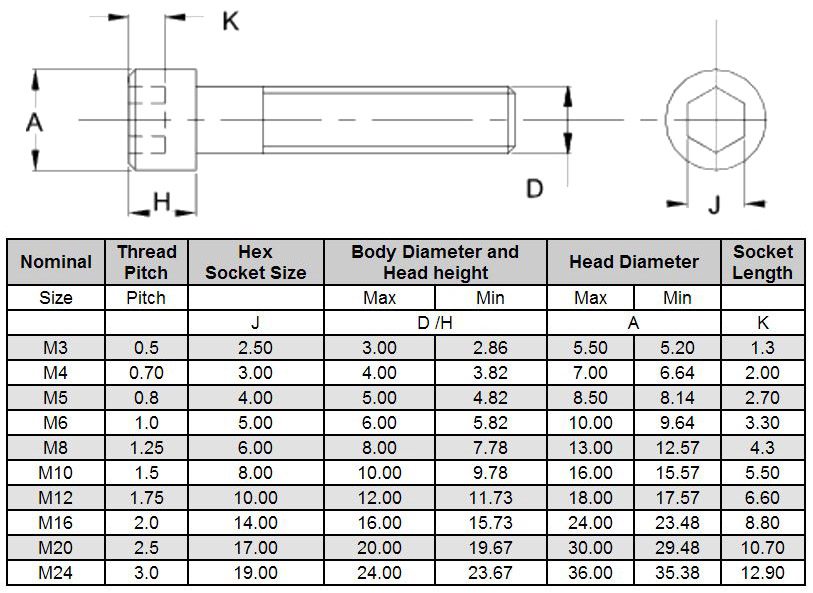 Nuts, Bolts and Fasteners in Small Lot Sizes:  Fastener Express has an excellent selection of fasteners, including metric, titanium, aluminum and anodized in many sizes and available in small quantities at reasonable prices  |   Tekbolt High Performance Hardware specializes in nuts and bolts for the powersports industry with steel and titanium metric fasteners "and almost everything is available in single piece quantities", according to their spokesperson  |  Fastenal has a selection of metric nuts, bolts and other fasteners; some can be ordered in quantities of 1 online or they have store locations around the country  |  The Fastener Mart has plenty of metric nuts and bolts and a pretty easy to use website to search for them; some are available in small quantities, while others can only be purchased in larger lots
Titanium Nuts and Bolts: From S.E.P.T. France "We are a major producer of nuts and bolts in Titanium. We make them in both Grade 2 (unalloyed Ti) and Grade 5 (aircraft alloy Ti). Our Grade 5 fasteners are with forged heads and rolled threads not the inferior rubbish machined from bar. We can make in any size from M1 to M24 in all common head types such as hex, Allen, Allen conical, slotted, countersunk etc. Thread types include metric BSF, BSC. We can make specials to order and in heat treated Ti for high duty service. Don't worry about the minimum quantities we have a small order service."
Aerospace and Race Performance Nuts, Bolts and Fasteners: Coast Fabrication in California manufacturers aerospace grade fasteners for the racing industry; most parts are available for online purchase
Motorcycle Nuts & Bolts UK:   Nooky's Nuts has metric and inch size nuts, bolts and fittings in small lot sizes  |  Pro-Bolt has stainless steel, titanium and anodized (many colors) fasteners for restorations and other projects  |  Bikebolts Sportbike Fasteners has fairing bolts, fairing bolt replacement kits and other hard-to-find hardware like weld nuts for many different motorcycles; all of the bolt kits are "guaranteed to fit with or in place of the factory hardware"
Metric Nuts – Metric Bolts – Metric Washers:  WashersUSA has metric and inch washers and shim washers; they also sell a washer punch kit that allows you to make your own washers  |  The Bolt Depot is one of the few online retailers who sell small quantities (>=1) of metric nuts, bolts and hardware; I've used them and they've been a great company to deal with; very prompt service and the parts come packaged in individual plastic bags with printed labels  |  Uncle Nutty's has metric fasteners, including metric socket head cap screws
Dzus Fasteners:  Southco manufactures all sorts of Dzus fasteners, Nylatch panel fasteners and other types of unique and hard-to-find fasteners and their website has information to help you find the products, but you'll have to find a distributor to purchase them  |  KurveyGirl carries many different types of Dzus fasteners and connectors  |  Pit Stop USA has small packs of Dzus fasteners and Dzus fastener wrenches
Note:
 For informational use only. All material and photographs are Copyright © webWorld International, LLC since 2000. All rights reserved. See the webBikeWorld® 
Site Info page
. Product specifications, features and details may change or differ from our descriptions. Always check before purchasing. Read the
Terms and Conditions
!
Owner Comments and Feedback
---
From "D.L." (August 2011):  "Needed some black, stainless, cap head, metric bolts. Like finding hen's teeth. After calling half a dozen companies, one of the suppliers recommended McMaster-Carr. These guys have everything. I did need to buy more than I needed, but the cost was inconsequential.
This was the first time I've called and I don't have a business account. The minimum order was 25 pieces, but was only $8. Still a bargain for a very hard to find item. I should also say that these are to replace the bolts on a new MadStad wind screen that I just bought for a new F650GS. This thing is absolutely awesome. You really need to review it."
Other WebBikeWorld
Motorcycle Articles 

Posts

wBW Motorcycle Articles Info