A NSW Police Traffic and Highway Patrol officer has been injured in a "single-vehicle crash" on the Central Coast about 4.15pm today (Sunday 17 November 2019).
Police say the male officer was riding an unmarked motorcycle on Berkeley Road, Berkeley Vale, when he "lost control" and crashed into a guardrail.
"He came off his bike and landed down an embankment," the police say.
Emergency services were called and came to his aid.
He was treated at the scene for two broken legs and was airlifted to John Hunter Hospital in a stable condition.
At this stage it is unknown if the officer was responding to an incident.
Police from Tuggerah Lakes Police District are calling for any witnesses to the crash, or anyone with dash-cam vision to come forward.
Anyone with information about this incident is urged to contact Crime Stoppers: 1800 333 000 or https://nsw.crimestoppers.com.au. Information is treated in strict confidence. The public is reminded not to report crime via NSW Police social media pages.
Taken to task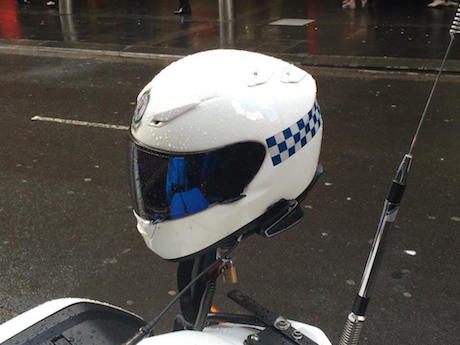 We have taken police to task before for saying motorcycle riders "lost control" or were involved in a "single-vehicle accident".
It is presumptuous, pending a proper review of the accident.
Such terminology also creates an impression that riders are reckless.
This only serves to further demonise riders in the eyes of the public.
How can we expect other motorists to look out for riders or be concerned about our vulnerability if they think we are careless or have a death wish?
At least the police are consistent in their reporting, even when it is one of their own!
We sincerely wish the officer a fast and full recover.