Nolan N103 Helmet Review Summary
Nolan N103 Helmet Image Gallery
The Nolan N103 is the latest version of this popular flip-up helmet.
It's well made, loaded with features and feels substantial, but it's 2008 — shouldn't 21st Century technology be giving us lighter helmets?
Each flip-up we review seems to be heavier than the one before…
Let's see — we're now 8 years into the 21st Century, with the promise of high technology manifested every day in everything we do.
So why can't some of these high-tech goodies be stuffed into a helmet to make it lighter and safer?
I used to be the a flip-up helmet fan, but the suckers seem to be getting heavier and heavier with each new model.
If you want a shocker, check out the webBikeWorld Motorcycle Helmet Weights page — out of the 100 helmets reviewed on webBikeWorld, the 7 heaviest are flip-ups.
Not counting the ROOF Boxer, which is sort of a different beast, the flip-ups start at 1614 grams with the Caberg Trip (review).
That proves, by the way, that at least one flip-up can be light and comfortable) and go up from there, all the way to the massive HJC FS-Max at 1911 grams (4 lbs. 3-3/8 oz.).
The size XL Nolan N103 that you see here is second from the top, making it #99 on the List of Shame at a whopping 1891 grams, or 4 lbs. 2-5/8 oz.
At least it's well balanced, unlike many other flip-ups that sit so high they feel like they were made for Beldar Conehead. But I sure wonder how all that mass might affect my noggin as it changes the dynamics of a crash…
It just makes me — the guy who was once Mr. Flip-up — really start to wonder what advantages a flip-up helmet has over a full-face.
It's not the ease of wearing eyeglasses, because I have no trouble fitting mine in any full-face helmet I've tried, and my cut-down eyeglass idea is another good solution.
It surely isn't noise control, because most of the flip-up helmets we've reviewed generally transmit more noise than a good full-face.
It isn't ventilation, because most of the flip-ups we've tried flow much less air than the better full-face helmets.
Most of the flip-up helmet manufacturers warn very clearly against riding with the flip-up visor in the up position, so that's not a reason.
So what is it?  Having the ability to flip the thing up at the gas pump?  I buy gas all the time wearing a full-face helmet, so that's certainly not a good reason either.
I'm perplexed — I'm losing faith in the flip-up and I can't remember their raison d'être.. Back about 7-8 years ago, I thought they were the wave of the future — everybody would be wearing them.
But motorcycle riders are apparently smarter than I — they have not, as expected, turned in droves to the flip-up helmet and, in fact, full-face helmets are definitely still here.
There are many more high-quality full-face helmets available now than there ever were — and at prices that can't be beat.
I'm sure there are some flip-up helmet lovers out there, so let's hear from you and we'll post the feedback in the comments section at the end of this review.
In the meantime, now that I've cooled down, let's take a look at the Nolan N103!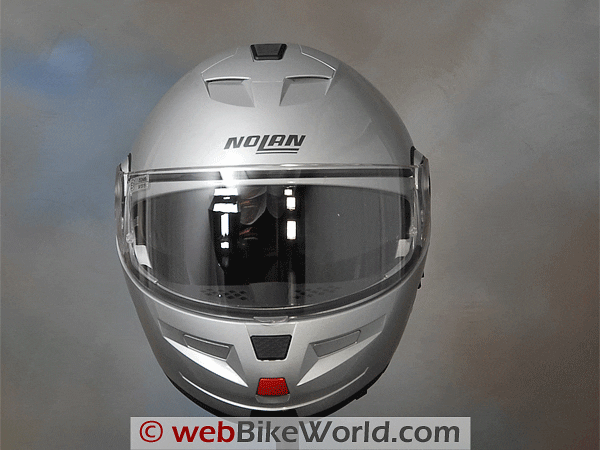 Paint, Graphics and Overall Quality
One reason why flip-ups aren't as popular as they could be probably has to do with the ultra-boring colors most of the manufacturers use. They look more like helmets designed for a funeral than for having fun riding a bike!
So let's give Nolan credit for at least trying by using at least a couple of different colors and graphics for the N103. I'm not sure if all of the patterns will be available in the U.S.A. but the "Secret" graphic version is, while not imaginative, at least colorful.
The silver N103 "Classic" shown here was purchased in Europe (the N103 is just now being released to U.S. dealers) and it is very nicely done, with near-flawless gloss paint and no orange peel or faults.
Nolan's marketing info says they're using a new type of clear coat over the paint.
It definitely does feel different — almost like a micro-thin sheet of Plexiglas or something was vacuum formed over the finish. It feels slippery and hard, so time will tell but I think this one will hold up very nicely over the long term.
Road-hugging weight notwithstanding, the N103 feels pretty solid and everything works with a nice click and snap, although, as you can see in our quick video, the helmet has quite a bit of lateral flex, which is surprising.
The shape is new and modern, and the rotating visor feels solid and opens with a new two-finger system (see the video).
Pull out the red tab underneath the center of the chin bar and another red tab, located just under the chin vent switch, pops out and the two are squeezed together to open the visor.
My guess is that this is a type of safety system to help keep the flip-up visor secure in a crash. It works well and feels solid, so no problems there.
All of the vents and switches work well, and the N103 has a new type of visor removal system that is slightly fussy but better than most.
Score:  Overall, I'll rate the Nolan N103 with an "Outstanding" rating for the paint and the new type of clear coat finish, along with the quality of the switchgear. It's a solid helmet with high quality. See the ratings scale in the summary table at the bottom of this page.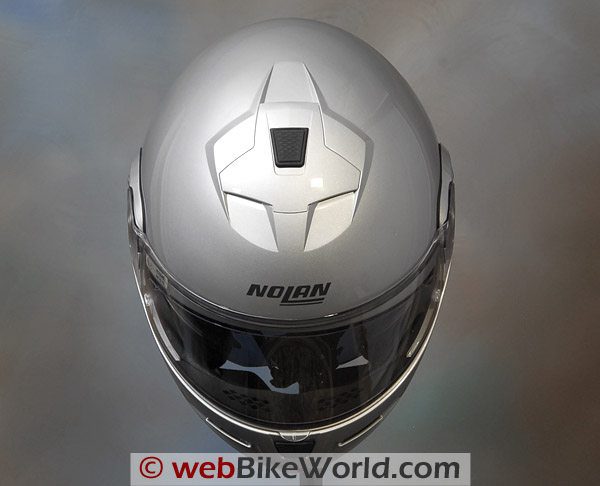 Helmet Shape and Fit
The N103 has a slightly strange fit that's hard to describe.
It feels round from the headband up to the top of the head, but the sides are slightly narrow. Overall, I'd say the fit tends towards neutral/long oval, which should fit a majority of head shapes.
See the wBW Motorcycle Helmet FAQ for more information on choosing and fitting a motorcycle helmet and for a discussion regarding human head shapes.
And don't forget that choosing the correct helmet shape is crucial for both comfort and safety!
The padding is a bit thin on either side, and the complex visor rotating mechanism seems like it intrudes somewhat into the shell space, making the helmet feel narrow at the temples.
The fit feels strange when I first put the helmet on, and after about an hour or so, it hurts.
But I have an usually round head that's widest at the temples — at least two other riders who have more "normal" heads have borrowed the N103 and they say that the shape feels good and doesn't bother them during a ride.
The size XL fits about as expected, so my guess is that the other sizes should run true also. It does tighten up slightly when the flip-up visor is shut as it should, but overall it's pretty comfortable.
The liner uses a smooth, tightly woven fabric that feels more like satin than micro-fleece.
The liner is removable and washable; Nolan calls it "Clima Comfort", but I haven't noticed that it absorbs moisture any better or worse than other helmet liner material.
Actually, I think the smooth liner fabric doesn't work as well in absorbing moisture as something more plush might. I would think that a fabric with a thicker nap can allow more air to circulate at the surface of the skin, but this is just conjecture.
The neck padding, or neck roll at bottom of the helmet fits snugly, just as it should.
The padding is designed with more care than probably all of the other flip-up helmets we've reviewed. This area can be a problem on most flip-up helmets (and other types), generating noise and allowing a lot of air to flow into the helmet, but not on the N103.
Note that the front-to-back dimensions of the N103 are shorter than normal. My chin just touches the inside of the chin bar.
It's not as bad as the Caberg Justissimo (review), for example, which is so tight I can't wear it, but if the N103 was any shorter inside, I'd have problems. My chin isn't very big, so potential owners may want to keep this in mind and try on the helmet before you buy it.
Score:  I'll give the N103 a "Very Good" for comfort and fit, but a caution on the shorter than normal front-to-back dimension.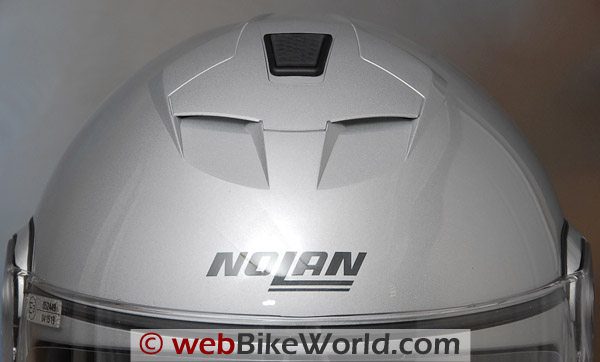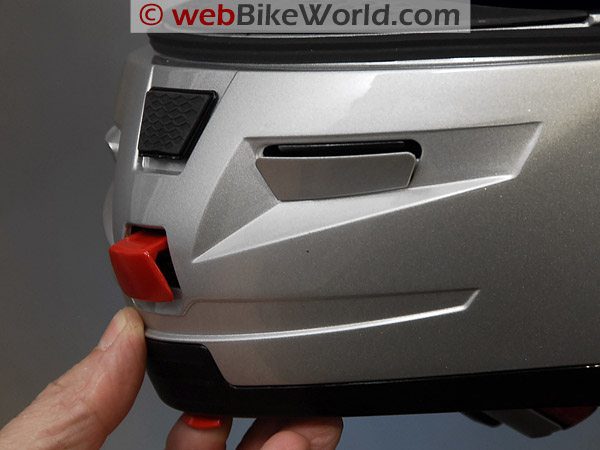 Ventilation
The chin vents on either side open outwards, sort of like what happens when you open a pair of dresser drawers.
They're operated by a rubberized switch in the center of the chin bar. The switch works smoothly up and down, but without a raised tab, it's a little hard to find until its location is memorized.
The vents don't open all the way forward or down, and some of the air flowing directly in through them is blocked.
There are no vent channels in back of the chin vents that might flow air directly through the chin bar, so the air that does enter these vents goes up through the breath deflector and on to the rider's face.
It's hard to tell how much air that really is. The system does seem to provide good air flow on to the face, but I honestly can't tell where it's coming from. If I close the chin vents, the volume of air diminishes somewhat, but there's still a lot of air coming from somewhere.
The snug fit and the chin curtain seem to work well to prevent unwanted air from flowing up from underneath the helmet, but the air comes in anyway. Good news for the summer; possibly bad news in winter.
The top vents are tiny, and they don't seem to flow any air that I can feel. The same type of flush rubberized switch moves back and forth to open the very small dual vents, but the helmet could use a lot more air flowing in through the top as far as I'm concerned.
In our current 85-degree plus temperatures (30+ C), my face feels cool but the sides and back get hot, especially with the sun beating down.
An assembly that looks like an exhaust system lives out back, and Nolan says it's a rear extractor, but when I look inside it appears to be blocked with liner or plastic, so I'm not sure how functional it is.
Score: The N103 gets a "Good" for venting and air flow through the chin bar and on the face, but a "Poor" for top venting.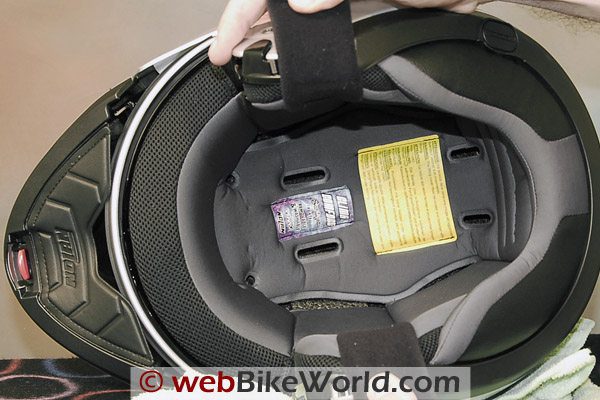 The quality of the bits and the gaskets around the clear visor and flip-up visor do seem to work to keep the noise volume relatively low on the N103.
The top vent assembly does create some wind rushing noise, and I can place my hand up there while riding and change the frequency of the noise levels and the volume, which means that most of the noise around the top vent is turbulence induced.
A little noise from the top vent would be fine if the upside was that the vents worked to allow a large volume of air to flow through, but they don't. It doesn't seem to matter whether the top vents are open or closed.
But overall, the higher frequency noise levels on the N103 are at least well controlled. There's always a certain background level of wind rushing noise, but that's to be expected.
The design of the neck surround and the chin curtain that comes with the N103 both work together to keep the lower frequency "booming" noises fairly well controlled also, although this is all very dependent upon the bike, the rider, windscreens and even clothing.
For more information on helmet noise, visit the wBW Motorcycle Helmet Noise page. Also, note that we always wear high-quality, correctly fitted ear plugs when riding — see the wBW Earplugs and Hearing Protection page for more information on choosing and wearing earplugs.
If you don't wear ear plugs, all bets are off — every motorcycle helmet is dangerously noisy, in our opinion, and your hearing is as precious as your eyesight, so don't mess with it. Wear ear plugs.
Score:  The Nolan N103 gets an "Excellent" for its ability to control noise better than most flip-up helmets.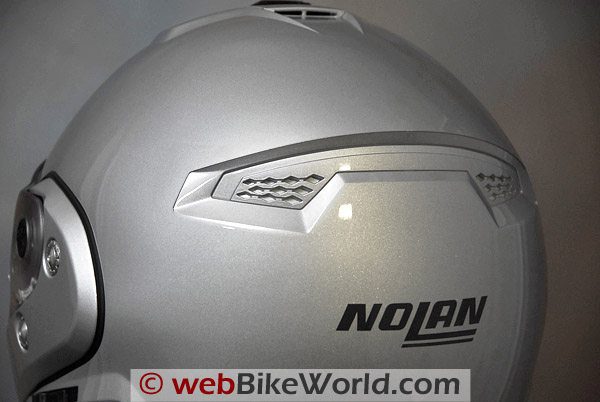 Rotating Visor and Face Shield
The clear face shield on the N103 offers excellent visibility in the top-to-bottom direction — it's one of the few helmets I can wear that allow me to glance down and see the instruments on the GT1000 without having to move my head.
Side-to-side visibility is also very good, with just a sliver of liner visible in my peripheral vision down and to the sides. So overall, I'd say the N103 offers much better than normal sight lines.
The clear face shield comes with Pinlock bollards as standard and the helmet is fitted with an anti-fog Pinlock-type insert called the "Nolan Fog Resistant System". It's interesting that they apparently gave up on trying to coat the face shield with an anti-fog treatment and instead went to a Pinlock-style anti-fog insert.
I couldn't find much information on the anti-fog system in the Nolan helmet documentation, so I don't know if the system is compatible with the Pinlock system or perhaps made by them for Nolan.
We're not sure if the anti-fog face shield insert system will be available on the helmets sold in the U.S.A., or if will be an option or if will only be offered on the helmets sold in Europe or the UK. Again, this one was sourced in Europe and the N103 is just now being released in the U.S.
The anti-fog insert is clear, but gives the face shield just a hint of cloudiness. I got used to it pretty quickly and don't even notice it now, but I'm not sure how long it will last, if it will scratch more easily than the polycarbonate face shield or other long-term issues.
Of course, it's been too hot and dry lately to determine how well it works, but my guess is it will work very well indeed.
The clear face shield is fairly easy to remove; push a button and slide it towards the front and it comes out. This is demonstrated at the end of the video.
One more thing about the clear face shield — it has a single detent that allows it to open slightly for defogging, then nothing, then another detent that allows it to remain open. Nothing in between, and the detents are very weak at the lowest position, so the face shield doesn't feel like it's going to stay closed. It hasn't popped open yet, and I haven't figured out yet if the friction is adjustable, but I'm not too keen on the system.
The flip-up visor rotates smoothly and feels solid. It should — the mechanism that makes it work looks like it was taken from a bank vault. This surely adds to the weight, but the upside is the solid feel.
The helmet has metal bars in the shell and metal latches in the flip-up visor to hold everything securely, so no worries there (see photo). It's interesting to watch the rotating visor open and close, because it rides on an eccentric cam that looks like a machine tool.
Internal Sun Visor: The Nolan "Vision Protection System"
The N103 comes with an internal sun visor that operates with a simple slider switch on the left side of the helmet. The slider could use a larger tab to make it easier to find, but that's a nitpick.
This is the first helmet internal sun shade we've found that rotates down far enough to remain out of the rider's line of sight. I can see the bottom edge in my peripheral vision, but it has excellent coverage, so I'm happy. The only problem is that it has about 50% light transmission — I wish it was darker.
The N103 Owner's Manual is a bit confusing on the light transmission standards. It says "The current approval standards (EEC 22-05) state that the minimum light transmittance levels must be greater than 80% when riding at night and not lower than 50% when riding."  They recommend using sunglasses in addition to the internal visor if necessary.
Score:  The N103 gets an "Excellent" for visor clarity and operation and an "Outstanding" for field of view and the internal sun shade, but a "Poor" for the weak detents on the clear visor.
Helmet Weight
This is the problem I described in my introduction, so not much more to say. The N103 is too heavy at 1891 grams, or 4 lbs. 2-5/8 oz. in size XL.
The mass is well balanced but can definitely be felt when the head swings side to side. See the wBW Motorcycle Helmet Weights page for the complete chart, comparing the weights of every helmet we've reviewed.
Score:  The N103 gets an "Poor" for extreme weight.
Miscellaneous
The N103 uses what apparently has become the European standard, a ratchet "quick release" buckle. It has a serrated tab that fits into the buckle mechanism like a ratchet, and it releases quickly. The strap length must be adjusted the first time it's used, but the serrations insure a small range of micro-adjustment when the buckle is secured.
This literally adds a few ounces to the already heavy helmet; it's complicated, has too many moving parts and it's too thick. Give us the plain, old, simple, ultra-light-weight, elegant and infinitely adjustable double D-ring please.
Nolan has an array of replacement parts, including anti-fog inserts, different colored internal sun shades and more.
This N103 meets ECE 22.05 safety standards; obviously the helmets sold in the U.S.A. will meet DOT standards.
w

BW

 Video: Nolan N-103 Helmet
Conclusion
The Nolan N103 is a solid flip-up helmet but I don't think it evolves the breed.
It's extremely heavy and although it's packed with just about every feature you can imagine, it just doesn't bowl me over the way the Caberg Trip did.
Nevertheless, it's one of the most solid flip-up helmets out there, very well made and finished.
But then again, I've lost my taste for flip-ups. Nothing against Nolan, who have a very nice product with the N103, but I no longer find an advantage to wearing a flip-up and I see only the compromises.
Perhaps I'd feel different if it weighed 400 grams less?
ADDENDUM:  We've received many reader comments (see below) to this review (and many from readers who haven't yet tried the N103 — thanks for pointing this out, J.M. — but that's another issue).
Weight does matter folks — if it didn't, where does it stop?  If 4.5 lbs. is OK, then what about 5 lbs.? Or how about 6 lbs? 10 lbs.? 20 lbs.?
If weight didn't matter, then I guess Casey Stoner, who is sponsored by Nolan, is OK with wearing a 4+ lb. helmet — with a ratcheting strap, right?
Carrying all that weight on your neck and getting buffeted around on a motorcycle will definitely cause the neck muscles to tire more quickly.
Even moving the head back and forth for over-the-shoulder checks gets tiresome with a heavy helmet like the N103, because the rider has to get the mass moving and then quickly stop it again.
All of us here are very surprised that some readers don't think helmet weight is important.
We're not saying it's the only factor, or even the most important factor, but the point is that with modern materials, the manufacturers should be giving us helmets that are lighter in weight with each new generation.
It's almost a basic law of engineering — look at motorcycles, bicycles, clothing, running shoes…
w

BW

 Review: Nolan N103 Helmet
Manufacturer: Nolan Helmets
List Price (2008): €269.95
Colors: Varied.
Made In: Italy
Sizes: XS-2XL Shell Sizes: Unknown
Review Date: August 2008

Rating Scale is subjective: Unacceptable, Poor, Neutral, Very Good, Excellent, Outstanding.
Note:
 For informational use only. All material and photographs are Copyright © webWorld International, LLC since 2000. All rights reserved. See the webBikeWorld® 
Site Info page
. Product specifications, features and details may change or differ from our descriptions. Always check before purchasing. Read the
Terms and Conditions
!
Owner Comments and Feedback
---
From "B.H." (September 2011):  "My wife and I bought the Nolan N-103 helmets from J&M Electronics 1-1/2 years ago. We had J&M install their Performance Series 279 speakers and microphone.
Putting on over 20,000 road miles last year, we really gave these helmets the test from super high temperatures to freezing cold weather…yes it does get cold in the Arizona desert!
Positives: We have been moderately pleased with the performance of the helmets. They are well made and the finish has remained intact even with a bazillion bugs cleaned off the surface.
Face shield locks into place easily and the clear visor locks into several positions allowing you to flip it up all the way or barely crack it open for some air flow.
The retractable sun visor works fabulous and eliminated the need for sunglasses. We did use the fog protection liners on the clear visor last winter and they did exactly as they were supposed to.
The ratchet locking device on the chin strap works great and is so easy to use compared to D-link locking rings. I wish all helmet manufacturers would go to this locking mechanism.
Negatives: I must have a large head stuffing it into the XL size but there is very little room for the microphone when the face shield is pulled down. It is smashed against my mouth causing me to suffer with this for a long time.
The helmets have gotten loose causing more road noise and vibration.
The air vents are more for looks than supplying air to your head. The lower air vents on both helmets stopped opening when you slide the button. We took them back to J&M Electronics and they couldn't do anything about the vents not working.
Conclusion: Overall, the Nolan N-103 helmets have worked well for us. Although, I have moved to another helmet due to the microphone issue. Would suggest trying it on with a microphone installed before buying if you use communication."
---
From "I.L." (03/11):  "I bought this helmet based on this review. Sold it after using 2 days based on my own experiences.
Positive side: well built, good materials, very good protection against fog even under 10 Celsius, with fully closed visor, good comfort. I sold it because of the noise levels.
The ambient noises such as noise of the engine are suppressed quiet well, but the wind noise is very loud. The noise level begins to rise at low speed (40 km/h) after leaving the city it gets worse.
In the shop I was told that the type of the bike is also important. I have a Honda CBF 1000 with touring windshield. Now I use my friend's old Caberg helmet. It's ambient noise level slightly higher, but wind noise much quieter than the N103.
Now I want to buy a SCHUBERTH C3. If it's loud I'll also sell my bike."
Editor's Reply:  As we always say, riding a motorcycle is a very noisy endeavor. Ear plugs are a must; I'm assuming you are wearing high-quality ear plugs (see our ear plug reviews page for more information), properly inserted?
Also, almost all motorcycles with a windscreen will have a lot of noise. The wind coming off the windscreen can cause a lot of turbulence, which causes noise. It seems counter-intuitive, but it's true.
We have found that as long as you have a small windscreen to take some of the air off your chest, and the helmet is up in the undisturbed air, the noise levels can drop dramatically.
I'll bet your "touring windshield" is the cause of the problem. Try taking it off and going for a ride and see what happens. Perhaps you need a bike without a windscreen!"
---
From "L.T." (10/10): "I greatly enjoy your reviews, and on the basis of one of them, bought a Nolan N-103.
I like the helmet (except I can't turn to look behind me as much as I'd like because it sticks forward a bit much), but the rubber seals on the top half of the helmet around where the helmet flips up have both come out – about 2″ on both sides.
Do I just have a dud, or have you heard about this happening with other N103s? This after only five months of daily use, with two-three 'flip-ups' per use."
Editor's Response:  I'm not aware of any general problem like this, perhaps other owners can respond?  I suggest contacting Nolan, your helmet is still under warranty if it's 5 months old.
---
From "K.T." (9/10):  "Would just like to provide some feedback on the N-103 now that I own one.
Enjoy your in-depth reviews of bike related products. I am in the UK, ride all year round, and have recently bought an N-103 after 4 happy years using a Caberg Justissimo (review).
I find the Nolan to be well ahead in terms of fit and comfort compared to the old Caberg. I don't find the Nolan to be overtly heavy and this should not deter potential buyers.
I also own an HJC FG-15 Kynee and that is light by comparison but it's not a flip-front so doesn't have all the extra mechanics that a flip-front has.
I find the Nolan to be quieter than my old Caberg. The anti-fog insert covers the entire field of view and works, and is one of the main reasons I bought the helmet.
I had to have the Caberg Pinlocked as the alleged anti-fog coating on the visor isn't. Caberg please take note!
The top ventilation on the Nolan is excellent. I can feel a stream of cooling air over my scalp. The visor has detents to all positions. My only complaint is that it can't be locked closed, minor problem.
The helmet is P and J rated so you can legally ride with the flip-front up. I wear specs and the Nolan allows me to put them on with the helmet fitted. This was not possible with a Caberg Sintesi (review) I tried.
Overall I am extremely pleased with it, would not hesitate in recommending one, and look forward to many happy miles wearing it."
---
From "J.H." (2/10):  "I read your review dated August 2008 regarding the N-103. I also noted some of the responses. I felt I would like to add a couple of things.
Firstly, the person that found the chin buckle too tight: You are supposed to adjust the strap first to get into the range of adjustment for the micro lock portion.
I purchased this helmet yesterday (January 30, 2010), along with the electronics to fit into it. I presently own an N-100E, N-102(with the electronics), and now the N-103.
I'll begin by mentioning that they, (Nolan), must have been listening to you, because the face shield has detents all the way up without that "void" in the middle that your test model had.
Also, I noted that those detents hold the visor much more tightly than my 102 does. I believe it would take a very strong and sudden blast of wind to dislodge it.
I have also installed the electronics into both my 102 and my 103. Most notable is better sound deadening in the 103. The speakers in the 103 fit into a piece of the Styrofoam that is located behind the chin/ear pieces.
Once the cheek pads are properly prepared, a piece of foam gets Velcro-ed back into the area that your ear fits into, leaving only a circular hole over the speaker for the sound to come through.
On the 102, there was simply a plastic piece that held the speaker that fit against the shell, and then was covered by the cheek pad. There was no sound deadening material, (other than the speaker itself), between you and the outer shell.
Another person mentioned he barely got the sun shield to cover his eyes.
I don't know, but the notch in the middle sits so close to the bridge of my nose that I can make it hit if I rock the helmet forward on my head, so I really can't see how this person came to that conclusion unless the sun visor was not all the way down (Perhaps another improvement since your test?)
Since it is winter here, I cannot comment on any other factors such as the venting or the tint of the sun visor. It fits the same as both my old helmets.
None of my Nolans have ever felt like they needed modification in the noggin area, unlike the HJC Symax that I had, which left me with a bright red spot in the middle of my forehead in a very short time, and a headache.
That would lead to the conclusion that the Nolan N-1XX series is more oval than the HJC (Trying it on once, I did find the Nolan X-Lite to be more roundish than the N series).
When traveling, it is not unusual for me to spend 600 miles in the saddle in a day, so you can see that I'm not just a casual rider. As for modular vs non-modular, well, to each his own I say. Everything is a compromise in one way or another.
To me, what I like [about a modular] far outweighs the bad and I am willing to accept that. Others will feel differently.
I should also note that they claim the sun shield provides the same level of eye protection that the face shield provides, if I understood correctly.
Evidently, I must have a new design in a red/black graphic that is tasteful without being to boy racerish, if you know what I mean. (I cannot find this design on their website.)
All in all, I can see a marked improvement over previous models."
---
From "D.L." (1/10):  "Although I don't own the N-103 yet, I've had several brands/types of helmets over the years, including an older model Nolan flip-up.
The advantage of a flip-up for me is ease of putting it on and taking it off without removing eyeglasses/sunglasses. This becomes important when making stops running errands around town.
The ratcheting strap for me is superior to the D-ring. It is faster/easier to use, particularly with gloves, and I've not had a failure.
A drawback to me on the N-100 Nolan was that after a while the flip mechanism was sticky to latch/unlatch. Also my chin touched the front of the inside of the helmet. I have gone back to a Shoei full-face at this time for touring.
Wish it had the ratcheting strap!  For around town I am considering the Nolan N-103."
Editor's Reply:   I used to wear flip-ups thinking the same, but I actually find it more difficult to wear eyeglasses with a flip-up helmet.
I am not able to pull the flip-up on over my when wearing glasses, so I have to put the helmet on first and then fit the glasses anyway.
I find this easier to do with full-face helmets, especially with the thin wire-framed glasses that are common today.
Also, we often get emails from riders saying that the helmets with a ratchet type connector is easier to remove when wearing gloves.
But I guess I'm different here also, I have never found the need to remove a helmet while wearing gloves, I always take my gloves off first, then remove the helmet!
---
From "D.S." (11/09):  "I have owned a Nolan N 102 for a couple of years and have covered over 40k miles. Feeling like a change, I trundled off to my local (luckily as I live in the country) dealer and he let me try the N103.
From the moment I put it on – in the shop – I was aware of the "head in a bucket" sound and ambient noise such as the radio seemed to be louder!
Nevertheless, I took the helmet out and, initially it felt comfortable although I was aware of more wind-noise at low speeds that the N102.
I suppose I was in the frame of mind that says the benefits outweigh the pitfalls so I took the helmet expecting to get used to the new feeling and sound. I even added the Bluetooth kit as I was convinced that this decision would be correct.
What a mistake!  My daily journey takes me on 60 miles of motorway.
Within an hour of riding, my ears hurt, the road noise was unbearable, the cold drafts from around the helmet gave me a headache and the high pitched wind noise from the sides made the journey a nightmare.
BTW, I ride a BMW R1200RT so I have loads of wind protection before it hits the helmet.
I spent the next few days trying to rectify the problems with the help of the dealer and tried various neck warmers, changes to the cheek pads (you can get different sizes) and blocking of the top vents with foam.
After a week of dreading the journey, I finally gave up. My nice new N103 is destined for eBay and the N102 has been restored to it's former position.
In short, the N102 is so very much quieter, despite the external sun visor. I really struggle to see how my experience is so contradictory to others who are satisfied."
---
From "J.J." (10/03):  "I appreciate your reviews. Thank you. I appreciate your thorough and detailed review and pics.
I did not however find your review before buying the Wine Cherry XXL. I ordered through the local Suzuki dealer, …, with the understanding that if the helmet did not fit they would take it back.
The drop-down internal sun visor did not function right from the box so I returned it and they ordered another.
On the second the chin strap would not fasten without causing red markings on my throat and jaws within 30 minutes of wear. My chin touched the front drop bar and there was marked pain and redness to my forehead.
When I returned the helmet because it did not fit, I was charged a 20% "restocking" fee but they returned it to their distributor at no charge.
Of course I mentioned that their employee had assured me they would take it back if it did not fit. I was told the employee had been fired in the interim between order and final delivery.
Nevertheless I returned as it was useless to me. On fit, I wear a short A1R XXL and have tried on a Zeus XXL and an HJC IS Max II XXL all of which fit fine. On the plus side I loved the Cherry Wine and other color selections and the clear coat.
You advise understandably that one should try a helmet on before purchase. I agree, but how when you are in a rural setting with poor selection?"
---
From "M.G." (9/09):  "I have been using my N103 for nearly a year now and so far has proven to be a well built, sturdy helmet.
I have washed the liner a few times and replaced the face shield twice now due to scratches from road debris, etc. At the time I bought it, it was the only helmet that had integrated Bluetooth (state side) which is why I bought it.
I have had many Bluetooth devices and love my gadgets. So, the Bluetooth system in the Nolan has shown itself to me to be very reliable.
I use it to stream music from my phone while riding and have even received a few phone calls while riding with it. Music paused and resumed after the phone calls with no problems.
The helmet even has some AVRCP abilities (can pause, resume and skip forward and backward through music files).
The only problem I had with the helmet was that the speakers that come with their kit are weak, but that was fixed with a soldering iron and a good pair of headphone speakers I bought online.
It made a very big difference in sound quality. I have heard that they are using different speakers now but I have yet to confirm this, so their quality may have improved in that area.
Fit: I have an Arai Vector (intermediate Oval) that fits me like a glove, love it. This Nolan fits me very well and has been worn for hours with no hot spots.
I had a Shoei Multitec for a few months, great helmet by the way, but due to its roundness, it did not fit me very well and drove me nuts (sold it and bought the Nolan).
Thinking about trying out a Vemar CKQI (review) now…… Great reviews, keep up the good work!"
---
From "ASD" (5/09):  "The reason I wear a flip-up is because I work at a very large secure facility where I must pass through several check points each day.
The guards, even though they know me by name, must visually see my face and touch my ID card at each check point. If I had to take off my helmet at each checkpoint I'd just drive my truck."
---
From "E.P." (5/09):  "I just purchased a new Nolan N103. Of all my current helmets: AGV, HJC, KBC, Shoei RF1000, and SCHUBERTH C2, the Nolan is the quietest, airiest, and easiest to use.
I've put about 1000 miles on it so far and no longer see any need to wear any other helmet.
Yesterday, while riding in 105-degree weather, I was able to open it one-handed at stop lights and drink water – can't do that with a full-face!  The liner and cheek pads remove easily for cleaning (and rinsing the sweat out!).
The internal sun visor comes down so far, I don't always have to close the clear visor until I am at high speed – better designed than the Schuberth.
Objectively, I know it is heavy, but I can't really feel the weight difference and I can't tell any difference balance-wise, between having the chin guard open or closed.
Now I consider it to be the single, best, most effective piece of motorcycling equipment I own."
---
From "S" (9/08):  "Ok, so I was out at a BMW dealership and they happened to have the Nolan N103 on the shelf. I picked it up out of curiosity. I had previously owned a Nolan N102.
To put it in terminology that has been used in the political arena; 'You can put lipstick on a pig, but it's still a pig.'
Nolan's N101-102-103's are HEAVY, BULBOUS, and lack any semblance of airflow as a result of factory intentional venting. All your fresh air comes to you via your neckline. I know this to be true. As I said, I owned one of these old pigs!
Feels like you have to have a round, balloon-ish head to fit into their helmets. NASA makes helmets with less weight and robustness for their astronauts!  This has to be the roundest helmet I had ever owned.
Like a bad sci-fi space helmet. I sweated profusely wearing Nolan's flip-up, and I see that the internals really have not changed (remember, I tried on the Nolan N103 today).
That's one reason to use the flip-up I guess; the need to breathe after an hour with their lid on your noggin!
Why is it that helmet makers just don't get it?  They give you some nice things and counter them with deal-breakingly bad crap!
Case in point; I happen to actually love the quick connect chinstrap that Nolan uses. This should be industry standard IMO. Everything else about the Nolan N-series is a deal-breaker IMO.
Wow, Nolan finally put the sun shade inside!  They're only about 5 years behind their competition!  It's not even long enough to cover your line of sight, so you still need sunglasses!
The mechanisms, whether it's the chin bar or the sun visor, make grating/grinding sounds when in motion, like a bearing that needs lube!  CHEAP!
Look at that flex you show on your video!  That's enough for me to say, 'No thanks.'  Especially at the astronomical prices these companies want for nothing but a heavy lid.
By the way… the biggest attraction of the flip up mechanism in general is the fact that at stop lights you can raise it and talk to someone that pulls next to you and they can UNDERSTAND you talking to them!
Other than that, it's good if you want to light a smoke and keep riding.
Someone said to they use the flip-up take pictures?  Oh Pu-LEEEZ… If you get off your bike to get your camera, the quick release on the chinstrap is the first thing I would do and take that heavy-ass helmet off my sweaty head!  Is he taking pictures with his left hand while riding in traffic?  I don't wanna meet him!
For God's sake… someone please, Please, PLEASE make a deal with Caberg and get them distributing in the U.S. again!
They have the best fit for neutral to oval heads, not bulbous, not overly heavy, and the smoothest gliding flip-up mechanism on the market, not to mention the best internal sun visor. It comes down just a tad above my nose, and it ain't a smalll nose!
You reviewed the Trip and no one in the U.S. can even try one on!  If you look on the Caberg webpage they even have some nice graphics to offer, IF we could get them!
Bottom line… I wouldn't waste my money on a Nolan if I were you, unless you like those neat little pockets to put your comm devices already made for you, or you have a round pumpkin-like head! If ever a helmet made a rider look like a bobblehead, or deep sea diver, this is the one!
Looks to me like that cheap plastic door for the comm device is begging to fall off. I wonder what the replacement cost is for THAT!
Thank God I still have my Caberg Justissimo GT Mirage!"
---
From "J.Y." (9/08):  "I have to laugh every time you guys start knocking the Nolan Quick Release strap. Ever find yourself starting to roll down the road after an especially satisfying meal and "Whups!" you've left your strap undone? (Once in 35+ years of riding. – Editor).
If you're wearing a helmet with an "elegant and infinitely adjustable double-D-ring" you're in for a stop alongside the road where you get to take off your gloves (and probably drop one or both on the ground in the process) so you can do up your helmet.
Whereas, with any of my Nolans' (N100 Trend, N100E, N42) I can fasten it on the roll, left-handed, with my glove on. MY '96 Trend has 3 bikes worth on it, over 100K miles, and its Quick Release still looks and works like new.
Also, about Nolan's Pinlock anti-fog, one even came with my "96 N100 Trend, so I think they invented it. You might check on that.
More raison d'etre: Modular helmets are great for stopping and quickly lining up that perfect photo, using binocs, pouring over a real paper map in the hot sun with the bar up. Slowly cruising thru a scenic park with the bar up.
I don't know where to stop. Do you really get out there anymore? Hope so." (Yep, and I'm always wearing a full-face helmet! – Editor).
---
From "P.B." (8/08):  "I'm glad to see you got around to reviewing this helmet. I bought mine from the UK and have been a happy user for six months and 9000 miles, including a 3400 mile week long trip thru the Canadian Maritimes.
I had a SCHUBERTH Concept C2 before, but was very unhappy with the neck chafing and the way my Triumph exhaust seemed to echo inside. The N102 fit my head in XL, but I didn't like the external sun visor.
I noted the same shortness front to rear that you mentioned, so bought the N103 in XXL.
A couple of comments. I agree with you on the top vent. I know it works, because early this year on a ride when the temp was in the mid-20s I could feel a cold strip down the top of my head when I opened the vent. But it hot weather it just doesn't move enough air.
If I open the visor to the first detent I get adequate air flow, but the vents could use some help. The top vent excels at catching bugs which are extremely difficult to remove from those little openings.
The Pinlock system works extremely well in cold weather; I've yet to have any fogging problem at all. The visor self-closes at about 50mph, and I've never had a problem with it opening by itself when head checking.
I don't find the weight an issue at all. This helmet — at least on my head — is so well balanced that I get no turbulence…and personally I find fighting turbulence much more fatiguing than weight.
Originally I was disappointed with the chin strap ratcheting thing. It's grown on me.
Our weather here in northern Vermont is so variable that I wear a lot of different layers; the ratchet makes it easy to accommodate everything from a neck gaiter to a balaclava without removing my gloves.
Can't comment on the noise. After 14 years in the Marine Corps I protect my remaining hearing by wearing ear plugs on every ride.
Keep up the great work!  I find myself checking your Website before just about every purchase!"
---
From "J.M." (8/08):  "I actually own a new N103 since it first came out, it seems that many of the other commenters in your article do not own one, so how do they know?  I also think it is too heavy, it hurts after riding for 1 hour or more.
I didn't realize this in the shop when I bought it (UK). I bet most of the others don't ride on long distance trips either, I do and I can tell you now that the helmet will get even heavier after a while and causes pain. Lots of it. You don't need one more thing to make you lose concentration when riding."
---
From "J.S." (8/08):  "Wouldn't you know it…I bought an N102 last year with the external "bug catcher" sun visor, and now they get smart and put it inside a la Caberg and (in North America) the defunct Schuberth.
But I betcha I can say this and be right:  Be it an N10whatever, I'd bet the accompanying user manual info. reads like it was translated by Babelfish. And in a font that defies normal vision.
Every single model of Nolan I've messed with, whether selling 'em or owning them) had horrible info. on changing visors, etc. True, most stuff is intuitive.
But when it comes to changing the visor (or in my case, removing and trashing the "bug catcher" feature and replacing it with the side panels), Nolan is one of the most complicated. And that's abetted by lousy "how to" info. Am I right?"
Editor's Reply:  Definitely!
---
From "S.L." (8/08):   "Rick, sorry to see you losing the faith concerning modular helmets. I wear one mostly because I like to flip it up in low speed situations, as I feel it improves ventilation and vision.
I feel saying that the manufacturers warn against riding with the chin bar up is a bit of a copout, equal to saying "What's the point with fast motorcycles when the speed limit is 55?".
You also condone wearing earplugs (which I agree with), which is illegal in some states. As far as the weight issue goes…well, duh!  Of course a modular helmet weighs more, there's more parts to it!
Someone who wants a modular will be fully aware of that when it's time to buy. I honestly think the average rider, who doesn't spend time with different helmets all the time, will never know the difference.
These are just a few comments. I think you, and everyone else at webBikeWorld do a fantastic job. I hope you continue to review modulars, even though they've fallen out of your favor.
webBikeWorld is the best site on the internet for helmet reviews, especially when it comes to modulars!"
Editor's Reply:  Thanks for the kudos. By the way, we make a distinction between "flip-up" helmets, like the Nolan N103 discussed here, and "modular" helmets, like the Givi X.01 and Airoh TR-1, which are truly "modular" in every sense of the word.
Helmet manufacturers warn against riding with a flip-up rotating visor in the up position for good reason — it's extremely dangerous, because the visor can come rotating down at an inopportune time and block the rider's vision.
Don't do it and always make sure your flip-up visor is securely locked in the down position before riding!
It's not a given that a flip-up helmet will always weigh more because it has more parts. Just look at the Caberg Trip we reviewed and the Vega Summit II (both in size XL) flip-ups.
They are only #42 and #45 out of the 100 helmets we've weighed on our Motorcycle Helmet Weights page.
The Trip is an excellent flip-up helmet that weighs less than many full-face helmets at 1614 grams (3 lbs. 8-7/8 oz.) and it includes the same features, like the internal sun shade just like the N103.
As for ear plugs, motorcyclists everywhere should fight to repeal any absurd law that makes the wearing of ear plugs illegal.
Riding motorcycles is a very noisy endeavor and it definitely generates noise levels that will permanently affect your hearing. I'm a prime example — I have permanent hearing loss and tinnitus.
---
From "D.B.":   "Good job on the helmet review, but the reason I went to the flip up helmet was because of wearing glasses. The flip ups are the only ones that I do not need to remove my glasses to put on or remove my helmet.
Plus it is nice to flip up the helmet at a red light on hot days.
This is my second year on the Nolan N102 and I find the front to back distance a little tight. Noise seems to be mostly the result of air flow past the bottom of the helmet just below the ears (right about where the front flip joint is).
All I need to do to reduce the wind noise drastically is to hunch up my shoulders and block this area. I think the helmet manufacturers are missing something here."
Rick's Reply:  I used to wear flip-ups all the time because of eyeglasses, but since I went to wire frames and my cut-down eyeglasses, I can fit my eyeglasses in every full-face helmet I've tried. In fact, some flip-up helmets I've tried — like the Nolan N103 — are more uncomfortable with eyeglasses than some full-face helmets.
---
From "L.G."  (8/08):  "It was interesting to read your review of the new Nolan. I've bought the first one in New Zealnd, prior to that I had an N101.
The new  helmet is leagues ahead of that, it's much quieter, with a more tolerable quality of sound. It is much more aerodynamically stable and the quick release visor and internal visor system is the bee's knees.
I don't really get your problem with the weight. Sure it's heavy, but the balance and stability more than make up for that. In fact, my Nolan was easily as stable in recent storms here (cross wind gusts up to 120 km/h plus), as my SCHUBERTH S1.
In other words, the most stable helmets I've tried. It certainly never bothered my 55 year old neck in those conditions.
Cracking a visor open for de-fogging is not necessary when you have the Pinlock visor fitted. It will not fog up. So you can ride with the visor open or closed, there is no need to have it in between.
I also find the vents, particularly the top vent to work very well. Too well for our current winter temps. When you add the N-Com comms system you have easily the most versatile helmet available.
As to your questioning of the whole flip-front thing, I think most riders don't use them because they're seen as a touring helmet, i.e., an old man's helmet, therefore not 'cool'.
But they are far more convenient when touring, they're accepted by non-helmet friendly gas stations. And very pleasant to ride through towns with the chin bar open to get more cooling air on your face.
P.S. I almost forgot, the catch system combines the best features of D rings and the convenience of clip type catches. What more could you want for the sake of a few grammes?"
---
From "LF" (8/08):  "This was a good review but Rick can't remember the flip-up's raison d'être. I myself strongly prefer a flip-up over a full-face helmet because the former is easier to remove by an outside helper if I were rendered unconscious in an accident.
In such a situation, the more difficult removal of a full-face helmet might cause additional damage, perhaps even spinal injury (Yes, I am an MD). Thanks for a great site."
---
From "B.L." (8/08):  "I bought a Nolan N-102 (review) in size medium two months ago and now have 800 miles on it. I read all of your flip-face helmet reviews and went with the Nolan because of overall quality and the clear – wide field of vision.
The helmets weight is not an issue for me; however, the internal shape poses a minor one. While overall the helmet fits very well, it is quite tight at the cheeks. I am hoping that this will loosen as it gets used more.
I find the helmet very noisy and even more so with the air dam removed for the summer. With the top vent open the helmet as a whistle and, like wBW,  I do not believe that the top vent actually works. There is no difference, that I can detect, open or closed.
My N-102 came with the pin lock anti-fog visor, which I have not yet installed. I am in Los Angeles Ca, and today will be in the mid 90's yet the visor will fog in the morning. Too, I think wBW offered a fair review of this helmet."
---
From "DKC" (8/08):  "It seems like some people would nitpick Melville's Moby Dick, if given the chance. When I read Rick's review I knew he was asking for a flip up that was lighter and incorporated modern technology.
He wanted to wear one but was being disappointed. Despite the let downs I think he did a fair job on the review. So, ease up guys.
I wanted a flip up to wear on local runs and at rallies. It's much easier to talk to each other at stops and lights or at those picture taking opportunities. For long distance travel you might prefer the full face but that's your choice.
I looked at the Nolan 102 but it didn't fit. My heads more oval than their shell shape. I really wanted it to work because of the flip down sun shade but alas, no dice. I went to plan "B" and got the ZOX Nevado, then applied at couple of strips of dark shade film.
I am not really concerned with helmet weight as long as we don't get ridiculous, but rather fit and balance. Nolan makes a fine product and it would be nice if the 102 had fit. I'll have to try the 103 on sometime to see if it is any different."
---
From "M.M." (8/08):  "I don't get the modular helmets, they're mostly junk, they're not as safe and I don't want to land on the flimsy chin bar. Nobody I know wears one. Ever see a racer wearing one?
No. I owned a couple but they were loud and felt flimsy and started falling apart, so I now only wear full helmets. As far as weight goes, less is more, try riding with a heavy helmet in crosswinds you'll have a neck ache for a week."
---
From "L" (8/08):  "Maybe I'm just missing something, but is it really a good idea to have a person reviewing new modular helmets that admits to not liking modular helmets at all?  Seems kind of like having a person who hates motorcycles reviewing the latest model.
As for the weight issue that you all seem obsessed with, it seems that the center of gravity on your head should be far more important than actual weight.
Using a strict weight argument would have me wearing a t-shirt and cotton slacks on all of my rides for fear that the weight of the protective gear (which I wear religiously) would change my crash dynamics.
This weight thing seems a bit obsessive for your reviewer in fact. He doesn't like the chin strap release because it adds weight?
I've used the Nolan release system, usually attaching and removing with one hand (try that with a D-ring) and never needing to make an adjustment.
What is complicated about setting it once and then using one hand for the rest of the time you own the helmet?  How much weight does he think it adds for crying out loud?
I could go on and on about the flimsy reasons he doesn't like the product, but in summary it really comes back to my first comment- why not find someone who likes modulars to review them against each other?
Or just stop reviewing them entirely rather than inflict your biases out the gate."
Rick's Reply: Thanks for the feedback. Actually, I wrote the article, and I'm surprised you missed the fact that I liked the helmet, after all the kvetching.
Also, I thought it was clear that I was a modular helmet fan until they started getting all complicated and heavy.
If we only gave products a glowing review — like all the print magazines — you'd probably find it pretty boring! I think having people with different opinions review the products is what makes it interesting…