The carbon fiber material has been around since the 1800's when Thomas Edison used it as one of his testing filaments for the light bulb. Carbon fiber material is now used in a variety of products and in aeronautics due to its steel-type strength. A popular product for the use of carbon-style materials is in the field of road racing, motorcycle and motorbike competitions, in the form of a state-of-the-art helmet.
High quality carbon fiber helmets are a technological blend of Carbon and Kevlar. Carbon fiber materials are very lightweight and extremely durable.
Bikes for various sports activities are used differently, thus so bike helmets are different. Some of the key features for a helmet, includes its safety design, fit, adjustment, comfort, padding, venting and weight. This brings us to the features of a very popular motorcycle helmet by Nexx – X.R2 Carbon Zero Helmet. The Nexx Corporation is a Canadian and North American distributor of helmets and associated accessories. Nexx has rapidly gained in popularity for its high quality helmets, since its founding in 2015.
Buy from a Badass Helmet Partner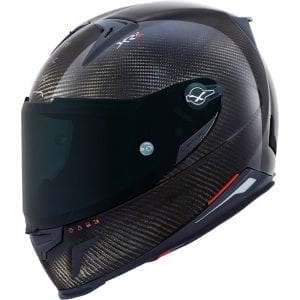 We have worked closely with RevZilla, Amazon and 2Wheel over the years to provide our testers with products to review. They are all great partners and unique in their own ways, so make sure to check out their prices. Please don't forget we may get a commission if you buy from them.
RevZillaBuy
AmazonBuy
2WheelBuy
Nexx X.R2 Carbon Zero Black Motorcycle Helmet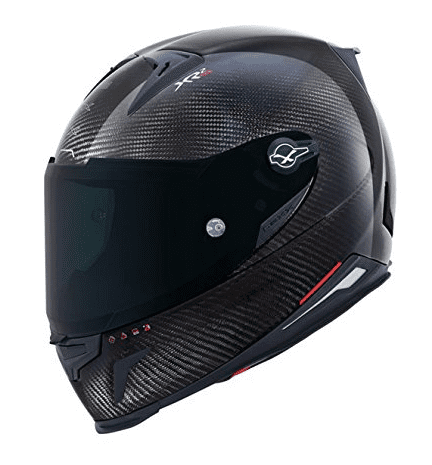 Features:
100% Carbon Shell
Emergency release and removable cheek pads
Soft anti-sweat and anti-allergic fabric inner lining
Anti-scratch quick release visor with easy locking system
Left-handed and right-handed riders can wear this helmet
Personalized padding kit is included to tailor fit your own head shape
Weight: 2.75+ lbs
In case the name Nexx XR sounds familiar, it's because of the X.R2's predecessor, the Nexx XRIR which also is a quality brand helmet. However, the X-R2 Carbon Zero is an upgraded version with many new features. The X.R2 has a new flat visor with improved optics and a recessed cavity for a locking position that makes its visor a great anti-fog visual aid. The Nexx X.R2 Carbon Zero has a 2nd generation quick release visor mechanism. Additional upgrades in this oval shaped helmet includes its lining, vents and cheek, ear, and neck pads.
The Nexx X.R2 is very lightweight to wear, as well as being sturdy and durably designed. These design features means that is is quieter and it offers a better side impact protection shell while riders are cycling and riding yup to high buffeting winds. The Nexx X.R2 Carbon Zero Helmet is highly approved by the ECE (Economic Commission for Europe), highly rated by SNELL, the NBR and approved by the DOT(U.S. Department of Transportation) certification standards. The X.R2 is manufactured in two different UV resistant shell sizes: Shell 1 – XXS to L / Shell 2 – XL to XXXL.
Vent designs in a helmet has two very important functions. Venting areas reduces the weight of the helmet and a helmet's vents add much needed ventilation. Helmets that only have a few vents or no vents is going to feel warmer. This can be felt when you are working up a sweat. The Nexx X.R2 carbon helmets have vents on the top and on both sides. These features allows the helmet to feature venting for a closed, half-opened and fully opened positions. There is also a chin vent that is located right below the visor latch. The ventilation system of the X.R2 vents means that a large amount of air can flow through the helmet and up toward the visor, especially when you have it in the open position.
The Nexx X.R2 Carbon Zero Motorcycle Helmet has a beautifully designed visor with a protruding thumb tab located in the center and stops that are perfectly positioned and very firm. The thumb tab on each vent allows riders to slide the center portion of the vent backwards inside my helmet. The X.R2 visor is not curved, it is a traditional flat visor design, making it great as a "tear-off" system. When you look at the visor on this huge helmet, you won't even know until you wear it, that there is no problem with seeing parts of it in your perepiheral vision. The X.R2 also features the biggest pinlock of any full-face visor. In summary, the shape of this big visor design gives riders amazing optics and great soundproofing due to its design of a formed hermetic seal against the helmet shell.
As motorcycle riders know, the aerodynamics of a helmet is important. The Nexx X.R2 has retained the XRIR's aerodynamic and shell shape features which eliminates all wind buffeting, lists and any turbulence when riding at top speeds. Helping with aerodynamics is the design of spoilers which helps to optimize airflow over the helmet and increasing stability. To increase aerodynamics, more stability and quietness, the Nexx Carbon Helmet has added a new rear spoiler at the and at the base of the helmet. The top spoiler has another benefit, it increases air flow from the front two air vents. This feature is great because the exit vents are located below the spoiler.
The X.R2 lining is superb because it has been tested and proven to offer better side impact protection and to force air flow from the forehead, across the top of the head and away from the ears. Foam is used for energy and safety management in most helmets. There are many types, but EPS (Expanded PolyStyrene) is the better choice for most bike helmets. The EPS foam is stiffer against any hard impacts, softer in lighter impacts, light, reliable to manufacture and easy to ventilate. The Nexx X.R2 Carbon Helmet uses EPS lining due to its shock resistance.
Why are emergency cheek pads important? They aren't necessarily until you have a fall with your helmet and the EMS emergency team arrives. The Nexx Carbon Helmet features a very reliable emergency removable system which allows the head and neck to remain motionless while the helmet is being removed. The X.R2 is designed with its well designed emergency release cheek pads which are accessible from the base of the helmet. It is large enough to make its opening wide enough for removal but critically reducing upper head movement. An added emergency release feature is the emergency double D-ring fastening strap system that allows the helmet to be removed easily and quickly in an emergency.
Buy from a Badass Helmet Partner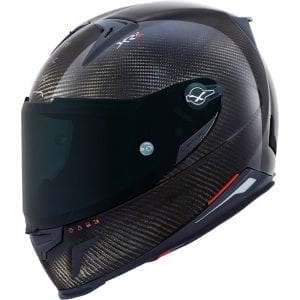 We have worked closely with RevZilla, Amazon and 2Wheel over the years to provide our testers with products to review. They are all great partners and unique in their own ways, so make sure to check out their prices. Please don't forget we may get a commission if you buy from them.
RevZillaBuy
AmazonBuy
2WheelBuy
The Nexx X.R2 Carbon Zero Black Motorcycle Helmet arrive to your door with a clear visor. Tinted visor can be purchased separately. Men and women will look good in the X.R2 helmet due to its sleek, sexy design appeal. Its shining enamel coating is enhanced with the various Nexx logo prominently displayed around the helmet. The Nexx X.R2 Carbon Helmet is a full face helmet that is so light you can forget that you are wearing it. Its high star reviews are due to its quiet, comfortable, high quality wear and design.