The Nexx X30 is a radical-looking helmet with a new type of construction designed to bridge the gap between flip-up and full-face.
Nexx is a relatively new motorcycle helmet manufacturer.
The company is based in Portugal, a country that is establishing itself as a force in European motorcycle helmet manufacturing.
Nexx has been designing and building helmets for about 7 years.
In that short time frame, Nexx has developed a worldwide distribution network and their helmets are sold in over 40 countries, now including the U.S.
Nexx recently established a North American distribution and retail arm in the United States so the Nexx X30 is one of those cool-looking European helmets that we review that really is available here!
Nexx started their assault on the world market with the X60, a "Jet" styled helmet that comes in a huge number of styles and colors for men, women and children.
We have a couple of examples in the evaluation process and we'll report on this model soon.
Nexx designs all of their own helmets and manufactures them in an ISO9001 certified plant in Portugal.
The Nexx X30 "MAXi Jet" is the second design penned by Nexx staff, and the idea was to create a ground-breaking new type of helmet that would provide the convenience of a flip-up with the safety of a full-face helmet.
The X30 meets both ECE 22.05 and DOT safety standards, and one of it's most interesting features allowed it to be homologated as an ECE full-face helmet, according to Nexx.
Looking at the helmet, you might at first wonder how this is possible. But read on, and you'll see in our photos and video that the X30 has a unique one-piece helmet base system that includes a narrow chin bar across the front.
The rotating visor snaps into this chin bar to form what is likely to be a more robust protective shell than most or all of the flip-up helmets we've tried.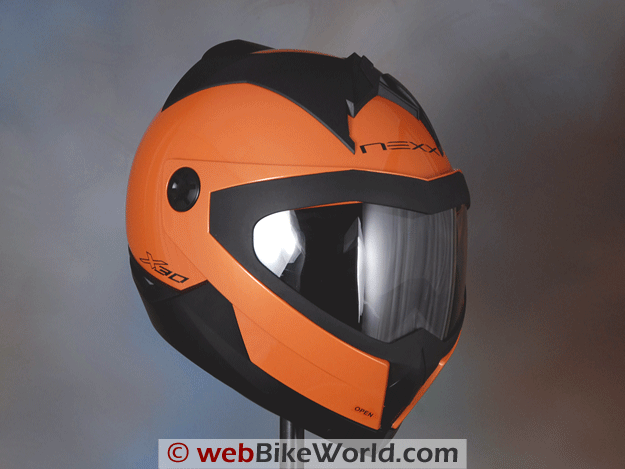 Paint, Graphics and Overall Quality
The Nexx X30 comes in several bright metalflake colors in Europe and it's currently available in the U.S. in both a menacing-looking matte black and matte gray, along with a "Viper" pattern in a swath of colors.
The Viper graphics match the angularity of the styling, and although this design may not be to everyone's liking, one thing's for sure — the X30 is beautifully made.
The orange metalflake X30 shown here has a flawless surface finish, with a fine metallic sheen that has more depth in reality than in these photos.
The large black areas on the helmet are mostly a type of plastic contrast to the coloration, and they are all very nicely fitted to the helmet without a gap, sharp edge or bit of flashing.
This is apparently very difficult to achieve, if the plastic fittings found on most other brands of helmets are anything to go by.
The molding and fitting of this much black material to such a bright helmet would have to be absolutely perfect, because the tiniest imperfection would stand out like a pimple on a balloon.
I can find no such imperfections anywhere on this helmet, which feels substantial and solid. So this is not some cheap and flimsy novelty; it's obvious that a lot of thought and care went into the construction of the X30.
The unique rotating visor incorporates a chin vent, and the top vent is molded as part of the black assembly mounted on the top of the helmet that also covers the rear exhaust vents.
Both the chin vent and top vent buttons work well, with intuitive movements that are easy to find and use.
The liner is also different looking and it's fully removable, as are the cheek pads. The liner features a pattern of hexagonal-looking padded sections and everything has been assembled without flaws.
So overall the Nexx X30 gets high marks for a flawless execution in this example.
Score:  I'll give the Nexx X30 an "Outstanding" rating for the paint, overall finish, quality and liner. See the ratings scale in the summary table at the bottom of this page for a description of the rating system.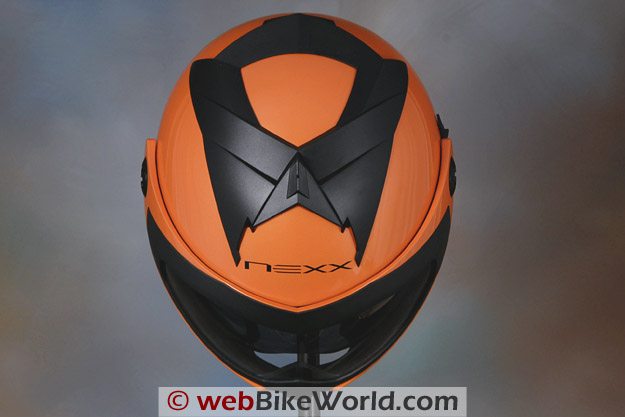 Helmet Shape and Fit
The X30 has a mostly round internal shape that tends towards neutral. It should fit a majority of those head shapes.
For comparison purposes, I'd say the X30 has an internal shape somewhat like a cross between aShoei RF-1000 (review) and an Arai Quantum II (review).
But the shell design is obviously very different from those examples. The X30's shell feels slightly shorter from top to bottom than the average helmet; not enough to have my chin sticking out the bottom, but it is different.
Also, the X30 does have a shorter front-to-back internal distance than what I'd expect.
This helmet is a size XL and the front of my chin just touches the back of the wrap-around chin bar. I'd like to see a slightly different design with more room in the front, at least for my admittedly non-average shaped head.
Based on this example, I'd say the sizes run true to expected dimensions.
The Nexx sizing chart for the X30 lists an XL at 61-62 cm, and my estimate is that this size XL is just about right on the mark.
So I'd expect the other sizes to run true; the X30 size range runs from XS to XXL and I assume there are two different shell sizes across that range.
My guess would be that the L through XXL use a large shell size, while the smaller sizes use a smaller shell, but I'm not certain of this.
If this is the case, I'm wondering if Nexx might consider a third shell size for XL and XXL (and maybe XXXL) sizes. This might allow some extra room for the chin bar and internal padding.
The unique padding on the inside is slightly thin. It's not as plush as, for example, the Arai Quantum II or the OGK FF-5 by any means, but on the other hand, I haven't experienced any pressure points either.
The angular shapes of the padding pockets are distributed over a wide enough surface area to keep everything comfortable.
See the wBW Motorcycle Helmet FAQ for more information on choosing and fitting a motorcycle helmet and for a discussion regarding human head shapes. And don't forget that choosing the correct helmet shape is crucial for both comfort and safety!
Score:  I'll give the a "Very Good" for comfort and fit and sizing, which runs true. But the slightly smaller internal dimensions may mean that some owners with a head size large enough for an XL may not fit the front-to-back dimensions.
ADDENDUM: Eyeglasses and the Nexx X30
I forgot to mention, I can fit my thin wire-framed eyeglasses in the X30, but there are no ear pockets, so eyeglasses with thicker frames may be problematic.
Also, the absence of ear pockets and the relatively thin liner may make it difficult to fit speakers.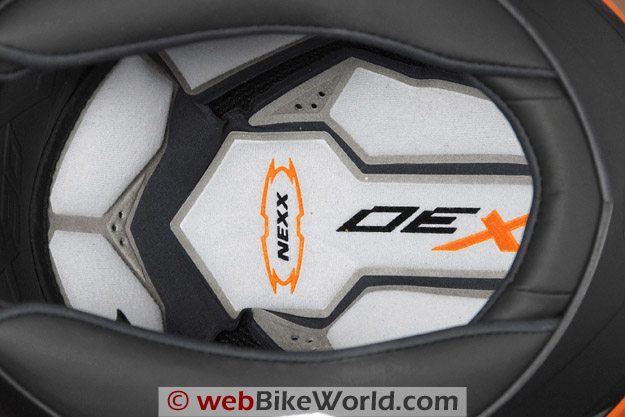 Helmet Liner and Padding
As mentioned in the previous sections, the X30's liner is removable and washable, and the cheek pads remove separately.
There are no accessory cheek pads of different thicknesses listed on the Nexx website, so it's not clear whether these are available, but I'd guess not.
The liner and cheek pads connect to the helmet shell with typical plastic snaps, but these have a firm feel and the liner overall feels like it's solidly in place and should not drift free.
Some helmet manufacturers seem to skimp on the liner to shell connectors, probably thinking that the average owner won't see or use them.
This is fine until the first time you have to remove or replace the cheek pads, and I've had more than one flimsy connector break loose from the shell on the very first try.
Not so on the X30; the snaps feel like they should last for as many times as you'd care to remove the liner.
The lining material does feel different than most helmets and it's difficult to describe. It's smooth and comfortable, feeling like sort of a cross between a fine flannel and one of those synthetic throws one might use as a blanket while mind-melding with The Tube on a cold winter's eve.
The liner does seem to control moisture better than other helmets, so that's a plus. The neck roll includes sections of reflective material and the chin strap is well-padded and feels comfortable.
Score:  I'll give the Nexx X30 a mixed result here, with an "Excellent" for the liner construction and fitment and a  "Good" for liner comfort and padding.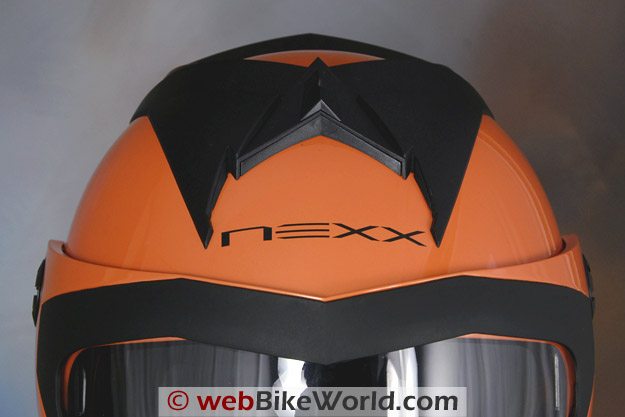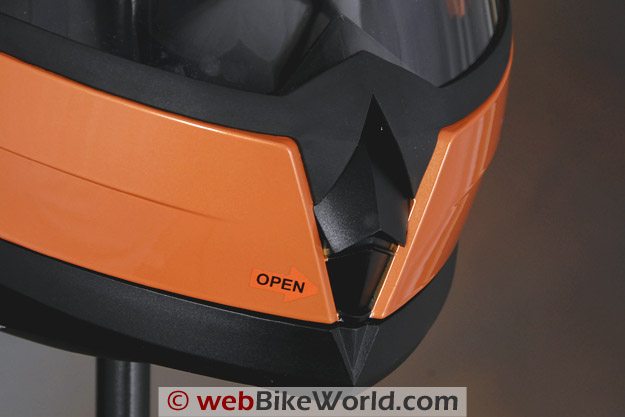 Ventilation
The chin vent on the X30 is incorporated into the rotating visor. The front of the helmet at the chin bar is shaped like a "V", with the lower part of the V acting as the visor release and the upper part is the chin vent.
It's very easy to use and it's intuitive. Push it in and the cover tilts back to allow very good air flow up on to the back of the visor. This is important because, as you'll learn, the face shield on the X30 does not open.
Once up to about 20 MPH or so, the air can be felt through the chin vent.
The top vent is a simple slider that is easy to find, located up on top of the vent assembly attached to the top of the helmet. Push it back to uncover the vent holes, but the liner design inhibits some of the air flow.  Overall, it's about average in my opinion.
Both of these switches work smoothly and have a good feel and overall the construction of the venting system seems sturdy and it should provide long service with no problems.
The rotating visor on the X30 can be popped open as slower speeds, but as with any flip-up helmet, this is not advisable when moving.
Score:  The X30 gets an "Excellent" rating for the design and operation of the vents and for the chin vent air flow. I'll give it a "Good" for the upper venting system and I'll leave it up to you to decide about the non-movable face shield.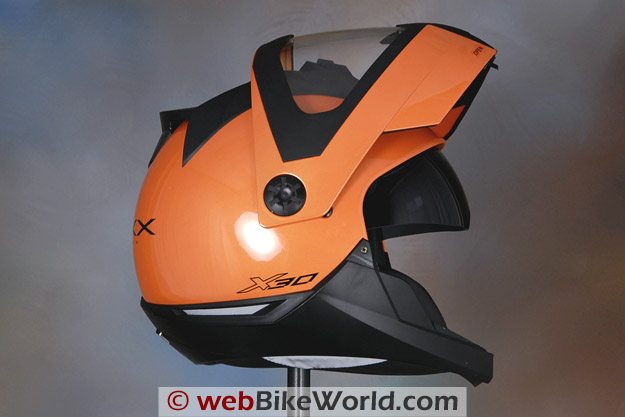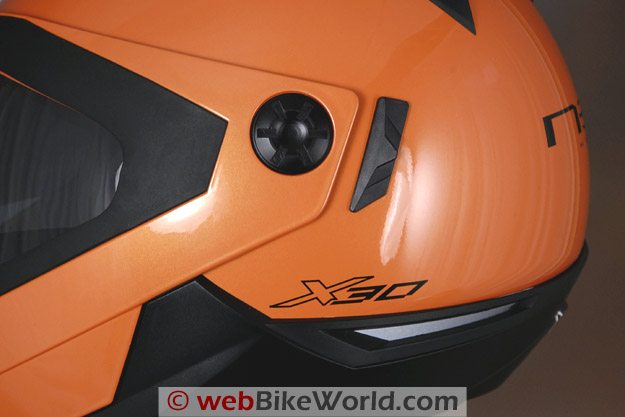 Visor
Probably the most unique feature on the X30 is the design of the rotating visor, which is unlike any of the other flip-up or modular helmets we've reviewed.
The entire visor, including the face shield, rotates upwards. It rotates back or up to about the same location as a normal flip-up helmet. The photo above shows the visor rotated to its uppermost position.
The big difference here is that the X30's face shield does not open. I'm not sure why this design was chosen — it may bother some owners, while others may not mind.
I will admit that the first few times I wore the helmet, it felt a bit strange and slightly claustrophobic. Once I get up to speed though, there isn't a noticeable difference.
But realize that the face shield can not be popped open for demisting or ventilation at slower speeds.
The entire visor can be easily rotated upwards with one hand, but I'd advise against doing this while moving, the same warning I'd give to any flip-up helmet owner.
The face shield is removable though; that large black gasket around the edges is made from a vinyl or rubber-like material and the face shield can be removed and replaced — Nexx has a dark smoke shield listed as an accessory.
The visor rotates on a mechanism covered by a large screw on the sides. Those round black circles on either side are made from the same material as the rest of the black sections of the helmet.
We did not remove the visor or the face shield on this helmet, so I can't comment on the procedure, but from reading the owner's manual, it appears to be pretty straightforward.
You may have noticed from the photos that the eye port opening looks smaller than normal, and it is and it isn't. When wearing the helmet, the peripheral vision is less than optimal, but no more so than, for example, the Shark RSX.
The eye port is cut at an angle down below the rider's eyes though, and this does impede the outward vision slightly. Again, something that some riders will have no problem with while others may find it to be bothersome.
The design of the X30 allows the visor to attach to the chin bar, or hoop, with a single snap in the front. Pressing the button in the lower part of the "V" in the front pops open the latch and allows the visor to be rotated upwards.
The latch and the catch are made from a type of plastic, but the system feels solid.
The good thing about this design is that it allows the X30 to be homologated as a full-face helmet to ECE safety standards, according to Nexx literature.
The chin bar is an integral part of the entire base of the helmet, and Nexx says it was designed to absorb and distribute the shock around the helmet.
We think this is an excellent approach which has the potential of improving crash performance for flip-up helmet designs. Frontal impact protection has been somewhat controversial or questionable in flip-up helmets, and we'd like to see more work done in this area.
It can even be imagined that a combination of the removable protective chin bar on theSCHUBERTH J1 could be combined with a flip-up visor to offer better chin protection with the openness of a flip-up helmet.
Score:  The Nexx X30 gets a "Good" rating for the design of the visor assembly, but I'll leave it up to you whether or not you can live with the face shield that does not open.
Noise Levels
Once the Nexx X30 is on and I'm moving, I really don't notice any difference between this helmet and a typical full-face helmet in terms of air flow, feel, comfort or noise levels. So the unique design of the X30 doesn't seem to affect performance.
The helmet has what could be termed average noise control.
It seems to transmit average to less than average noise levels at all speeds, and lower than average noise levels around the base of the helmet, where the typical low-frequency "booming" noises can sometimes be generated when riding behind a short fairing or windscreen.
The clear face shield does not open and it's sealed all the way around with the black gasket, so this area is pretty much eliminated from the noise equation, which may help to keep overall noise levels lower than average.
For more information on helmet noise, visit the wBW Motorcycle Helmet Noise page. Also, note that we always wear high-quality, correctly fitted ear plugs when riding — see the wBW Earplugs and Hearing Protection page for more information on choosing and wearing earplugs.
If you don't wear ear plugs, all bets are off — every motorcycle helmet is dangerously noisy, in our opinion, and your hearing is as precious as your eyesight, so don't mess with it. Wear ear plugs.
Also, remember that noise levels can be highly variable, with factors like the type of motorcycle, riding position, clothing, windscreens and more all playing a role.
Score:  The X30 a "Very Good" rating for slightly lower than average noise levels, which takes into consideration the unique design.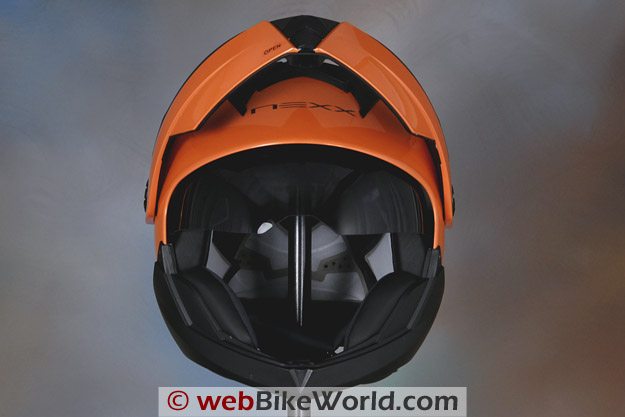 The X30 has an internally rotating sun visor, which has excellent optical qualities. A sliding switch on the left-hand side of the helmet moves the sun visor up and down, and it can be stopped in any position.
It's a simple but effective method of controlling the movement of the sun visor, and it works well. When the sun visor is fully engaged, the bottom edges are in the lower part of my vision, so I wish it were either wider or rotated further down.
It also has a curved bottom with a cutout for the nose, but I wish helmet manufacturers would simply cut this straight across, which would make the visor more effective when lowered slightly to keep out the glare of the sun when riding.
But overall, the sun visor in the X30 works well and the optical quality of the polycarbonate is a plus.
Score:  The X30 gets a "Good" for the operation of the internal sun shade.
Helmet Weight
The X30's shell is made from a type of "Advanced Thermo Resin", according to Nexx. As mentioned above, we think the shell is on the small side for a size XL helmet, but this does help keep the weight down.
This X30 in size XL weighs in at 1649 grams (3 lbs., 10-1/8 oz.), which puts it about half-way in our current listing of 109 motorcycle helmet weights.
Comparable XL helmets in this weight range are the Shoei X-Eleven (review) at 1635 grams (3 lbs. 9-5/8 oz.) and the KBC Tarmac (review) at 1643 grams (3 lbs. 10.0 oz.).
Also the KBC VR-3 Stealth (review) at 1653 grams (3 lbs. 10-1/4 oz.); the Icon Airframe (review) at 1657 grams (3 lbs. 10-3/8 oz.) and the Arai Profile (review) at 1658 grams (3 lbs. 10-3/8 oz.).
Those are all full-face helmets, which are typically lighter than flip-ups, which indicates that the X30 is a relative lightweight for this helmet type.
In use, the X30 feels well balanced and has very good air flow and control, with no undue buffeting or head toss that I can notice.
See the wBW Motorcycle Helmet Weights page for the complete chart, comparing the weights of every helmet we've reviewed.
Score:  The X30 gets an "Excellent" for low weight for this type of helmet.
Miscellaneous
The X30 uses what has become the standard European "quick release" buckle. It has a serrated tab that fits into the buckle mechanism like a ratchet, and it releases quickly.
The strap length must be adjusted the first time it's used, but the serrations insure a small range of micro-adjustment when the buckle is secured.
It has been the practice of most European helmet manufacturers to switch to a D-ring for their North American DOT helmets, but Nexx has chosen to keep the ratcheting system on the X30.
The X30 meets ECE 22.05 safety standards as a full-face helmet. The Nexx X30 sold in North America meets DOT standards. I don't know what the warranty is for helmets sold in North America.
w

BW

 Video: Nexx X30 Helmet
Conclusion
The Nexx X30 is definitely different and unique. It's good to see a helmet manufacturer pushing the envelope in an industry that generally takes either a conservative or a "follow the leader" approach.
While the styling and the functionality may not be for everyone, the X30 brings a difference that may be relished by others. And it's also wonderful to have such a unique helmet available in North America.
In the past, potential owners would have to source their interesting helmet finds from far away retailers, with all the hassles of shipping costs, language barriers and parts and service issues.
Not to mention potential DOT safety standard problems.
I very much like the X30; it's comfortable, great-looking and surely gives me a unique look!
More wBW Nexx Helmet Reviews: Nexx XR1R Carbon  |  Nexx X30 Flip-Up  |  Nexx X60 Jet  |  Nexx XR1R Full-Face  |  Nexx X30V
w

BW

 Review: Nexx X30 Helmet
Manufacturer: Nexx Helmets (Europe) orNexx Helmets USA
List Price (2009): $349.00
Colors: Solids and graphics.
Made In: Portugal
Sizes: XS-XL Shell Sizes: Unknown
Review Date: May 2011

Rating Scale is subjective: Unacceptable, Poor, Neutral, Very Good, Excellent, Outstanding.
Note:
 For informational use only. All material and photographs are Copyright © webWorld International, LLC since 2000. All rights reserved. See the webBikeWorld® 
Site Info page
. Product specifications, features and details may change or differ from our descriptions. Always check before purchasing. Read the
Terms and Conditions
!
Owner Comments and Feedback
---
From "B.G." (10/10): "I've had this helmet (Nexx X30) for a little over 3 months. I ride a KTM 625 supermoto about 2-5 times a week and it is my only helmet.
The styling, concept, and internal sun visor are the primary reasons I bought this helmet. The first helmet that I received had some major issues with the primary clear visor.
It had a resin type material that would not come off of the inside that smeared and just made for impossible perfect visibility. It also had a scratch on the internal sun visor and two scratches on the outside of the helmet. Horrible initial experience.
I probably should have stopped there but I let them replace it.
The 2nd one came with a similar issue on the primary clear visor but I finally cleaned it and exposed a pretty subpar method of securing the primary visor, two cut screws (literally) holding the visor in place.
That was disappointing, for $350 I expected the helmet to be made with hardware made to exact specifications.
The helmet looked great and all of the mechanical functionality was acceptable, however, I have found that it is a warm weather helmet only. It virtually has no anti-fog capability in cold weather.
The air vent in the front of the helmet barely does the job. In cold/cool weather it is almost worthless.
The fit of the helmet is near perfect for me. I wear a size 7 ½ hat, narrow (sort of) long face and I bought a Large. I believe the helmet would protect me if conditions were met but the overall craftsmanship is not indicative of a $350 helmet in my opinion.
I would give this helmet a 6 out of 10. I give it that much only because they are ahead of the game in the styling and concept department. If they can get it together in the quality department they will have an excellent product.
I feel (this) is a very fair and accurate description of my experience. Thank you."
---
From "D.S."  (3/09):  "Bought one on the strength of this article. Impressions after riding with it a bit: It looks bloody awesome, no question there. Quality throughout seems top-notch.
I picked up an orange/black affair, fully matter, and it has some great reflective panels on the main shell, as well as that 3M reflective material on the outer liner, where it's visible from the outside.
The chin-strap system is pure joy even with the bulkiest gloves I own, and I wish I could order it as an upgrade for all of my other helmets. Those are the positives.
Viewport is smaller than I really anticipated – my side vision is almost unacceptable in this helmet; it's honestly felt dangerous on the highway a few times, having what seemed like almost tunnel vision.
The smoked sub-visor doesn't really stop easily at any angle; well – it will, if you stand perfectly still without any nearby source of vibration. It almost seems to be counterweighted; it either wants to be fully up, or fully down.
That said, 'fully up' leaves a sliver of it in my vision field, and 'fully down' more or less cuts my vision in half.
A bit more down would've been a plus – in other helmets, the down position is usually to the point of actually hitting my nose uncomfortably.
While not causing pain is a plus, I think they erred a bit far over the side of caution.
It may be only my head, but my chin almost juts out from under the chin bar. I've never had this issue before, so it seems unique to this helmet design (I'm wearing their largest size available). If there was (there isn't) a chin curtain, my chin would be stretching it down.
This also means that my chin is rather effectively blocking air from getting into the helmet from below…
Which brings us to venting, and that main attraction, the perma-closed visor. With the chin vent fully open, top vent as well, the shield fogs up quickly on chilly days (45 Fahrenheit) at any speed under 40mph, in my current experiences.
Faster than that, and the chin vent appears to do some measure of good.
This meant that much of my city riding was spent with the face portion flipped up, which is definitely sub-optimal.
The chin latch is also not disposed to easy locking; after any attempt to close it (even when a click is heard), I generally have to grab the face portion and press down hard, to get it to fully engage.
That may seem like a huge quantity of negative – and frankly, it is – but I'm looking forward to seeing how this helmet will perform for me in warmer weather. That, and ordered some Fog City inserts, they've worked for me in other helmets."
Take Two (Also by D.S.):  "It's three months later, and I've taken the x30 off of its hook perhaps 10 times in that span. Has anything changed?
The viewport, I can tolerate now – this is partially due to swapping out stock mirrors on my bike for good quality CRG bar-ends; I can see far more of what's around me in 'em, so I don't feel so hampered by the lowered peripheral vision.
It is still a factor, and a negative one — you really can't see as much of what's around, and while a normal helmet will give you a clear view of what's to the side and behind with a quick head turn, you'll end up relying (over-relying) on your mirrors in this helmet.
The subvisor, well, I don't really know any more why I cared that I couldn't stop it halfway. I do wish it came down further, still.
The locking mechanism has essentially become a joke to me at this point.
If I really want it to lock down (and given how easily it fogs up — more on that in a moment), I generally don't want it locked down, as not being able to see is more dangerous than having an unlocked visor.
It takes repeated closings, checking to see if it's locked, pressing the button down while closing, praying for that 'click' which means an uncomfortable helmet has just become even less comfortable, and is in 'ready-to-fog' mode.
Fogging. Fog City inserts, and another brand which escapes me, laugh at the visor shape; there's no way to fit them, period. It really is an undersized visor… but that's okay, because the visor already has an anti-fog coating, right?  Right.
The visor fogs up on low-humidity days, regardless of air temperature… it fogs when sheer logic dictates that there's no way it could fog. The chin vent works to prevent fogging – provided a speed of at least 50mph.
Below that, and you're stuck with opening the visor, and on a flip-up, that's decidedly non-ideal.
Moving back to the chin bar…I'm beginning to wonder how this helmet was tested. I can only assume the factory and development staff all had severe under-bites.
My chin is decidedly smaller than, say, Bruce Campbell's, but to wear this helmet, I either have to accept the chin bar ramming painfully under my chin clamping my jaw shut, or riding painfully against the front of my chin, forcing an under-bite (and less than protective helmet.
Isn't the point of a full-face, or a gimmicky helmet such as this one, to protect the chin?). It's not that the helmet's the wrong size; it's an XL, and fits the rest of my head just fine.
Overall? This helmet, after today, will take its place on a hook, to be used as an emergency ride-to-a-shop-to-buy-another-helmet helmet, if my main helmet gets trashed.
My current main helmet cost less than a third of this one's price (an Icon Mainframe on clearance sale for 99$), and is a joy to wear; I'll probably spend the money to buy another of the same for passenger use, rather than subject them to the Nexx.
(I really wish I could like this helmet; it decidedly -looks- spiffy. Maybe they'll improve the design; I'll be paying attention to reviews if they do. But for now, it's left a sour taste.)"