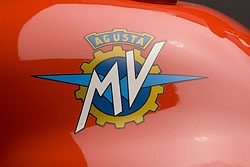 UPDATE:  Agostini's MV Agusta on display (see below).
The Stamford (Connecticut) Museum & Nature Center is a not-for-profit organization dedicated to the preservation and interpretation of art, the natural and agricultural sciences, and history.
The museum will host a vintage motorcycle exhibition tracing the MV Agusta brand from its World War II inception to today, with a focus on motorcycle culture.
The exhibit, called "The Motorcycle, Italian Style: Riding the Curves with MV Augusta" will be on display from September 8, 2007 through January 6, 2008.  It started with a Member's Opening Reception, to be held on Friday, Sept. 7, 2007.
Transportation meets art in this spectacular salute to one of the most admired, esthetically-driven steel horses of all time.  For more information visit The Stamford Museum.
Members of the museum get free entry; others can see the MV Agusta exhibit for the normal entry fees: Adults $8, Seniors & Students $6, Children (4-17) $4, Under 3 free.
The museum also announced another related program: The Easy Rider Italian Style Festival, which will be held on Sunday, September 9, 2007 starting at 11:00 a.m. to 4:00 p.m.
All motorcycles, vintage and new, are welcome at this mega-festival to kick up the fall season.  This will be an outdoor show to celebrate the culture of the motorcycle in connection with the exhibition.
Visitors will have a chance to meet the 2006 Bonneville land speed record holder Roosevelt "Rosey" Lackey, and get his autograph, while the bike itself will be on display in the Museum building.
The New Canaan, Connecticut motocross champ, Wilson Fleming, winner of the 88 cc junior division at the 2006 New England Regional Championships, will also be on hand.
This event will cost $5.00 for anyone on a motorcycle and for Museum Members, Italian-American Club Members, and children 4-17.  Children 3 and under enter free.  All others, $10.00.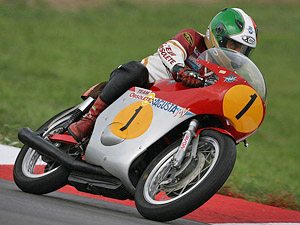 Agostini's MV Agusta on Display
The MV Agusta 500cc three-cylinder Grand Prix racer ridden to many F.I.M. Grand Prix victories by world famous racer Giacomo Agostini is on view at the exhibition.
The motorcycle, which is in its original, unrestored, race-ready condition, has never before been on public display in a museum.  The motorcycle was acquired directly from MV Agusta S.p.A. in 1986 by its current owners Robert T. Iannucci and Sonia O. Ewers/Team Obsolete of Brooklyn, N.Y.
Only a few of this particular model of motorcycle were built.  They were designed in the mid-1960s specifically for Agostini, and he rode them to 13 of his 15 F.I.M. Grand Prix world championships, and to 10 Isle of Man TT victories.  Agostini has since ridden it in many historic parades worldwide.
"It's one of the most spectacular and successfully 500 grand prix racing motorcycles that the world has ever seen and it was ridden by the world's greatest rider," said Iannucci. "This motorcycle was an all-dominating force.  Generally Agostini won every race he entered for years on end. It was part of the MV Agusta dynasty. … No rider, no team, no motorcycle has ever dominated the way they did."
Of his decision to lend the motorcycle to the museum, Iannucci explained, "It is absolutely a work of art.  This is a hand-built motorcycle. It was built by artisans. It's a fabulous merger of technology and art.  It's very minimalist.  There's nothing on the motorcycle that isn't absolutely necessary for it to perform its function.  It's a product of a culture which has been building artistic technology for more than two millenia."
"The Motorcycle, Italian Style: Riding the Curves with MV Agusta," sponsored by Cliff's Cycle Revolution, is on view at Stamford Museum & Nature Center's Bendel Mansion Museum Galleries Monday through Saturday, 9 a.m. to 5 p.m. and Sundays 11 a.m. to 5 p.m.
This exhibition is made possible with support from the Connecticut Commission on Culture & Tourism and features the Gary & Connie Kohs Collection.
About the Stamford Museum & Nature Center
The Museum is a vital cultural and educational resource for the community, and a focal point for family activity and interaction, seeking to inspire creativity, foster self-discovery, and nurture an appreciation for lifelong learning through exhibitions, educational programs, and special events that enhance the visitor's experience on its unique site.
The Stamford Museum & Nature Center is located at 39 Scofieldtown Road, Stamford, Connecticut (Google Map) (3/4 mile North of Merritt Parkway Exit 35.  Map).  For more information, call 203.322.1646.  Members: FREE; Non-Members: Free with gate admission: Adults $8, Seniors & Students $6, Children (4-17) $4, Under 3 FREE.