Small mum and dad motorcycle dealers are being squeezed out of the business by "conglomerates", just as Bunnings did to Masters, says veteran dealer Brett Mutton of Brisbane Motorcycles.
We recently published a couple of articles in which Australian Motorcycle Dealers Association boss Stuart Strickland said dealers were doing it tough.
The articles met with a lot of criticism and skepticism from customers and our readers.
Stuart suggested the best person to answer the critics is Brett who Stuart believes is one of the best private dealers in the country.
"He always ran his retail outlets with balance – all departments well staffed with intelligent guys and girls and getting income from each department," Stuart said.
"His customers were well serviced. He grew his business using good old common sense."
But times are now tough, says Brett. He blames large conglomerates, manufacturer pressures, the ACCC, online parts and insurance, and wage costs.
Mum and dad dealerships Vs conglomerates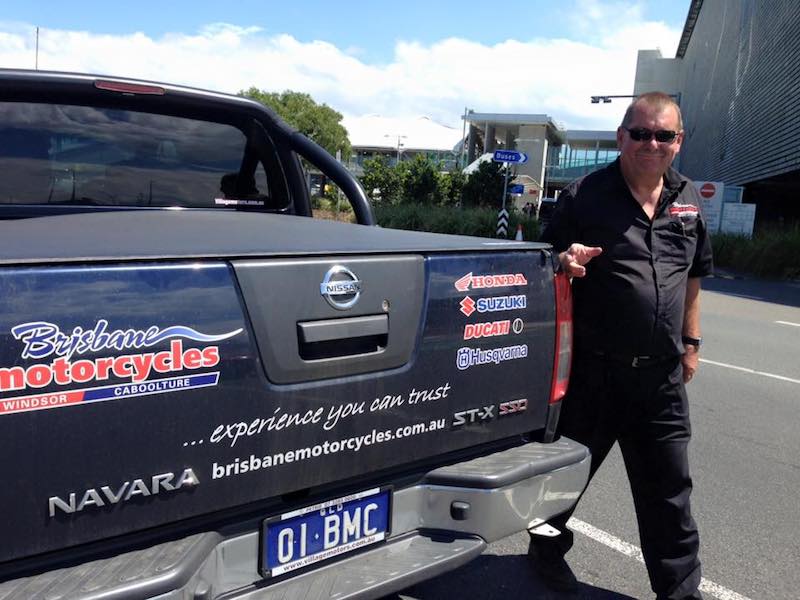 Brett says mum and dad dealerships like his will disappear from the capital cities because of the discounting pressures of big conglomerates.
"I walked away from 17 deals last month because TeamMoto was $500 under cost on every one of them," Brett says.
"The conglomerates are slowly trying to get rid of the smaller mum-and-dad dealerships until they totally dominate the cities.
"It's exactly what Bunnings did to Masters. Masters came in to take them on and Bunnings slaughtered them on prices until they left."
He says his Windsor store had $2.1m turnover in the 2015-16 financial year, but was down to $600,000 in the past financial year. The Caboolture store went from $1.69m to $550,000.
Brett believes that Melbourne, Brisbane and Sydney will soon be dominated by just three "players".
"It'll be TeamMoto, PS Importers and a car industry player, although who that will be I don't know yet," Brett says.
"I believe one of the car guys will get in and buy off the smaller shops.
"They will concentrate on Melbourne, Brisbane and Sydney and won't worry about country shops."
(TeamMoto is owned by MC Holdings which is the largest owner of motorcycle dealers in Australia. The company floated in May last year and has nearly doubled its share price.)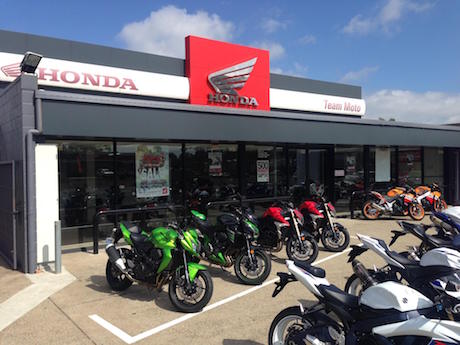 Manufacturer pressures
"Manufacturers are just pushing us to the limit, wanting us to put in more and more stock and they're just not selling," Brett says.
Brisbane Motorcycles sells Suzuki, Honda, Ducati, Aprilia, Moto Guzzi, Vespa and Piaggio at its Windsor and Caboolture dealerships.
Brett says Ducati importers Fraser Motorcycles will soon open another Ducati store outlet at Springwood Suzuki.
"There's only one Ducati dealer in Melbourne – and that's Frasers – yet they want two dealers in Brisbane," Brett says. "It will destroy me.
"I also used to be biggest Goldwing seller in Queensland, but now Honda has given them to TeamMoto at Springwood and the Gold Coast.
"I used to sell 100 a year, now sell just three or four."
Brett says the manufacturers also make unrealistic demands on how much floor stock they should have.
"We sell a bike and the next minute they ring up and tell us we have to replace it."
He says manufacturers also require extensive corporate signage in their dealerships.
"We have to pay for it. The return on the investment just isn't there."
Internet competition
"People are now going on the internet looking for a deal and not coming into stores," Brett says.
"So we've got this tin shed somewhere stocking everything from everybody and one bloke sitting behind a computer and selling them to online customers."
Brett says online may be good for customers in the short term, but not in the long term.
"When the mum and dad dealers go, try getting a flat tyre fixed online," he says.
Finance and insurance
Dealers used to make a lot of money out of finance and insurance.
However, Brett says it has largely gone because of a shake-up in the industry by the Australian Competition and Consumer Commission.
"You can't make any money out of it anymore," he says.
"I'm ready to close both finance departments to cut costs and go through brokers which long term won't be as good for the customer."
He says insurance companies, such as Swann Insurance, have now left dealerships and are doing all their business online, so dealers don't get a commission.
"We used to get 10% commission from people renewing their insurance. Now we get nothing," he says.
Brett says manufacturers are also offering "crazy finance" deals down to around 1.1% that are eating into dealership earnings.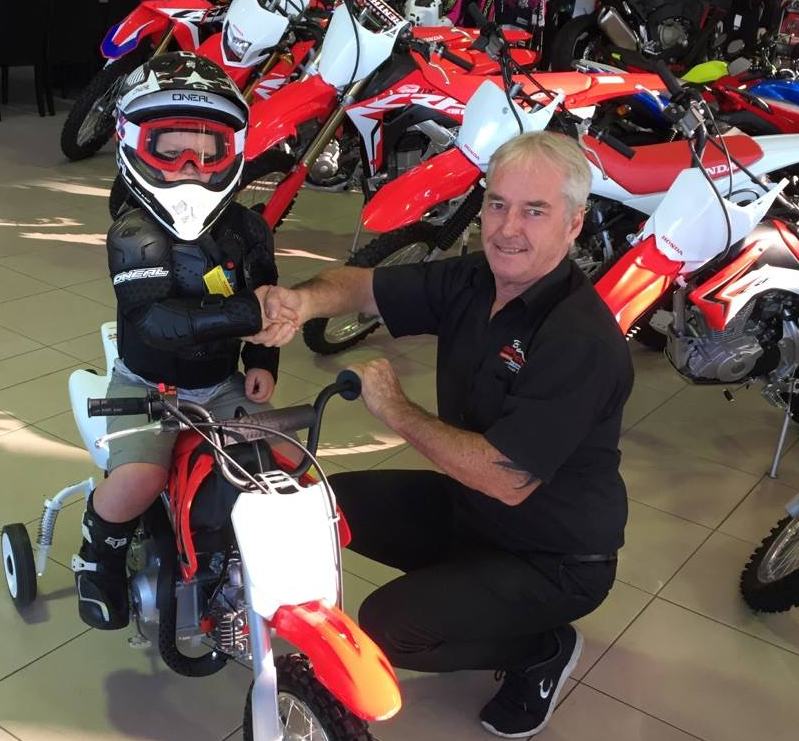 Wages and staff
Brett says it is difficult to pay his 44 staff each week when profits have decreased to about a third in the past year.
"I've got the best mechanics you can get in Brisbane. I've had them for a long time and I pay them very very well.
"But you have to charge the right bills to cover the wages."
Meanwhile, he says the bigger conglomerates are charging top dollar for servicing and repairs but are letting apprentices do the work.
"They're not paying good money for good mechanics," he claims.
Bowing out
Brett was diagnosed with a brain tumour in March and says he would like to get out of the business for health reasons.
However, he may have nothing much left to hand over to his 25-year-old son, James, who raced in the British Superbikes for a season.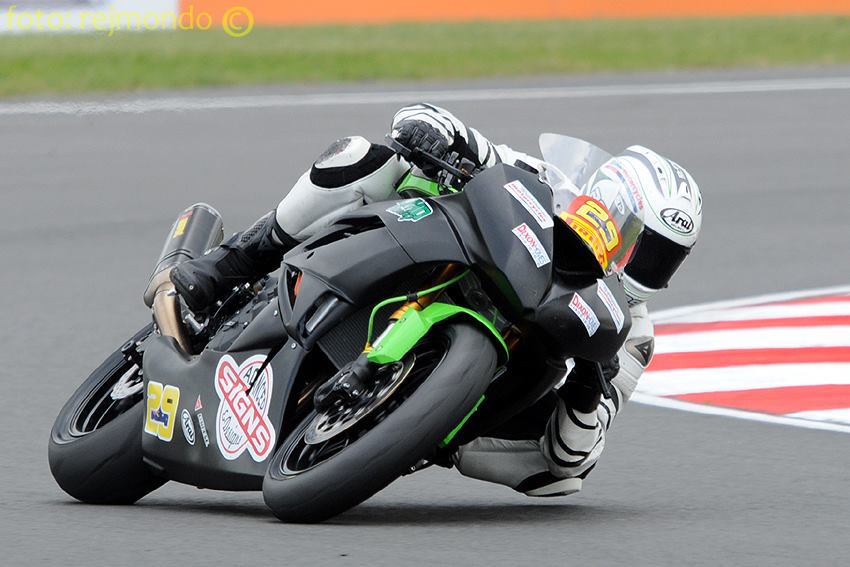 James is now back in Brisbane studying at university for a marketing and business degree while also managing the shop's accessories department.
"He's put it all online now as it's all about pricing. Everyone is cutting each other's throats."
Talk to your dealer
Stuart suggests customers with a grievance take it up with their dealer.
"I really wonder if riders who are dissatisfied with the level of service or prices bother to lay down their thoughts with the dealer principal?" he asks.
"Yes, poor service is widespread, unfortunately. It's because the owners can't afford to pay salaries for people with sales experience in the motorcycle industry, with a few exceptions like Harley outlets."