Racer Motorcycle Gloves Review Summary
Racer Motorcycle Gloves Image Gallery
Quality protection at a relatively inexpensive price from an Italian manufacturer of high-tech leather motorcycle clothing. It's been a long time and my hands have passed through many gloves, but truth be told, I hadn't found a replacement for my old and trusty pair of original Teknic Violator gloves (review). Alas, Teknic "improved" the Violator glove lineup some time ago and the original — and best, in my opinion — version have long since disappeared from the marketplace.
I still have my crusty old pair and if I could, I'd buy another half-dozen and I'd be fixed for life. But after many fruitless eBay searches to see if someone perhaps still had any leftovers on closeout, I gave up, faced reality and started the quest for a replacement. The criteria are simple: roomy but not sloppy; high quality materials including lots of leather; comfort (of course); a good "feel" for the grips so I can tell what the bike is doing.
Also required is an adequate level of protection and a full-sized gauntlet with an adjustable closure and a separate wrist closure to secure the glove on my hand. Thus, I came upon the MTECH Racer and the Shift Carbine gloves (review), both of which have proved to be very good replacements. There are pros and a few cons to each, which makes this very interesting, because I like them both but in different ways.
Although it may still take some time, I'll admit that they are both good Teknic Violator replacements; in fact, when I put on the Violator gloves the other day for the first time in a few weeks, they felt their age and I have now realized their time has passed. So forthwith is my take on the MTECH Racer gloves.
Introduction
I first became aware of MTECH during the 2006 Powersports Dealer Expo. We ran a couple of photos of the then-new MTECH jackets with a caption that stated "They claim to be an outfitter to MotoGP, but I'm not sure what that means. These leather jackets and a couple of one-piece suits they had on display look serious."
Other things occupied my mind soon after and I didn't get a chance to follow up until recently, when I discovered that MTECH clothing is now being imported into the U.S.A. by Bikerworld USA (see summary table below), who also import FAMSA and Vendramini from Italy. We've reviewed tank bags and boots from both companies and they are excellent products indeed, so MTECH gear is a worthy addition to the Bikerworld USA offerings.
Also, I've since learned that MTECH is indeed an "outfitter to MotoGP"; they now sponsor Manuel Poggiali and Fabrizio Lai in the 250 class, along with Roberto Rolfo and Regis Laconi in World Superbike and Fabien Foret in World Supersport.
MTECH is an Italian manufacturer of very sophisticated leather and textile clothing. MTECH is a factor in the European motorcycle clothing market, although the brand probably isn't as well known in the U.S.A. They have a variety of interesting products and technologies, including a leather called NKP.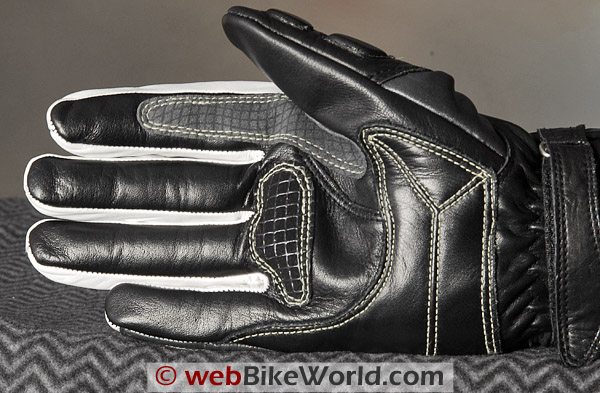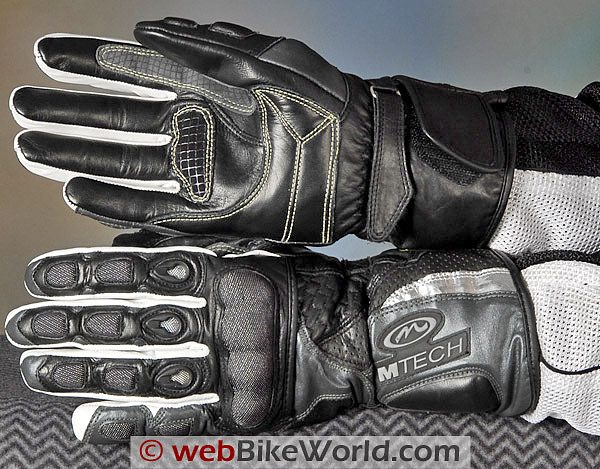 MTECH Technology
MTECH says that the letters mean "No Kangaroo Please", meaning that the leather was designed as a replacement for kangaroo leather, which is said to be lighter and stronger than cow hide. NKP leather starts as full grain cow hide, and after treating, it is claimed to provide a "very high tear and abrasion resistance level" while remaining both thin and light.
Another technology released by MTECH in 2004 is their "Refraction" leather treatment, claimed to reduce the surface temperature of leather. The Refraction treatment is also claimed to benefit the rider in cold weather.
Supposedly, the Refraction treated leather "reflects part of the invisible solar rays, reducing the surface temperature of the leather exposed to the sun by ten degrees or more, with respect to normal black leather garments, when they reach a temperature of 40 degrees or more."
The part that's not clear to me is which MTECH products actually contain either the Refraction treated leather or NKP leather or both. The Racer gloves shown here are third from the top in the MTECH glove lineup, and there are references on the product information to Refraction technology, but there's nothing in the description or on the gloves that verify this.
You'd think they would have registered a trademark and they'd be marketing the heck out of it, but apparently not so. Nevertheless, the MTECH Racer gloves definitely feel thinner and lighter than comparable gloves. For example, the left MTECH Racer glove shown here (size large) weighs 102 grams (3.625 oz.), while the left Shift Carbine glove (also size large) weighs 144 grams (5.125 oz.).
Of course, this is definitely an apples-to-oranges comparison, because the gloves are completely different — but on the other hand, if you'll pardon the pun, they both have 5 fingers, a gauntlet and the price range is comparable ($89.00 for the MTECH; $99.95 for the Shift Carbine).
Both the MTECH Racer and the Shift Carbine gloves really are indeed worthy replacements for the Teknic Violator gloves. They are not the premier gloves for either company, but I think they are both directly comparable to the Violator gloves.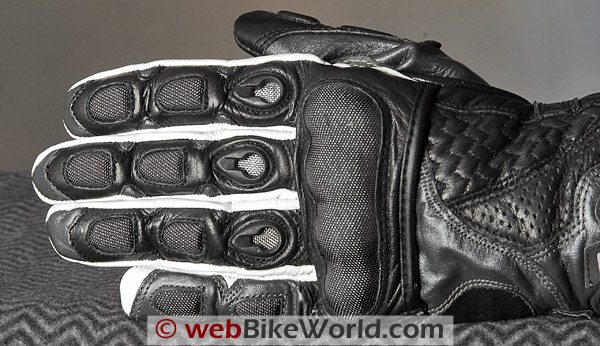 Sizing and Fit
The MTECH gloves are slightly tight; I'd say the size large shown here runs at least 1/2 size to maybe a full size small, depending upon your finger and hand shape.
I returned the first pair to try another, but there wasn't much of a difference. This is one of the problems with ordering sight unseen through a website — you don't get to try one size smaller or larger for comparison. I guess you could order a couple of different sizes, keep the item that fit and return the others, but that can get expensive and it takes an understanding retailer.
Of course, you can always read the webBikeWorld review to learn more — we take the pain, you get the gain!
If I hadn't been in such a rush, I probably should have returned the size large and ordered a size XL just for grins. I normally take a size large in men's gloves, and I think my fingers are actually on the thin side, so potential customers with thick fingers or workman hands may want to consider this and order one size up.
Why the manufacturers or retailers don't provide customers with more accurate sizing information on motorcycle clothing and helmets is beyond me. This puzzling problem is widespread and has been for years, and it's the reason why webBikeWorld was created. We do the job the retailers can't or won't.
But although the gloves are a snug fit, they are spreading out a bit as they get broken in. My pinky fingers bump up against the tip of the glove fingers, and the large primary knuckle protector feels tight across my hand. It's not a lot, and the Shift Carbine gloves seem roomier in comparison — almost like they were sized for a working man's hand — but this is only a matter of degrees, and the fit really comes down to rider preference.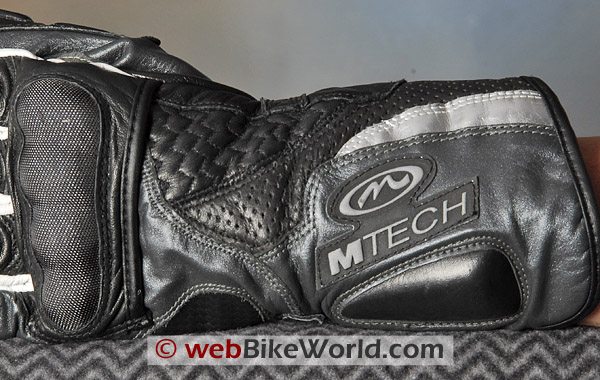 MTECH Leather, Refraction Treatment and Real-World Performance
The leather used in the MTECH Racer gloves seems thinner than I expected — and thinner for sure than the Shift Carbine gloves, which also apparently contain some non-breathable elastic material.
In fact, the MTECH gloves probably have some of the thinnest leather I've ever come across on a race-type glove. I'm trusting MTECH's claims that the leather is indeed designed that way but will still provide the same or better protection than thicker but less sophisticated hides.
Besides the natural breathability of real leather, In can only assume that the other reason for the lower temperatures in the MTECH Racer gloves may be the Refraction treatment — if, that is, that feature is actually included on this model.
As I mentioned above, there's no way to tell — no brochure, no special tag and nothing on the website that indicates whether or not the Racer (or any of the other very interesting-looking MTECH gloves) use this specially treated leather.
So we decided to run some informal experiments of our own, using a Temp Gun digital infrared thermometer (review) to see if we could learn anything. With an outdoor temperature of exactly 80.0 degrees Fahrenheit, measured with a NIST calibrated thermometer on a clear and sunny day, we laid the gloves down on a picnic table and fired away with the useful little Temp Gun.
Within seconds the glove surface temperature, initially 81.2 F on the gray portion of the gauntlet, immediately started to rise. Within 1 minute, the peak temperatures were reached. In 3 minutes, the surface temperatures were recorded on different parts of the gloves as illustrated in this photo: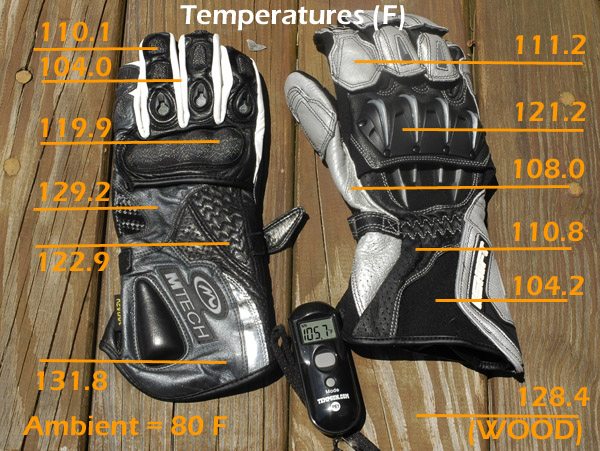 Let's be honest: we have no idea if this little experiment is meaningful or not. The MTECH glove on the left that may or may not be treated with their Refraction technology actually recorded higher temperatures than the Shift glove on the right. But does this mean that the temperatures underneath those areas are warmer or cooler?
One thing seems clear — if the MTECH gloves have indeed been treated with the Refraction technology, the coating doesn't seem to have the effect we thought it would; that is, lowering the surface temperature of the gloves.
But perhaps our understanding of this technology is flawed? Could a higher reflected temperature actually mean that more of the heat is being reflected off the glove rather than being absorbed? Our knowledge of the physics of this is extremely limited; maybe an MTECH engineer will read this review and can provide more insight.
All of this is academic though and probably an unnecessary diversion as to the efficacy of the MTECH Racer gloves, because in the real world, the MTECH gloves definitely seem to feel cooler inside when they're worn than the Shift Carbine gloves or other comparable non-perforated leather gloves of this type with a full gauntlet.
The combination of the special thin MTECH leather, the natural breathability of cow hide and, perhaps, any special treatment that MTECH has applied to the Racer gloves does work.
What's even more interesting is the MTECH Racer gloves have no vents to speak of. Yes, there are some things that look like vents on the back of the finger between the first and second knuckles, and they're covered with something that looks like mesh, but there is no opening behind the mesh into the glove. The liner material inside the fingers continues up through the fingertips, preventing any air that might find its way through from actually reaching the rider.

Conclusion
So that's a long-winded rambling with some insight that doesn't really affect the overall opinion of these gloves: they have all of the "race" type features at about half the price; they're pretty comfortable; they feel cooler than they should; and the thin but protective leather gives them a light weight and allows excellent feel for the controls.
They do have both a closure on the gauntlet and a wrist closure; the only little thing missing is maybe a flap that would cover the wrist closure to help prevent the strap from coming loose during a slide. But other than that, the MTECH Racer gloves are an excellent replacement for the now-unavailable Teknic Violator gloves, and I can highly recommend them.
w

BW

 Review: MTECH Racer Motorcycle Gloves
List Price (2008): $89.99
Made In: Unknown
Colors: Black with Red, Silver, Blue, Yellow.
Sizes: S to XXL
Review Date: July 2008
Note:
 For informational use only. All material and photographs are Copyright © webWorld International, LLC since 2000. All rights reserved. See the webBikeWorld® 
Site Info page
. Product specifications, features and details may change or differ from our descriptions. Always check before purchasing. Read the
Terms and Conditions
!
Owner Comments and Feedback