If the reveal of BMW's contentious R18 proved one thing, it's that bobber-style motorcycles aren't going anywhere in a hurry. After the 'bob-job' spent the best part of the last decade in the shadows of the Eurocentric cafe racer revolution, Munich's latest shows us that even a company as resoundingly Germanic as the Bayerische Motoren Werkes knows that the American style really is worth a new bike all of its own.
Which beggars the question; what if the boys from Munich had arrived at Bobber City 60 years ago? What if it was in the 1960s and not the 2020s that BMW had decided to give their best engineering the full Stars and Stripes treatment? Well, thanks to Sydney-based coachbuilders and customisers, MotorRetro, we don't have to wonder any longer.
The Blues in Europe
It's no secret that bobbers were the result of working class America. And after Ken 'Von Dutch' Howard took to the style in '46, the popularity deal was sealed. But in the late 30s, Europe was on a decidedly different trip. Wanting to push the hardship and trauma of the war and the gathering storm clouds over Germany away, they went straight to automotive elegance, flowing lines and high style to salve their blues away.
Back to present-day Sydney. We're in a suburb about 45 minutes northwest of the city.
Here we find the workshop digs of a company called MotorRetro. Well known in the Sydney car and bike scenes, they are a coachbuilder and custom bike creator who also specialises in training; especially in the art of metal shaping and forming. And if you have a classic vehicle that you need reset to better-than-factory condition, this is the place that the smart money finds itself at.
The origins of this particular project were centred around the closing of a nearby BMW Motorrad spares business. Smelling an opportunity, MotorRetro big wigs Vaughan Ryan and Georgio Rimi made the owner an offer for all his parts that he couldn't – and didn't – refuse. With the bike you see here still a faint glint in Vaughan's eye, it was now apparent that they could pretty much build whatever they wanted to, should the need arise.
And soon, it would.
A Gazillion Bits
Georgio had previously purchased an early 60s R60/2 'Plunger' frame for a project that ended up needing something more modern. Vaughan, staring at the frame and the many boxes of new German bits, started to daydream about a bobber-style BMW that would draw  direct influences from the same sources as Von Dutch; the now-legendary European design houses like Delarge and Delahaye, along with famous coachbuilders like Voisin and Figoni & Falaschi. Think of those 30-foot long, teardrop-esque, 1930s luxury coupes with covered wheels and you'll be on the same page.
So with a gazillion bits at his fingertips and a head full of art deco dreams, he got to work.
First, the frame was fitted with some highly-polished R-series 'Snowflake' wheels in preference to their spoked brethren. Next, a refreshed R100 powerplant with an array of interesting details was dropped into place. "Look closely and you'll see a few rare items like twin-plug cylinder heads and Dellorto carbs," he says. "There's some allen key bolt-on peanut cam covers, too, along with other nice touches like smooth final drive cases and K-series forks. The only proviso here was that they all suited that '30s and '40s look."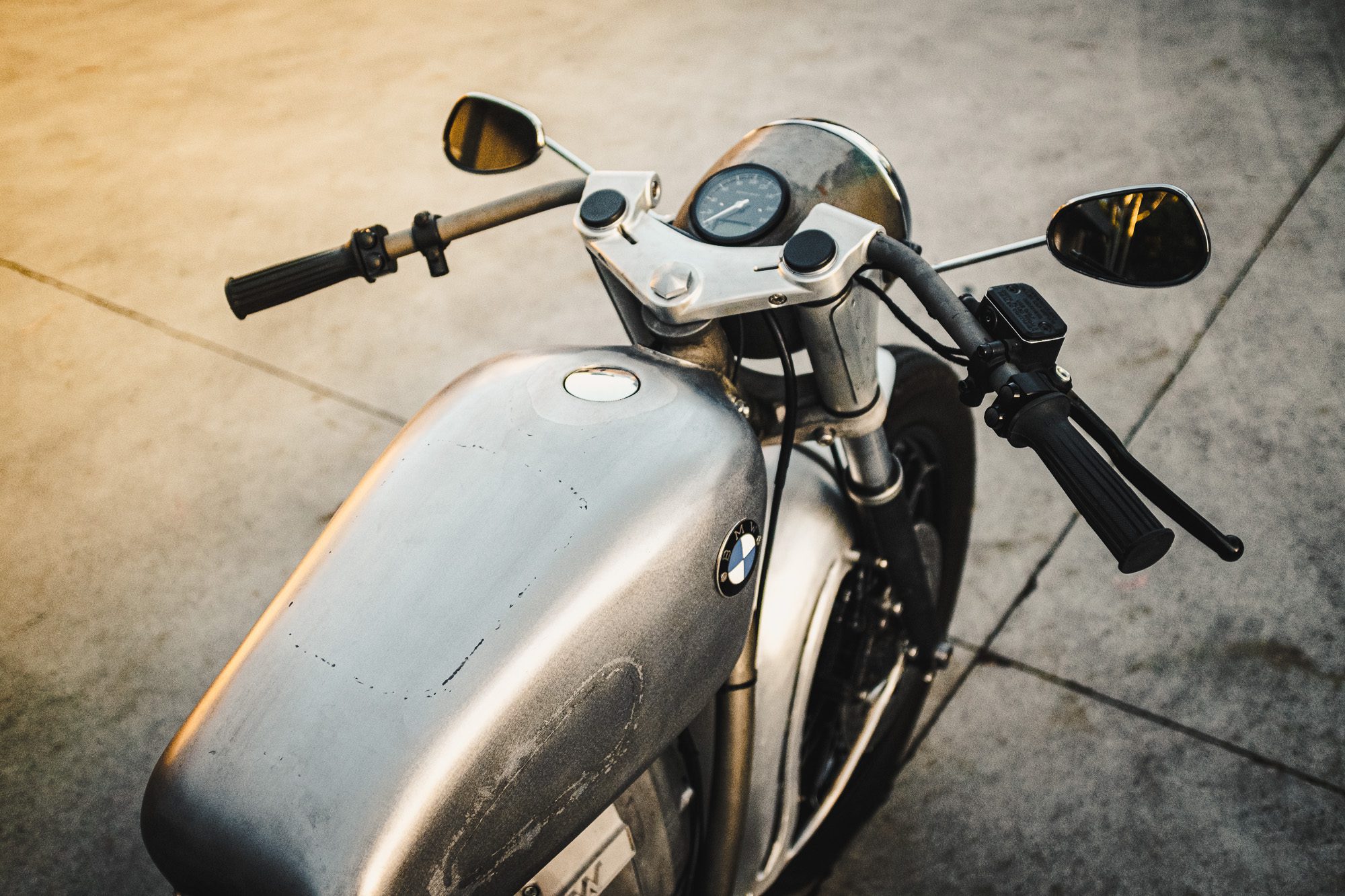 Vaughan says he always planned for the bike's fenders to be the showstopper pieces; both in their visual appeal and in their execution.
"The front guard was formed from a single piece of metal. And yes, It was a total pain. I really pushed the envelope in terms of my skills. It would have been easy to do in sections, but to do it in one piece was a real challenge.' Frustratingly, he couldn't do the rear in the same way. "Maybe it was just asking too much of the metal, but it wouldn't handle what I was asking from it and it just ended up splitting before I could get it finished."
On road, the newly named' 'Von Ryan Express' is reportedly smooth as you like, with truckloads of that low, planted feel that the boxer-engined Beemers have always have in spades. "For day trips it's a breeze. I'd even say that an overnighter wouldn't be out of the question," notes Vaughan. And despite what the pipes might suggest by their drinking straw dimensions, they aren't really that loud. "We've installed two reverse-cone baffles per pipe, but you can't tell just by looking."
And the $64 Deutschmark question is, 'how does it go?'
An Electrical Shock
Vaughan smiles and tells us that he got to race a Tesla off the lights just the other day. The battery-on-wheels' instant-on torque threw it forward a good car-length at the start, but once the Beemer's clutch hooked up, it managed to stick on the Tesla's rear bumper up until things started to get a little iffy, speed-wise. "The bike's just so light," notes Vaughan. "The complete opposite to the Tesla and the R18, in fact."
As you may have already figured out, it still has some finishing touches to be done before it's ready for its final close-ups. 'Apart from testing it, I'll be finishing it off with some decent paint and luggage. The colors will be a nice twist on classic BMW livery. I think purists will appreciate it, and hopefully the cool kids will just think it's, well, cool.'
And the luggage? There's a very interesting idea here that we can't say too much about right now, but just wait until you see it. Watch this space.
MotorRetro Australia | Instagram | Photos by Machines That Dream
The 'Von Ryan Express'  BMW R60/2 Bobber Photo Gallery