(CONTRIBUTED POST ON SAFETY EQUIPMENT FOR OUR NORTH AMERICAN READERS)
Traveling with your motorcycle is thrilling, fulfilling, and convenient. You get the full experience of the scenic view around you during the long drive or the convenience of cutting through the traffic with your slim ride. 
But with the long road ahead, you've got to be prepared for every road-related situation that could happen. After all, safety first is the most important rule among motorcycle riders. As much as motorcycle's fun and lightweight to drive than four-wheeled vehicles, it's also riskier on the road.
To keep your journey safe, whether you're commuting to work or taking your bike for a road trip, make sure to install these 6 safety equipment must-haves for your motorcycle. Also try reading availablemachinery.com.
1. Helmet
You're probably tired of hearing people blab about the importance of helmets. But, despite the thousands of warnings out there, there's still plenty of riders who take this important safety equipment for granted. 
According to the Governors Highway Safety Association (GHSA), motorcycles are at a 28 percent fatality rate for every mile driven. According to the same report, 802 more lives could have been saved in 2016 if all motorcycle riders who were caught in fatal crashes had worn their helmets.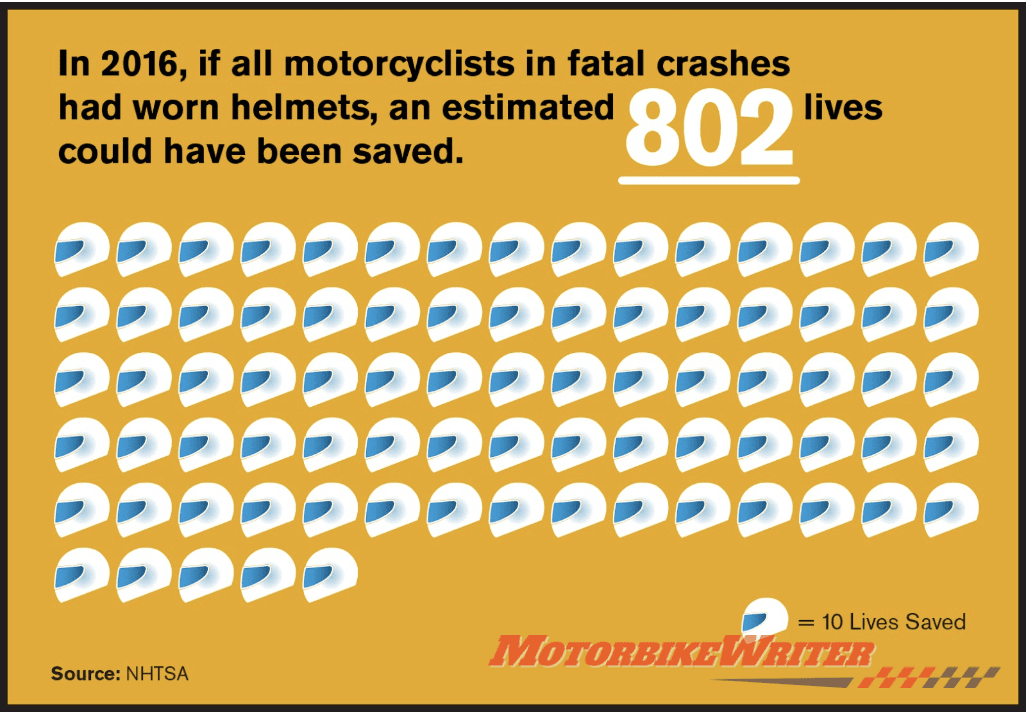 Photo credits: GHSA
For some riders, helmets aren't the most comfortable head safety gear out there. But discomfort is nothing when you learn that it can greatly reduce the risk of a fatal brain injury when you're caught (knock on wood) in a fall or collision. Even sports medicine specialists emphasizes this major benefit of using helmets.
So the next time you're visiting the motor parts and accessories shop, make sure to include a helmet in your shopping list. A helmet with thick padding, a sturdy visor that withstands fog and dust, and made with materials encouraging ventilation for comfort would do you wonders.
2. Accessories for crash protection
Crash accidents happen to all motorcycle riders, whether you're an expert or a newbie. There's also a chance that you could crash more than once. While it's inevitable, there's a way to lessen the fatal impact of the crash. And that's by installing crash protection accessories to your bike, such as:
Frame sliders

Handguards

Crash bobbins

Crash bars

Skid-plates
These accessories are designed to protect your bike from the impact of a fall, crash, or slide. They also keep your motorcycle parts in tiptop shape, saving you tons of money on future repairs. 
If that's not enough to impress you, these accessories don't require technical know-how to get them installed on your bike. When you buy these accessories, you can assemble them in a matter of minutes.
Check out toolstastico.com for the best ATV trailers.
3. Disc locks
If you're planning to take a long hike with your bike, or you're planning to leave your bike in a public parking space for a long time to take care of important matters, you want to ensure your bike's guarded against thieves. 
Disc locks won't stop a thief 100%, but they can put more obstacles so thieves can't steal your bike that fast. They're lightweight, easy to use, and comes with secure locks for added protection for your bike.
Just make sure to invest in disc locks made with quality materials. Cheap disc locks may not provide the security you're looking for. 
4. Side mirrors
As riders, you know mirrors are more than for vanity purposes. While you might have a wide view upfront, it's also important to get safety assurance from incoming vehicles and other obstacles behind you. A functional side mirror would work best to widen your field of vision. 
When choosing side mirrors for your motorbikes, you should consider mirror visibility above all else. Sturdy installment is also important to avoid discomfort and stress during the ride. 
5. Multitool
Let's pray that you won't need a multitool for your motorcycle, but if it happens, you'll be thankful that you have one stored on your motorcycle. If you'll need to do basic repairs and maintenance during your trip, and if there are no repair shops around, a multitool would be your trusty repair assistant. 
If you've got some spare storage on your motorbike, bring a multi toolkit instead. This kit has the most important repair tools, such as a wrench, pliers, hex keys, electric tape, and T-bars, to name a few.
6. Compact tire inflator
Aside from accidents, one inevitable situation that's frustratingly common among bike riders is having a flat tire. If you're traveling through the city or a populated area, you'll have no problem getting your tires fixed. But when you're in a remote area, you're almost tempted to blow air on your deflated tires. 
That's why it's extremely handy to bring a compact tire inflator. Not only can they provide air for your deflated tires, but they're also handy for checking if your tire pressure is still good.
7. Safety gears
a. Jacket and gloves
Motorcycle jackets might be more expensive than your regular favorite jacket, but the extra protection it provides is worth it, especially when reducing the impact of accidents.
When you fall on your motorcycle, the first parts of your body that catches your weight are your hands. That's why you have to keep them protected with motor gloves. 
The ideal motor gloves are those that aren't bulky, but are flexible, comfortable, warm, and also provides wrist protection.
b. Boots
Don't invest in just any boots – go for motorcycle boots. These boots are specially designed to withstand different types of surfaces, and provide comfort during the ride while not messing with brakes, shifters and other parts of your bike. 
Head on over to bootbomb.com for a detailed guide on all the best motorcycle boots for your buck.
c. Earplugs
You want your ears protected during the ride from high-pitched wind noise, especially when you're at full speed, so you must wear your earplugs during every ride. They can protect you from any hearing damage and lessen the chance of fatigue during the trip.
Safety first!
These gears might need hefty investments at first, but in the long run, you'll reap the benefits of these accessories and items for you and your motorcycle. After all, when you can avoid fatal injuries from motorcycle-related accidents, you'll be thankful you put your money on these items.
Simply put, if you want to enjoy more smooth-and-safe rides in the future, these safety gears and equipment have got you covered.