Motorcycle Video Camera Review Summary
Motorcycle Video Camera Image Gallery
Summary
Choosing a motorcycle video camera doesn't get any easier!
This "apples and oranges" (or "chalk and cheese") group includes the tiny, cute and cool AEE MD80 and the not-so-tiny but kinda cute AEE HD50.
Also, the not-too-big Midland XTC 100VP2 and the kinda big and sorta heavy Tachyon XC HD.
There are no clear winners in this comparison but one thing's for sure: there are many compromises to consider.
Background
So how did we end up with such a varied group of video cameras?
It all started — as many webBikeWorld.com reviews do — with a suggestion from a visitor to check out the AEE MD80.
This tiny little bugger of a videocam can be found for as little as $45.00 and as much as $175.00, depending on your level of risk tolerance with disparate worldwide retail sources.
Retailers located on a far corner of the globe (far, at least, from Baltimore) offers them up cheap enough, as long as you're willing to palaver a bit o' back-and-forth with Google Translate to negotiate a deal.
And also that you aren't afraid to say bye-bye to Ulysses S. Grant if said deal turns as sour as week-old buttermilk.
The MD80 was "procured" for less than two Jacksons — just before this little guy started to get really popular and the price started rising.
Playing around with it led us back to the AEE website and a discovery — the company had just announced an HD version, the AEE HD50. So of course, we had to have one of those too — for comparison purposes you know.
Meanwhile, Tachyon released the XC HD around the same time, so we ordered one and that arrived, turning this into a somewhat lopsided two HD vs. one SD comparo.
But then another webBikeWorld visitor suggested the Midland XTC100 (now called the Midland XTC100VP2) camcorder, which happens to record in SD, so the world was back in balance.
Sort of…
Anyway, that's the long explanation to acknowledge that yes, there is indeed a certain amount of apples to the oranges in this comparison review.
Some will say it's not fair to compare the MD80 or Midland XTC with their 640×480 resolution (25FPS for the MD80; 30FPS for the Midland) with the 720p Tachyon XC HD or the 720p AEE HD50. But we did, so there.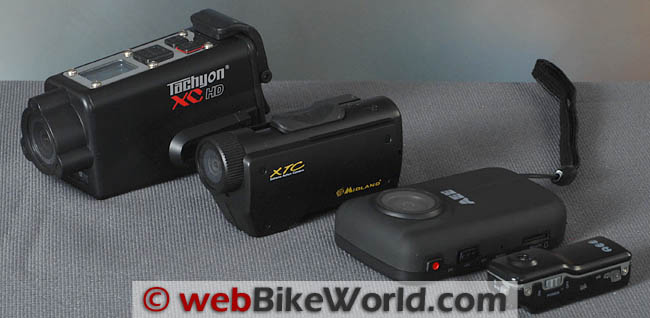 The Rules
Since it's our review, we get to make up the rules and we're going to focus (the start of a pun-fest, I can tell) on the video quality of these camcorders as the main criteria.
We've been playing with these for a couple of months actually, with many hours of video, but it's been a real struggle — as it always is — to get these guys mounted on a motorcycle in a way that would allow each video camera to show its stuff.
Taking quality video on a motorcycle is still way too dependent upon the camera mount, and no video camera we've ever reviewed (or have seen, for that matter) has the perfect mounting system.
You'll nearly always end up having to cob something together to get it to hold the camera steady enough to get decent video, and that goes double (or triple) for a helmet mount.
Helmet mounting is even more difficult because helmets come in an infinite number of shapes and sizes, making it nearly impossible to mount and aim a video camera on some.
This problem is compounded because very few, if any, of the mounts we've ever used have enough degrees of freedom to compensate for the curvature you must overcome on a motorcycle helmet.
To further complicate things, the AEE MD80 and HD50 were not really designed primarily as motorcycle video cameras (although the same could probably be said for the multi-purpose Midland XTC and Tachyon XC HD).
The MD80 is small enough to be duct-taped to a chin bar or fairing, but the HD50 is the oddball here, although AEE supposedly makes some nice-looking mounts that appear to have been designed for motorcycle use.
But our emails to the factory support address in China went unanswered, and our retail source, also in China, said "Sorry, factory out of stock", so the good-looking motorcycle mounts for that camera are left untried.
Then, totally by accident, we struck upon a method to compare the video from all four cameras simultaneously.
And as luck was with us (it was St. Patrick's Day, after all!), we also had the perfect weather and found (by chance) the perfect road that, when we viewed the results, ended up with one perfect minute that perfectly demonstrates the quality of these four cameras. Perfectly.
You'll see that in the video included below.
There are two videos actually, the first is a quick run-through of each video camera illustrating the size and the features. But the second video is interesting because it directly compares the video from all four cameras simultaneously.
Our solution was to mount — using ingenuity and a roll of that sticky silver 2″ wide magic tape used for everything but ducts — the four cameras on the front of the webBikeWorld pickup truck.
This gave us the stable platform we were looking for, and it also allowed us to mount the cameras on the same plane at the same height.
Turning all of the cameras on and the simultaneous recording was the key that revealed what we had been seeing individually with each camera's video but couldn't prove.
So the second video is a compilation of simultaneous 1-minute clips on a sunny day with the sun overhead.
It has a little of everything: bright sun at an angle designed to reveal any lens flare and over- or under-exposure and a quick run through some shade (as much as there is in mid-March) that demonstrates both the white balance (color balance) and exposure settings from the sun to the cooler shadows.
The Verdict
Also breaking with tradition, we'll run this a little backwards and give you the conclusion first.
And that conclusion is…that there is no conclusion.
There was no one clear winner here, and nothing that beats the current champs for their combination of video quality and "usability" (including mounting options). I'm referring to theGoPro Hero HD (review) and Drift HD 170 (review), of course.
web

BikeWorld

 Score Sheet: Four Video Cameras

Scores: 1=Poor; 2=Good; 3=Very Good; 4=Excellent; 5 = Outstanding.
Video Quality
Build Quality
Mounting
Ease of Use
Upload/
Editing
Final Score
AEE HD50
4
4
1
4
5
18+1*
Midland XTC
2
2
3
5
5
17
AEE MD80
2
3
1
5
5
16
Tachyon XC HD
3
5
2
3
2
15
NOTES:
*Bonus point for the AEE HD50, which has a color live view screen plus a speaker.
The AEE MD80 comes with a Transcend 2GB MicroSD card.
The AEE HD50 comes with a Transcend 4GB MicroSD card.
The Tachyon XC HD video camera case is waterproof to 100 feet.
The Disclaimers and Excuses Section
The "apples to oranges" comparison really does apply here.
It's difficult to compare these four video cameras head-to-head, especially since two of them weren't really designed as motorcycle video cameras. And comparing SD to HD video is also a problem.
So don't take the final scores too seriously.
It's important to remember that on any given day, under a particular set of circumstances and weather conditions, including sun or shade, background colors and contrast, motorcycle type, mounting arrangement, etc., that one or more of these video cameras will perform better than the others.
That's one of the things that makes it so difficult to review and compare them.
Note also that a video camera has different requirements and considerations when used on a motorcycle than when it's used for taking video of other sports, again due to the considerations mentioned above.
So just because one of these camcorders may work better for skiing, surfing, bicycling, walking in the woods, etc. — or motorcycling — doesn't mean it will perform the same for one or other of those sports.
One more thing: Each time the video is processed from its "raw" out-of-the-camera state, it can lose quality.
By time it gets post-processed and then put through the YouTube compression algorithms, the videos you see on YouTube are not the same quality as the videos that we see here, so keep that in mind.
Scoring Explained
The AEE MD80 is very well built (except for a tiny screw that went missing), although there is apparently a cheaper plastic version of this camera and you never know what you're going to get when you buy one.
The MD80 has to be the most fun to use; it's so small that just getting any video out of it is a surprise.
But it suffers from a really bad case of lens flare in sunlight, and the rolling shutter effect whenever it's subjected to the slightest amount of vibration.
Read the AEE MD80 review for more information and details.
The Midland XTC100 is relatively inexpensive and it's very easy to use; it has only one large slider that functions as an on/off button that also starts the recording as soon as the camera is switched on. Couldn't be easier…
It also comes with the most useful selection of mounts of any video camera in this comparison and more types are available from Midland.
But video is what it's all about and the video quality of the Midland XTC is just "OK" for Standard Definition and it's…Standard Definition in the age of HD.
Also, the camera can only be mounted in the vertical plane, there's no live view and the battery door feels weak.
Read the Midland XTC100VP2 review for more information and details.
Which brings us to the surprise of this group, the Tachyon XC HD. The surprise is that we expected a lot more out of this brand-new HD video camera.
But the designers apparently spent more time on engineering the heavy-duty waterproof case than they did on the video quality.
The video taken with this camera seems unpredictable and the 1 minute clip in the video below is, we think, a good representation of the problems we had with it.
It seems to consistently underexpose by at least one and usually two stops in bright sunlight and bright sun also seems to cause a too-warm color cast.
The HD video is crisp enough but not quite up to the quality of the GoPro Hero HD or Drift HD 170 (or the AEE HD50). It does take good video in "perfect" conditions though; i.e., low contrast or shady "cool" or neutral color surroundings or in the studio under controlled lighting.
The biggest headache with the Tachyon XC HD is its non-standard video file format. While theoretically good, using the H.264, .MOV format, Tachyon warns "Windows XP is not recommended for video editing".
Hard to believe someone would release a video camera for non-Windows users only.
The camera locked up our computer every time we tried to connect it and although we could play the file using the excellent (and free) VLC Media Player, we could only play it from start to finish and not jump ahead in the video.
We had no problem editing the video files from any of these cameras in Photoshop Premiere Elements 8.0 or 9.0, but the Tachyon XC HD files first had to be brought into Microsoft Movie Maker and saved as .WMV files before we could edit them in Premiere Elements.
This meant downloading the entire Microsoft Live Essentials package, something I wasn't keen on doing.
The Tachyon XC HD also has very limited mounting options.
Tachyon provides a single fixed mount that's supposed to be designed for a helmet. It does not allow the camera to be moved or adjusted in any way.
They also provide a side mount plate that we weren't able to successfully use. Only one other motorcycle-related mount is available, a small handlebar mount.
The camera also does not have a tripod mount, so you can't even use a suction cup or other style tripod mount on the motorcycle.
Read the Tachyon XC HD review for more information and details.
The AEE HD50 had the best video quality, as we think you'll see in the video below. It also has a live view and a speaker.
We can't overstate how important a live view is for successful motorcycle video.
The live view allows you to align the camera to ensure you'll end up with what you wanted, plus it allows you to view what you're shooting in real time (as long as you're careful to watch the road also!) and then you can instantly play back the video to make sure you got it right.
With the other cameras, it's a guessing game and you have no idea if you even have any video at all until you get back home or wherever you have access to a computer.
But the AEE HD50 has some drawbacks.
It is very difficult to mount, even with its metal tripod screw mount adapter, that is unfortunately only 2.5 full threads deep, making it nearly impossible to hold using a standard 1/4-20 threaded tripod mount.
It's not waterproof in the slightest notion of the word and the time/date stamp can not be turned off. Seems very strange, but we were able to confirm this with the factory.
There's a choice in the simple and color menu system to set the time and date, but it's missing the "X" box that allows you to choose to turn off that feature. Most of the other menu choices have a yes or no box to choose except this one.
Read the AEE HD50 review for more information and details.
Motorcycle Video Camera Mounting Issues
Generally speaking, it's pretty difficult to successfully mount a video camera on a motorcycle.
We've been using and reviewing more motorcycle video cameras for several years and we've tried it all — suction cup mounts, handlebar mounts, helmet mounts and custom-cobbed duct tape mounts.
Each camera is different and one thing's for sure: the perfect motorcycle video camera mount has yet to be invented.
Part of the problem is that each camera — as you can see — has a completely different form factor.
Some are vertically oriented (e.g., GoPro HD, Midland XTC, Tachyon XC HD) while some are horizontally oriented, like the Drift HD 170. Some are tubular in shape, like the VholdR Contour HD (review) or the Oregon Scientific ATC2K (review).
The better video cameras will at least have a rotating lens, which helps to compensate for some mounting issues. These include cameras like the Drift HD 170 and the VholdR Contour HD.
Smaller is always better. The ideal motorcycle video camera also hasn't been invented.
Tiny, very high resolution, outstanding video quality with no lens flare or distortion, 360-degree rotating lens and a live view would be a good start.
Throw in custom white balance, exposure and frame rates and now you're talking.
Tiny means something about half the size of the AEE MD80, but it will probably be awhile for that one. And while "they" are at it, design a camera mount that has unlimited degrees of freedom but is as solid as a rock and we'll be golden.
Mounting a video camera on a motorcycle helmet is difficult.
Modern helmets have all sorts of wacky curves, put there for either styling or aerodynamic purposes. The curves make mounting a video camera very difficult; another reason why smaller is better.
The larger the camera (i.e. Tachyon XC HD), the more difficult it is to mount it on a helmet.
Mounting a video camera on the motorcycle itself isn't any easier.
There's nary a flat surface on a modern motorcycle, so the mount becomes very important and must have a wide range (degrees of freedom) of movement to compensate for the crazy angle at which the camera will be mounted. But after the camera is lined up, the mount must lock down solid to hold the camera steady.
This is where a live view comes in very handy also.
Yet one more difficulty is in trying to align a video camera on a motorcycle so that you'll end up with the view you wanted. The very wide angle lenses used sometimes make it more, rather than less difficult because of lens distortion and other factors.
Use a camera like the Drift HD 170 and you'll see (there's that pun again) what I mean.
By the way, we have one of the new Backpack LCD systems for a GoPro HD and we'll be doing a quick review of that soon also.
w

BW

 Video: Four Motorcycle Video Cameras – Details
w

BW

 Video: On-Road Comparison of Four Motorcycle Video Cameras
Conclusion: Four Motorcycle Video Cameras
So now you've read the disclaimers and the excuses. Here's the bottom line: in terms of video quality, the AEE HD50 was the best of this bunch, but there's no clear winner here. It's all a matter of compromise.
For now, we'll stick with the Drift HD 170 (review), our favorite because of the video quality and live view — even though it's significantly more expensive than any of the video cameras in this comparison.
Indoors, the AEE HD50 didn't seem up to its 720p claims and initially we didn't hold out much hope for a relatively inexpensive (for HD) video camera ordered sight-unseen from, uh, irregular sources.
But outside, in the bright sun, where it would theoretically be used for motorcycle video (and which is the toughest test for any still or video camera due to the harsh lighting conditions and extreme contrast), the AEE HD50 takes excellent quality video with nary a drop of lens flare.
The video is near-perfectly exposed and color balanced and almost as sharp as the GoPro Hero HD (review) or the Drift HD 170 (review) . But the downside is that the HD50 is very difficult to mount, although the promise of motorcycle-specific mounts that may be made available from AEE is enticing.
At the other end of the spectrum is the Tachyon XC HD. This was a disappointment because we expected more from an HD camera. The video quality doesn't seem very good and it has a bulky and heavy body that's difficult to mount on a helmet or motorcycle.
The Tachyon XC HD is waterproof to 100 feet without needing a special housing, but for motorcycling, this is of limited use.
Think about it — most motorcycle video will be taken on a dry day in sunlight, so the added weight involved in making the housing waterproof on this camera may not be worth it.
Factor in the issue that even Tachyon doesn't recommend editing the video on a Windows-based computer and that something is weird with the file format because it has to be converted to .WMV first.
Connecting the camera to our computer with the USB cable immediately locks it up, so we can't set the time or date in the camera.
Uploading means pulling out the SD memory card and plugging it into the USB card reader (which isn't difficult to do with an SD-sized card).
No live view and a fairly crude (if simple) menu system, along with limited mounting options in the box and the large form factor, and the Tachyon XC HD is not one of our favorite motorcycle video cameras.
2011 wBW Motorcycle Video Camera Reviews
Note:
 For informational use only. All material and photographs are Copyright © webWorld International, LLC since 2000. All rights reserved. See the webBikeWorld® 
Site Info page
. Product specifications, features and details may change or differ from our descriptions. Always check before purchasing. Read the
Terms and Conditions
!
Owner Comments and Feedback