Retired and honoured motorcycle industry veteran Stuart Strickland has delivered blunt criticism of the industry and the dictators who make motorcycle businesses "unsaleable".
His comments are part of an exclusive, wide-ranging and quite blunt critique of the local and global motorcycle industry as it faces a sales slump, threats from safety "experts" and an uncertain future in an autonomous motoring world.
Blunt criticisms
Among the motorcycling stalwart's main criticisms are that the market is dominated with motorcycle enthusiasts and small-capacity scooters and motorcycles are not embraced as they are in European and Asian cities.
He says motorcycle retailers are operating under a "dictatorial franchise system by the importers that has affectively rendered their businesses unsalable".
Stuart knows what he is talking about. The 70-year-old has more than 40 years' industry experience and was awarded an Order of Australia Medal in 2012 for his service to motorcycling. (See more career highlights at the end of this article.)
"I was fortunate to have been around in good times where I was able to influence manufacturer policy and able to maintain a great dealer network who were rewarded for their good work," Stuart says.
"I just wish the managing directors of the manufacturers would get out into the market and talk to the big retailers, in their businesses, regularly."
Motorcycle market critique
Here are some of his blunt observations about the motorcycle market in Australia (excluding agricultural use).
Based on enthusiasts;

Never been embraced by State or Federal governments as a legitimate means of moving people around economically;

Over-regulated, especially regarding use of land for off-road motorcycle use;

Risk adverse millennials show very little interest in motorcycles;

Electric-powered bicycles (on-road and off-road) threaten the motorcycle market;

Paltry fines for motorists who cause motorcycle accidents (deaths) through inattention;

Licence and insurance costs spiralling to ridiculous levels;

Motorcycle advocacy lacking funding or recognition for the good work they do which restricts their effectiveness; and

Negativity around motorcycle safety, promoted by government road safety authorities.
Stuart says Australia is "fortunate to have half a dozen really smart people working with motorcycle advocacy".
"They are constructive and their opinions are valued by road safety authorities."
However, he says they battle with people who have too much time on their hands and are "perhaps uneducated in negotiating with bureaucracy" who "muddy the water"."As a consequence, government and their agencies say motorcycling is disjointed so they will dictate the policy direction," he says.
Motorcycle industry critique
Here is a summary of Stuart's blunt motorcycle industry critique:
Retailers operate under a dictatorial franchise system that has affectively rendered their businesses unsalable;

No young businessmen/women are entering the industry;

An antiquated wholesale system is crippling retailers while their margins are being cut by manufacturers and overheads escalate;

A critical shortage of qualified staff (technicians, parts interpreters and sales people) is impacting service levels to consumers and is incapable of being corrected while retailers are not getting a reasonable return on their investment;

Retailer profitability has been impacted by on-line activity and ASIC's stance on retail finance:

Retailers have no financial capacity to promote motorcycle sports activities as they have in past boom times: and

Retailers are constantly harassed by manufacturers' incompetent staff, who have no financial nous.
"I am happy to put my name to my comments and by doing so no doubt I'll be a target for social media from those who have little experience either as a rider, industry figure who has had to battle with bureaucracy over countless years," Stuart says.
"It's clear manufacturers are puzzled about the motorcycle market decline.
"Regretfully, they continue to gaze at their own crystal ball for the answer rather than opening up a forum with the likes of yourself, other media, rider clubs and even road safety authorities.
"In situations like we have now the more brains engaged the better."
However, he rejects the idea of yet another industry committee like America's Give a Shift.
"I'm not sure what they can achieve, given that America's motorcycle market has collapsed," he says.
"I think the manufacturers' focus is totally on the strong Asian markets."
Stuart Strickland, OAM, career highlights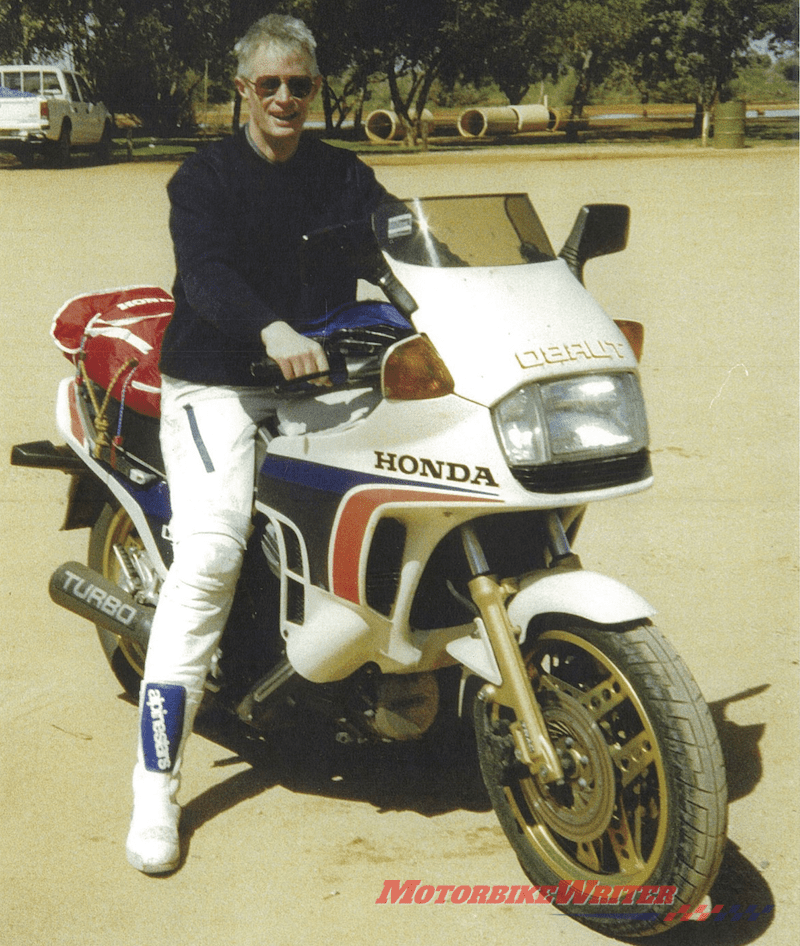 Motor Trades Association of Australia executive chairman

Australian Motorcycle Dealers Association

from 2014 to his retirement last month;

Chairman of the Motorcycle Division of the Federal Chamber of Automotive Industries and life member since 2007;

Victorian Motorcycle Advisory Council board member;

Australian Scooter Federation co-founder;

Ulysses Club member from 1990;

Honda Australia MPE managing director 2005-2010, executive 1990-2010 and employee 1981-1990;

Honda Australia Rider Training program co-developer 1989;

Victorian Automobile Chamber of Commerce motorcycle chair;

Director and Board Member, Motorcycling Australia from 2011;

Milledge Brothers parts and general manager 1971-81.
Stuart will spend his retirement between his South Gippsland property and Melbourne unit, enjoying his motorcycles and other recreational pursuits.