Motorcycle Tools Image Gallery
Summertime is the prime motorcycle riding season.  It's also the time for motorcycle repair projects, regular maintenance and washing and polishing tasks.  We're in the process of doing a monster review of many different motorcycle cleaners and polishes, but in the meantime, we thought we'd let you know about some handy new tools in use around the shop.
Sears Craftsman tools are probably the #1 selling brand in the U.S.A.  These are high-quality tools that are available either at any local Sears store (there are gazillions of them in the U.S.A.), through the wonderful Sears Craftsman "wish book" tool catalog, or through the Sears website.
I've been a big fan of Craftsman tools for many years; not only are they easy to obtain, but there's a huge selection of tools for any type of motorcycle repair and maintenance and also for use on automobiles, bicycles, and anything else around the home, shop or business.
Almost all of the Sears tools that are branded with the "Craftsman" label are guaranteed for life.  I've returned broken tools that were more than 30 years old and received a no-questions-asked replacement from my local Sears store.  The exception is the Sears Craftsman torque wrenches I own, which surprisingly only carry a one year warranty.
Sure, there are nicer looking tools, and some professional mechanics complain that the chamfer on Craftsman box wrenches is too wide, possibly allowing the wrench to slip off of a nut or bolt.  I've never found this to be the case, and I wonder if this is a barb tossed at Sears to help justify the expense of a set of Snap-On wrenches, which probably cost twice as much.
You can pay a lot more or you can pay a lot less, but Craftsman tools are a pretty good value for the average motorcycle repair or maintenance tasks performed in the home garage.  Sears has dozens of sales during the year, and if you're patient, you'll probably get the tools you need at a deep discount.  Join the Craftsman Club for no charge, and you'll get an extra sale catalog once a month with special deals for club members only.
By the way, I own no stock in Sears, nor do I have any relationship to the company, financial or otherwise.  I'm just a satisfied owner! Here is a selection of tools that we've found handy around the shop this year: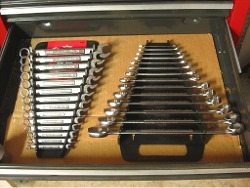 Sears Craftsman 6-Point Combination Wrench Set
I've only stripped one or two bolts in my motorcycle repair career, but that was enough!
I've always had a nagging doubt in the back of my mind about using the common 12-point combination wrench, especially once the bolt or nut is larger than 13mm or so.  The 12 points in the wrench just don't seem like they'll hold a nut when the going gets tough and lots of torque is necessary.
So I took advantage of a sale and purchased an entire set of 6 point combination wrenches.  This set (Craftsman part number 0944098) is a "catalog/online exclusive", and contains every 6 point combination inch and metric combination wrench that Sears makes, and includes 1/4″ to 1″ and 6mm through 19mm sizes.
I have a set of Craftsman metric box end wrenches and another set of their metric 12 point combination wrenches, so I guess I'm all set in the wrench department.  I've found that it's important to have at least two sets of wrenches for the many jobs that need a wrench on the nut and a wrench on the bolt.
The Craftsman 6 point combination wrench set is nicely made and works well.  I feel more confident muscling a stubborn nut when I know that the wrench has more grip on the metal corners.  I wish these wrenches were a bit thinner and had slightly more angle on the heads, but they work fine for most of the projects in my garage.
Wrench Rack
The photo of the tools in the tool chest drawer shows this same set of wrenches in a K-D Tools 15 piece wrench rack.  These are made from a stiff but pliable plastic and are available at MyToolStore.com for $6.80 each.  They fit the Craftsman wrenches perfectly and keep them organized in the drawer, and they also have a flexible handle that makes it easy to carry them around the shop.
I hate having to paw through my tool chest looking for the right sized tool, and these keep things nice and neat and organized.  The downside is that they take up much more room in the drawer than a loose pile.  But they are also pre-drilled for hanging on a wall or even the side of a roll-around toolbox.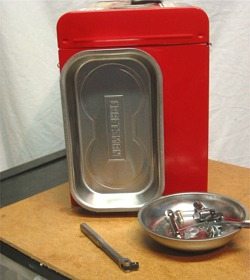 Magnetic Parts Tray
Next up are these really handy magnetic parts trays, Sears part number 0947832.  I got tired of losing too many of the tiny nuts, bolts and washers that are used on motorcycles.
I'd disassemble something and lay the parts on the ground in the garage and inevitably scatter them with my foot as I was moving around the bike.
These parts trays are available individually or in this combination set.  Each tray has two big round flat magnets underneath that allow them to both hold ferrous metal parts and also stick to steel toolboxes.
I keep the small 6″ round bowl in my toolbox with my 1/4″ drive ratchet (see below), which makes it easy to locate these often-used tools.
The bigger tray (5.5″ by 9.5″) sticks to the side of my portable toolbox in case I need it for bigger jobs.  I got the set on sale for $14.99, and they've become so useful that I don't know how I did without them.
They also come in handy when there's some unexpected oil or fluid leaking from the bike after popping off a cover.  I can quickly grab the larger tray off my toolbox and lay it under the bike to catch the offending drips.
1/4″ Drive 6-Point Socket Set
The same thinking that led me to purchase the 6-point combination set described above also convinced me to change from 3/8″ drive, 12-point sockets to a 1/4″ drive, 6-point socket set.
There are too many lightweight, aluminum and small sized nuts and bolts on a motorcycle, often threaded into aluminum frames or engine casings, to risk applying too much torque and ending up with stripped threads.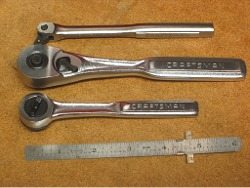 Since most nuts and bolts rarely need over 20 or so Nm of torque, a 3/8″ drive set is almost overkill.  The 1/4″ drive set gives me much better feel for what's happening with the threads and also helps prevent damage.
These were available in either 6 or 12 points, but I figured again that the 6 point sockets would provide a better grip on the fragile motorcycle nuts and bolts.
This Craftsman socket set (part number 0933405) lists for only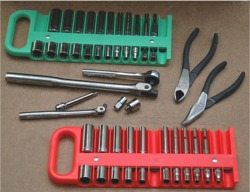 $39.99 and includes regular and deep sockets in both inch (seldom used) and metric sizes.
The sizes run from 5/32 to 9/16 and 4mm through 14mm, which covers the range of just about any socket size needed for motorcycle repair or maintenance.
I now only use the 3/8″ drive sockets for the big 15mm and above nuts and bolts, which are rare on my motorcycles.
For about 90% of the jobs that I do, the smaller sockets work great, and take up much less room in my portable toolbox.
Magnetic Socket Holders
The magnetic socket holder sets shown in the photo are also from Sears, part number 0941377 for the 1/4″ drive set.  They're also available for 3/8″ and 1/2″ drive sockets.  The magnets are only at the base of the sockets, in the horizontal area shown in the photos.
I wish there were also magnets under each socket body, because the single magnets at the base are not always strong enough to keep the sockets in place, and the sockets sometimes fall out and get lost in my toolbox.
The red holder is sized for inch sockets and the green is sized for metric.
I purchased the 1/4″ drive ratchet ($14.99), extension, 6″ handle and adapters to match the set.  The ratchet is the Craftsman part number 0944807, but I'm not too pleased with the button that needs to be depressed to attach a socket, so I'll probably get the more expensive, polished and thin profile part number 0944994, which of course is about twice the price at $29.99 list!
Conclusion
These are some very handy tools to have around the garage for motorcycle repair.  I'm especially pleased with the 1/4″ drive socket set, which I think gives me a much better feel for torque and hopefully will prevent stripped nuts and bolts.  The magnetic parts trays are also invaluable and recommended.  It's harder to evaluate the usefulness of the 6 point wrenches, but I needed an extra set anyway and I feel more comfortable knowing that the 6 points have a better grip on the work.
Note:  For informational use only.  All material and photographs are Copyright © webWorld International, LLC – 2000-2011.  All rights reserved.  See the webBikeWorld® Site Info page.  NOTE:  Product specifications, features and details may change or differ from our descriptions.  Always check before purchasing.  Read the Terms and Conditions!
Product Review:  Motorcycle Tools

Sears Craftsman 6 Point Combination Wrench Set, Magnetic Parts Tray, 1/4″ Drive Socket Set & Magnetic Socket Holder Set and K-D Tools Wrench Rack
Available From:  Sears and MyToolStore.com
Made in:  U.S.A.
Suggested Retail Prices:  Sears Craftsman- Two piece magnetic parts tray set – 0947832 – $19.99; 6 point combination wrench set (Metric and Inch) – #0944098 – $89.99; 6 point 1/4″ drive socket set (Metric and Inch) – #0933405 – $39.99.  K-D Tools vinyl wrench rack holds 15 tools; $6.80 each.
More:  Motorcycle Maintenance and Repair Page  |  Index of all wBW Maintenance and Repair Articles