Motorcycle Tire Air Pump
The search for the perfect motorcycle tire air pump continues.  Our goal?  To find a motorcycle tire air pump that has these characteristics: small, light weight, reliable, easy to stow on the motorcycle and easy to use.
The correct tire pressure is crucial to the safe operation of a motorcycle, but many owners do not check the air pressure of their tires before every ride.  This may be in part because checking the pressure and filling the tire with air is a chore that just isn't very much fun, no matter how you look at it.
Kneeling down in leathers on the wet ground, fumbling around trying to attach the tire air pump to the valve stem are all part of the routine.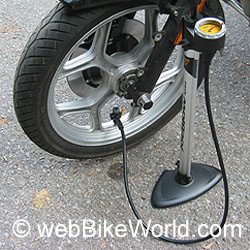 Any tool that can make the job easier would be welcome.  For example, someday – maybe – all motorcycle manufacturers will use 90-degree valve stems, or at least design the wheel so that the valve stem is easy to access.  Some motorcycle wheels are configured in a way that makes it a real struggle just to reach the valve stem, and this will dissuade the owner from performing the necessary and frequent checks.
In the meantime, at least one thing that could make this job easier would be to have a tire air pump that meets our goals.  Electrically operated tire air pumps are available for motorcycle use, and some have even been designed small enough to carry in a tank bag or saddlebag.
---
Where to Buy Motorcycle Tire Air Pump
Check Reviews & Prices on Amazon
See More: Motorcycle Accessories, Motorcycle Tire, Motorcycle Horn
---
But electric pumps are generally bulky, relatively heavy, and they have the added complication of the electrical connection, so we haven't really considered them as a solution that meets enough of our criteria.
Although it can be argued that if the bike's battery is dead the pump won't work, the flip side is that if the bike's battery is dead you're probably not going anywhere anyway.
The requirements for a tire air pump that will be kept and used in the garage is different.  If you're lucky, you have a nice, big garage with a permanently installed air compressor that can store large quantities of compressed air.
Another good solution is a decent hand-operated floor pump.  I've been using a Zéfal "Double Shot" floor pump for over 20 years.  This pump has two vertical barrels that fill the tire on both the down stroke and the upstroke, making for a very quick and efficient process.  I even use it on my car's tires, because it can put out large quantities of air very quickly.  Unfortunately, after all this time, the parts are starting to wear and I haven't been able to find a replacement pump or parts.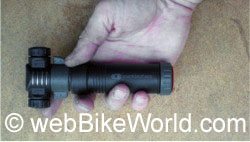 For motorcycle touring or for general use around the motorcycle, a manually operated tire air pump is probably the best bet.  Wouldn't it be nice to have a very small, very light tire air pump that could be stowed almost anywhere on the motorcycle?  Our mission is to find such a device!
When we found the Crank Brothers Dual Piston Mini-Pump, we thought we had struck gold.  This pump is very small, it only weighs 97 grams, and it carries a lifetime warranty.  Perfect!  Or so we thought…
The pump is only 144 mm long (~5-1/2″) and extends to 213 mm (8-3/8″) at its maximum stroke.  It can be flipped over to use either the Presta and Schrader valve stem; the Schrader is the only stem used on motorcycle tires, so that's the only one that we tried.  The pump also has a knob on the end (right side, photo above) that allows the device to be switched between a high pressure or high volume setting.
Unfortunately, try as we might, we could not get this pump to operate.  It is very difficult to fit the valve adapter to the motorcycle's Schrader valve stem, and we couldn't get the rotating collar to lock over the valve stem to stop the air from bleeding from the tire.  The locking collar is extremely difficult to turn, and the small tabs are very hard to grasp, even when the pump is not attached to a tire.  We tried everything we could think of on 3 different motorcycles, but the result was the same.
This is too bad, because this pump had the potential of meeting all of our goals for the perfect motorcycle tire air pump!
We also tried the Blackburn Mammoth Comp Mountain Pump.  This pump weighs 136 grams (4-3/4 oz.), and it is 312 mm long (~12-1/4″) compressed and 50 cm long (19-5/8″) with the pump handle extended.
It comes with a holder that is designed to attach to a bicycle frame, which also has the potential for use on the frame of a motorcycle.  The pump should fit in most tank bags or in the bottom of a saddlebag without taking up too much room.
The adapter on this pump will also work on either a Presta or Schrader valve stem by flipping a small adapter inside of the head, but again, for our purposes, only the Schrader adapter was used.  The valve stem adapter has an attached plastic cover that helps to prevent dirt and grit from entering.
To use this pump, the adapter is fitted over the motorcycle tire's valve stem.  A lever must be pulled upwards to lock the head on to the valve stem.  The piston that operates the pump is then pulled out and a plastic knob on the end can be rotated to form an L-shaped handle that helps grip the end of the pump.
The pump has a 190 mm (7-1/2″) stroke, which yields approximately 10 strokes per PSI in a 110/80-18 front tire.  The Blackburn Mammoth Comp Mountain Pump is relatively easy to use.  We found that it can be difficult to locate the pump's valve adapter on the motorcycle tire valve stem, and the length of the pump makes it tricky to keep everything lined up without leaking air from the tire.  This wouldn't be our first choice for the perfect all-around motorcycle tire air pump, but it would probably be a decent pump to have on a motorcycle tour.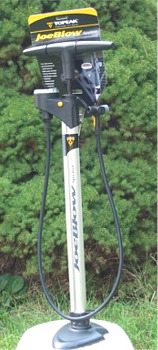 We are also searching for a replacement for our beloved Zéfal Double Shot floor pump.  Figuring that there must have been many advances in pump technology over the years, we also tried a Joe Blow Sprint floor pump.  This pump has all the right specifications: an air pressure gauge located near the top of the pump for easy readability; a rotating dial that places a pointer at the desired tire pressure reading on the gauge; a clip to hold the hose; a hook to hang the pump on the wall; and it even has a pressure bleed valve.
Unfortunately, we found a few problems with this pump, so it won't be replacing our Zéfal any time soon.  The steel base is, in our opinion, over-designed.  It looks cool, with a retro-style curve, but we found it to be unstable.  The pump is very easy to tip over as the hose is moved around while it's being attached to the tire valve stem.
For all its length, the piston seems to have a limited amount of travel, and it only pressurizes during the down stroke.  We only averaged about 5 strokes per PSI in a 110/80-18 front tire.   During the first 1/2 to 2/3 or so of travel, the piston travels freely, which makes it feel like nothing is happening, but the rest of the travel increases the amount of force necessary by a considerable amount.  This gives the user a very detached feeling about whether or not any air is actually going into the tire.
---
Where to Buy Motorcycle Tire Air Pump
Check Reviews & Prices on Amazon
See More: Motorcycle Accessories, Motorcycle Tire, Motorcycle Horn
---
Also, since the pressure gauge is calibrated up to 160 PSI in increments of 4 PSI, it's virtually useless on a 35 PSI or so motorcycle tire.
The valve adapter can be flipped over for use on either a Presta or Schrader valve stem.  A metal lever is turned to lock the valve adapter on to the tire's valve stem.  This works fairly well, and it's easier to move this lever from side to side than it is to pull up a vertical locking lever.  There isn't much access room around the valve stem of some motorcycle tires, so if the orientation of the locking lever is important.
The Joe Blow Sprint is acceptable, but we'll still be searching for that perfect replacement floor pump.  We're also on the lookout for our perfect motorcycle tire air pump: small, light weight, reliable, easy to stow on the motorcycle and easy to use.  We'll report back if we find one that meets our criteria.  In the meantime, however you do it, make sure your motorcycle's tires are inflated to the manufacturer's specifications!
Note:  For informational use only.  All material and photographs are Copyright © webWorld International, LLC – 2000-2011.  All rights reserved.  See the webBikeWorld® Site Info page.  NOTE:  Product specifications, features and details may change or differ from our descriptions.  Always check before purchasing.  Read the Terms and Conditions!
Product Review:  Motorcycle Tire Air Pumps
Other WebBikeWorld Tire Air Pump Posts