Motorcycle thefts in Australia are increasing at more than double the rate of car theft, according to the latest figures for the 2018/2019 financial year.
The National Motor Vehicle Theft Reduction Council reports that 9261 motorcycles were stolen in the past financial year, which is 9% more than the previous year.
Over the same period, car theft increased 4% to 43,839, while theft of all vehicles was up 5% to 55,293.
Motorcycles represent 16.7% of all vehicle theft, yet are only about 5% of total registrations. However, some of the thefts are of unregistered dirt bikes.
Most of the increase in motorcycle theft seems to be in short-term theft, usually joy rides.
Short-term theft of all vehicles increased 845 (2%) while it was up 8% for motorcycles.
Profit-motivated thefts by organised criminal groups rose 1775 (13%) for all vehicles with motorcycles (up 10%).
Motorcycle thefts by state
Motorcycle thefts increased in all jurisdictions, except the ACT and Victoria.
State or Territory
2017/18
2018/19
% change
Thefts
Thefts
ACT
127
104
-18.1% 
NSW
1,873
2,157
15.2% 
NT
95
100
5.3% 
QLD
1,562
1,880
20.4% 
SA
540
710
31.5% 
TAS
117
169
44.4% 
VIC
2,068
2,024
-2.1% 
WA
2,095
2,117
1.1% 
AUS
8,477
100.0
9,261
100.0
9.2% 
Queensland thefts have risen a massive 45% over the past five years since the Campbell Newman Government pulled its funding from the National Motor Vehicle Theft Reduction Council.
It took until July this year for the Queensland Government to reinstate its $206,000 annual funding.
RACQ Head of Technical and Safety Policy Steve Spalding said the Club had lobbied to re-join the NMVTRC.
The Triumph Bonneville rider says Queensland had missed out on receiving vital funding for locally-delivered crime prevention programs.
"We're now looking forward to seeing our state reap these long-awaited benefits," he says.
The council, Queensland Government and Queensland Police have confirmed collaborative working arrangements to tackle vehicle theft crime.
They include proactive police action to educate riders about locking up their bikes.
Queensland Police and the RACQ launched their "Stop Stolen Motorcycles" awareness campaign last year.
In June, they asked riders to complete an online Motorbike Theft Survey to raise awareness of the use of security devices.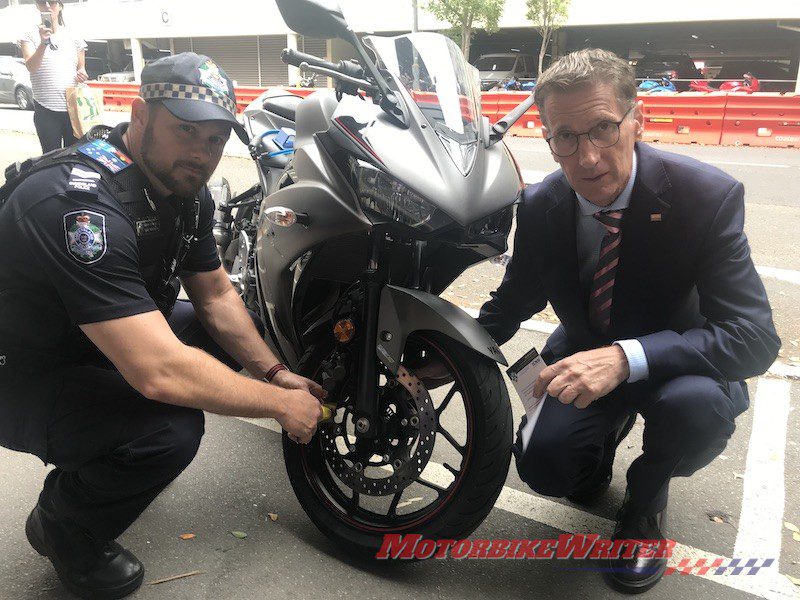 Common motorcycle thefts
As usual, the most common manufacturers featured high on the list of most stolen brands.
However, KTM and Husqvarna also featured because of their many dirt bikes which are lighter and easier to steal than heavy road bikes.
Similarly, scooter brands such as SYM, Kymco and Piaggio featured because scooters are also easy to steal.
| Make | 2017/18 | 2018/19 |
| --- | --- | --- |
| Honda | 1734 | 2005 |
| Yamaha | 1541 | 1581 |
| Kawasaki | 719 | 855 |
| Suzuki | 766 | 816 |
| KTM | 569 | 645 |
| SYM | 198 | 285 |
| Kymco | 140 | 223 |
| Harley Davidson | 229 | 219 |
| Piaggio | 193 | 202 |
| Triumph | 180 | 181 |
| Hyosung | 151 | 172 |
| Husqvarna | 134 | 145 |
| Longjia | 139 | 142 |
| Aprilia | 101 | 96 |
| Ducati | 95 | 93 |
| TGB | 97 | 89 |
| Vespa | 92 | 78 |
| BMW | 67 | 77 |
| Adly | 57 | 65 |
| Bolwell | 60 | 65 |