More and more riders are touring with a trailer. Now you can tow a whole caravan!
Japanese company Stereotank has produced a lightweight caravan from two 3000-litre plastic water tanks joined by a ring of wood. They say it is so light it could be towed by a bicycle or on foot, so a motorcycle should have no problems, although aerodynamics at speed could be a concern.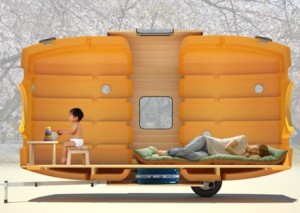 Stereotank's Taku-Tanku is very small, has few components and can be easily assembled.
The Taku-Tanku can accommodate two to three people, has a compartment to store some luggage or belongings, is equipped with solar-powered LED lights and sits on a two-wheeled trailer.
Stereotank is looking for a sponsor to fund a prototype of the Taku-Tanku. It would cost about$8000 to $10,000.
The design, created by Stereotank in collaboration with Takahiro Fukuda, was created for the Little House Competition in Saitama, Japan, earlier this year.