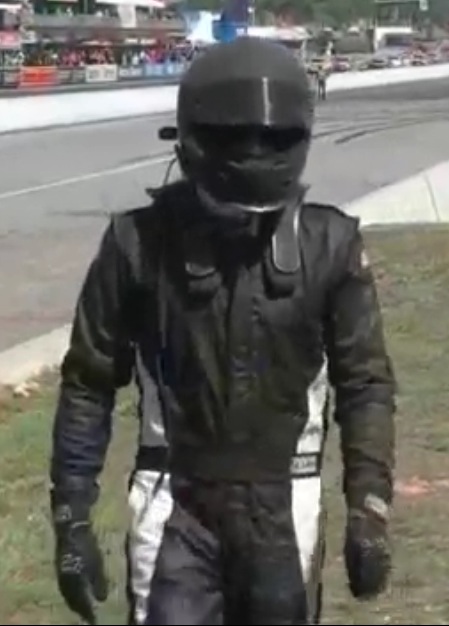 Innovative motorcycle helmets could make their way into the V8 Utes pit crews next year.
One driver who will be first to fit the Reevu helmets with innovative rearvision mirrors is ute newcomer John "Spud" Wood.
"At the moment there is no pit crew for the utes, but next year they are thinking about it," he says.
"Absolutely. If next year they bring it in we will be using them."
Spud's new Holden ute is sponsored by Reevu which will parade its brand around the famous Mt Panorama track this weekend in the ute support races at the Bathurst 1000.
And it could be right up near the pointy end of the field.
Spud is a capable pilot having won the HQ national championship three times.
He is the current HQ champ, but is not running the full series this year as he transitions to the utes.
His first ute race this year at Darwin resulted in a rollover and his second race at Sandown ended when he withdrew as his car was handling badly.
He has since taken possession of a new ute which came fourth in that Sandown race.
"We're just going for a top 10 result which is what we should be able to get to with the new car," he says.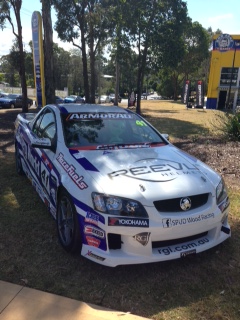 Spud hopes he will run a full ute season next year if he gets enough sponsorship.
"We're not in the championship race this year, just getting up to speed with it so next year we can have a full go at the championship," the interstate truck driver says.
"You can't race without sponsors unless you are a multi-millionaire, so it's all about sponsors paying the way."
Spud says it's great to race alongside the V8s and hopes to one day make it as a co-driver for the enduro rounds.
"I'm now 40 so I doubt they would pick me up for the main drive," he says.
Yet he's raced against some of the finest V8 drivers around such as Russell Ingall, Steve Johnson and Paul Dumnbrell.
But that was in his teens when he was karting.
"I used to ride motocross, but gave that away for karts," he says.
"Then I had about a 20-year gap where I didn't race before starting in the HQs."
Since then, he's become a veteran of Mountain Panorama, having driven HQs at Bathurst for the past six years and winning seven races.
"I've also done about 200 laps in a V8 ride car taking people around the racetrack so I'm a bit of a veteran.
"My ambition is just to keep racing, no matter what."
Keep your eyes focussed on Spud this weekend and his Reevu helmet Holden ute.