One of the most popular Motorcycle Helmet Accessories that you can easily attach to a helmet is the Mohawk. Sometimes this is referred to as a "Warhawk" – which to be honest I cannot find any source as to where that came from. But, you know how that story goes.
This Rubber Sawblade comes with a high strength 3M adhesive attachment already on the back, so really all you have to do is peel it and stick it. Nothing to it really. The only caveat is that you'll want to get it in the center of the helmet, and in a straight line.
Because my 12-yr old can do this, I won't elaborate to much on this common sense step. Just know that if you put it on crooked, sideways, or in a wavy line – your friends will be sure to tell you.
Making these out of a high-quality rubber material offers a few more benefits:
5 Colors to choose from
Will not fade in the sun
Can easily be cut to size for unique placements
Can be added to any smooth surface including other sporting helmets.
So now your friends can tell that you are coming down the street by the sound of your exhaust, and pick you out of a crowd with the mohawk high on your lid.
6 ways to use the Rubber Mohawk Helmet Accessory
 1- Classic strip in center
2- Classic Backwards Strip in Center
3 – Dual strips
4 – War Beard
5- Dual backwards strips – DuMo?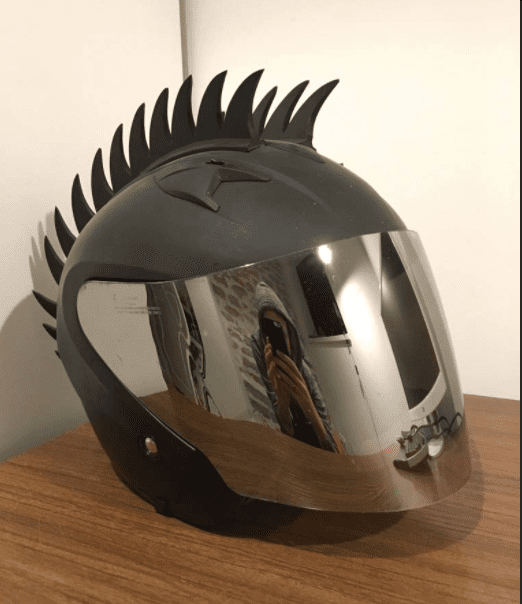 6 – Icon Split Hawk
—> More motorcycle helmet mohawks – 101 here.
Have one that you want to show off? Send it in or shoot me a link and I'll get it added. Karl@webbikeworld.com