The Drift Helmet Camera Review
The Drift Motorcycle Helmet Camera Review:
Pros:
Amazing HD video quality up to 1080 pixels.
Remote control
2 ways Lens is rotating three point field of view
Wi-Fi enabled for off-camera viewing capacity on smartphones
Includes accessory camera mounts.
Cons:
Menu interface is hard to use.
The Micro SDHC memory card is hard to insert, and easy to lose.
Wi-Fi ad-hoc only.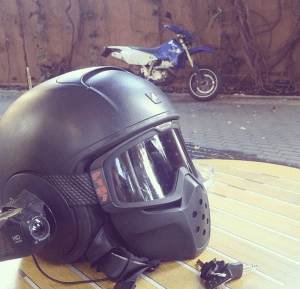 GoPro has made a huge impact in The POV (point of view) recording industry, and currently there are a plethora of camcorders available from a multitude of large and small companies. A new product from Drift Innovation – The new HD Ghost, is available for $399. The small but powerful Ghost action camera has many features that will appeal to numerous audiences.
From extreme sports videography to everyday recording, The HD Ghost will not disappoint. The Drift HD Ghost has wonderful quality, complete POV recorder featuring a handy remote control. The older generation point-of-view (POV) camcorders were expensive, hard to maneuver, clunky, and had low resolution. Nowadays, with flash memory recording and higher resolution sensors, POV camcorders are small, portable, and easy to use. They are also much more affordable than their older counterparts.
Shown on Shark Raw helmet  —>
Ghost Camera Feature and Design
The HD Ghost records both high-definition video and high resolution JPEG images. When recording a video, three High Definition settings are available: 1080p, 960p, and 720p. At The highest setting (1080p), you can shoot 30 frames per second. Even at 720p, 25, 30, 50 or 60 fps are all options. The video is recorded in either MP4 (a great compact format that lets you share easily), or QuickTime MOV formats. For still photographs, JPEG images can be recorded at 11, 8 or 5 megapixel resolutions. Both video and stills are displayed on The HD Ghost's built in 2 inch LCD monitor. All images a re-recorded on an optional micro SDHC card, which can hold up to 32GB.
Drift HD Ghost Action Camera Angle Lens
The lens on the Ghost is a seven element, three way field of view (FOV) lens. This lens focuses from 0.5 meters to infinity. The FOV's menu options include three settings: super-wide 170, wide 127 or normal 90 degrees. The lens can manually rotate up to 300 degrees for any degree you wish.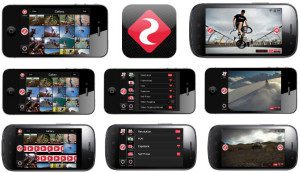 The camcorder is waterproof down to 10 feet, enabling it to be used in many scenarios where water may be involved. In order to use this feature, make sure that The back cover, which opens to access the removable battery, ports, and card slots are tightly sealed.
The HD Ghost's built in Wi-Fi lets it communicate and display videos through iOS devices with the free Drift Mobile app. (At The time of this writing, an Android compatible application is being worked on).
The built in microphone records high quality, mono audio. An external jack is available for connecting a higher quality external microphone. The HD Ghost's dimensions, at 4.1 x 2 x 1.3 inches and weighing only 5.9 ounces means that it won't get in the way of goggles or underwater equipment when it is attached to your body, helmet or goggles with the mounting fixtures (which are included). The HD Ghost is equipped with an industry first- a two way LED remote control.
Every feature and control is accessed through four buttons embedded at the top of the camcorder. Pushing the menu button brings up the operational menu. From there, you can select one of four operational modes. The up, down, and select buttons will take you to other settings. The four operational modes selected from the menu icons are: Video, Photo, Time Lapse, and Photo Burst. When you are in video mode (the camcorder icon), you can choose resolution, FOV, exposure,and frame rate. In the photo mode (photo icon), you set the resolution, FOV and exposure.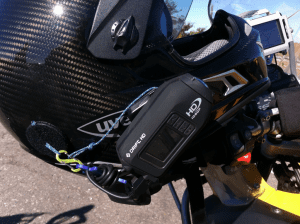 The two other modes, Time Lapse and Photo Burst give you even more options. Time lapse captures a single image, and photo burst enables you to take multiple images at the same time, both at specific time intervals. The HD Ghost's two way LED remote control can be worn like a wristwatch with the provided strap.
It is also rechargeable through a USB cable which is included. Two large buttons are used to start or stop recording. The green LED light indicates that it is ready to record, and the red LED light shows that recording is in process.
The LCD screen is pretty small, making some of he menu settings hard to see. If you have an iPhone or iPad, you can use The previously mentioned Drift Mobile app as a second viewing source. With The HD Ghost set in an ad-hoc (device to device) Wi-Fi mode, you can see the camera's menu options and video on your iOS device. This is very helpful because it helps you see the menu easier and set up shots properly. You can also allow the HD Ghost to start or stop recording from The iPhone or iPad. Unfortunately, you are unable to use The Wi-Fi setting to connect to a computer or wireless network to transfer files.
Drift HD Ghost Action Camera Review Screen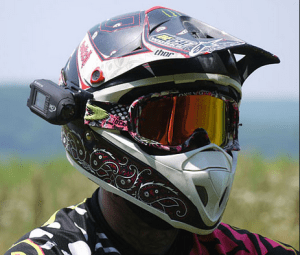 The Drift HD Ghost includes accessories that make the package easy to use ergonomically. This includes two adhesive plates for mounting the camera to a helmet; a goggle mount to attach the camera to ski goggles, a remote control, and wrist strap.
What's In The Box?
Usually We don't focus on packaging, but Drift Innovation spent a lot of time on packaging, showing that they care for the product.
The sturdy white box Also includes a rechargeable battery (which is charged inside the camera), remote control with wrist strap, universal clip, mounting fixtures, and for outdoor adventures- a goggle mount. The USB cable, microphone extension cord, seal-able connector hat, and quick guide are also included.
Performance and Use
We tested The Drift HD Ghost in two scenarios: attached to Helmet (see the video above), and shooting an up close Performance by a pianist.  We improvised with a bike reflector mount on The handlebar. We removed The reflector and adapted it with a 0.25-inch bolt to hold the camera in place. We chose The 170 degree FOV and 1080p recording mode for highest quality, and pointed the camera straight ahead. The iPhone app enabled us to check the framing off camera. It was easy to stop and start the recording using the wrist strap, and the red LED light confirmed that our recording was taking place.
When we returned home, we attached the HD Ghost to the computer using a USB cable and transferred the files. The 1080p showed great detail and compared to more expensive camcorders. Later, we connected to a 52 inch Sony HDTV, using an optional mini-HDMI to HDMI cable. The POV playback was amazing, and made us feel like we were back on The bike again. The 170 FOV captured even more than our eyes could see. The colors were excellent, and the microphone quality was great.
The second scenario involved recording Gary Poirot, a pianist. Since the complete show was going to last more than 2 hours, We decided to see if a 32GB memory card and fully charged battery would capture the entire event. The camera was set up at The edge of The piano on a mini Gorillapod tripod, taped down with gaffers tape. We oriented the lens at 90 degrees to orient The image properly from the tripod. The widest 170 degree FOV setting not only showed a unique view of the pianist playing, but also captured him speaking to the audience. Hardly anyone even noticed The camera. Again on The TV, The 1080p setting showed amazing detail. However, The audio was distorted because we did not set a mid-range level for the internal microphone sensitivity. Overall, The 32GB memory card and fully charged battery completed the 2 hour Performance with room to spare.The one thing we are not fond of is that it records onto micro SDHC memory cards. It is necessary though, since it keeps the camera compact. The problem with micro SDHC is that they are difficult to insert and easy to lose. The other small gripe is the menu interface and navigation. The four buttons are hard to navigate because of their icon based sub menus. After some time, it becomes easier.
Conclusion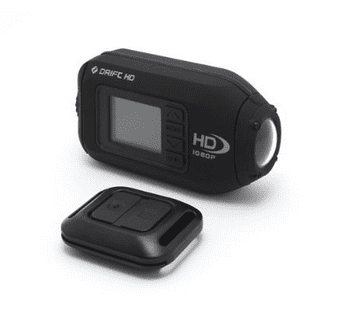 The HD Ghost is an excellent camcorder with a handy remote control. It Also takes high quality JPEG images. The iPhone application is useful, and numerous mounts are included for various locations and settings. Overall, The HD Ghost is highly recommended for consistent, high quality HD video and photos.
When looking into a motorcycle helmet camera for filming your rides, practicing stunts, or taping your friends, you want a great looking video from a camera that is easy to use. Right? Right.
These are only two of the reasons that the Drift Helmet Cam is one of the best performing biker helmet cameras on the market.
So what is it you are waiting for? Pick up one for yourself today get started making those awesome videos that you have been dreaming about making.
What others are saying about the Drift Moto Helmet Camera:
Best Action Camera Out There For Motovloggers!, September 1, 2013
By Brian Dix

This review is from: Drift HD Full 1080p High Definition Helmet Action Camera Kit (Sports)
I purchased this camera several months ago and love it. Video quality is amazing; true 1080p. The camera itself is light and aerodynamic, so it's perfect for mounting on a motorcycle helmet. The tape used on the mounts don't appear to be all that strong, but hitting speeds over 100 mph, riding in the rain, and hitting the mountains, all with the camera mounted, the mounts are very solid. One of the biggest selling points for me that made me buy the Drift over a GoPro or Contour is ability to have an external microphone in a HD camera below the $200 price point. I bought the Drift mic, and it works great for motovlogging.

This camera blows away the Contour and GoPro when it comes to what you're getting for the price. The camera, various mounts, a remote control, an adjustable lens, mic jack, removable battery, and the list goes on.

5.0 out of 5 stars Great camera, January 20, 2014

works exactly as advertised. Takes GREAT video.. Highly recommend for anyone wanting to take vacation videos from your bike or motorcycle.