"I" Motorcycle Brands
Names, Logos, & a Brief Company History
We are attempting to create a massive database on all things motorcycle, and archiving the history of the brands that have helped shape this industry is something that we think is important.
We consider this list "complete for now", but it will never be finished– we are building and expanding our motorcycle brands research section over time. If you know of another motorcycle brand or custom bike builder that starts with A and isn't listed here, please get in touch so we can add you to this list!
Popular Brands

Touting themselves as the first American motorcycle brand, Indian's lineup ranges from the country-crossing Chieftain Elite to the classic and high-performing FTR 1200.
All Brands
Italjet
Italjet Moto Srl  is an Italian manufacturer of motorcycles, headquartered in Castel San Pietro Terme, Bologna, Italy. The company was founded in 1959 in San Lazzaro, Bologna by Leopoldo Tartarini. The company has a history of producing light motorcycles, scooters and more recently quadbikes. In the 1990s, it launched the Dragster, Formula and Velocifero models. In 1998 an Italjet Formula was exhibited as part of The Art of the Motorcycle show at the Guggenheim Museum of Modern Art in New York City. In 1999, the business launched the Grifone, powered by a 900 cc three-cylinder Triumph engine.
Italika
Italika is the leading motorcycle brand and manufacturer in Mexico, with 400,000 motorcycles sold in 2014. The Italika motorcycles are produced mainly for the Mexican market and exported to Guatemala, Honduras, Panama, Peru, Brazil and Costa Rica. Italika motorcycles come in red, yellow, orange, black, and silver-grey color schemes, while scooters and ATVs are available in several other colors.
IMZ-Ural
IMZ-Ural is a Russian maker of heavy sidecar motorcycles.They are known for their heavy duty Ural sidecar motorcycles with two-wheel-drive designed for rough, rugged terrain, and cT model for urban commuting and paved road touring. There are many places in Russia where poor roads, or a lack of roads, makes horses and URAL motorcycles necessary to transport gear.
IZh
IZh, now known as Lada Izhevsk, is a subsidiary of the carmaking company AvtoVAZ based in Izhevsk, Russia. It was formerly a subsidiary of Izmash under the IzhAvto brand, and manufactured both motorcycles and automobiles. The first IZh motorcycle was 1928's IZh 1, a 1200cc across-the-frame V-twin with shaft drive, designed by the Soviet engineer Pyotr Vladimirovich Mokharov (1888–1934). They "owed a little" to contemporary DKWs. In the 1970s and 1980s, these motorcycles were sold in Britain under the Cossack and Neval brands. The company was the largest Soviet motorcycle maker. Production of Izh motorcycles ended in 2008.
Indian Motorcycle Manufacturing Company
Indian Motorcycle is an American brand of motorcycles originally produced from 1901 to 1953 in Springfield, Massachusetts, United States. The Indian Motorcycle factory team took the first three places in the 1911 Isle of Man Tourist Trophy. During the 1910s, Indian Motorcycle became the largest manufacturer of motorcycles in the world. Indian Motorcycle's most popular models were the Scout, made from 1920 to 1946, and the Chief, made from 1922 until 1953.
Ideal Jawa
Ideal Jawa  Ltd was an Indian motorcycle company based in Mysore which sold licensed Jawa motorcycles beginning in 1960 under the brand name Jawa and from 1973 as Yezdi. The catchphrase for the bikes sold by the firm was "Forever Bike, Forever Value". Jawa motorcycles were introduced in India in 1960 and they have a cult following to this present day.
Innocenti
Innocenti was an Italian machinery works originally established by Ferdinando Innocenti in 1920. Over the years they produced Lambretta scooters as well as a range of automobiles, mainly of British Leyland origins. The brand was retired in 1996, six years after being acquired by Fiat.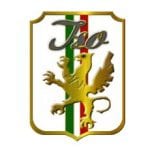 Iso
Iso was an Italian automobile and motorcycle maker. The company was predominantly active from the late 1940s through the early 1970s. In 1948 it began to build motorcycles, scooters and motocarries (three-wheeled transport scooters/motorcycles). The famous models are the Furetto (1948), 'Isoscooter (1950), 'Isocarro (1951), 'Isomoto (1954), 'Isosport (1953) and 'Iso Diva. The last Iso motorcycle was the Iso 500, introduced 1961. Isomotos were known as expensive, but durable and well-built.
Ivy
Ivy was a motorcycle manufacturer between 1907 and 1934 in Birmingham, England. It was run by various brothers from the Newman family. Ivy built about 6,000 motorcycles of various models. Most used two-stroke engines made by either J.A.P. or Precision, but there were also 225cc and 296cc engines designed and manufactured by Ivy. The company was heavily involved in motorcycle racing, with several of the Newman brothers entering races themselves.