"C" Motorcycle Brands
Names, logos, & a brief company history
We are attempting to create a massive database on all things motorcycle, and archiving the history of the brands that have helped shape this industry is something that we think is important.
We consider this list "complete for now", but it will never be finished– we are building and expanding our motorcycle brands research section over time. If you know of another motorcycle brand or custom bike builder that starts with A and isn't listed here, please get in touch so we can add you to this list!
All Brands

Can-Am Motorcycles
Can-Am is a motorcycle production division of BRP, Bombardier Recreational Products, a Canadian corporation. In 1971, under the direction of American Gary Robison, working with a team of Canadian and Californian development technicians, Can-Am began development of motocross and enduro bikes using engines developed by the Austrian Rotax company, another Bombardier subsidiary. Former motocross World Champion Jeff Smith was later engaged to test and validate prototype motorcycles and establish a race program. Serial Production began in 1973. The machines made an immediate impact, with riders winning Gold, Silver and Bronze medals at the International Six Days Trial, an off-road motorcycle competition.
Chang Jiang
Chang Jiang is the brand name of motorcycles that were once manufactured by the China Nanchang Aircraft Manufacturing Company. The company is best known for their CJ750 motorcycle which was based on the original 1956 Soviet IMZ M-72 which itself was derived from the earlier German 1938 BMW R71. Nearly all of them have sidecars. They are often erroneously referred to as BMW "replicas" when in fact, they are derivatives of the IMZ M-72.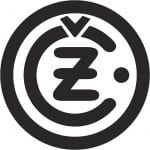 Česká zbrojovka Strakonice
Česká zbrojovka Strakonice is a Czech company that today manufactures forklifts and various automobile components. The company also manufactured motorcycles from 1935 to 1997. The company is known for designing and manufacturing Čezeta (a motor scooter) which they produced from 1957 to 1964.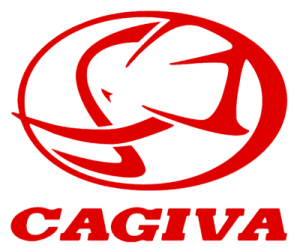 Cagiva
Cagiva is an Italian motorcycle manufacturer. It was founded in 1950 by Giovanni Castiglioni in Varese, originally producing small metal components. In 1978 Cagiva entered the motorcycle business with two racing motorcycles. By 1979 the company reached an annual production of 40,000 motorbikes, with eight models powered by two-stroke engines ranging from 125 cc to 350 cc. In the early 1980s, Cagiva began to manufacture dirt bikes and started a massive public relations program with the opening of its North American branch. Cagiva motocross bikes were characterized by their fast powerful engines and innovative features, such as the MX line that had only one spring in the front forks with one fork controlling rebound and the other compression.

Casal
Casal was the largest Portuguese motorcycle manufacturer, based in Aveiro. It was founded in 1964. Its first products included agricultural machinery and two strokes' moped engines based on Zundapp ones. By 1967 it was producing complete motorcycles, the first one being a scooter, the S170 Carina – a copy of the Zundapp R50 – with a 50cc and 4 speed engine. Shortly after it rolled out its first mopeds, the K160, K161, K162 and K163 with two speeds, and the K181 with four speeds.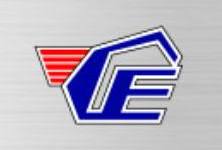 Cheney Racing
Cheney Racing is a British motorcycle manufacturer, founded by Eric Cheney, based in Petersfield, Hampshire which builds complete specialist high performance motocross motorcycles, rolling chassis or frame kits to individual customer specifications.

Clews Competition Motorcycles
Clews Competition Machines (CCM) is a British motorcycle manufacturer based in Bolton, England. CCM was founded in 1971 by Alan Clews and gained notability for producing specialized BSA powered motocross machines. The company has produced a variety of motorcycle models over its history using a variety of engine suppliers including; Rotax, Suzuki and Kymco.

Cleveland CycleWerks
Cleveland CycleWerks is a privately held motorcycle manufacturer that designs and assembles small displacement retro style café racers and bobbers at its headquarters in Cleveland, Ohio, relying on offshore manufacturing in China by CPI Motor Company of Taiwan for most components, including frames and the Honda-derived engine used on all models.

Confederate Motors
Confederate Motors is an American manufacturer of exotic street motorcycles in Birmingham, Alabama. It was founded in 1991 by trial lawyer H. Matthew Chambers, as an initiative seeking "enlightened design through true American inspiration." In 2017 the company announced plans to rename itself to Curtiss Motorcycles and switch to all-electric motorcycles with a partnership with Zero Motorcycles. The Warhawk will be the final and only gasoline motorcycle under the Curtiss brand. It is based on their P51 Fighter, with a limited run of 35 bikes.

Ceccato
Ceccato was an Italian motorcycle manufacturer founded in 1947 by a former pharmacist, Pietro Ceccato, who was passionate about both engines and innovative management ideas, such as making process changes using input invited from employees. For the motorcycle Giro d'Italia and other races, Ceccato built the first of Fabio Taglioni's engines to be realized, a 75 cc OHC single designed with the help of Taglioni's Technical Institute students. The company was active in motorcycles until the 1960s.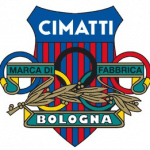 Cimatti
Cimatti was an Italian manufacturer of bicycles, motorcycles and mopeds founded by Olympic cyclist, Marco Cimatti. The company was active between 1937 and 1984. The company originally started producing bicycles but later switched to mopeds in the 1950s. By the 1960s, the company was producing motorcycles,including the 100 cc (6.1 cu in) and 175 cc (10.7 cu in) Sport Luxury road and Kaiman Cross racing models with four-speed gearboxes. In 1972–77, he introduced two 125 cc (7.6 cu in) models, one for motocross with a five-speed gearbox and the other for road.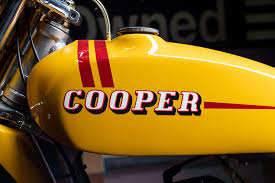 Cooper
Cooper was a rebadged American brand of off-road motorcycles designed by Frank Cooper and manufactured by Moto Islo in Saltillo, Mexico for distribution in the United States between 1973 and 1975. The company was created in Burbank, California in 1972 by Frank Cooper who was the American distributor for Maico motorcycles. As the baby boomer generation came of age during the 1960s and 1970s, off-road motorcycling experienced a boom in popularity. Cooper sought to fill a void in the motorcycle marketplace between the less expensive, entry level Japanese motorcycles and the more expensive European motorcycles.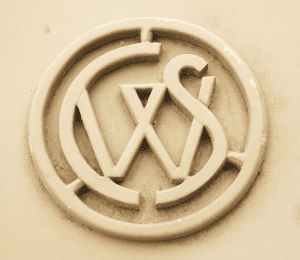 Centralne Warsztaty Samochodowe
Centralne Warsztaty Samochodowe (Central Car Works, CWS) was a Polish pre-war car and motorcycle manufacturer. Created by the Polish Ministry of War Affairs in 1918, the privately run company was initially entitled to service of all the mechanical equipment of the Polish Army, including tanks, armoured cars, motorcycles and lorries. With time, the CWS also started to produce its own designs of cars and motorcycles. Among the most notable designs were the CWS T-1 (the first Polish-made car to be serially built), T-2 and T-8 limousines, as well as the extremely successful Sokół motorcycle series.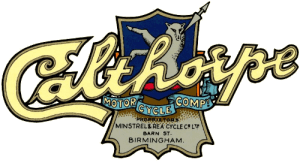 Calthorpe Motor Company
The Calthorpe Motor Company based in Bordesley Green, Birmingham, England made a range of cars, motorcycles and bicycles from 1904 to 1932. The company started producing motorcycles in 1909. In the late 1920s, the company launched a new range under the sub-brand of Ivory Calthorpe. Using a self-produced single-cylinder sloper-design engine, the engine was similar in proportions and output to contemporary BSA units.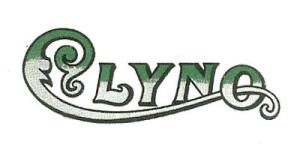 Clyno
Clyno Engineering Company, later Clyno Engineering Company (1922) Ltd, was a motorcycle and car manufacturer that operated in Thrapston from 1909 to 1910 and then in Wolverhampton from 1910 to 1929. During this time they produced over 15,000 motorcycles and between 36,000 and 40,000 cars, at one point becoming Britain's third largest car manufacturer.

Cotton Motor Company
The Cotton Motor Company, was a British motorcycle manufacturer founded by Frank Willoughby Cotton in 1918. F.W. presided over the company until his retirement in 1953. The company was known for producing motorcycles using their patented triangulated frame.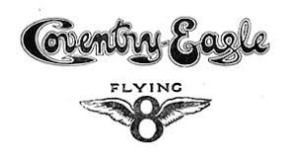 Coventry-Eagle
Coventry-Eagle was a British bicycle and motorcycle manufacturer. Established as a Victorian bicycle maker, the company began under the name of Hotchkiss, Mayo & Meek. The company name was changed to Coventry Eagle in 1897 when John Meek left the company. By 1898 they had begun to experiment with motorised vehicles and by 1899, had produced their first motorcycle. The motorcycles were hand built from components and finished carefully, Coventry-Eagle motorcycles proved reliable and by the First World War the range included Villiers Engineering and JAP engines.
Crocker Motorcycle Company
The Crocker Motorcycle Company is an American manufacturer, based in Los Angeles, California, of single-cylinder speedway racing motorcycles from 1932, powerful V-twin road motorcycles from 1936, and the "Scootabout," one of the first modern styled motor scooters, in the late 1930s. Production ceased in 1942. Today, Crocker motorcycles are considered to be the most expensive motorcycles.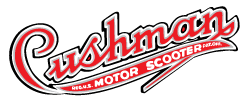 Cushman
Cushman is a manufacturer of industrial, personal, and custom vehicles. It is currently based in Augusta, Georgia, United States, and is owned by Textron. The company is known for their scooters, particularly the Cushman Model 53. Cushman produced a military version for the model 53 which they called Cushman Airborne. The most successful model of Cushman scooter, the Eagle, was in production approximately 16 years. It resembled a motorcycle with its exposed engine and top tank.